Sending a Hug – A Sweet DIY Craft
Learn how to create a physical paper hug to send to a loved one from your child. This easy kids' art tutorial is especially perfect for preschool and elementary-age children!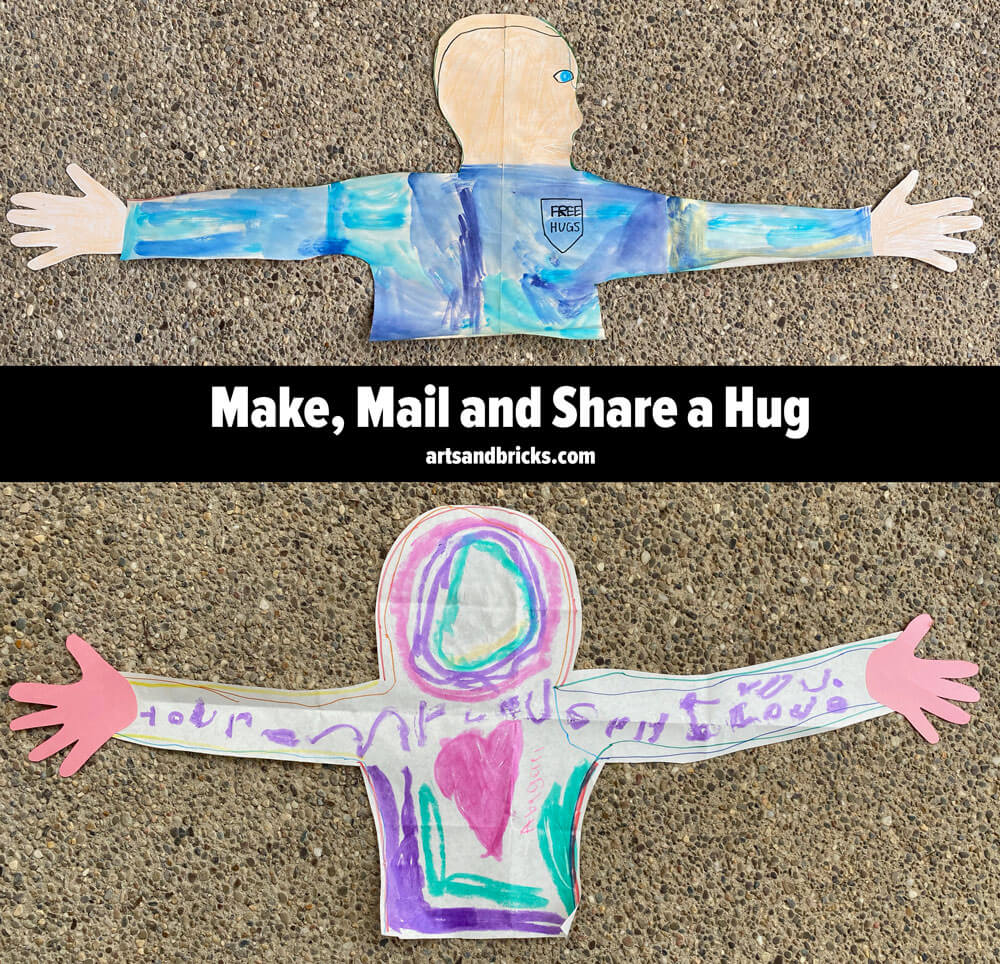 Tutorial: How to make your life-sized paper hug
Grab some paper. Lots of options here, really use what you have! Get creative. A roll of art paper (white paper, kraft paper, or butcher paper) works great for wider hug spans! Other options include using freezer paper, taping sheets of paper together, or even re-using the packing paper that comes stuffed in Amazon boxes and other shipped deliveries. Other ideas might be using the backside of wrapping paper or even brown paper grocery bags.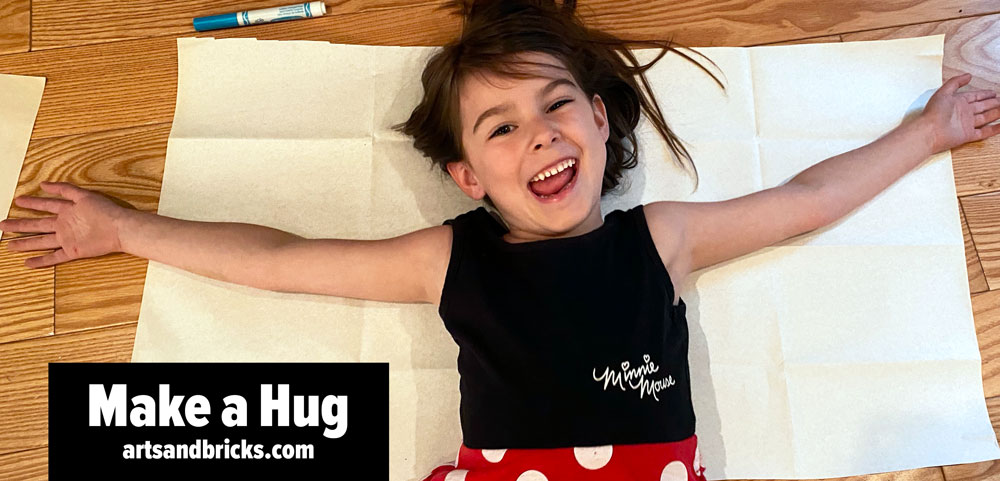 Trace your hug. Use a marker, crayon, pencil, or pen to trace around your child's outline. Have siblings? Have them trace each other. At this step, you can choose to trace your child's hands on the large paper or wait and trace your child's hands separately and glue or tape them onto the main body at the end.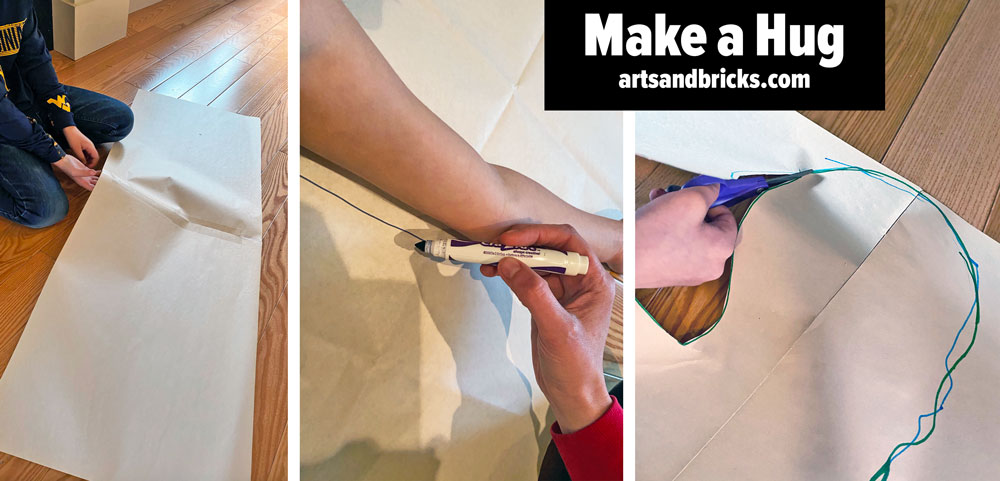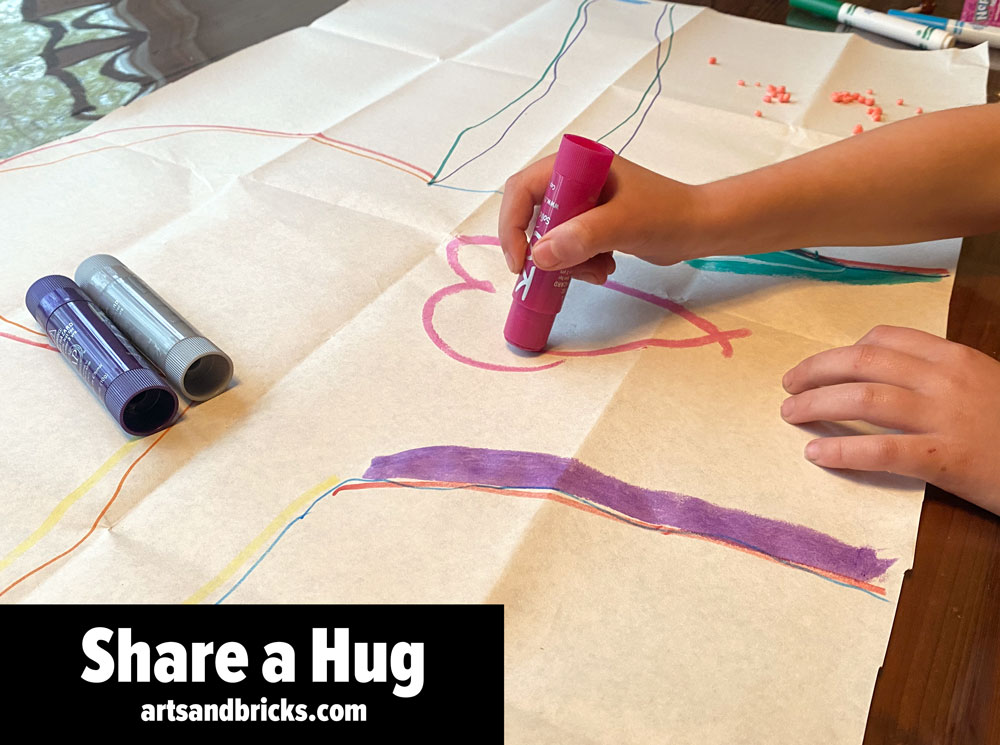 Decorate. Leave the artistic direction up to your child. Use any art medium you like: paints, markers, crayons, Kwik sticks, glitter, etc. Encourage bright colors, patterns, and most of all, creativity!
Need decorating prompts? Suggest that your child make a realistic or stylized self-portrait. Maybe suggest having him/her imagine and illustrate what they want to be when they grow up or even what they might look like as a superhero!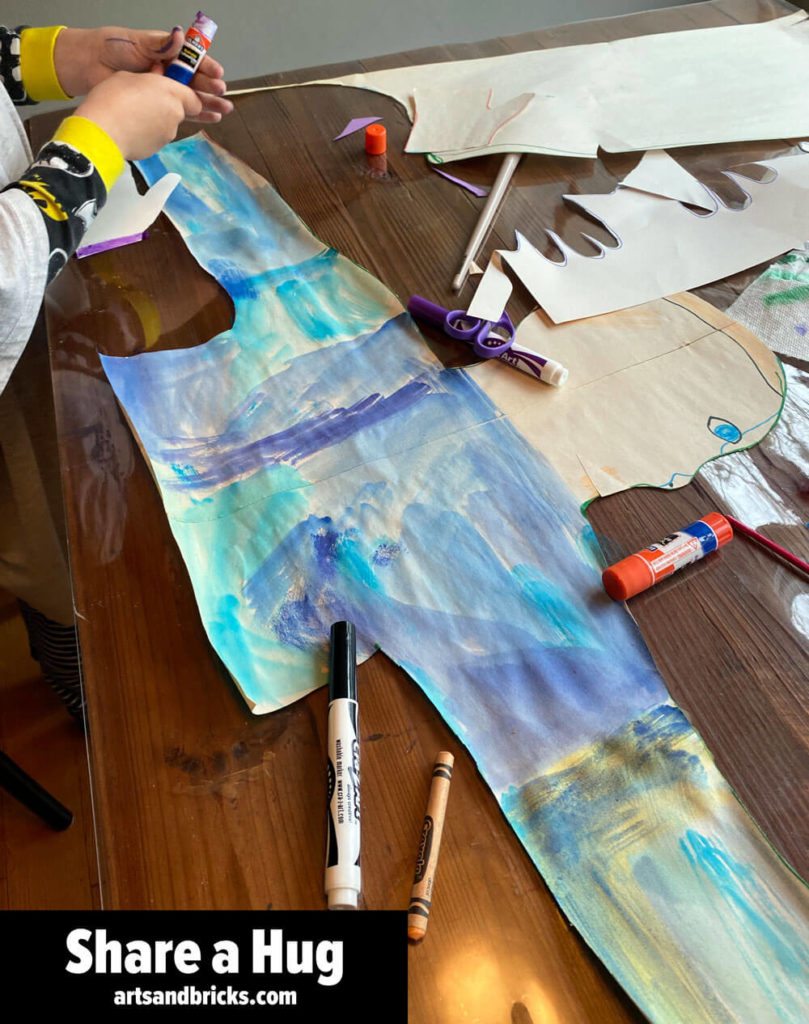 Advertisement - Keep Scrolling
Cut it out. This part is completely up to you. You can leave your hug drawn on the full sheet of paper (less work!) or cut out your child's silhouette. Either way, your hug will look great and be EXTREMELY loved by your recipient! Also, the order doesn't really matter. If your child wants to cut out their silhouette before decorating or after decorating, both ways work out just fine!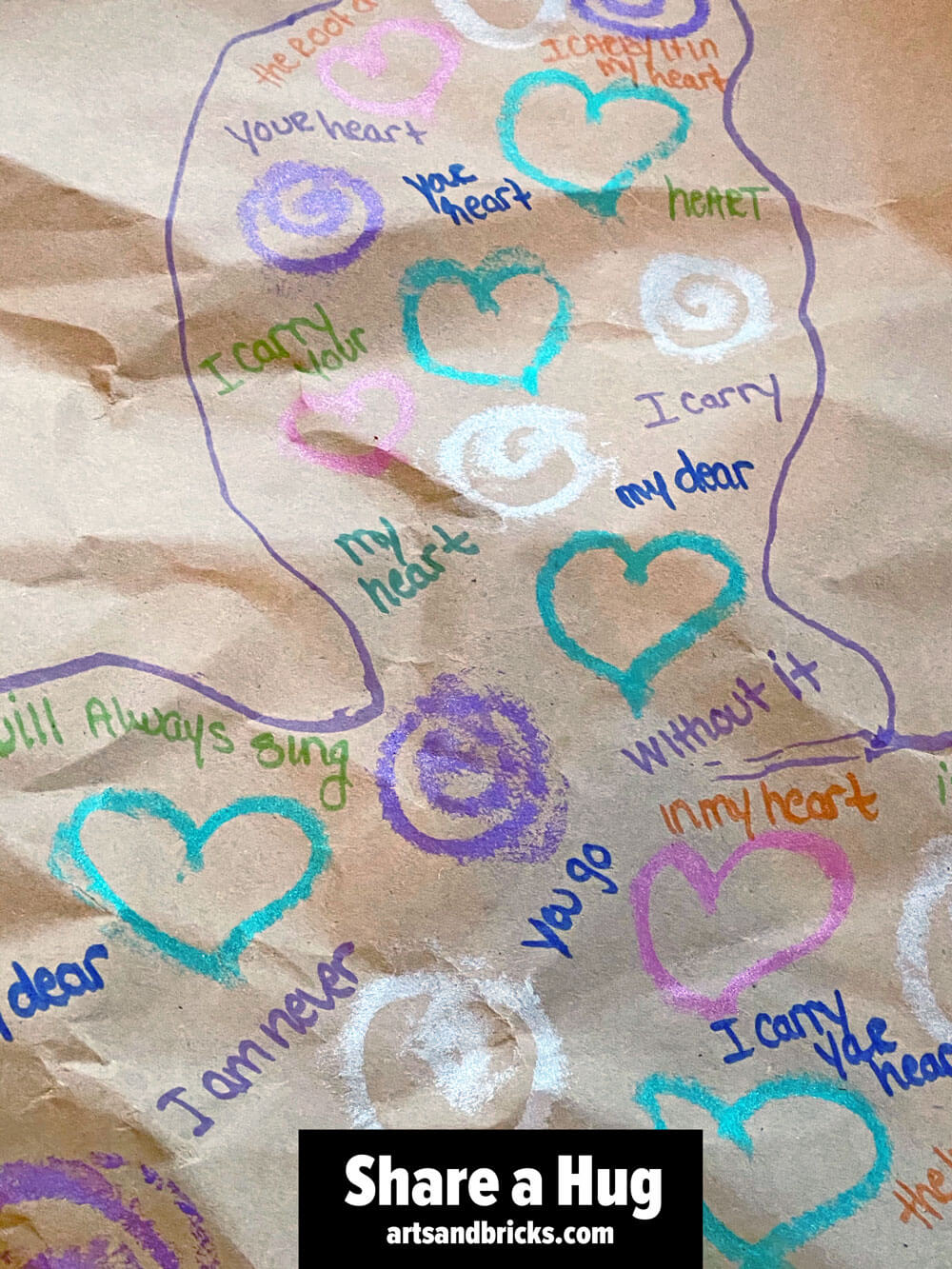 Add a message. Finally, write a personalized message. You might consider including a letter or printed poem, or even write the poem directly onto your paper hug!
Mail it. Again, you've got options. If you have a mailing tube, you can roll your hug in it. For flat envelopes or boxes, simply fold the arms into a self-hug position and mail your art project flat.
Share it virtually. You can always share your hug via a video or pictures, too. This is a great way to use the same hug to share the love with many, many family and friends. Taking a photo of your child holding his/her hug and send it. To extend the life and reach of this family art project even further, print the physical photo and frame it as a gift!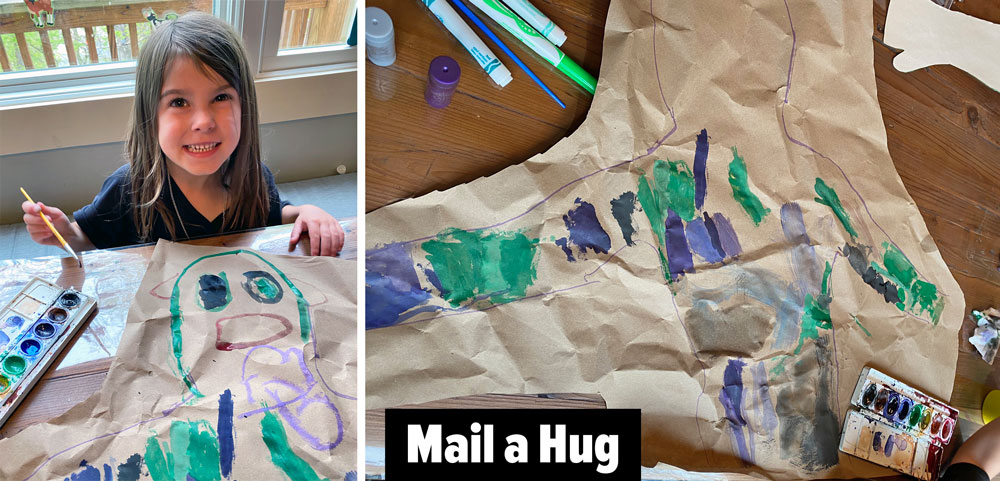 Mail your paper hug
Especially during this long season of social distancing, staying connected with grandparents, friends, and families distanced from us can be tough. This sweet act of kindness from your kiddos can really brighten a loved one's day!!!
When to Send a Hug?
The possibilities are endless. If you're physically missing giving a hug to someone you love, mail a hug instead!
Although a paper hug is perfect to send anytime a year, consider sending a…
Quarantine Hug
Deployment Hug (craft for military children)
Grandparent's Day Hug
Nursing Home Hug
Father's Day Hug
Mother's Day Hug
Birthday Hug
Christmas Hug
Hannukah Hug
Thanksgiving Hug
Any Holiday Hug
Start of School Hug — especially to a sibling, cousin, or friend
Anniversary Hug
Valentine's Day Hug
Miss you at College Hug
Have fun!
If you enjoyed this craft, you may also love our Family Handprints
Family handprint keepsakes are beautiful, thoughtful gifts from kids as holiday or anytime gifts! They're printed as durable window cling or wall stickers, so you can keep them for decades to come!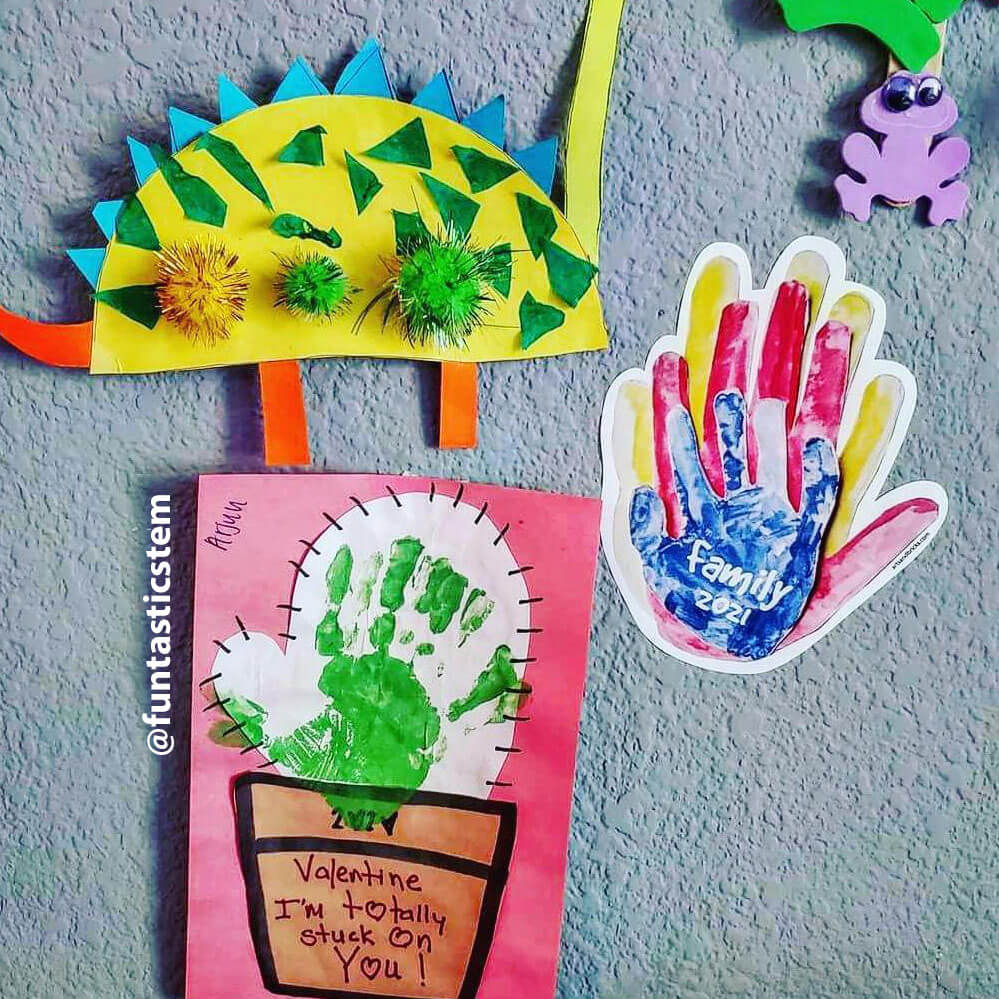 Additional Craft Ideas with Kids
Looking for other process art and paper craft ideas for kids? On Arts and Bricks, we've got lots of ideas from collages to nature art.
You may especially love our Handprint Hug idea that wraps your recipient in a true hug — the actual hug-span of your child!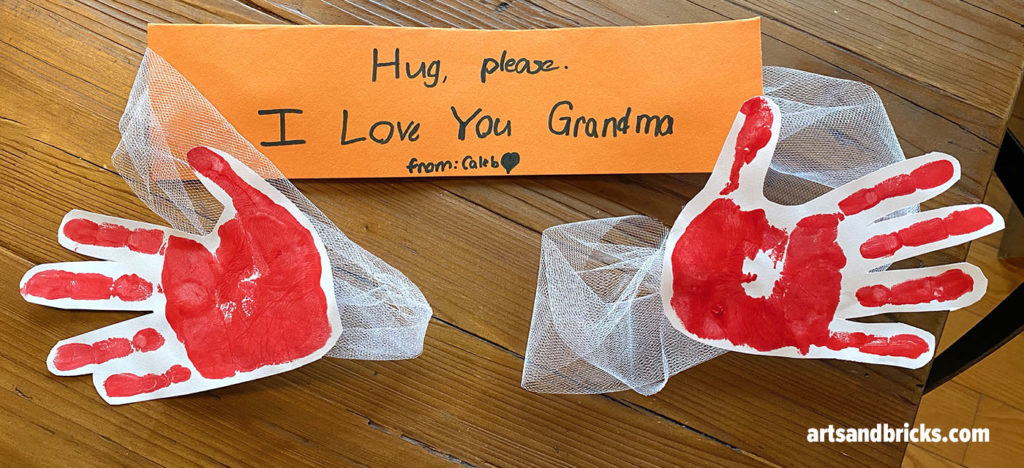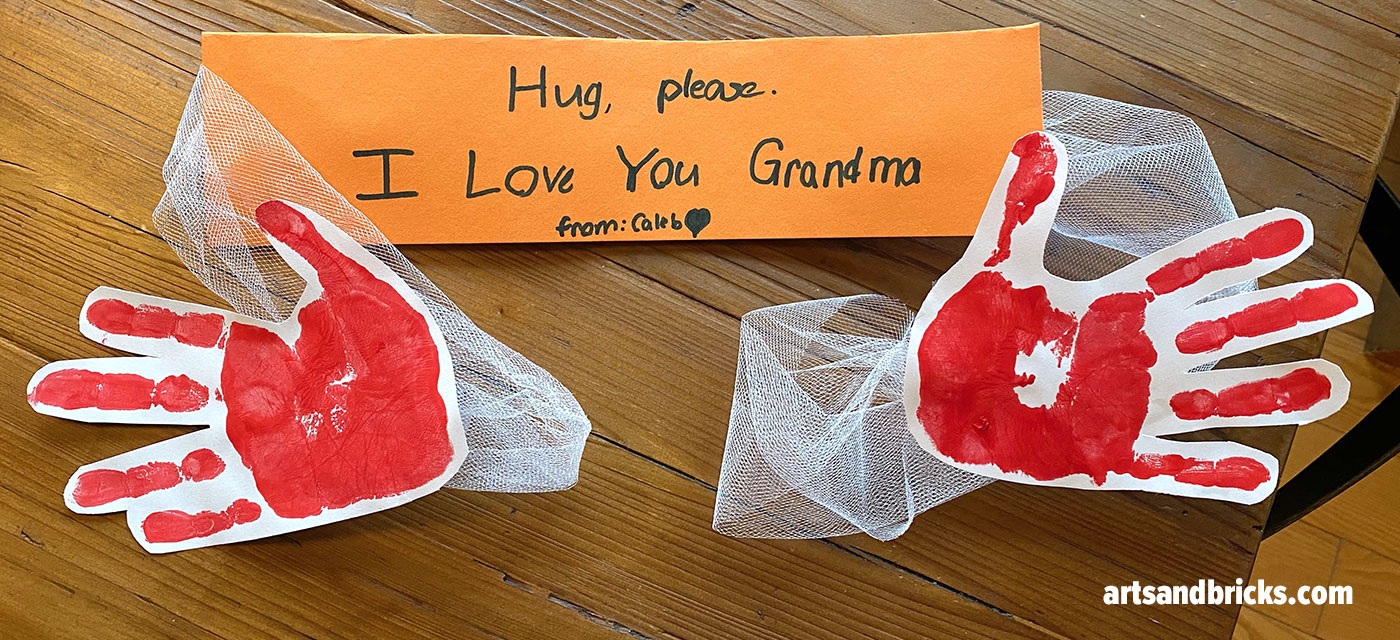 Make A Hug: A Simple Kids' Craft
Save this Idea for Later on Pinterest