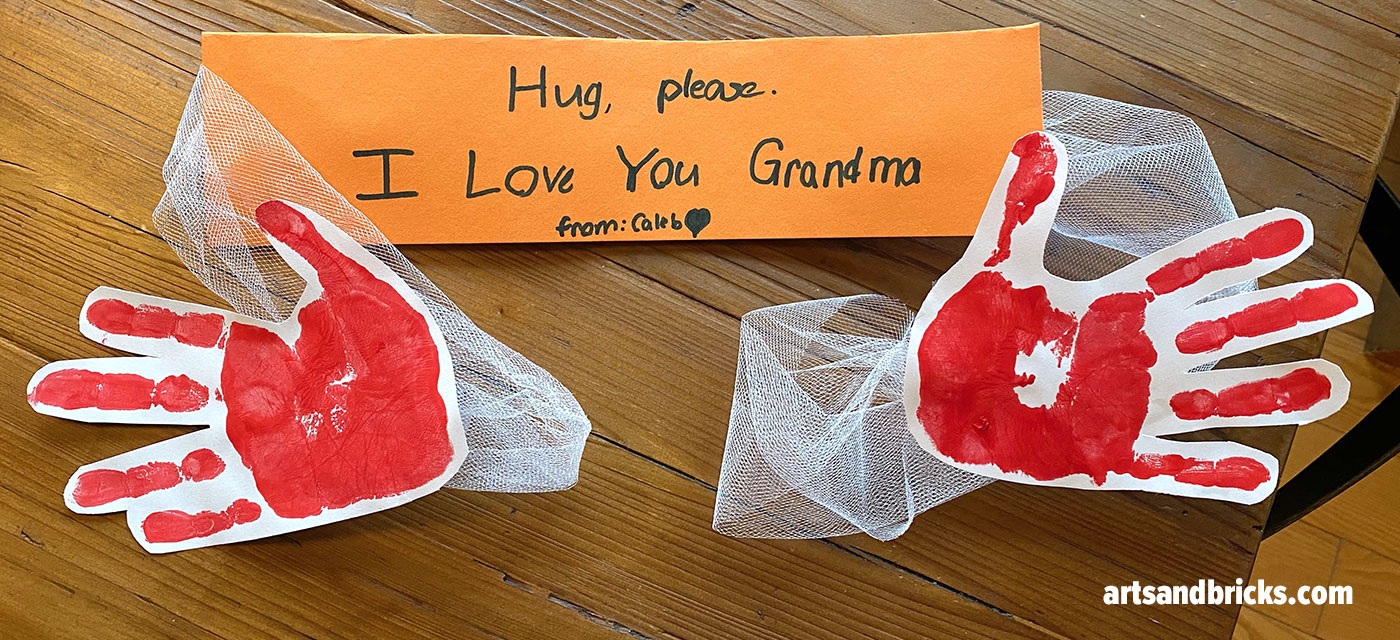 Long Distance Hugs from Kids
Send a handprint hug in the mail for Grandparents Day, Valentine's Day, Holidays, and more. Consider this thoughtful DIY craft for military-deployed family members or college students living away from family and friends.
The beauty of this craft is that your gift physically wraps your recipient in a genuine hug. Grandma or Grandpa can take your child's hug craft and embrace themselves with your child's hug span!
Did you know that Grandparents Day is celebrated each year on the Sunday after Labor Day? This is a thoughtful long-distance gift for celebrating Grandparents Day!
Mailable Hug: One-of-a-kind Kid-made Gift
The mailable hug is a simple craft that brings great joy to the recipient!
Instructions
Measure your child's hug span! Use tule, ribbon, paper, string, or any material you have readily available. Cut the length of your material to match your child's wing span (hug span 😍.) I measured from wrist to wrist, as you'll be adding hands.
Make handprints. We used acrylic paint on card stock paper. We like to paint our handprints with a paintbrush and then press our hands down on the paper on our table.
Cut out handprints. When your handprints are dried, use scissors to cut out your handprints.
Write a message. We wrote our hug love message on construction paper.
Attach messages and handprints to your hug-span. We attached our love notes and handprints to the tule with staples and tape.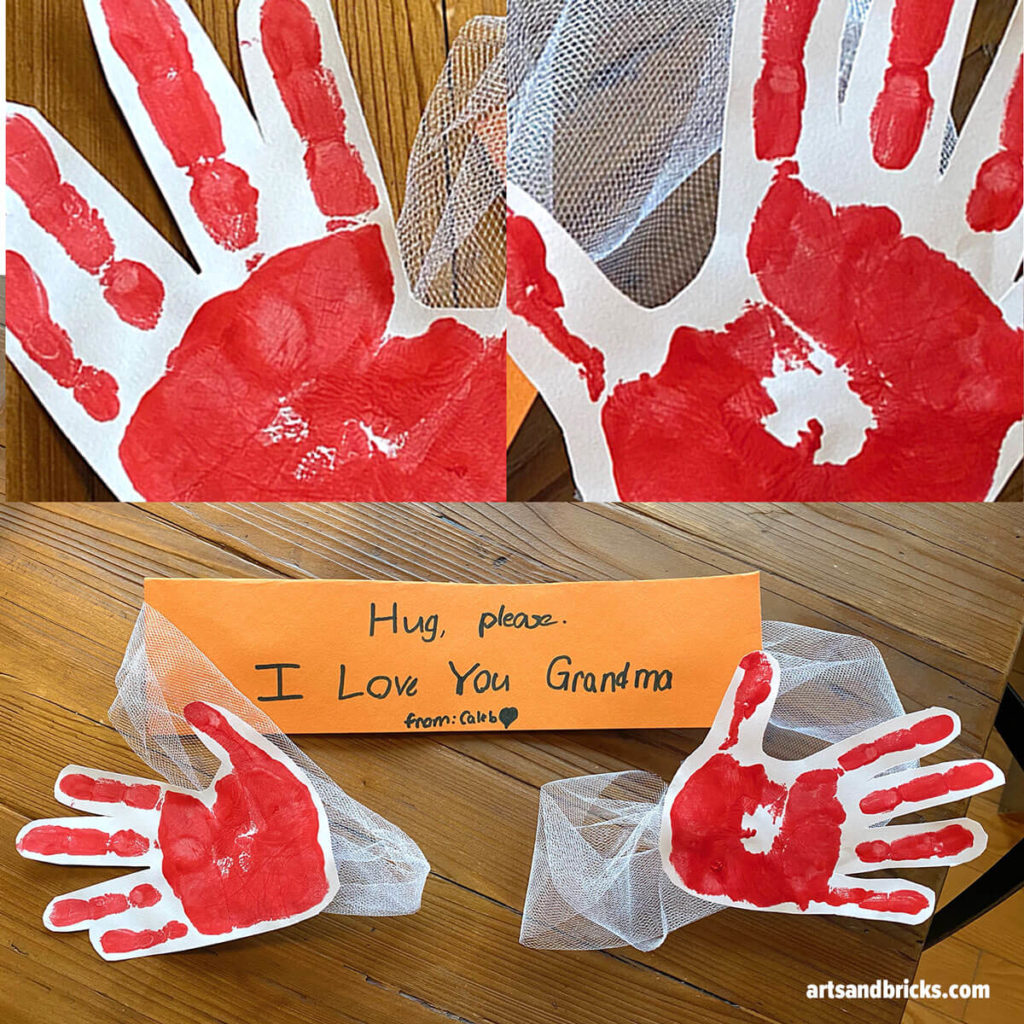 Write your own love message or consider using one of these poems.
A hug for you!
I'm sending you big hugs!
A hug from [your child's name]. Instructions: Wrap this around you. Think of me. Smile. You've been hugged. I love you!
I love you this much!
Hug, please!
Wrap these hands around you, and press close to your heart. For when there is love, we're never far apart.
I miss you when you're far away. I'd love to see you every day. But since I can't come over to play, I'm mailing you a hug today! So although it may be quite a sight, wrap my arms around you tight! Repeat daily to keep your smile bright, until we get to reunite!
Here is a hug with a handmade touch, just to remind you that I love you very much.
I love you. Here's a hug because we can't give you a real one!
Have more than one kiddo? Send multiple handprint hugs.
TIP: Don't forget to update your love messages/poems to be plural.
Here are hugs with a handmade touch, just to remind you that we love you this much!
Big Hugs from Us!
When is the best time to Send a Handprint Hug Span?
Any time, of course, but this is especially sweet for Christmas, Hannukah, Grandparent's Day, Mother's Day, Father's Day, Birthdays, Get Well Soon days, New baby gifts from kids, and more!
More handprint and hug gift ideas from and for kids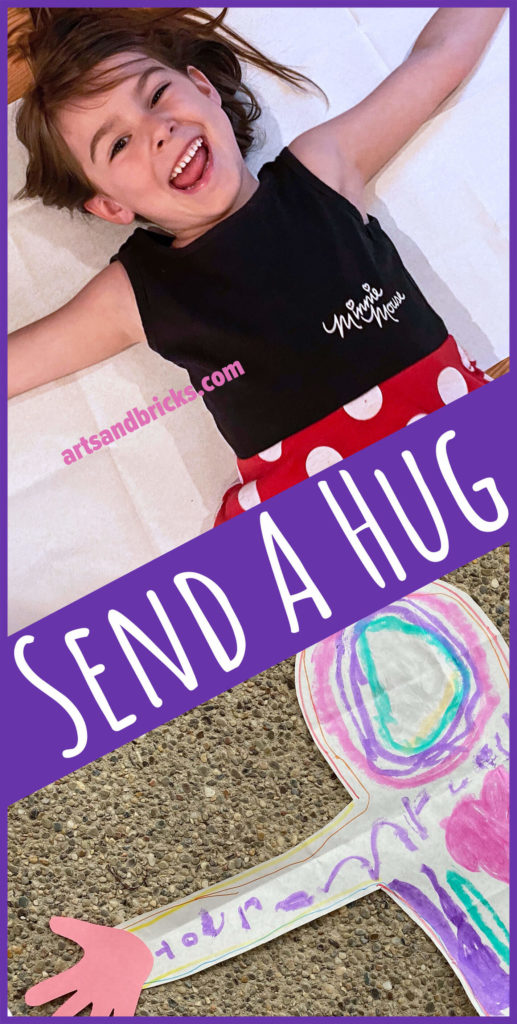 Send a paper hug to loved ones!