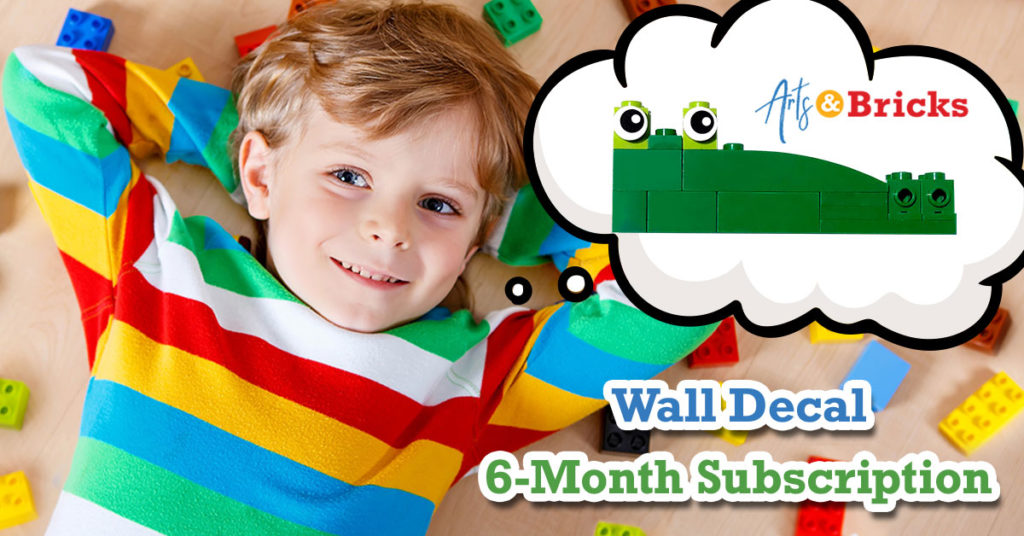 Give a gift that delights and encourages creativity month-after-month!
Introducing Arts and Bricks's wall sticker/decal keepsakes designed from the artwork and LEGO MOCs (my own creations) your child creates!
It's easy. They'll build and draw. You'll photograph and submit images to Arts and Bricks. We'll do the magic of turning your child's one-of-a-kind creations into wall decals that arrive as a personalized package in the mail.
WHAT YOU GET
1 custom wall decal/window cling per month for 6 months
Max size per sticker is 4.75 x 8 inches
FREE U.S. SHIPPING
Terms: OUR SUBSCRIPTIONS ARE CURRENTLY ONLY AVAILABLE IN THE UNITED STATES. UPON COMPLETING THIS ORDER YOU ARE AGREEING TO PAY BARKHURST CREATIVE, LLC A TOTAL OF $60 FOR YOUR 6-MONTH SUBSCRIPTION. YOUR SUBSCRIPTION IS A REPEATING PAYMENT FOR 6 MONTHS. IF YOU CANCEL YOUR MEMBERSHIP BEFORE THE END OF AN EXISTING SUBSCRIPTION PERIOD, YOU WILL BE CHARGED FOR THE REMAINDER OF THAT SUBSCRIPTION PERIOD. FOR EXAMPLE: IF YOU CANCEL AFTER 3-MONTHS, YOU WILL BE CHARGED FOR THE REMAINING 3 MONTHS.