Unique gifts for kids who have a lot of LEGO
Whether you're researching holiday LEGO ideas, birthday LEGO gifts, Easter basket LEGO stuffers, or just "Because I love you" toys, there are many options for LEGO lovers.
Hopefully, this LEGO gift guide helps to inspire you, and you discover a NEW product or two, or three, or four, or more!!!
If you're wondering, "Does LEGO make a good gift?" The resounding answer is, "YES!" We can speak from experience that the children in our lives, from ages 3 to 11, always say that LEGO gifts are their favorite gifts for any holiday!
Don't forget to share these ideas with your kids' grandparents. We're here to help you NOT receive your 3rd and 4th set of the same LEGO truck readily available at Wal-Mart and Amazon. 🤪 For our favorite LEGO sets, check out our reviews and suggestions.
So, onto our roundup of more than 50 of the BEST LEGO GIFT IDEAS:
Arts and Bricks Personalized Name Decals
Decorate bedrooms, playrooms, and LEGO rooms with personalized brick-built name walls and windows decals. This unique idea will delight any LEGO lover, child, or adult! Each letter is about 6 inches tall, and you can select either wall-safe adhesive backing or window static cling as the material.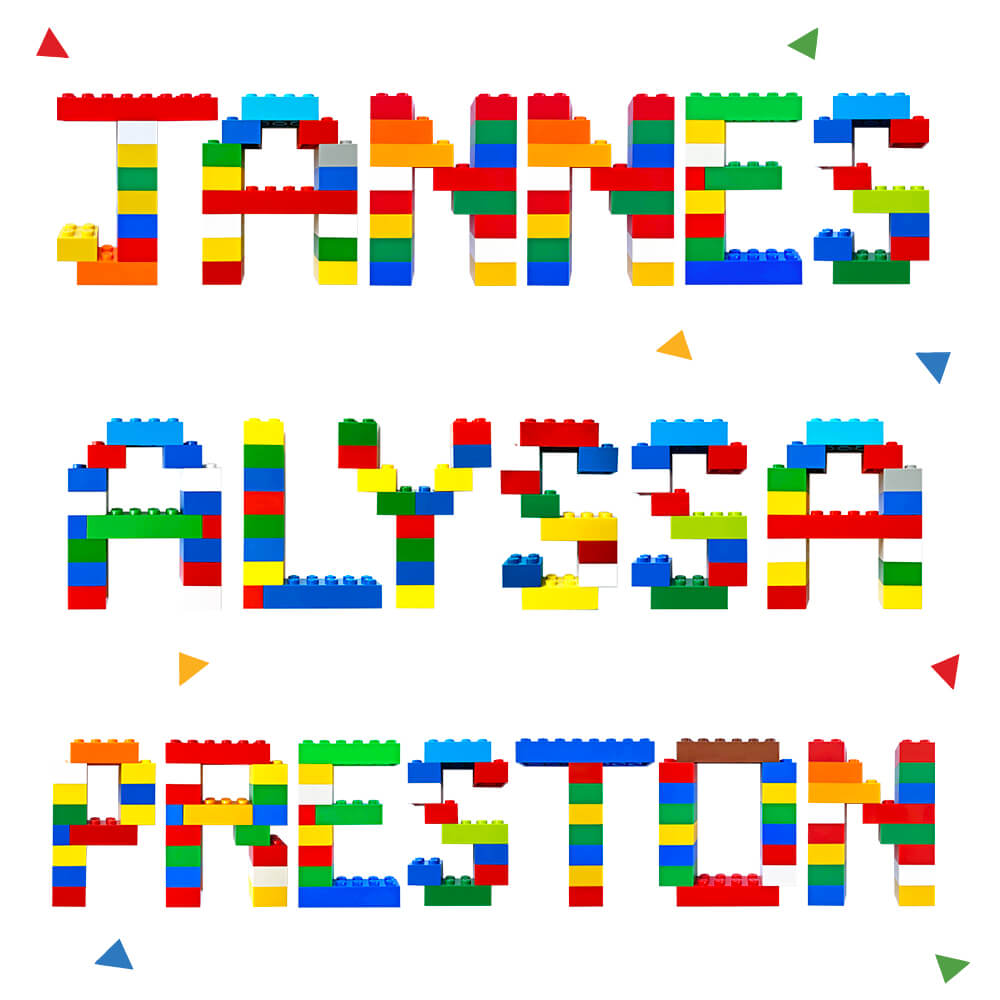 Klutz Lego Make Your Own Movie Activity Kit
We found this great LEGO activity book at our school book fair and we've had quite a bit of fun building and recording our own Stop-Motion animations. The book includes scenery, props, and very helpful instructions for inspiring young movie producers!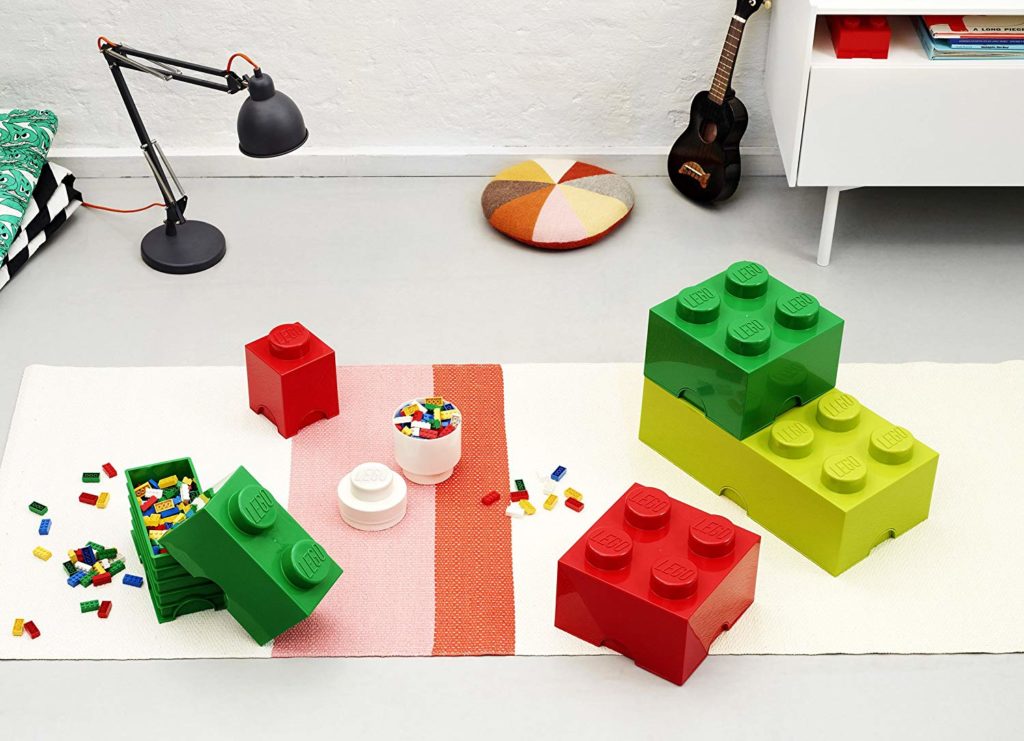 Advertisement - Keep Scrolling
These cute LEGO Brick storage boxes are a clever way to store your LEGO brick collection, or even just an easy way to travel with LEGOs, especially useful for holiday visits and family vacations. Multiple-sized plastic storage brick bins are a fun way to decorate and keep bricks off your floor!
Arts and Bricks "Racers" LEGO Car Wall Stickers
These durable wall decals add a creative touch to any bedroom, playroom, or LEGO play space. Designed by a mamma/son team and built with LEGO bricks, these wall stickers are movable and do not damage walls or paint.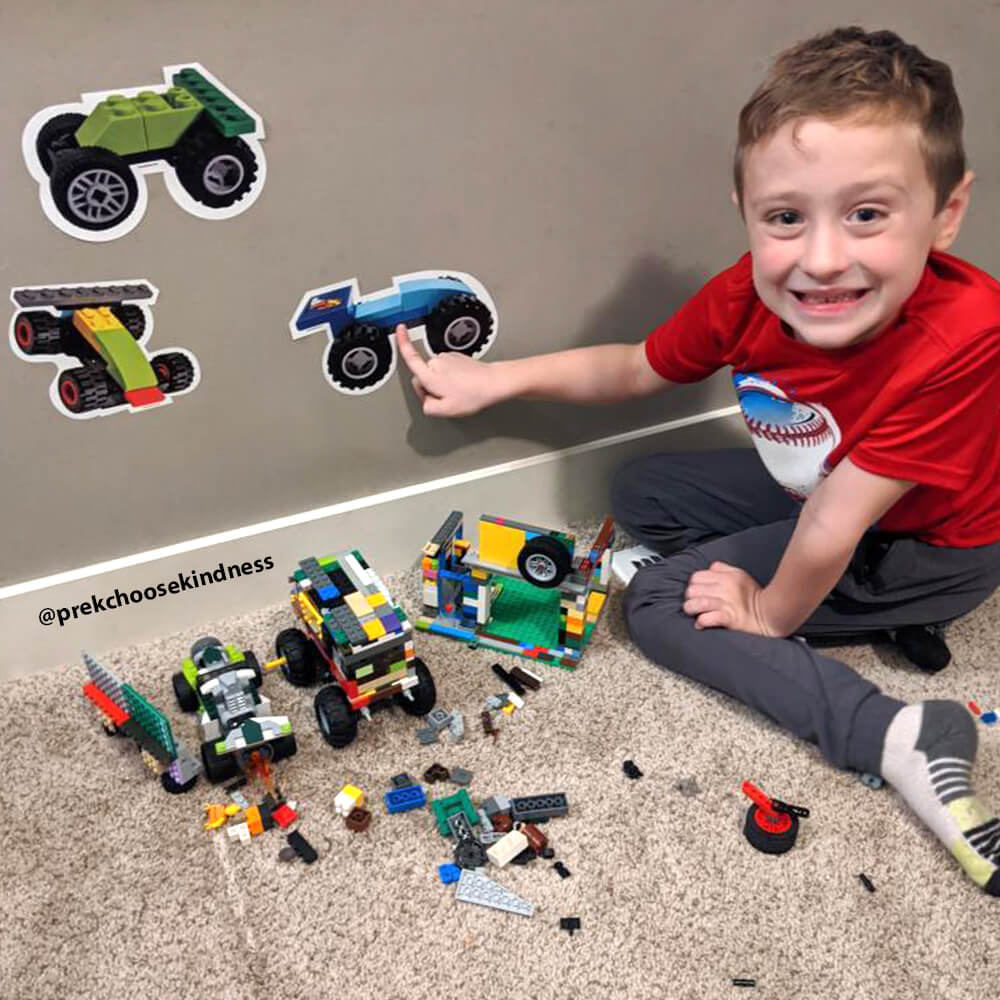 LEGO Bionicle Sets for Kids (from the early 2000s)
We first discovered LEGO Bionicles because several pieces were included in an eBay bulk LEGO purchase. My son fell in love with them and has been asking for LEGO Bionicles ever since. We've purchased several authentic, used LEGO Bionicle sets from eBay. At Christmas, we bid and lost several eBay auctions for Bionicles (they get expensive because they are collector items). Still, we were able to buy six sets directly on eBay without an auction (around $65 total). The LEGO Bionicles were a favorite gift of the season!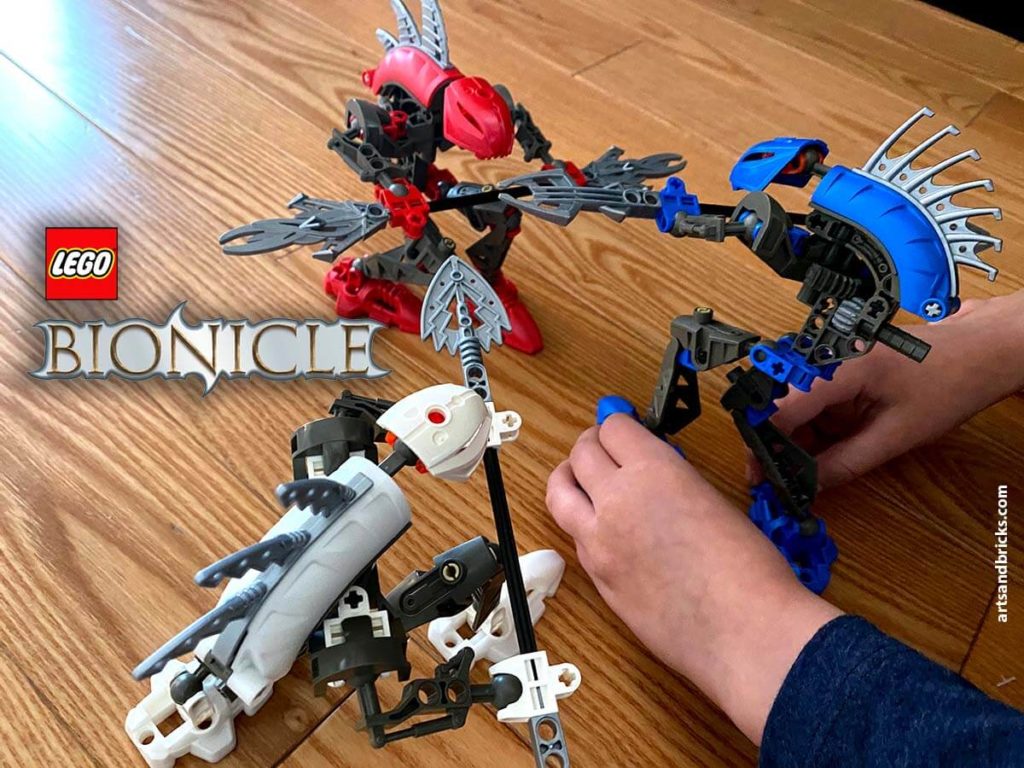 A trip to LEGOLAND or a LEGO Discovery Center
Legoland is specifically designed for children ages 3 to 12 and has three U.S. locations: Florida, California, and New York. LEGO Discovery Centers are indoors and currently have 13 locations in the US. Younger LEGO lovers may not know that such a fantastic theme park and resort exists, so an unexpected trip may be the ultimate surprise to a young Lego enthusiast's childhood.
For our family, we found that LEGOLAND was even better than Disney.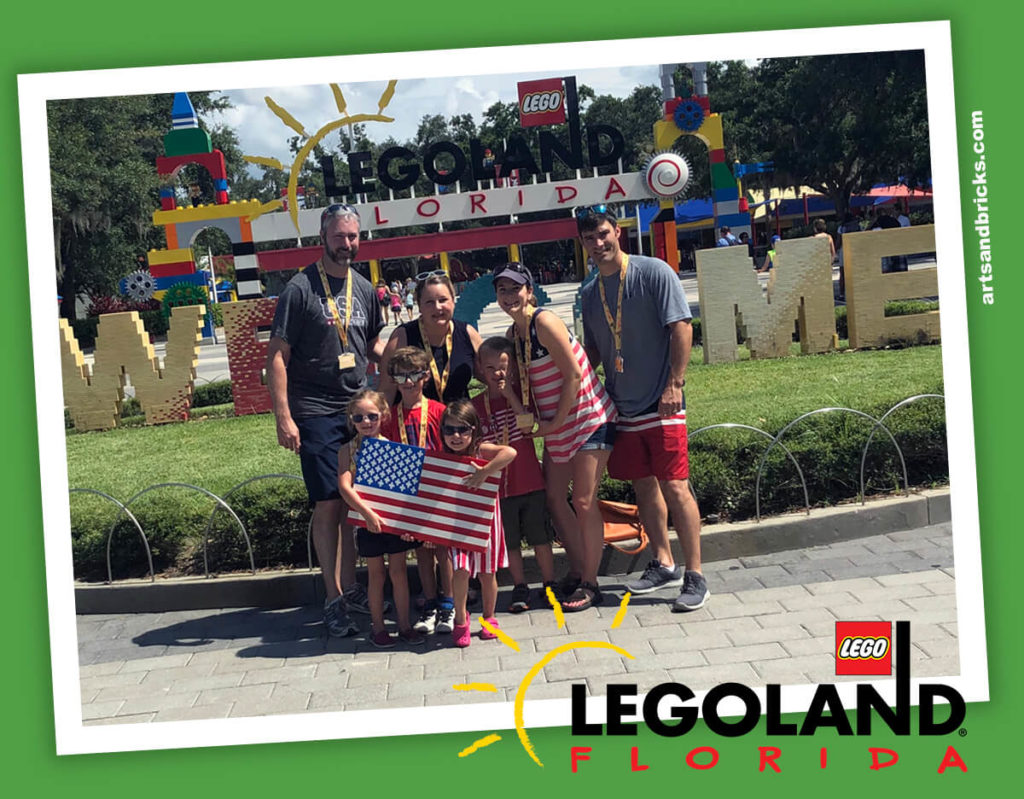 Lightailing LED Lights for LEGO Sets
Lightailing or Briksmax lights are 3rd-party LED light sets that provide your LEGO bricks with pre-glued LED lights attached to the bricks. To add captivating lights to your already built and purchased LEGO sets, you can purchase a Lightailing light set. Their instructions guide you on how to unbuild and replace certain bricks in your set with Lightailing light bricks. The results are pretty cool!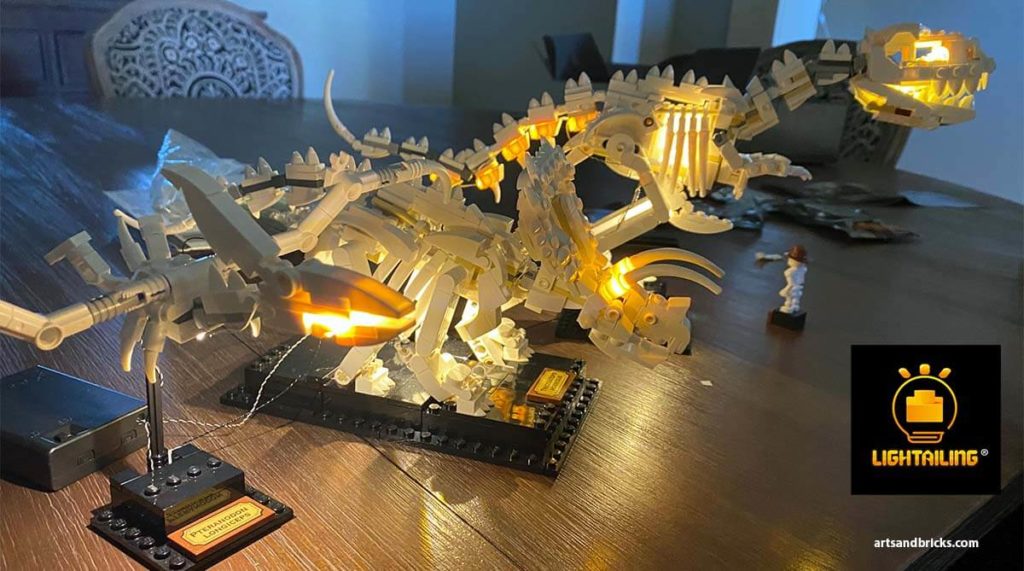 LEGO Education Wheels Set
Regarding building with LEGO bricks, vehicles and cars are the staples in our home. Extra plates and wheels allow for even more fun, racing, and less fighting over who gets to use which important car bricks. This is a significant value-add set for your family's LEGO collection!
LEGO Search and Find Books
A fun twist on Search-And-Find books, explore the Ninjago world while searching for favorite characters like Samurai-Droid and Pizza Boy in LEGO CITY. Even escape to the magical worlds of Harry Potter and Star Wars.
Customize your own Minifigure in a Personalized LEGO Search-And-Find Book
These clever personalized LEGO Search-And-Find books by Penwizard are even better than the off-the-shelf Search-And-Find books! Personalize your book's main character's hair color, glasses, clothing, and facial expression. Insert your special LEGO lover's name and a personalization message into this one-of-a-kind book. These books ship from the UK, so you'll want to ensure enough time for production and mailing.
Adidas LEGO Shoes, Clothes, and Gear Collection
Adidas is partnered with LEGO to bring us over 130 products for kids 0 to 16. Includes LEGO baby onesies, LEGO bathing suits, LEGO jerseys, LEGO kid's shoes, LEGO soccer cleats, LEGO hats, LEGO jackets, and more!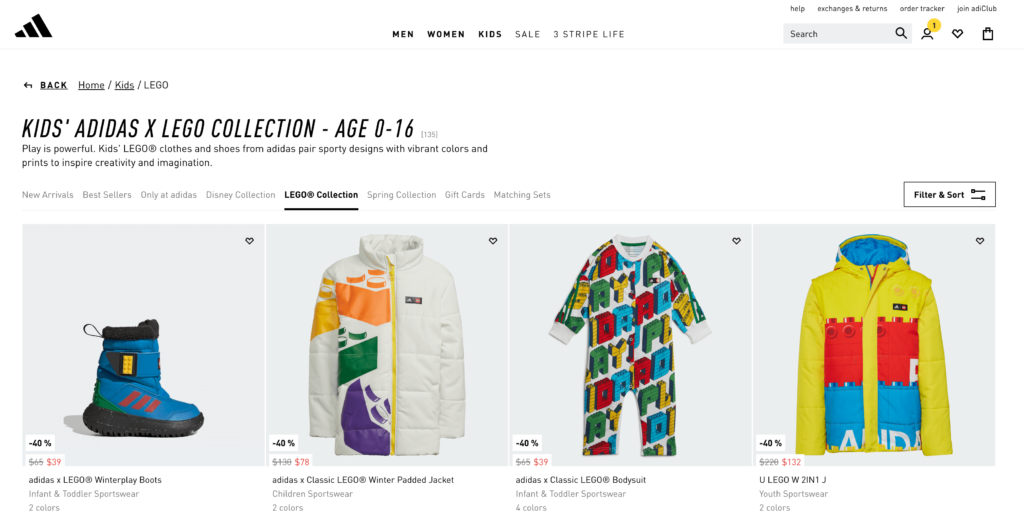 LEGO Amazing Vehicles Book
We received this excellent LEGO Amazing Vehicles book as an eighth birthday gift. Featuring many inspirational LEGO vehicle ideas, we can confidently share that if you have a kid who loves LEGO bricks and cars, this book will be a superb purchase and will encourage hours of building fun!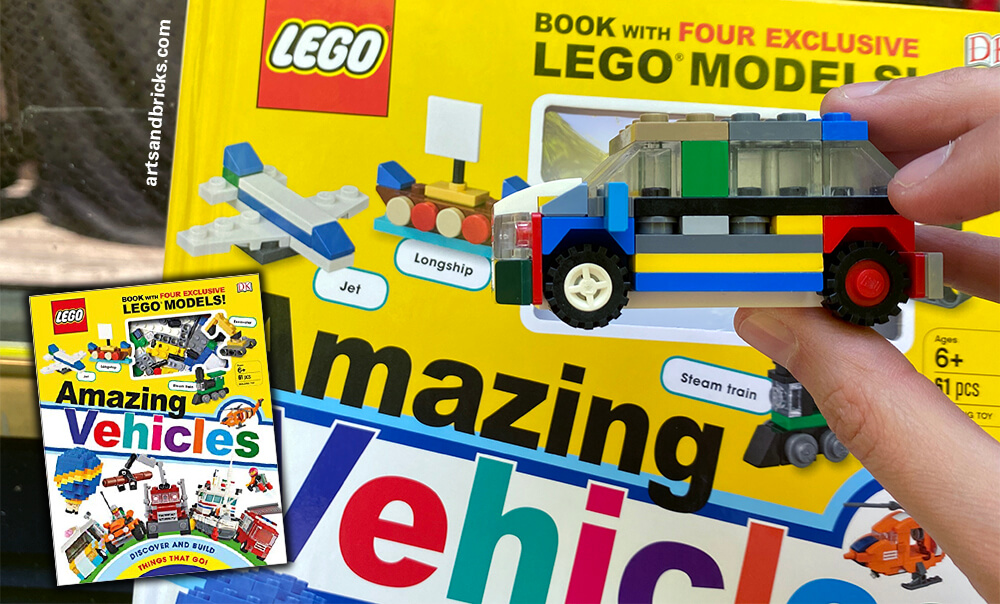 LEGO Baseplates
LEGO baseplates are very useful foundational LEGO pieces. Available in various colors (grey, green, blue, sand, and white), they serve as fields, oceans, space, beaches, and deserts.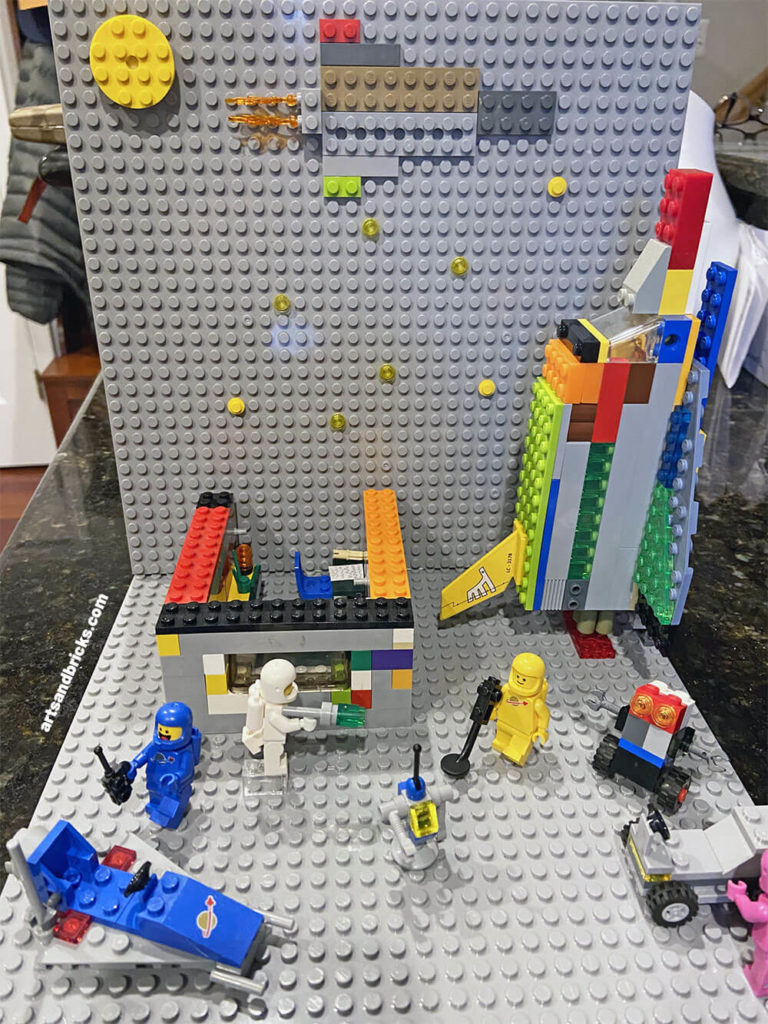 Sign your young LEGO-lover up for the FREE LEGO LIFE magazine
The LEGO LIFE magazine is exclusively for kids between the ages of 5 and 10, comes four times a year, and is FREE.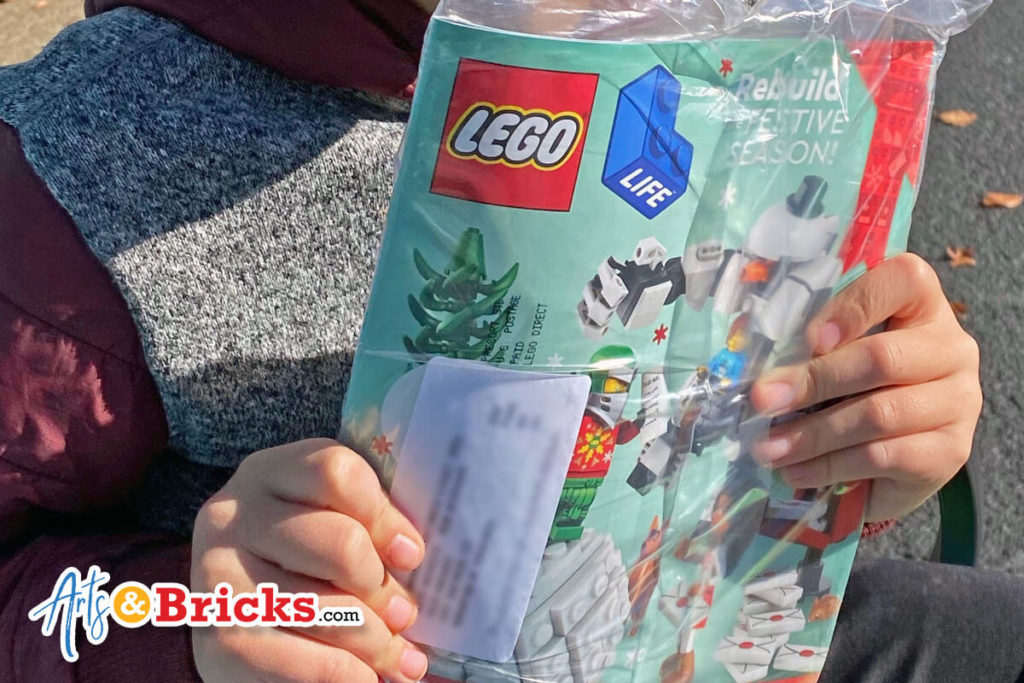 LEGO Minifigure LED Headlamp
I think this novel gift will be a hit with kids of all ages, but I can attest that the children in our life (ages 3 to 9) wear headlamps EVERY night in their bedroom before they fall asleep and would LOVE this LEGO headlamp design.
Silicone LEGO-themed trays
This 6-piece set includes molds for bricks and Minifigures. Use these LEGO silicone food molds to create LEGO-themed candles, LEGO crayons, LEGO candy, LEGO cupcakes, and more! This is an affordable creative gift for the LEGO-lover in your life, both child and adult!
The MOST OBVIOUS gift: NEW LEGO sets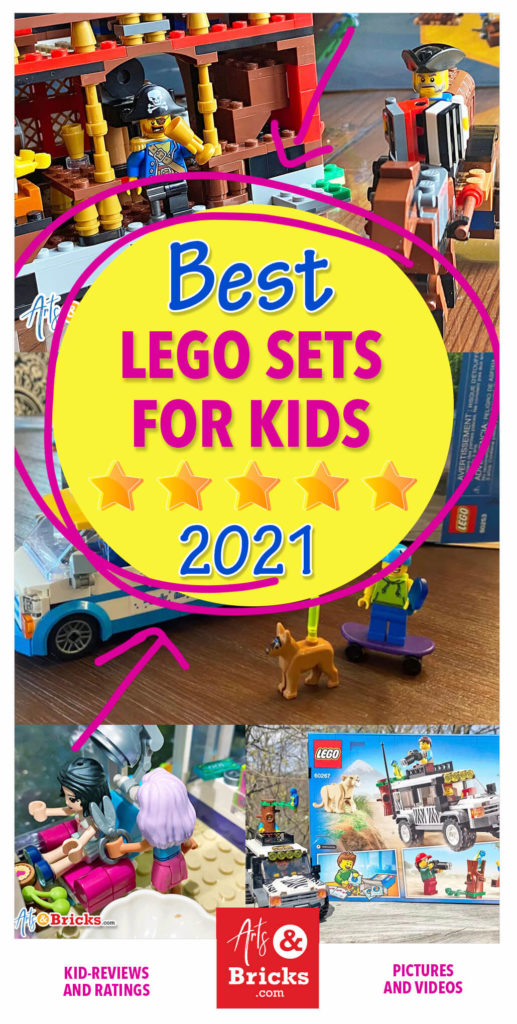 LEGO Classic sets are especially perfect for younger children brand-new to LEGO or for children just moving up from Duplos because the Classic sets quickly add a variety of brick colors and basic bricks to any LEGO collection.
The Classic #10698 set includes many 2x4s, 2x3s, 2x6s, etc – increasing your basic brick building capabilities – while the specialty bricks like doors, windows, upper and lower slanted angles, several round bricks, two green baseplates, six wheels, and seven eyepieces open up new creative options. The LEGO® Classic box set comes in a plastic storage bin shaped like a brick (bonus!) and includes 790 pieces. (Read our child's review of the 10698 LEGO set).
The LEGO Classic series also has sets that come in smaller boxes that run about $5. (Especially affordable for acquaintance's birthday gifts or stocking stuffers!) You can purchase these smaller boxes by color, allowing you to increase the bricks in your collection based on your child's favorite color – like ORANGE!

LEGO Book for Animal Lovers, Beasts from Bricks
Brought to us by Toronto-based fine artist Ekow Nimako, this book is a great purchase for creative animal + LEGO lovers in your life. (Purchase on Amazon) Using LEGO bricks as an artistic medium, these build instructions are for sculpture. The artist and author writes, "The sculptures in this book took me several hours each to make, some several days, and because there are so little parts to work with on such a small scale, expressing the subtleties of these beautiful beasts required a keen attention to detail, and a masterful approach to sculpture."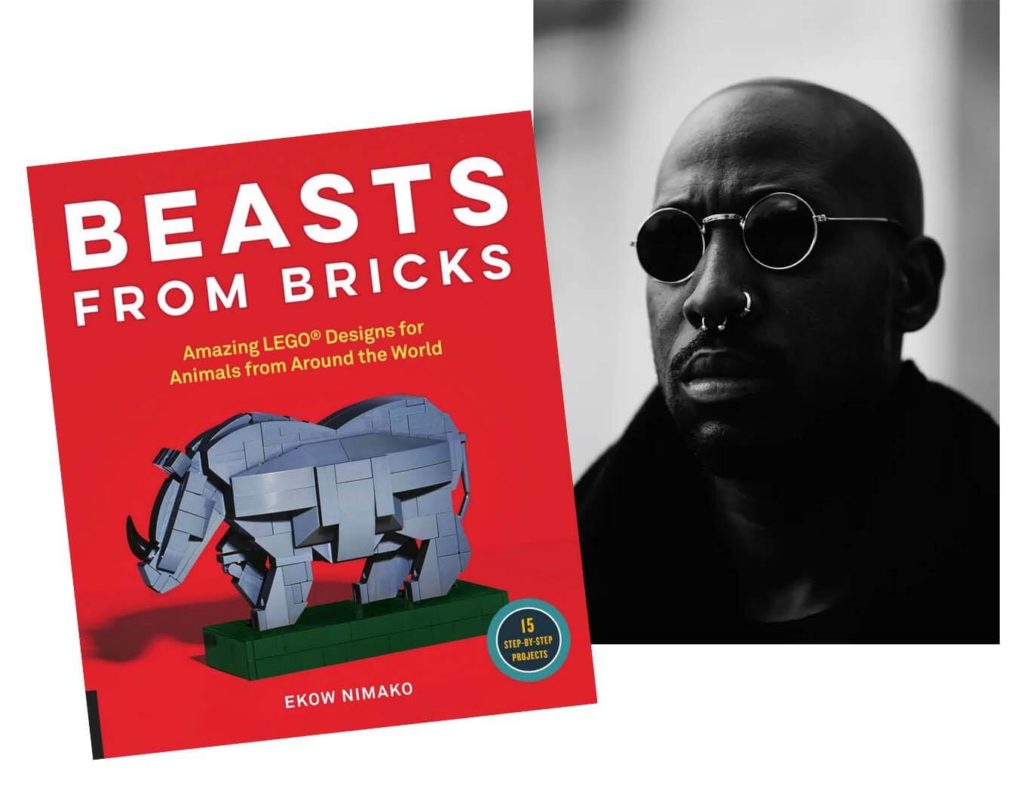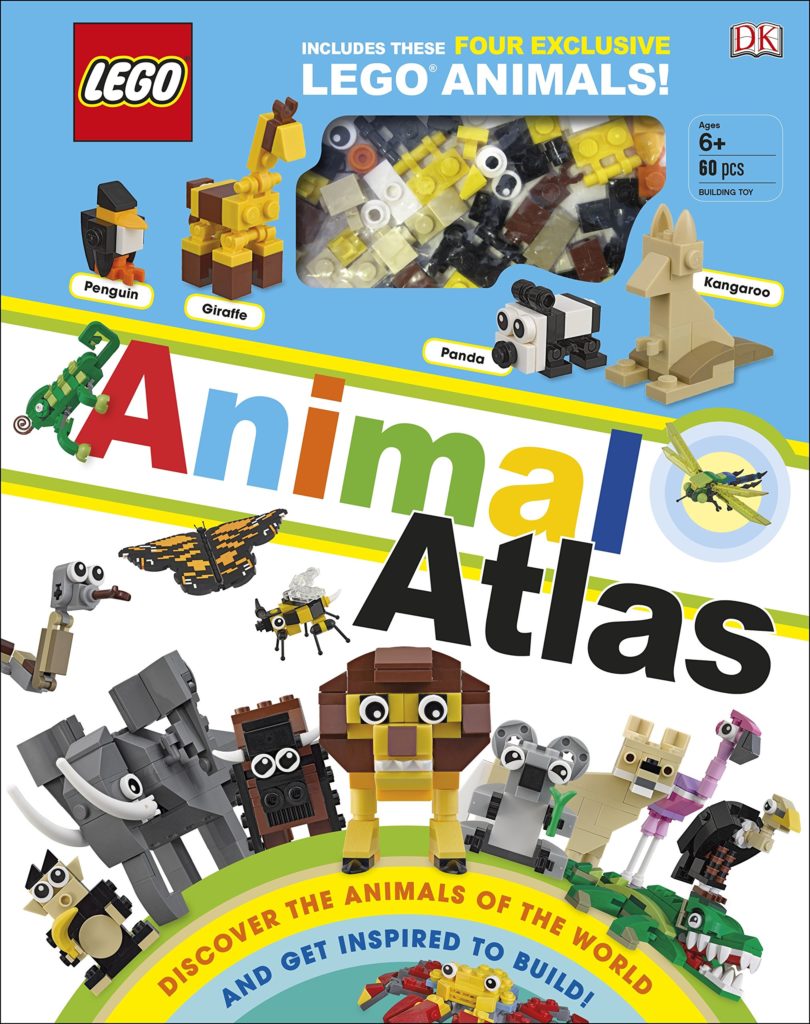 The LEGO Animal Atlas book is for ages 5 to 7 and provides inspiration for animals around the world. The book includes 60 LEGO pieces that allow young builders to create a penguin, giraffe, panda, and kangaroo.
Kids LEGO-Compatible Toy Block Tape
These rolls of stickable tape allow you to attach LEGO Minifigures and LEGO bricks to any surface. Use on furniture, walls, other brick sets, and more.
Get creative. Stick this tape under a desk to "hang" your favorite Minifigures or to act out upside-down scenes! This is an inexpensive gift that greatly extends creative play for the brick-building enthusiast in your life. This tape is manufactured by a variety of vendors and comes in many different colors and sizes.
LEGOS for KIDS' LAPTOPS
If your child is old enough to have their own computer, then they might love this creative decorative addition by Brik. Brick.co allows you to create pixel art on your Brick laptop case. (aka build mosaics on your laptop!)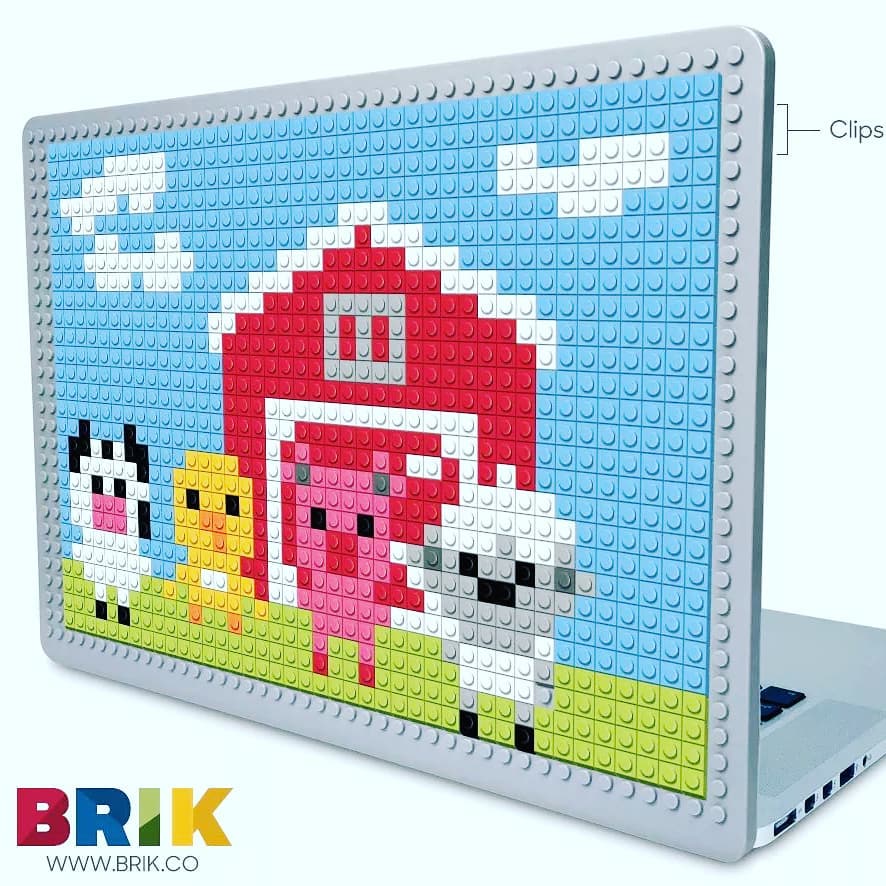 LEGO Chess Set
Is there a LEGO Chess set? Yes, there are many!!!!
At 7, our son has discovered chess. We've purchased and built the Lego Iconic Chess Game Board Set. This LEGO chess set is buildable (the board and the pieces) and then has storage available to keep the built board as a functional chess board and game. You can play checkers, too. (Read our full review of the Lego Iconic Chess Game Board, Set 40174)
The LEGO chess set is a bit pricy, but for 2-for-1, both a LEGO building set and gameboard, it seems very worth it. Plus, this is one of those sets that we plan to keep for a long time; I can see this LEGO Chess set being passed down to grandkids! As of Nov. 2019, Lego.com sells the LEGO Iconic Chess Set for about $55, while Amazon's price is fluctuating upwards of $99.
LEGO Brick Headz > Go Brick Me
This LEGO Brick Headz set allows you to build a Brick Head that looks like you, your best friend, family, or really anyone! This set includes specially selected LEGO bricks to match a variety of hairstyles and skin tones.
MORE GIFTS FOR LEGO LOVERS
LEGO Road Baseplates
Give your cars a place to zoom, race, and park! Create city streets with LEGO CITY straight and crossroad base plates. The roads come in sets of two baseplates for T-junctions, straight roads, and curves. Extend your roads and even add parking lots with off-brand LEGO-compatible road plates.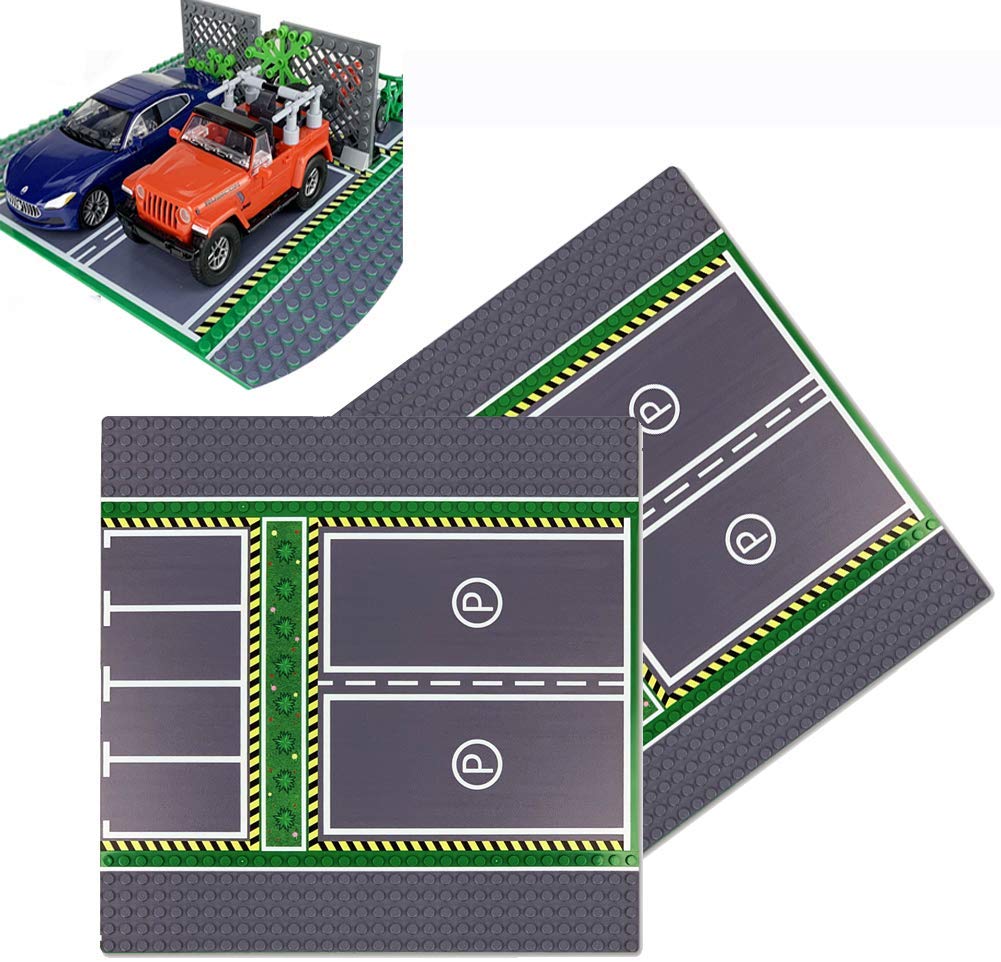 LEGO Brick Alarm Clock
This basic alarm clock, with a snooze function and a light-up display, will delight the LEGO enthusiast in your home. Features iconic blue brick design. There are many other LEGO brick alarm clocks to choose from, too!
Klutz LEGO Crazy Action Contraptions Craft Kit
Klutz books and products are great; I still remember my Learn to Juggle Klutz book from the early '90s (and, yes, it did teach me to juggle!) The Crazy Action Contraptions encourages hours of creative playmaking launchers, noise-makers, gadgets, vehicles, and games.
Purchase Bulk Used LEGO Bricks
One of the best gifts my son EVER received was a bulk container of my childhood LEGO bricks from the 1980s. Grandad unpacked them from the garage and split the lot between his two grandsons for Christmas.
This was a BIG TIME WIN! (Plus, I spent several hours that day recreating sets from my childhood, because of course, my Dad saved all of the instructions, too!)
Over the summer we were thinking we could once again use a large bulk set of LEGO bricks to replenish our collection, so we turned to eBay. (We checked the Facebook marketplace for our local area, but there were very few options). Our bulk LEGO purchase was a great success! Read this post if you're wondering how many bricks are in ten bulk pounds or just want to get some tips for purchasing bulk LEGO bricks online.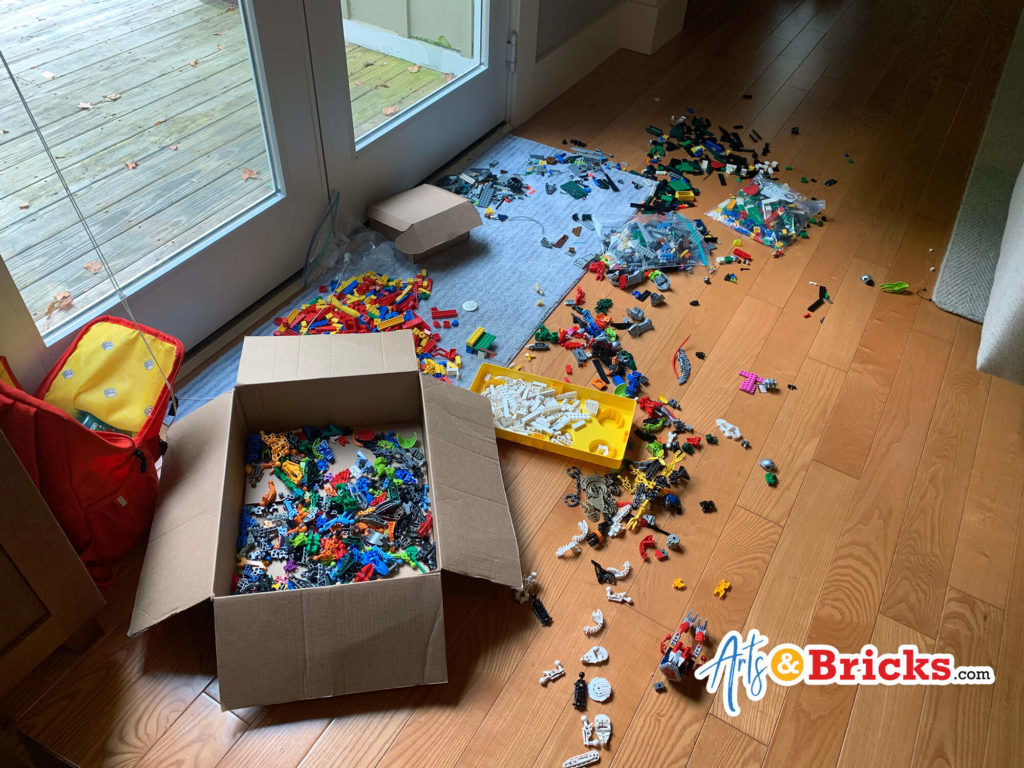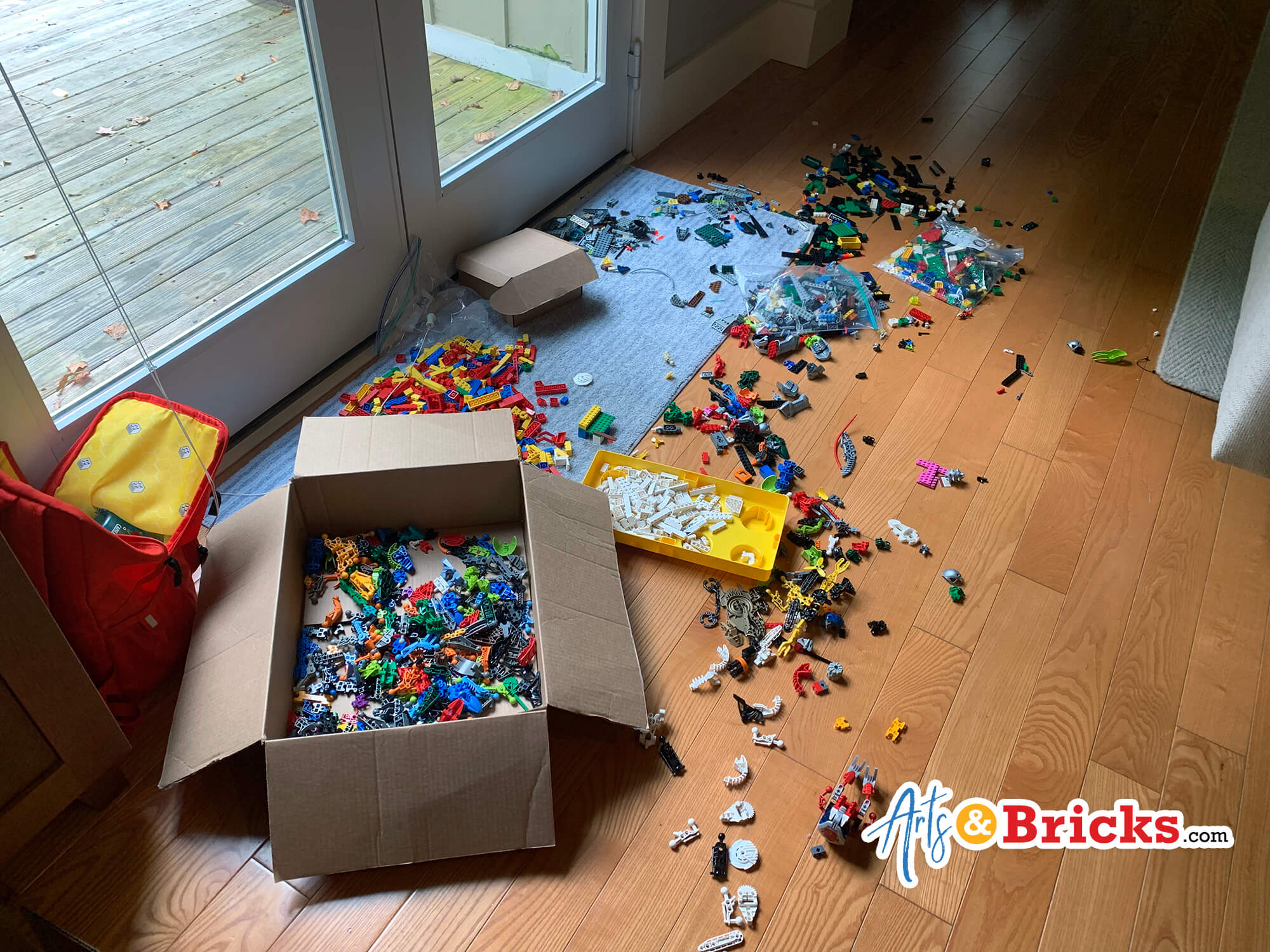 Eat, Sleep, Build T-Shirt for Kids
Cute t-shirts for the obsessed LEGO builders in your household!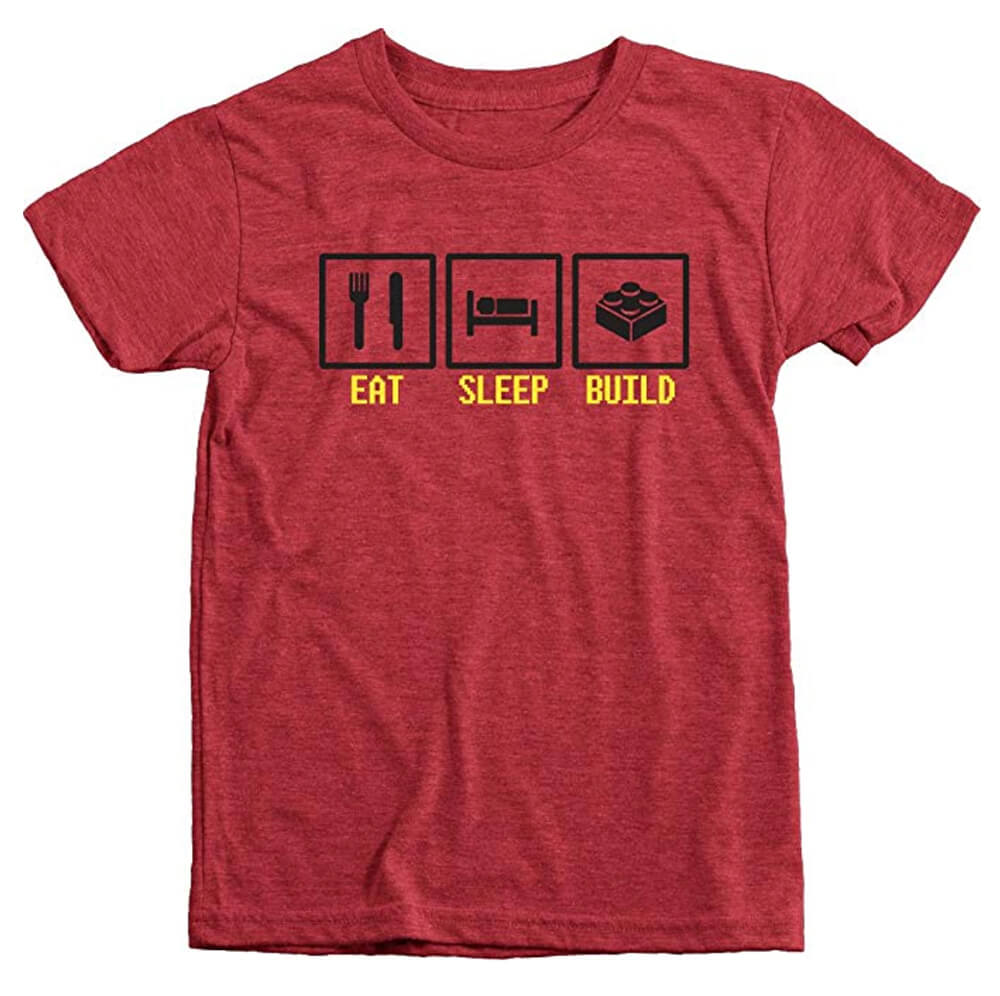 Gift ideas for grandparents to buy LEGO-obsessed grandkids
LEGO-Inspired Sunglasses
We received a pair of brick sunglasses as a party favor. They were very cute! Of course, our kids are tough on sunglasses (and most kids' sunglasses are made cheaply), so these glasses will not last multiple seasons. However, I think these sunglasses are worth it, even if just to capture cute photos of your kids wearing them!
LEGO-inspired kid sunglasses are perfect for summer birthdays, stocking stuffers, and more. These build-on sunglasses come in a 6-pack. Being forced to purchase multiple pairs is convenient, even if you only have one or two children, because you'll still have another pair when they break!
You can also find these party LEGO build-on glasses without lenses. Sometimes, if you're lucky, you can find printed LEGO-themed sunglasses too.
LEGO Ideas Dinosaur Bones – Fossils
For the LEGO and dinosaur lover in your life, it doesn't get better than this! Assemble your very own dinosaur bone exhibit featuring the fierce T-Rex, Triceratops, and Pteranodon. This 910-piece set includes a paleontologist Minifigure and skeleton LEGO Sapiens figure. Lego recommends for ages 16+, but our nine-year-old flew through this LEGO build all on his own.
Another similar LEGO dinosaur boneset is the discontinued LEGO Cuusoo Research Institute #21110. It is still available on eBay, Amazon, and even online from Walmart.
365 Things To Do with LEGO Bricks Book
We've had this book in our personal collection for about a year. It's a very high-quality, hard-covered book with an extra flap for marking your page. The red square (shown on the bottom) is a functional activity timer and selector. Simply push the "?" button and the screen display will cycle through and land on a number between 1 and 365. This is your activity selector, simply flip to that activity number and get to building.
To be honest, we've probably only specifically completed a dozen or so of the projects, however, our son frequently flips through this book by headlamp at night in his bed. It sparks creative ideas and he enjoys reading the book as well as just flipping through the pages.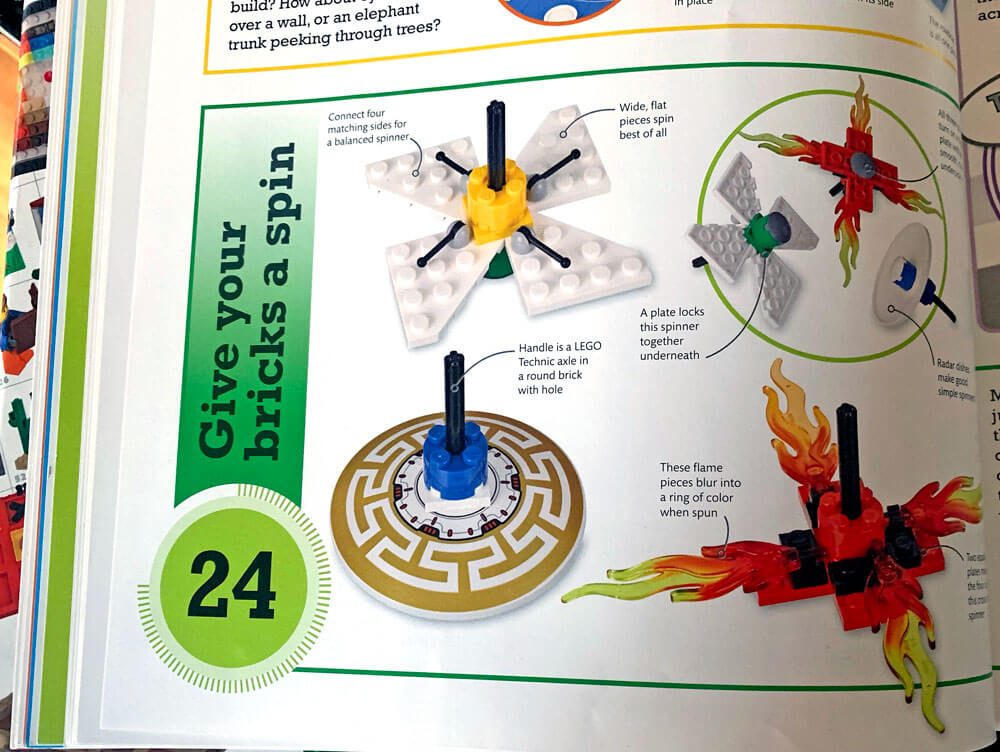 Brick Activity Table

This plastic building blocks-compatible table makes a nice addition to a child's bedroom, playroom or dedicated brick-building space in your home. A best seller on Amazon, this activity table comes in two color combinations: Red/Green/Blue/Yellow and White/Blue/Pink/Purple.
LEGO Minifigure Packs
Did you know that you can buy LEGO Minifigures in packs, similar to how you buy trading cards? Single packs are great for small add-on gifts! The Minifigure packs often include unique accessories like golf clubs, guitars, hats, and fun hairstyles. Minifigure packs are unmarked, so it's always a surprise what character you'll open.
Attach Minifigure packs to your gift bow and ribbon to add extra excitement to your wrapped presents. Buy several and give as a gift to friends, or use them as LEGO stocking stuffers!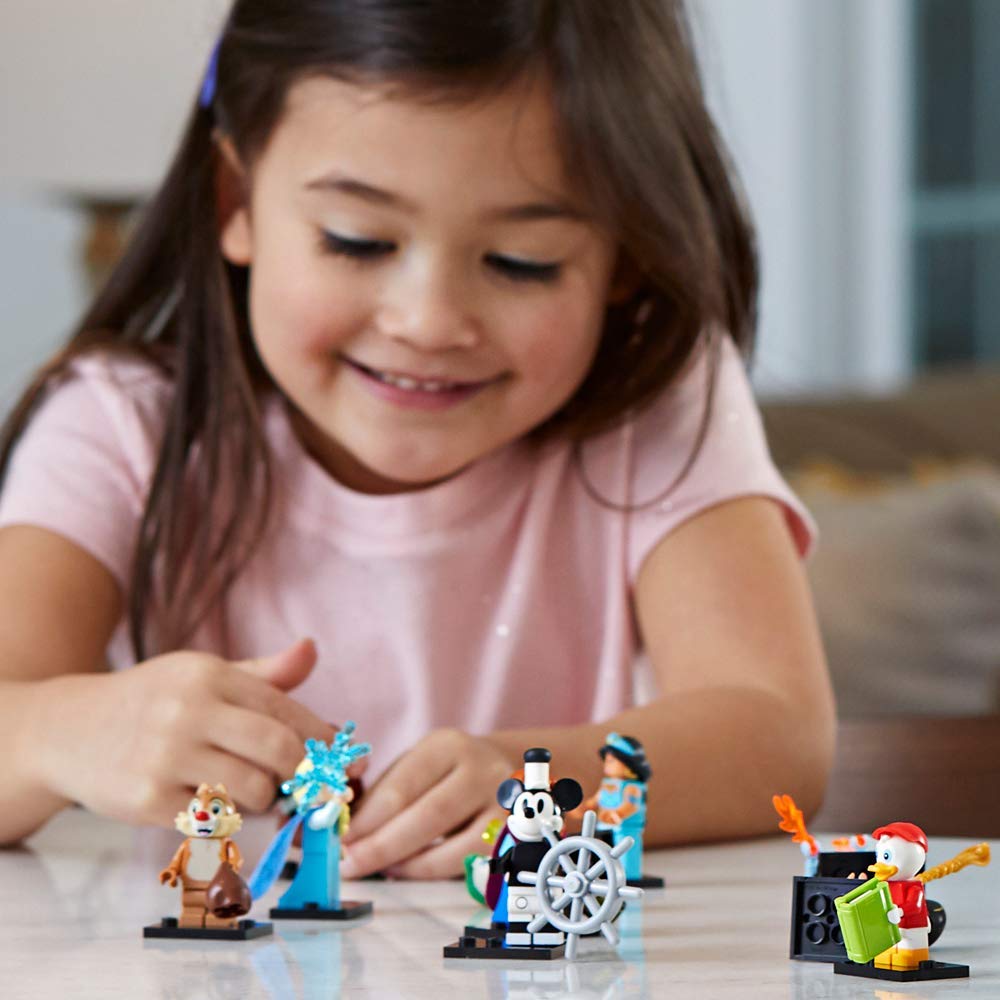 LEGO Cookie Cutters (5-Pack)
We recently ordered the LEGO Cookie Cutters from Lego.com as a festive addition to our holiday cookie cutter collection. I'm thinking about using them as stocking stuffers. These could be great for children's LEGO themed birthday parties and likely a great addition to a playdough collection, too.
This buildable mech moves like a spider, each leg lifts and the crawler moves forward and backward by the movement of the wheel on the underside. This mechanical spider also shoots webs from two stud shooters. This is an example of one of the rare sets that is still intact in our home, months, and months later. Plus, it comes with a Spiderman Minifigure, a definite crowd-pleaser.
This is by far our most expensive LEGO purchase to-date, but it's also the most versatile and "techy" Lego set that we own. Lego Boost was created to introduce LEGO robotics and programming to children ages 7-12. The set has five builds and the instructions and programming happen on a free App that you access on your smartphone or tablet. The activities and programming are fun and entertain children and geeky adults, alike!
This was a Christmas gift that captivated the cousins for multiple hours each day of the holiday (PARENT WIN!). The down-side, Vernie the Robot was so loved that our son refused to take him apart to build the other designs.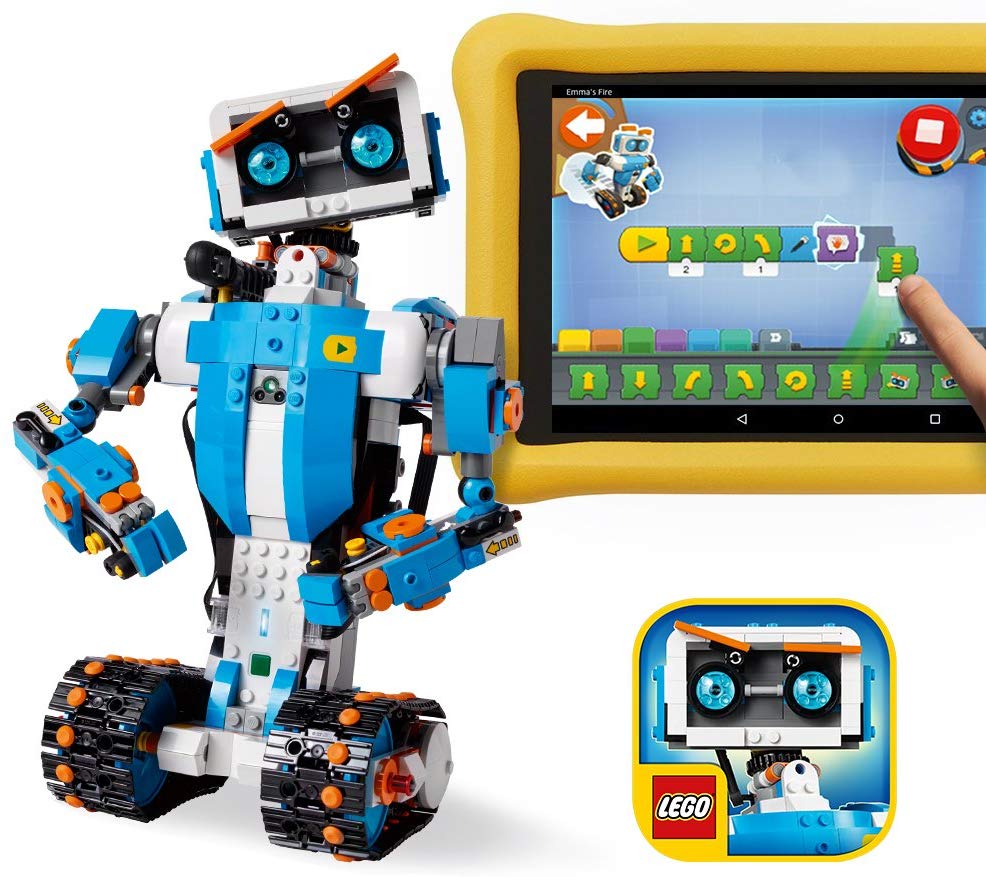 Custom Wall Decal: 6-month Subscription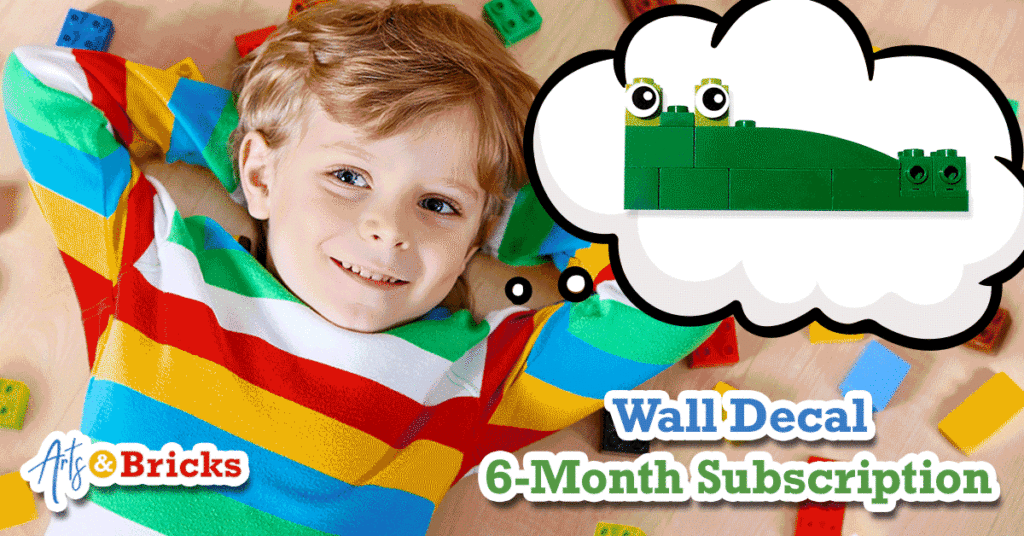 A custom wall decal subscription is a gift that delights and encourages creativity month-after-month! My children actually build designs specifically to be made into stickers. Stickers can be created from children's artwork or brick-built creations. Either way, personalized vinyl wall decals are a great keepsake and make your child feel like a true artist!
BONUS: Turning your child's brick-built creations into keepsakes frees up the physical LEGO bricks to be used and re-used, again and again!
Ninjago Stormbringer – Dragon LEGO set
In our home, when a LEGO set remains intact for 6+ months then you know you've purchased a keeper. This is one such set! Stormbringer, the Ninjago blue dragon, has about 500 pieces and the coolest tail movement I've seen in a LEGO set. BONUS: This set can combine with your LEGO Boost to be programmed/controlled.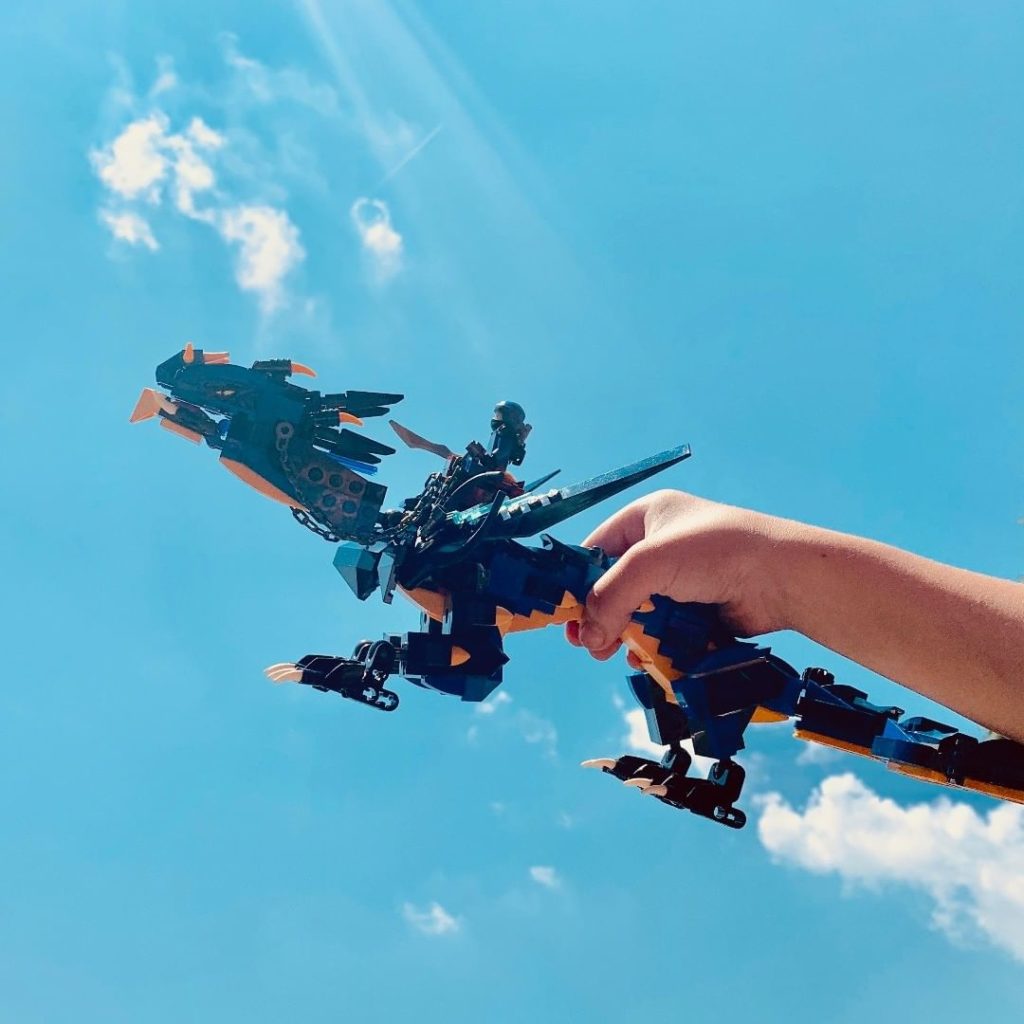 Custom Minifigures
Design your own minifigure with MiniFigs.me or Minifigures.com
I haven't purchased a custom-designed Minifigure, yet, but this looks really cool! The minifigs.me website lets you choose your parts, images, accessories, and more, and then this company prints directly on the Minifigure and sends you your customized design. This seems like a great idea for children and adult LEGO-lovers alike!

LEGO Advent Calendars and LEGO Holiday Ornaments
For the holidays, LEGO advent calendars (Shop on Amazon) and LEGO ornaments (Shop on Amazon) are always a festive favorite. See more in our round-up of the Best Winter Christmas Holiday LEGO Sets.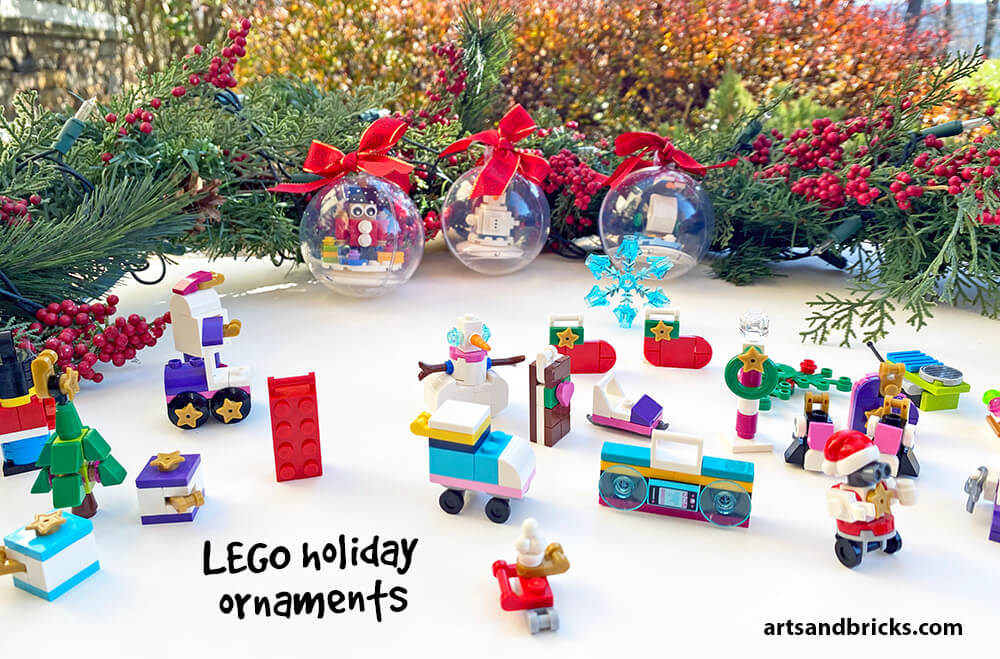 LEGO Ninjago How to Draw Book
This 100% Klutz Certified book includes activities, tracing, and how to draw step-by-step instructions. For the LEGO-enthusiast who also loves drawing, this is a great gift.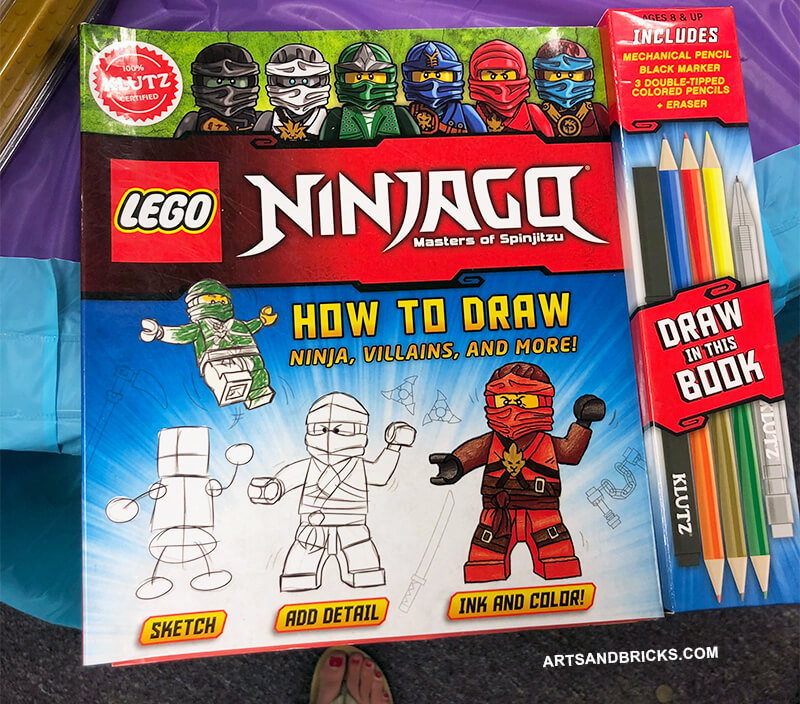 LEGO Water Bottles
Water bottles with Minifigure heads are a practical gift. Originally, we added these colorful Minifigure water bottles as LEGO Back to School items, but we also think they make great holiday gifts, too.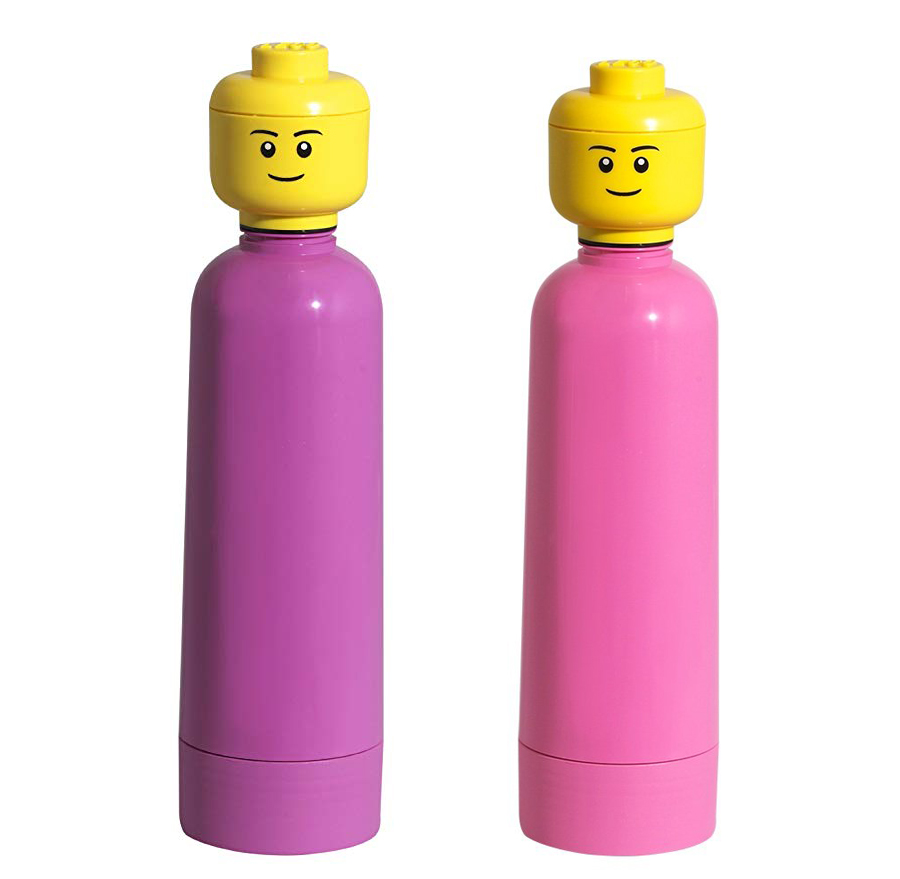 LEGO Brick Backpack
This is a wonderfully made backpack; it's very high quality and washes up well. This LEGO backpack has great front pockets, perfect for notes, snacks, and school supplies. Matching lunch boxes are available, too.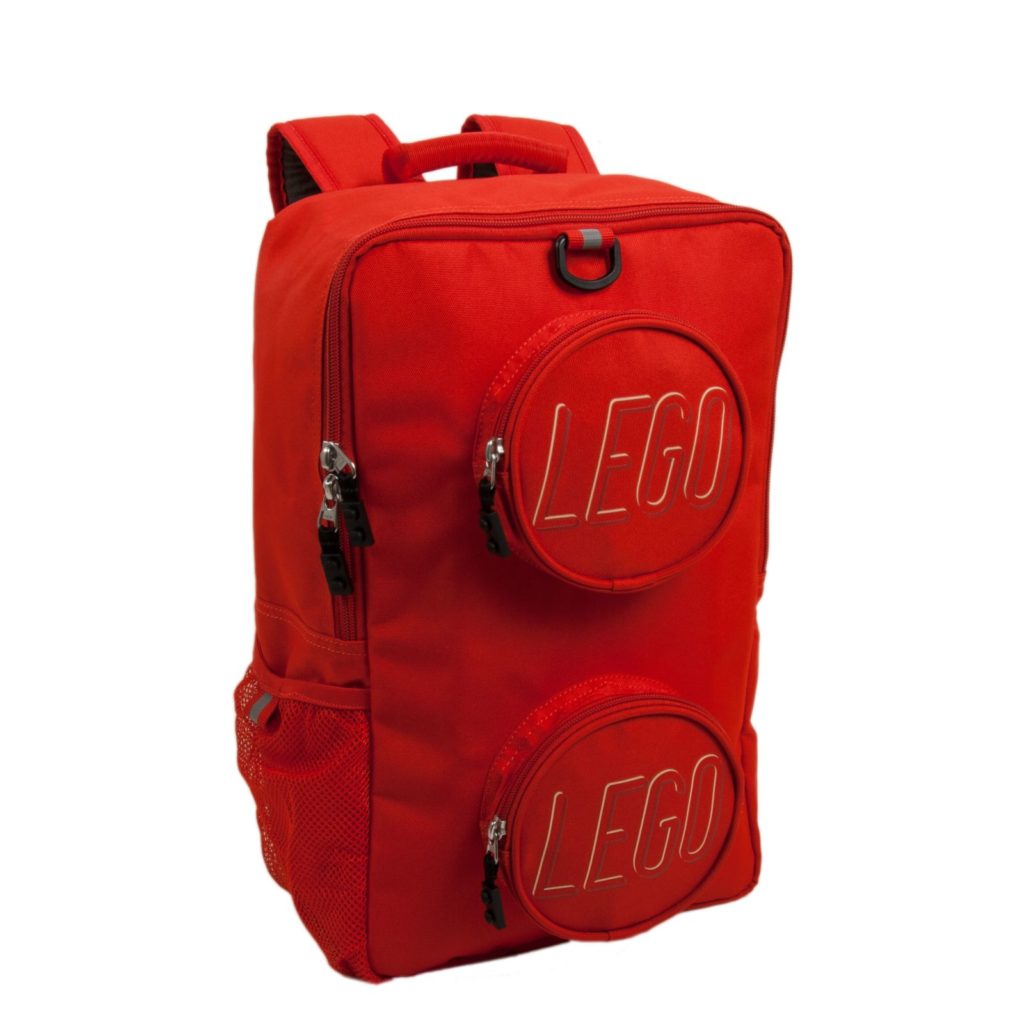 Build a one-of-a-kind kid's mug (perfect for apple cider and hot cocoa) or buy one for the kid in you! Add wings, Minifigures, wheels, and more to your mug! The sky is certainly the limit.
Please note: I'm disappointed that I can't figure out which of the manufacturers for this product is the "original," as there are now many Chinese manufacturers flooding the market on Amazon.
LEGO Upscaled Mug
Drink your hot cocoa, apple cider, or even just a morning glass of milk in style – just like Emmet – with this upscaled classic LEGO red mug.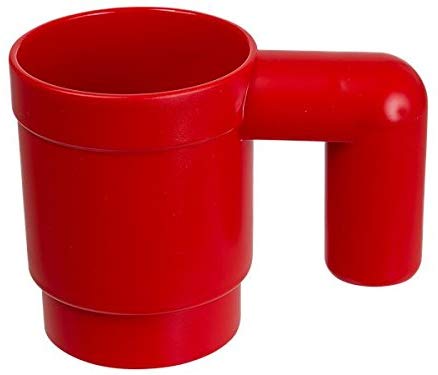 Brick-Built Heart Stickers/Decals
Bring heart to your little LEGO-loving child with these cute heart wall stickers or heart window clings. Perfect for stocking stuffers, too!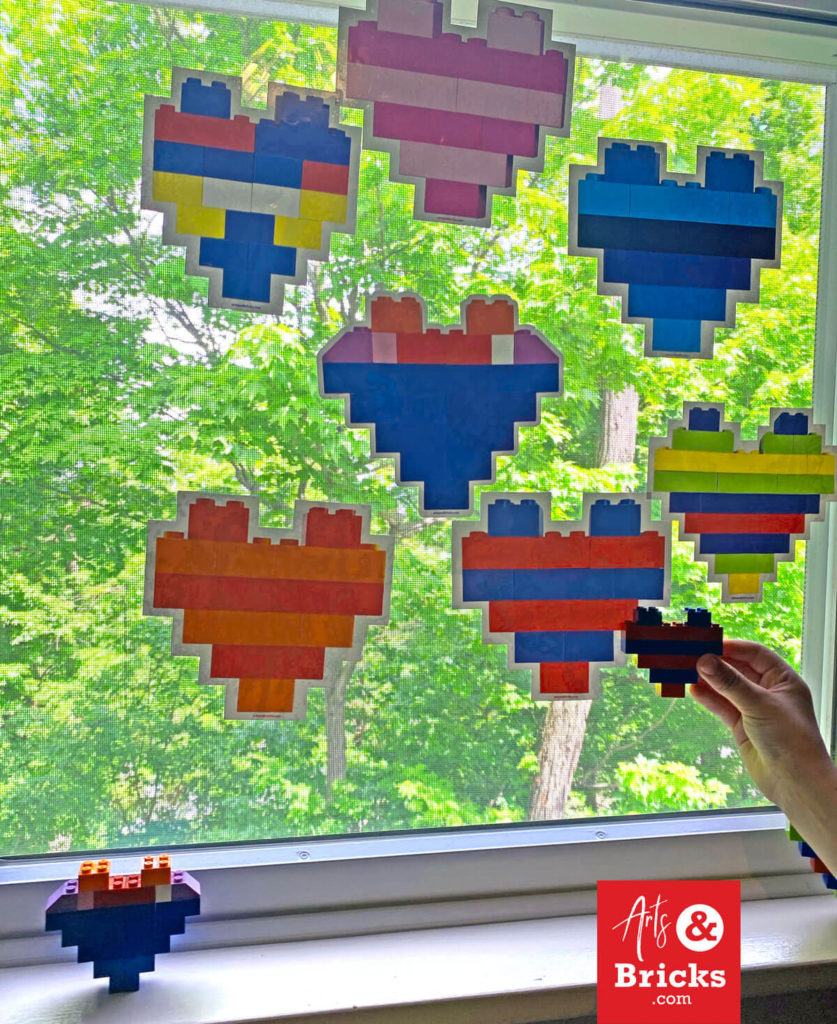 Featuring your favorite LEGO man, these red, blue, and yellow slippers are the perfect at-home LEGO-BUILDING footwear!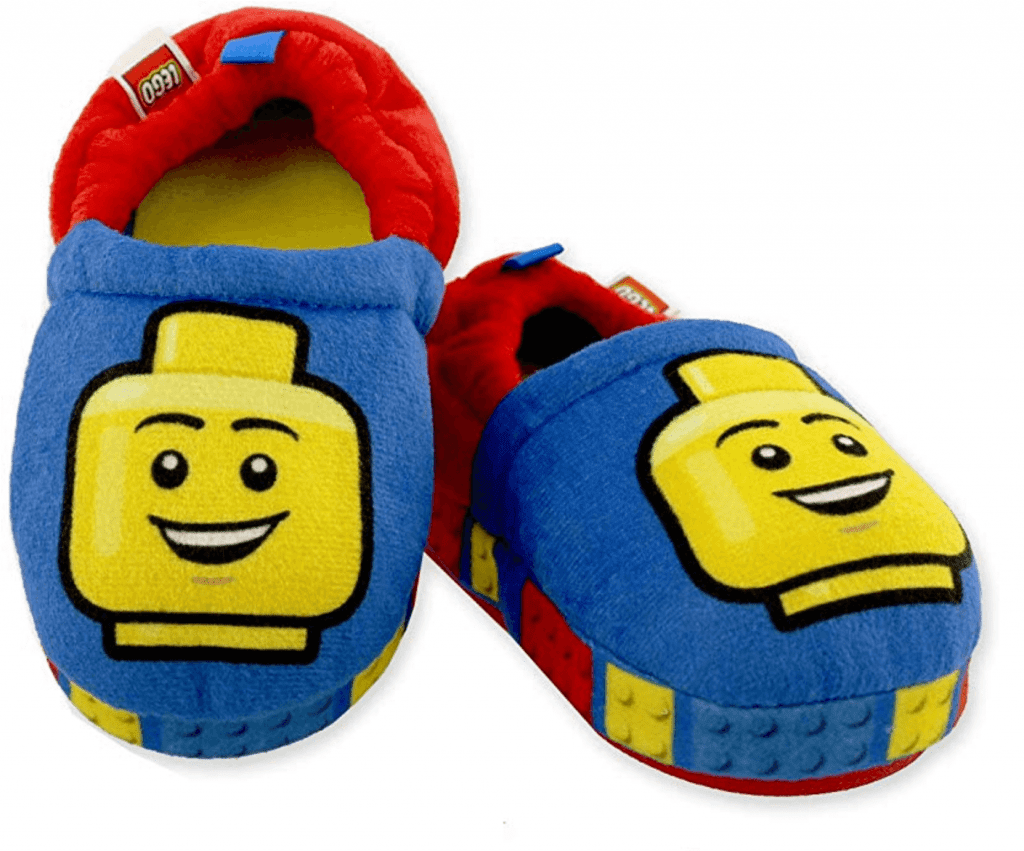 This colorful and durable LEGO wallet stores cash, gift cards and even has a slot for a Minifigure or two. We do have a complaint. This kid's wallet lacks a change purse area, and our kids always carry around lots of loose coins!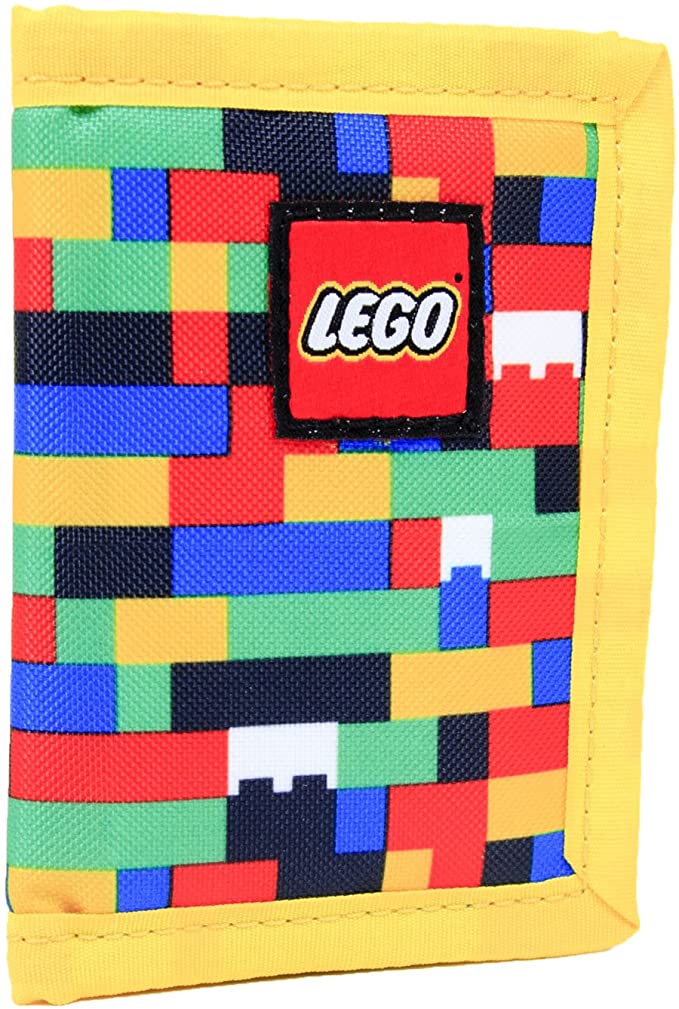 ---

You may also like
---
Please note that some of the links in this post are affiliate links and if you go through them to make a purchase I will earn a commission. Keep in mind that I link to these companies and their products because of their quality and not because of the commission I receive from your purchases. The decision is yours, and whether or not you decide to buy something is completely up to you.
---
PS. This post is not sponsored. We're a LEGO brick-loving family who posts about our favorite builds. Some of the links in this post are affiliate links and if you go through them to make a purchase we will earn a commission. Keep in mind that we link to these companies and their products because of their quality and not because of the commission we receive from your purchases. The decision is yours, and whether or not you decide to buy something is completely up to you.