Why would I ask this…well…our 7-year-old LOVES LEGO bricks, but as you know, new sets can get expensive QUICKLY.
Best Gift
One of the best gifts my son EVER received was a bulk container of my childhood LEGO bricks from the 1980s. Grandad unpacked them from the garage and split the lot between his two grandsons for Christmas. (Check out our list of other great LEGO gifts for kids).
BIG TIME WIN FOR MY SON, and ME, TOO!
I spent several hours that day recreating sets from my childhood because my Dad saved the instruction manuals, too! My son loves that we have LEGO BASIC building guides.
Fast Forward…
We thought we could again benefit from a large bulk set of LEGO bricks to replenish our collection, so we recently turned to eBay. (We checked our local Facebook marketplace, but our area had few options for LEGOs). During our search, I kept seeing assortments listed as 10lb sets. I had no idea what brick count that might be, so I turned to good 'ole Google.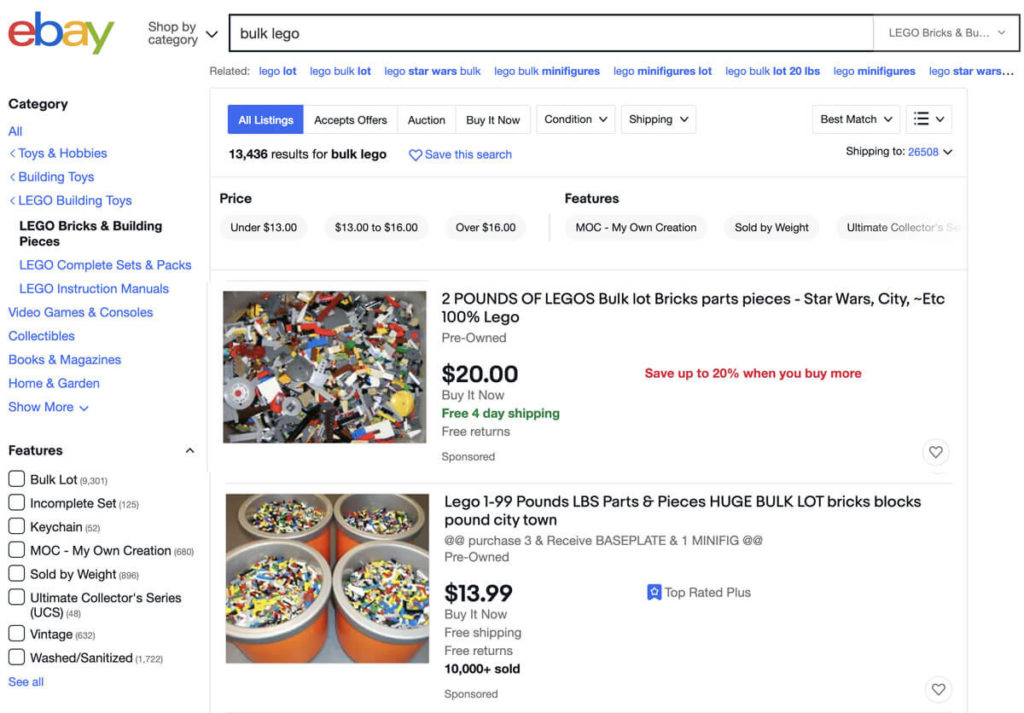 What did Google tell us?
Well, there was only one guesstimate, and it was over a decade old. We went with it (hey, it was in WIRED, after all) but decided to test this guesstimate as an upcoming elementary school science fair project (our scientific results are below).
Advertisement - Keep Scrolling
WIRED magazine's writer, Doug Cornelius, ran an experiment and wrote about it in his article, "Finding Lego Bricks in Bulk."
What did my son's science fair project tell us?
My son's nine experiments estimated about 200 LEGO bricks per 1/2 pound. The range in his experiment was 71 to 258 bricks, making a median of 200 and an average of 182 LEGO bricks per 1/2 pound.
Our first bulk purchase was a complete success!
3K to 4K of LEGOs sounded like a good deal (about 300 or 400 LEGO bricks per pound), especially as you can purchase 10lb bulk boxes from $20 to $50 plus shipping costs.
Our son spent an hour or more sorting out all the NEW and VERY COOL pieces when the package arrived.
We heard:
"OOOOOOHHH!!!!"
"WOOOOOWWW!"
"YOU WON'T BELIEVE THIS!"
"OH, MY GOODNESS!"
"LOOK AT THIS!
"EEEEWWWWWWW!"
"AWESOME!"
and more…over, and over, and over!
Our bulk LEGO set included many complete LEGO Bionicles (now discontinued, LEGO Bionicles date from the early 2000s). As Bionicles were new to us, we didn't know how to put them together, but again, Google served us well. We quickly located building instructions for 3 or 4 of the Bionicles included in our bulk set. Since this initial purchase, we've ordered several other Bionicle kits and made many Bionicle MOCs. Bionicles are one of recommended LEGO Gifts for Kids.
Since this first purchase, we've requested additional bulk LEGO boxes for Christmas and birthday gifts. It's always a thrill to see what treasures are in each box.
Counting LEGO bricks for an elementary school science fair project
Our inspiration for this science fair project was our first 5lb bulk LEGO purchase; my son was curious about how many bricks were in that 5 pounds of LEGO bulk goodness.
To answer this question, my son ran nine experiments. He used 8 ounces as the measuring amount and selected a variety of brick sizes for each 8-ounce grouping.
---
In these 9 experiments, he found an average of 182.5 LEGO bricks per 1/2 pound. This was calculated by taking the total number of LEGO bricks and dividing by the number of experiments: 1,642 LEGO bricks divided by 9. This gave us an average of 182.44 LEGO bricks per 8 ounces or 1/2 pound of LEGO bricks.
---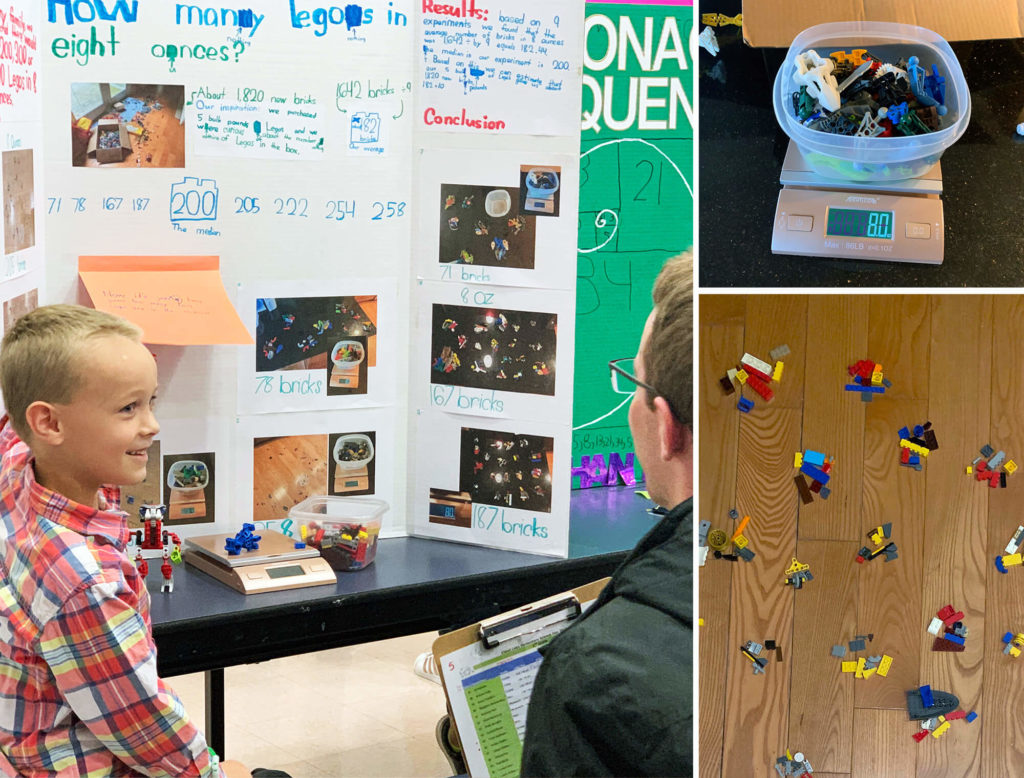 Another critical number: the median in this experiment was 200 LEGO bricks per 1/2 pound or 8 ounces.
For each 8.0 oz of brick, my son made piles of 10 bricks. This made counting and recounting easier and likely more accurate.

So, based on this science fair project's results, you can expect the following number of bricks in a LEGO bulk purchase to approximately be:
1/2 pound = around 200 bricks
1 pound = around 400 bricks
1.5 pounds = 600 LEGO bricks
2 pounds = 800 LEGO bricks
2.5 pounds = 1,000 LEGO bricks
3 pounds = 1,200 LEGO bricks
3.5 pounds = 1,400 LEGO bricks
4 pounds = 1,600 LEGO bricks
4.5 pounds = 1,800 LEGO bricks
5 pounds = 2,000 LEGO bricks
10 pounds = 4,000 LEGO bricks
Should you buy LEGO in bulk? Yes, we recommend bulk used LEGO brick purchases.
So, if you're considering purchasing used LEGO sets in bulk, our advice is to go for it.
Our box was FULL of many very useful bricks for creating robots, animals, vehicles, and buildings, plus very unique pieces from the Bionicle sets.
Happy LEGO building (and shopping!).
Personalized Brick-Built Decorations
There must be a LEGO-loving individual in your household! We bet he/she would love to decorate with a personalized window or wall decal designed from his/her MOCs. Check out our custom and ready-to-buy brick-built designs.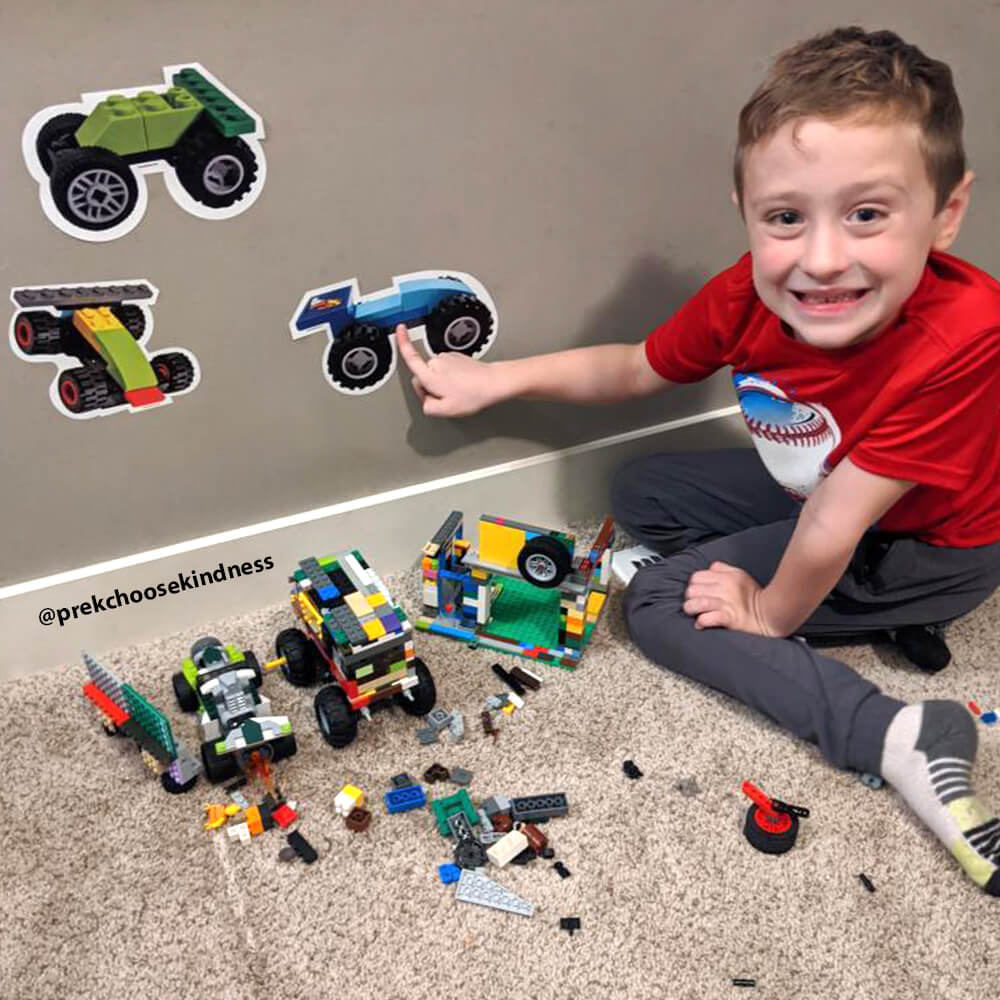 Free LEGO LIFE Magazine for Kids
Did you know LEGO sends out FREE magazines to kids ages 5 to 10 every quarter? This magazine is such fun LEGO fan mail. The LEGO LIFE magazine is definitely worth the time it takes you to sign-up.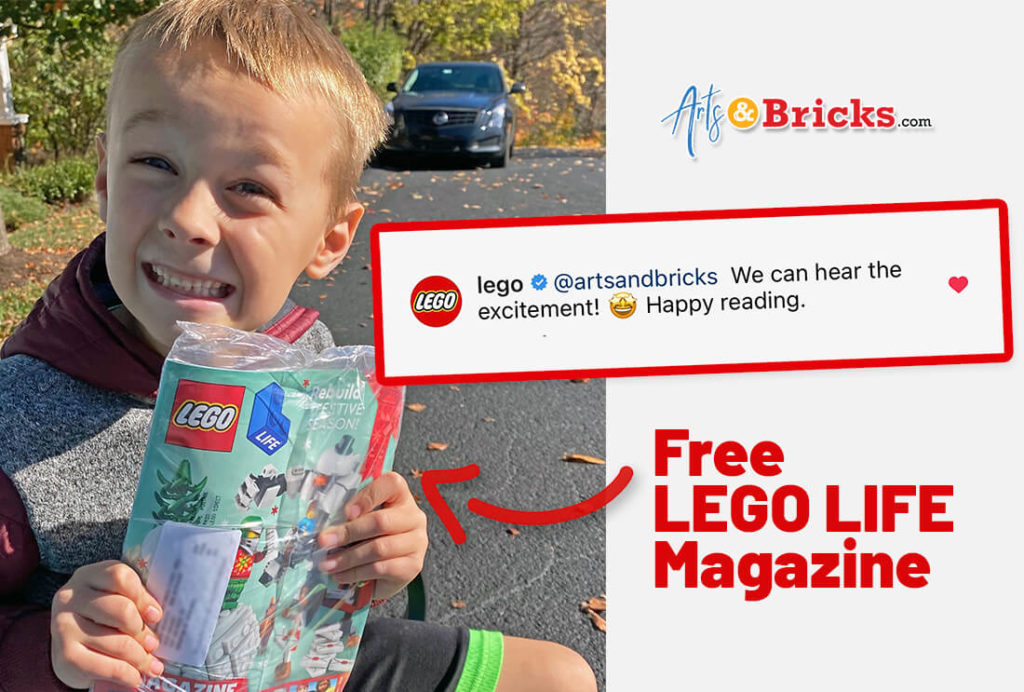 Save this for Later – Pin it!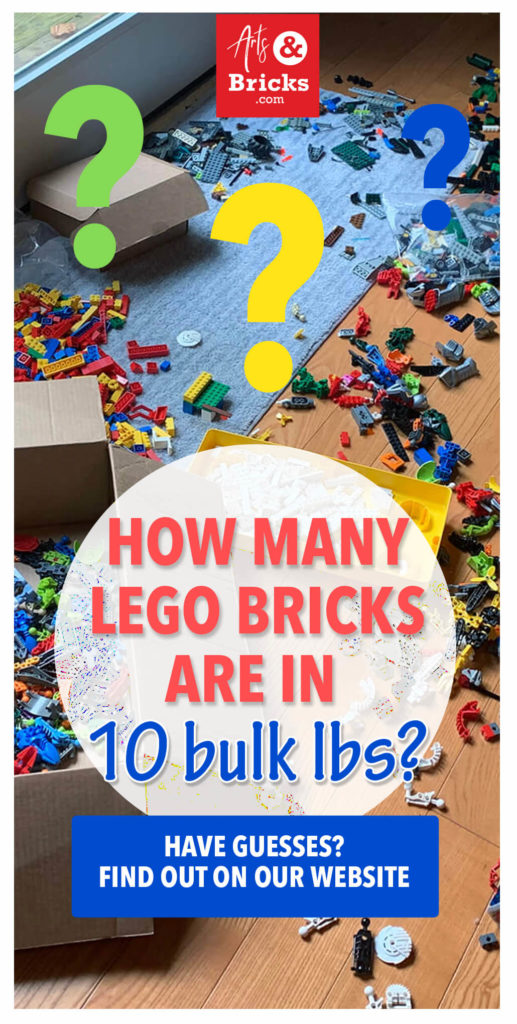 ---
You may also like
---
PS. This post is not sponsored. We're a LEGO brick-loving family who posts about our favorite builds. Some of the links in this post are affiliate links and if you go through them to make a purchase we will earn a commission. Keep in mind that we link to these companies and their products because of their quality and not because of the commission we receive from your purchases. The decision is yours, and whether or not you decide to buy something is completely up to you.