Introduced in 2020, the playful LEGO Friends Heartlake City Play Hair Salon set is 235 pieces. A refresh of an earlier LEGO Friends Play Hair Salon set from 2015 (Set 41093), the LEGO Friends series is intended for build-and-play fun and features the friendly characters from Heartlake City.
At six-years-old, my daughter loves dolls of all shapes and sizes. The LEGO Friends series is a good fit for her age-appropriate creative play.
The LEGO Play Hair Salon includes Nina and Emma.
The LEGO Friends have three main parts: head, torso, and legs. The best part of mini-doll figures is the ability to accessorize! Each hair brick includes a hole so that a bow, crown, or another accessory can be added to your mini-doll.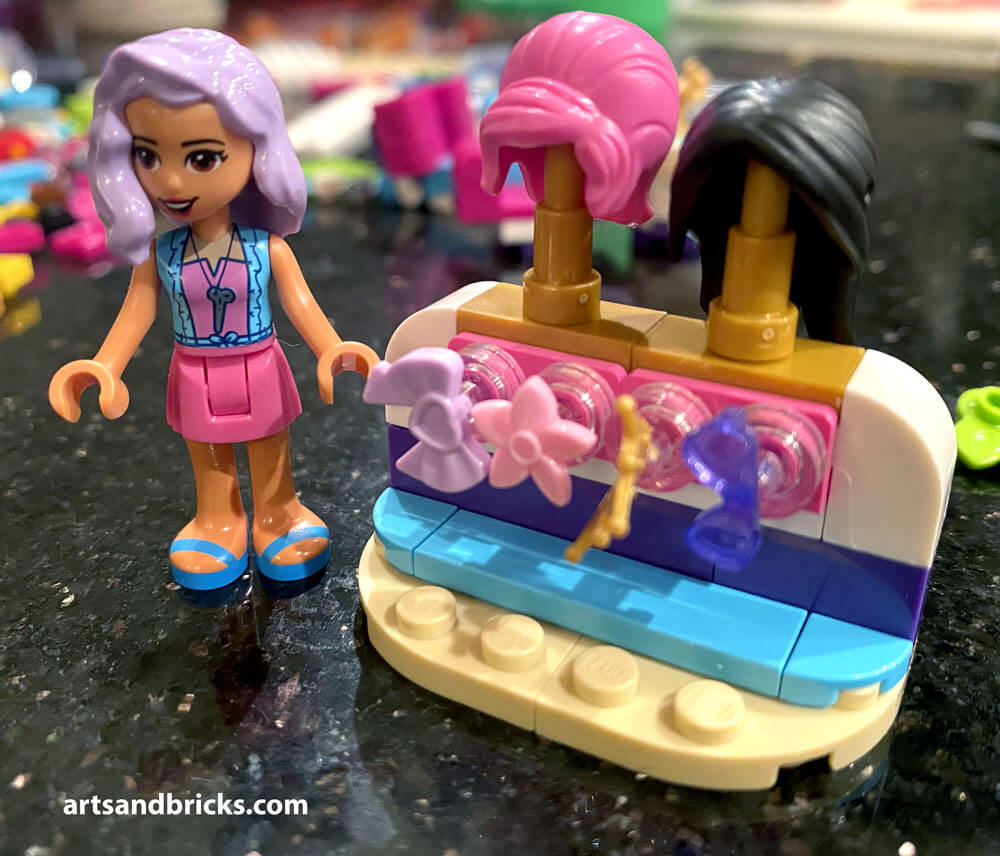 Advertisement - Keep Scrolling
To note: If you are new to LEGO Friends characters, you'll want to know that LEGO Friends are NOT compatible with traditional LEGO Minifigures (Friends are a different size from Minifigures which prevents them from being mixed-and-matched together.) LEGO Friends are essentially LEGO dolls, known as mini-doll figures.
Favorite Features
Stickers! 💕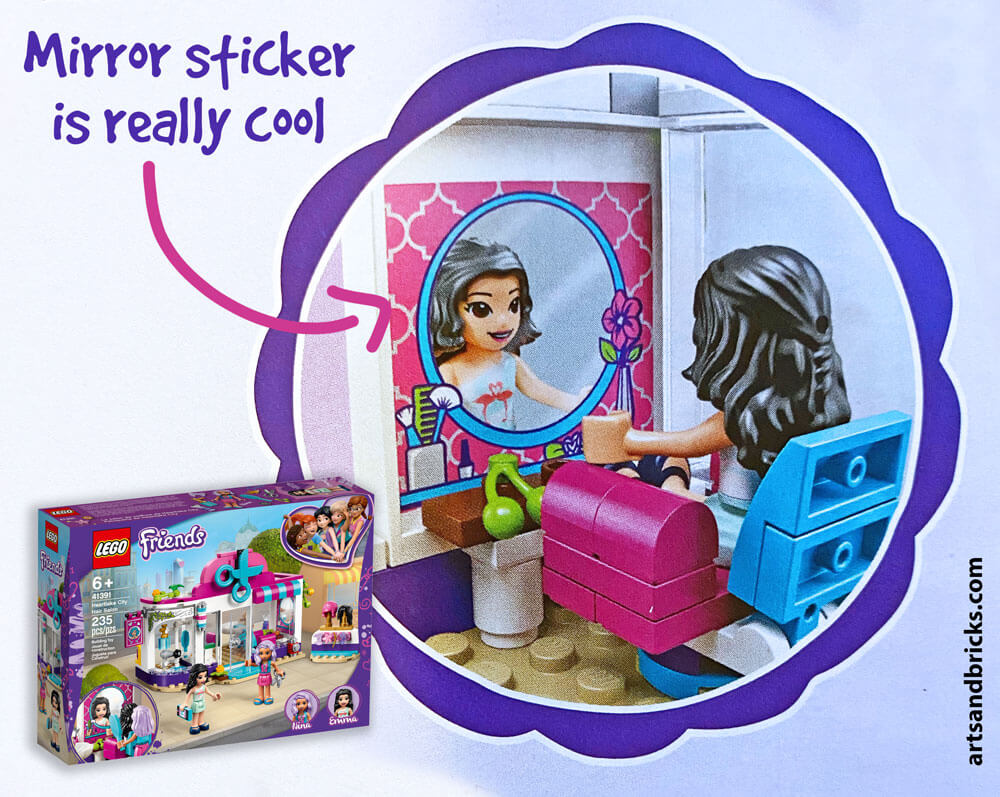 This LEGO Hair Salon set includes several metallic colorful stickers. There were many "Ooooohhhss" and "Woooowwws" as our daughter checked out the stickers and assembled the hair salon's signage, magazines, and mirror. The mirror sticker's reflective nature actually makes it really cool. It's shiny, silver, and functionally does work as a mirror!
Accessories! ✨
This set is perfect for creative play. It includes many, many accessories: bows, sunglasses, broom, scissors, magazines, crowns, wigs, treats, grapes (lime cherry brick 6087084), coffee mug, lotion and potion bottles, perfume bottle, hairdryer, brush, cash, cash register, and more!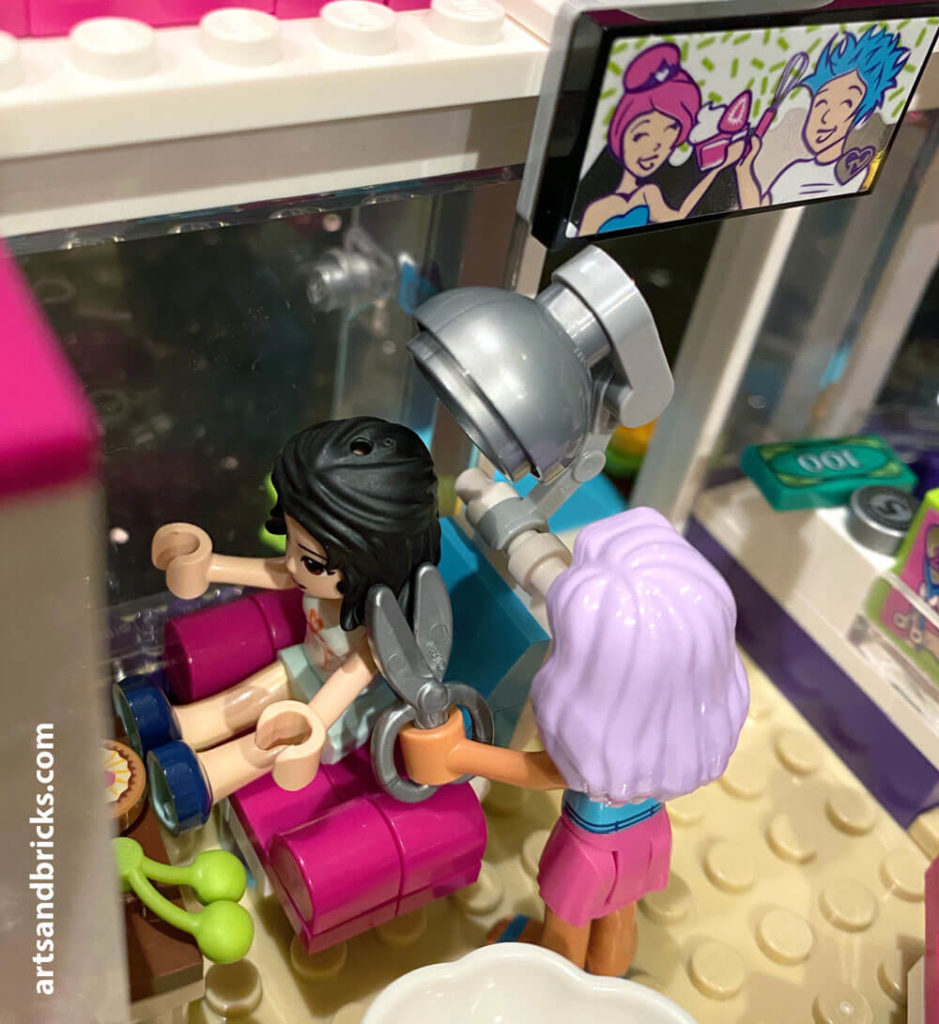 NEW Bricks: Store Front Glass
My kiddos were really excited about the clear window glass LEGO pieces that are included in this set. These clear bricks are the first of their kind in our LEGO collection.
Brick 6236111 – curved window piece
Brick 6245253 – rectangle window glass
Brick 6247362 – clear glass door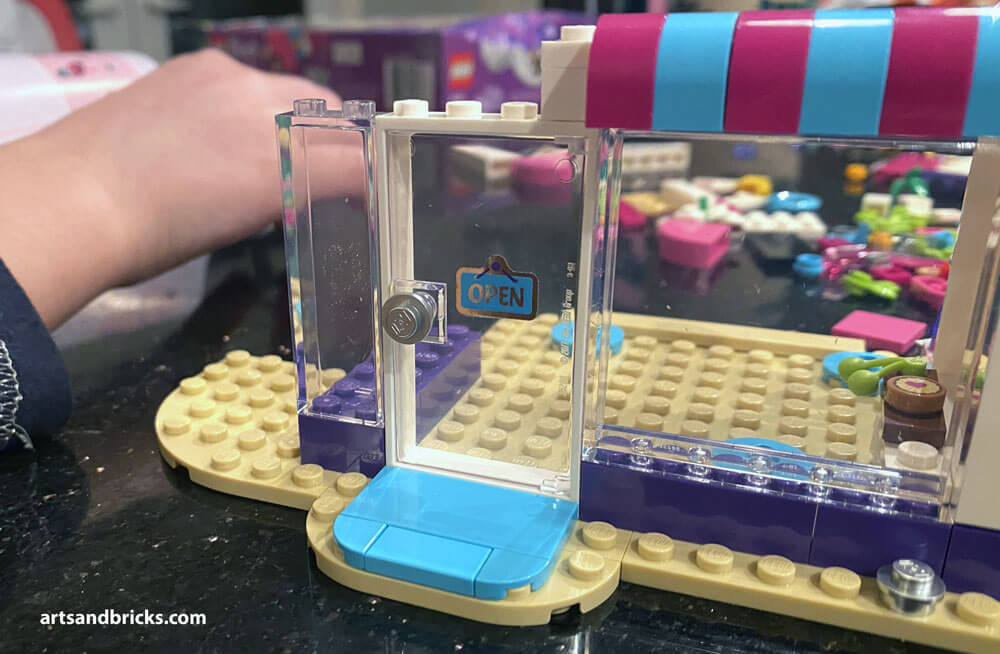 Building Confidence and Attention Spans
LEGO Play Hair Salon is the first LEGO set that our daughter built on her own. Typically, her LEGO-loving' older brother joins her and takes over, or more often than not, she plays helpless, and he completes the set for her.
The evening she opened this set, her brother was occupied watching a basketball game, so she worked through the project on her own. It took her about an hour from start to finish.
I enjoyed watching her build and problem solve. It was quite a different experience than watching her older brother build LEGO sets. Our son has an incredible attention span and can work on the same LEGO set for 12 hours straight. Our daughter is a bit more all over the place.
This hour-long build was just about this little six-year-olds max for focused-attention.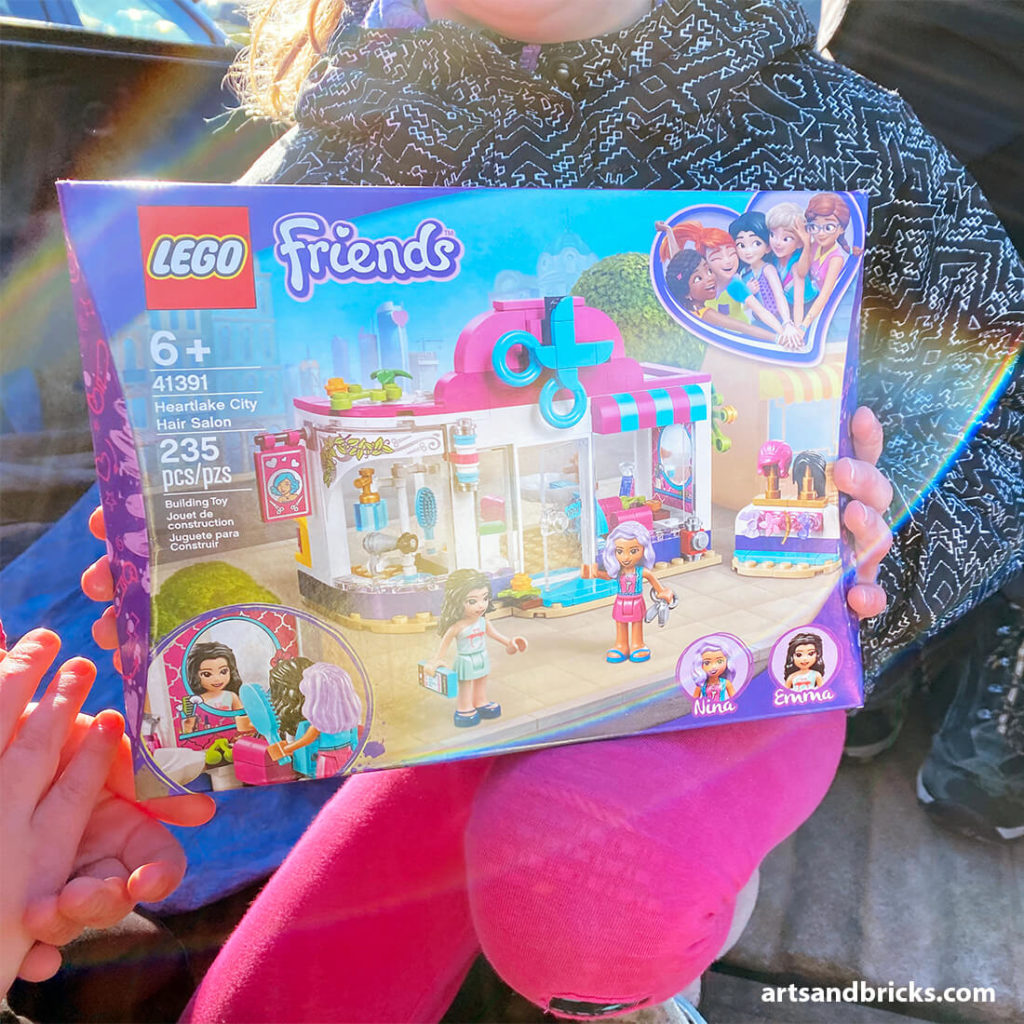 She cycled through squeals of delight and cries of frustration during this build. By Step 21, she was frustrated and said, "This isn't fun." However, she kept building and a few steps later she was shouting, "Yay! Ooooh, cool!"
Upon completion, she ran to her Daddy and proudly announced, "Daddy, Daddy, it's done!" At six, this was a solid accomplishment that earned her true bragging rights.
She showed off her accomplishment to her brother and he immediately said, "You missed something." And, seriously, he was correct. He had noticed the omitted blocks from the blue scissors on the exterior sign within seconds of entering the room. 🤷‍♀️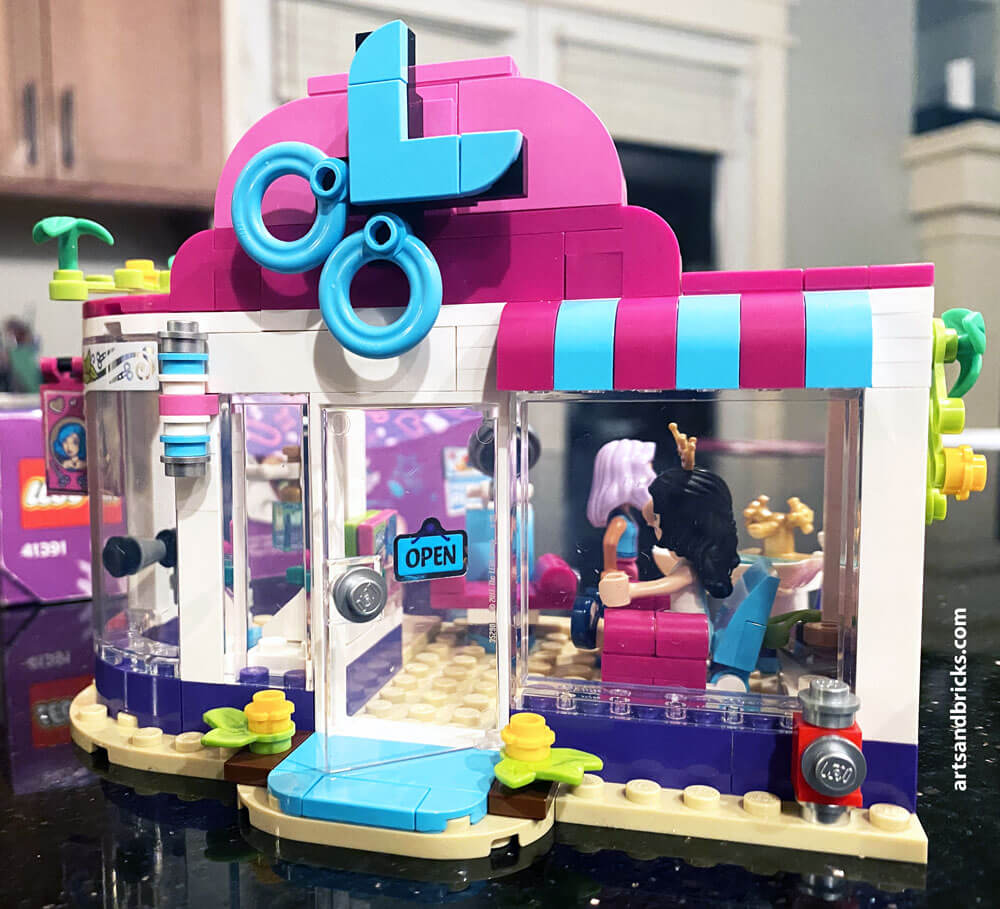 We added the missing bricks and moved on to playing with our new LEGO set.
Girliness
To address brick color and the "girliness" of this collection, I have to say that it's obvious the teal, pink, purple, and other vibrant brick colors in LEGO Friends are very appealing to girls. In fact, this LEGO Friends set coordinates extremely well with the other bright hues found in my daughter's Barbie and Hello Kitty toys.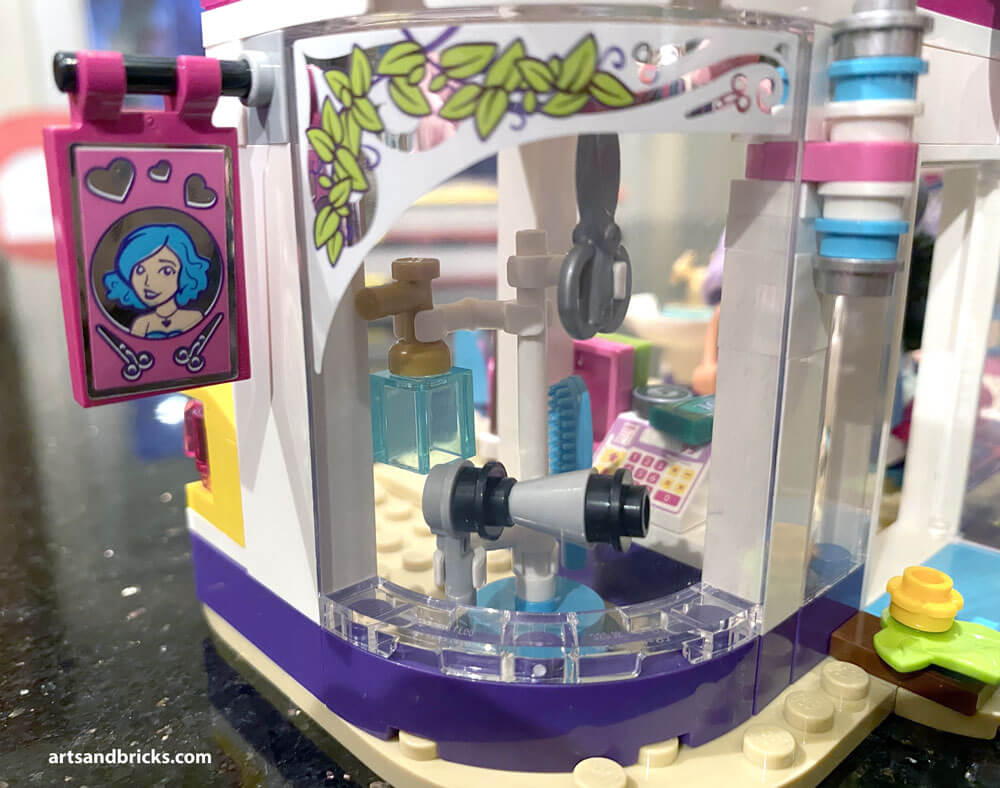 However, my eight-year-old son didn't label this set as "girlie" and he sat down on his own and played with the set for a good hour or so. He observed how it was built and talked about reasons for the building decisions. He even gave a mini-doll a haircut.
Instruction Manual Progress Bar with Emma
A nice inclusion to this LEGO Friends set's instruction manual is the visual progress bar found on the footer of each page. This progress bar features Emma. Emma progresses on her walk from the far left page to the far right side of the page spread as you progress through the building instructions.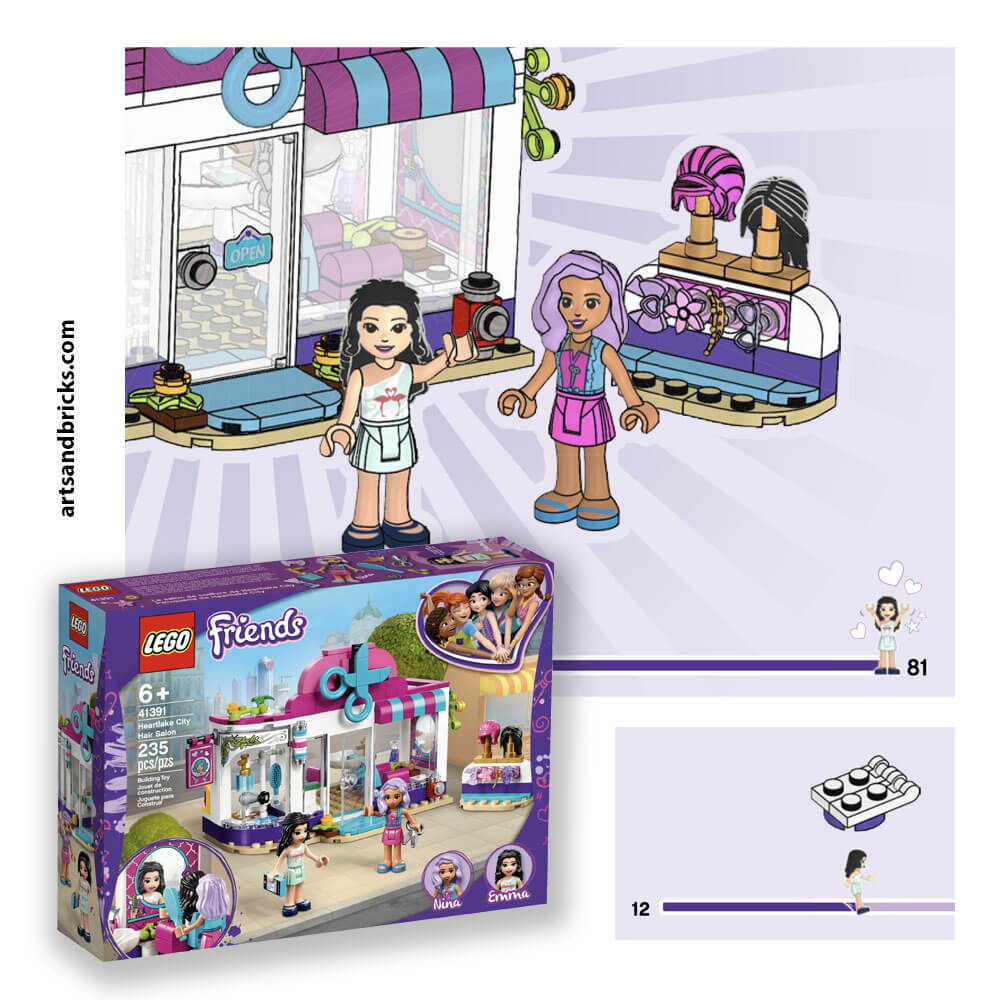 Surprisingly, this visual cue was very motivating for my daughter. She noticed Emma's movement right away and when she became frustrated, the visual progress marker encouraged my daughter to keep building. She was especially delighted that on the last page of steps, page 81, Emma celebrates your accomplishment with arms in the air and hearts and stars, too!
Printed Manual and Option for Online Instructions
We built this set from the printed 83-page instruction manual, but there is also an option to use your phone to access the build instructions digitally. The digital instructions are accessed via a LEGO app called LEGO Instructions Plus.
Criticism – The Base is Too Small
My daughter is the intended audience for the LEGO Friends series, however, she has several complaints about this set.
Mostly, she found that the set's base was too small. At just shy of 4″ x 6″, even with her tiny hands and fingers, she was unable to act out the salon storylines that she wanted to play. Every time she tried to play with the scene, she knocked the sink and chairs over. This happened over and over, again.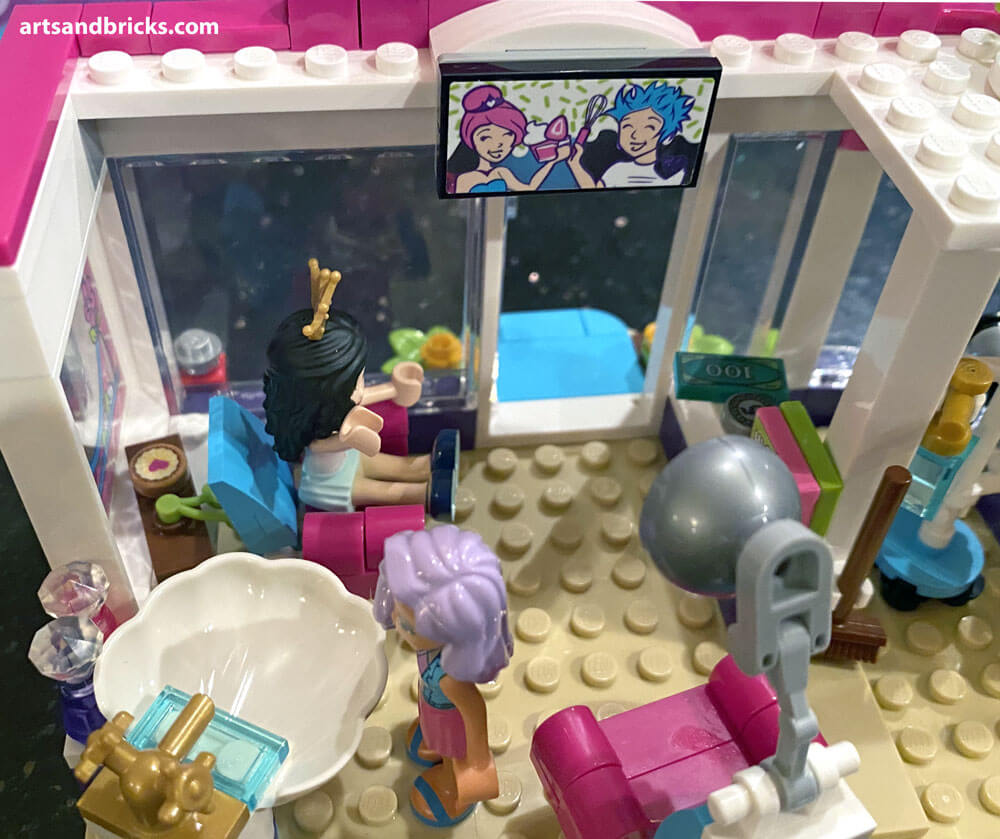 As I watched her, she growled in frustration, "ERRRR…they don't let you play with it, just look at it!!!!" She continued, "They need to make these LEGOs more stable." She requested, "Please, help me stable it. I just want this to stop breaking!"
Her brother examined the set and decided that a four-peg piece would serve as a more stable base than the LEGO Tile, Round 2 x 2 with Open Studpiece for the base of the sink and chairs (brick 6136419).
He suggested that this set was designed using this specific piece to allow the sink and chair to swivel, but our family unanimously decided that the brick swap to a non-swivel base would be useful, especially for continued creative play.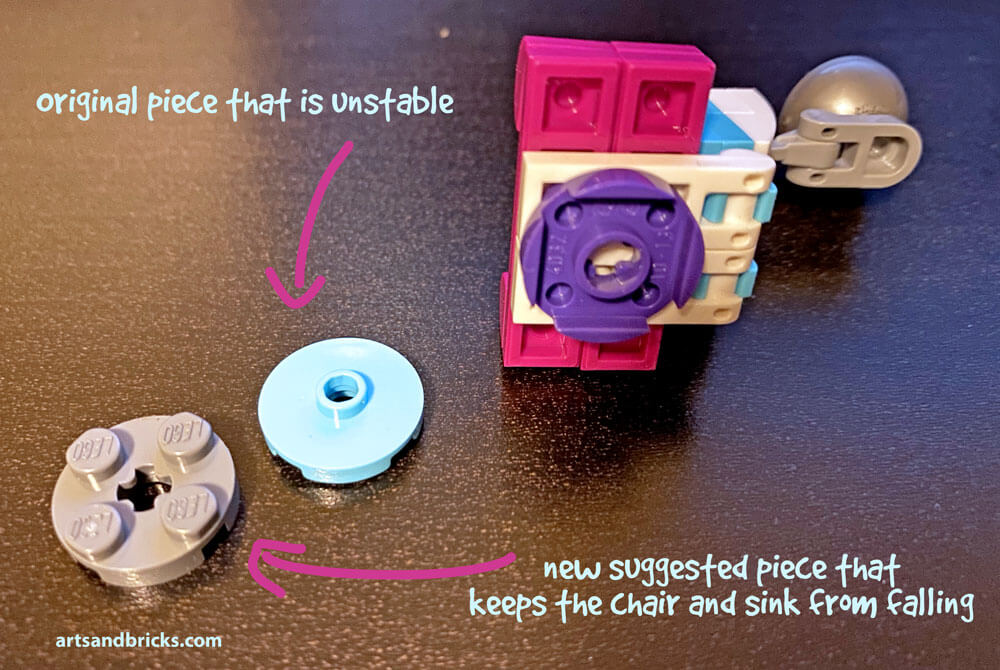 The LEGO Friends series was first introduced in 2012, so I'm actually a bit surprised that my daughter ran into such problems. Our advice is to design more spacious playspaces in future LEGO Friends sets. We recommend giving children ample space for their hands. Children want to use these LEGO sets as scenes in their creative play and they need a bit more room to play effectively and give their mini-dolls movement.
Digital Errors
Our printed build manual included multiple QR codes to access additional digital content. My daughter asked for my phone to scan the codes. However, we found that each of the links we accessed via the QR codes resulted in 404 errors. We've notified LEGO, so hopefully, LEGO can create website redirects allowing builders to once again access this intended content seamlessly. We'll keep you posted!
Hair Salon Play
Enjoy this stop-action video of A Day In The Life of Nina at the Heartlake Hair Salon.
Final Thoughts
Overall, this is a solid LEGO set that my children are enjoying. We can't give this set a rave review, but, we're happy to have the many accessories and two mini-doll additions to our growing LEGO collection.
LEGO Set Rating
Arts and Brick's gives the LEGO Friends Heartlake City Play Hair Salon, Set 41391 a 3-Star "Satisfactory" Kid-Review.
---
PS. This post is not sponsored. We're a LEGO brick-loving family who posts about our favorite builds. Some of the links in this post are affiliate links and if you go through them to make a purchase we will earn a commission. Keep in mind that we link to these companies and their products because of their quality and not because of the commission we receive from your purchases. The decision is yours, and whether or not you decide to buy something is completely up to you.