Celebrating Creative Mompreneurs
Busy Littles is a Momma-owned small business based in Rhode Island. We learned about Meagan's business through a holiday-giveaway on Instagram.
We're THANKFUL that we're the recipient of the Busy Littles Harvest Jar. Look how cute the pieces and parts are in this sensory jar!?!?!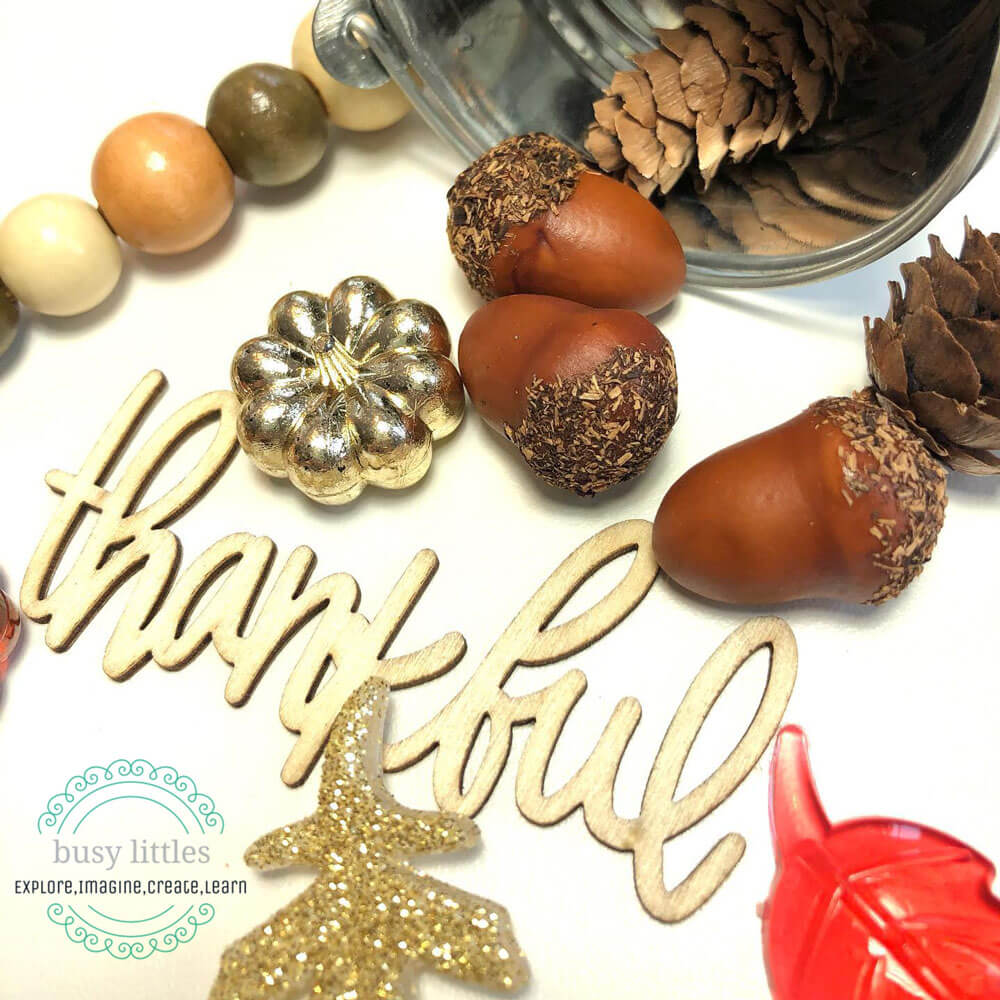 How did we play with our Fall Sensory Jar?
My six-year-old daughter was very excited to open and play with this autumn-themed sensory toy. I let her guide our play and exploration.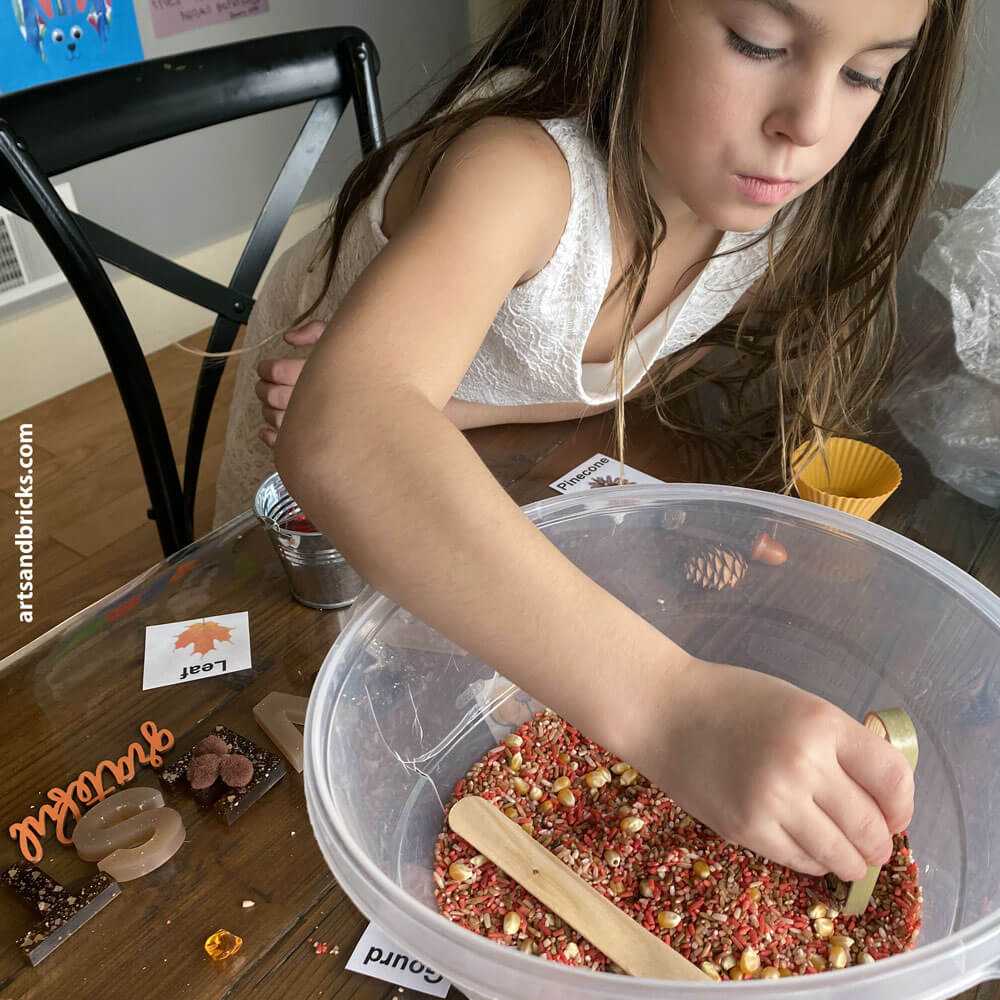 After the enthusiastic "oooo's and ooooh's" of opening our package, we poured the jar's contents into a large plastic bowl. Then, we got busy playing! Here are a few of the activities and antics we enjoyed!
Spelling
One letter at a time, we spelled out the word "Harvest." My daughter searched and picked each sparkly letter from the mixture of corn and fall-colored rice. She then worked to place the letters in the correct order. During a fun teaching moment, I showed her how to flip a misplaced letter to correct its orientation.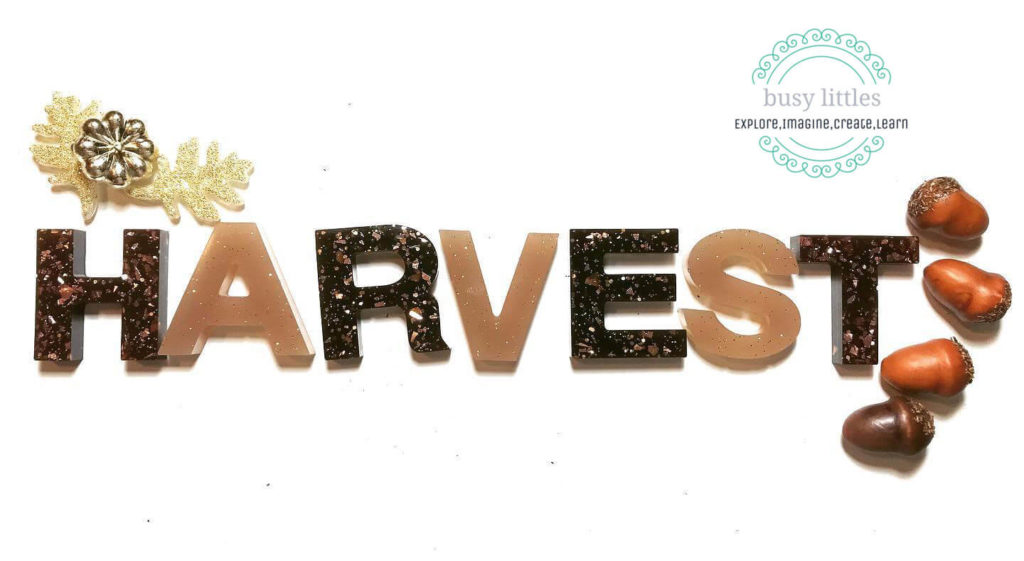 Counting
We enjoyed exploring and counting the harvest-themed items, especially the plastic leaves and pumpkins. Our jar included nine.
Rabbit Poop
Advertisement - Keep Scrolling
We had a good laugh when Daddy called the brown pom-poms rabbit poop, but this inspired us to start chatting about animals, which led to baking treats for the forest animals. 🐰
Wild Cupcakes
A nature-enthusiast and future chef, my daughter baked wild cupcakes for her animal friends. She stayed busy gathering the ingredients, mixing, and baking her treats.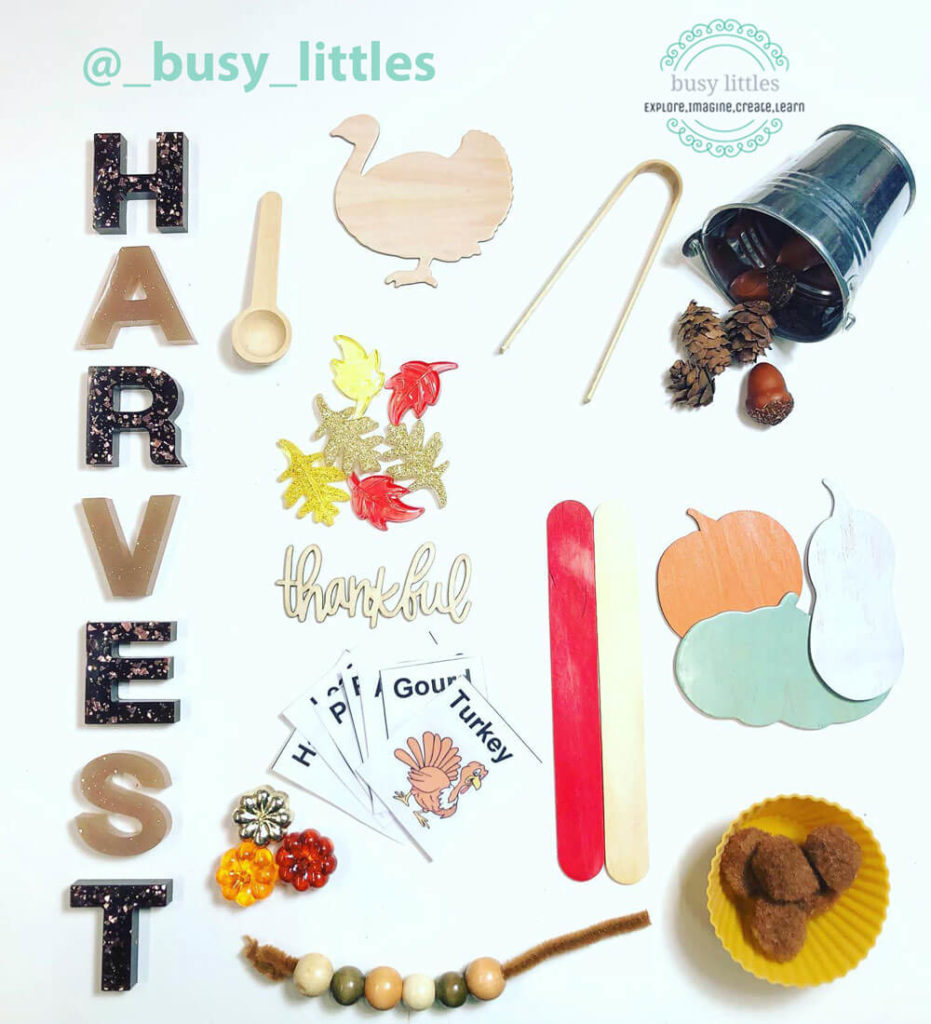 Try these additional sensory bin play ideas
Busy Littles suggests:

Match the vocabulary cards to the correct item

Practice fine motor skills using the wooden tongs to pick up the pom-poms, acorns, and pine cones

String the beads

See where your littles imagination takes them! Name their turkey. Is Tom the turkey going to eat the gourds?

Talk about what harvest means & how to spell the word harvest.

Make a harvest soup
Use the scoop and tin can and add items to your soup.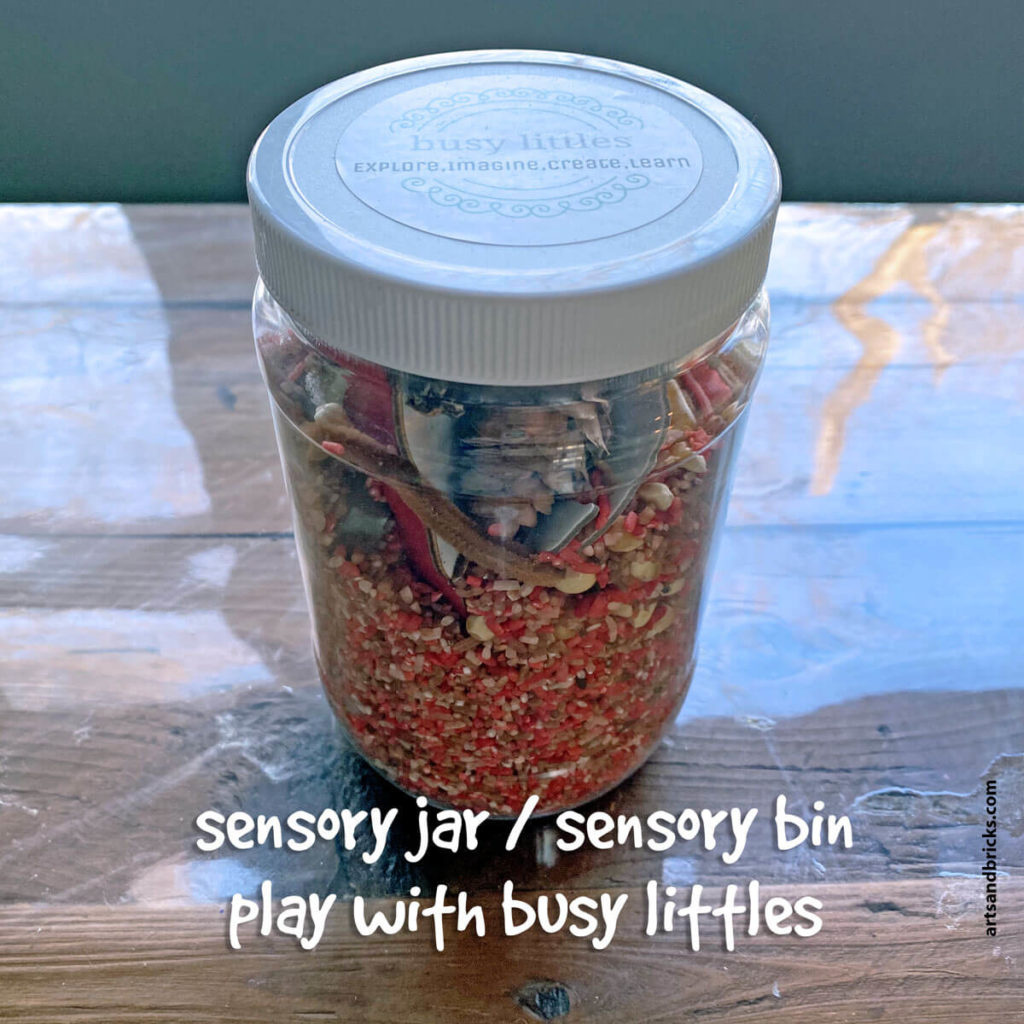 A Lesson About Life Priorities
When we were done playing, my daughter attempted to put the sand, corn, and toys back into the jar. They didn't fit very well. So, together we poured everything out and put the toys in first, and then we poured the rice and corn into the jar. The rice and jar surrounded the toys and "Voila!," everything fit.
This exercise reminded me of the "Philosopher's Jar" fable that Stephen Covey made popular. Do you know it?
This story uses rocks and sand, and sometimes gravel, to illustrate the importance of setting priorities in your life. When we prioritize the most important parts of our lives first, the rocks like family, faith, relationships, health, etc., then we have space to fill in with other important tasks and priorities as they fit in around our priorities.
Rock, Gravel, and Sand Priorities Video
How to Order Busy Littles's Sensory Jars
Meagan, mompreneur, and founder of Busy Littles writes, "Every jar is made with love, imagination, creativity, and a little handy helper, with a focus on extending our education and learning."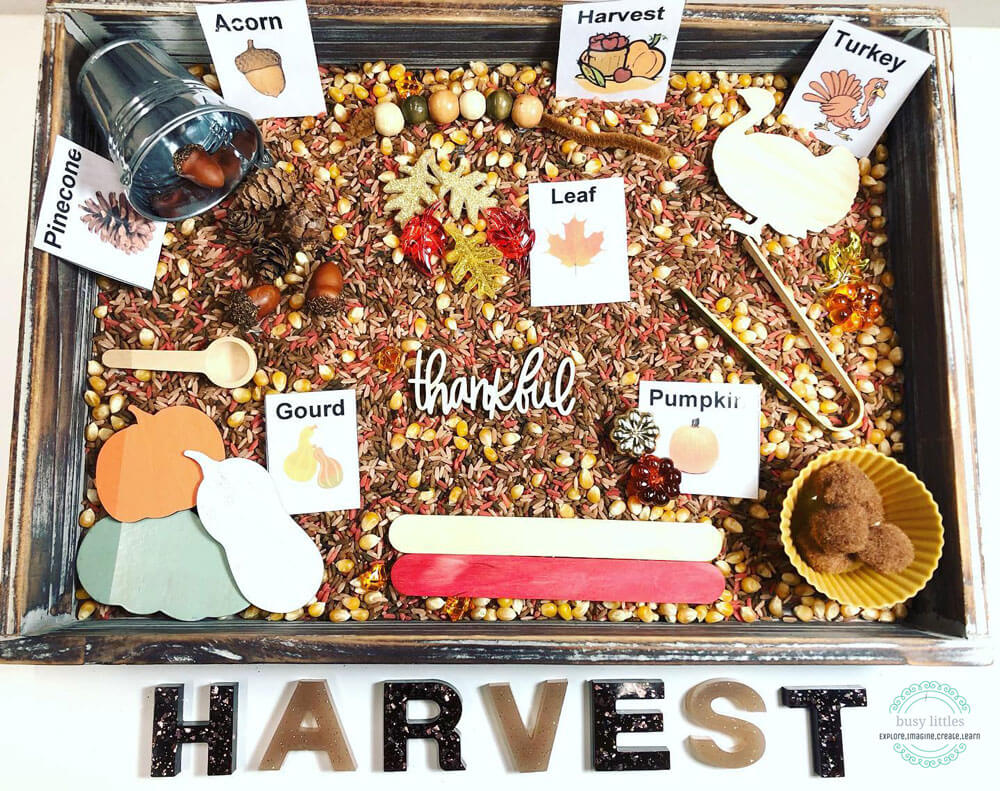 Order your handmade sensory jar via DM's on the Busy Littles Facebook or Instagram page. New sensory jars are released seasonally!!! Support small. Support Moms. We're better together! 🧡
Looking for more Harvest Activity inspiration? Check out Arts and Bricks's other Fall Art and LEGO build activities and ideas.
Pin It for Later
Save our playful sensory bin ideas.