Travel: what you need to know
Legoland was a better experience and more fun for our immediate family than Disney! Yes, I honestly said that! Here's why.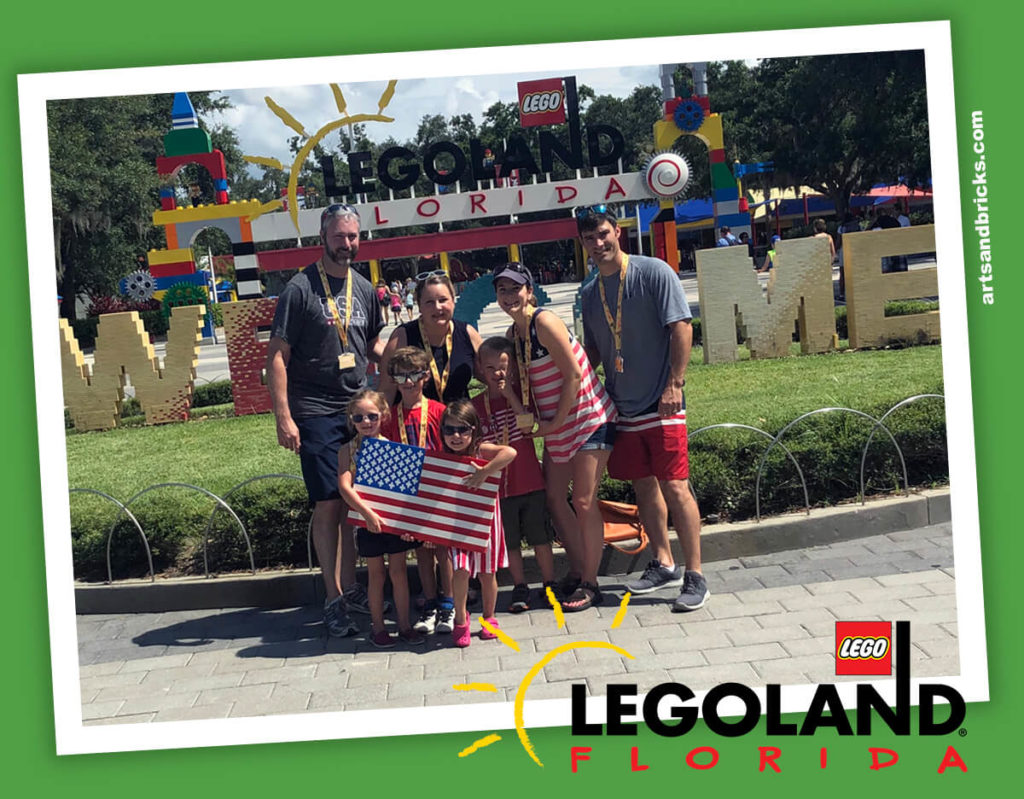 First, you should know that our family first visited Legoland, Florida, for three days around the 4th of July in 2018. We explored the park with four LEGO-loving kids aged four to seven. We paid for all of our LegoLand Florida experience, and in no way were we compensated for this review.
Why Legoland was better than Disney for our family
In a nutshell, Legoland was a great fit for our family because:
We play with LEGO bricks almost every day
Our kids had no idea a place like Legoland even existed
The ride lines were short, and the park was not crowded.
The rides are catered to younger kids (our children were all ten and under)
A few more details: Yes, at this point in time, we had been to Disney before (when our son was 4) and have been to Disney since (we're still Disney fans). However, as we're not big on screen time in a family, our kids really aren't obsessed with that many Disney characters, so while our Disney trips are fun, they are not dreams come true full of meeting princesses and superheroes!
On the flip side, our kids play with LEGO daily. They did then, and still do today, years later.
Advertisement - Keep Scrolling
In 2018, our kids had no idea that a place like Legoland existed, so it was BRICKTASTIC beyond belief every day for them. Our kids played, built, laughed, dreamed, and were inspired by LEGO all day long. Everything was AWESOME!
Legoland is built specifically for children 3 to 12, so keep that in mind. During this trip, our daughter "conquered" The Dragon (read more below about The Dragon) at Legoland Florida and officially became a rollercoaster-thrill rider!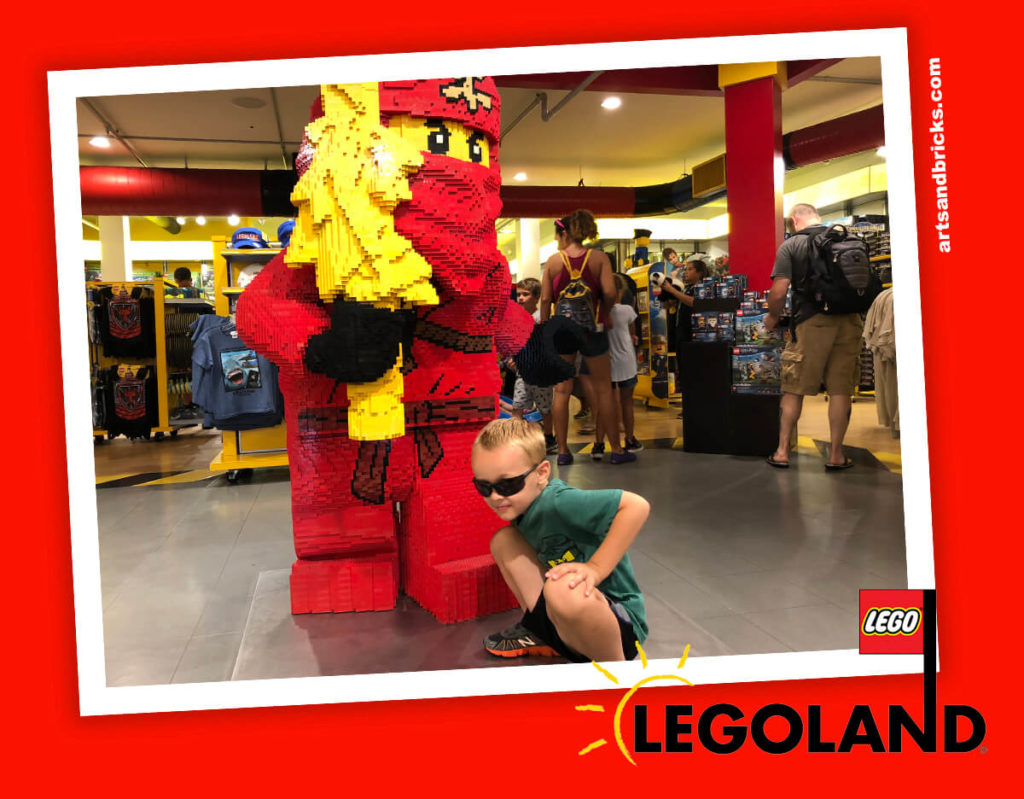 Tips for planning your family trip to Legoland Florida
How long should our family stay at Legoland?
While planning our trip, I researched by reading many blogs and reviews about Legoland. One of the questions I wanted to find an answer to was, "How long should we stay at Legoland Florida?"
Many advised that one day was enough. Others wrote that two days was NOT enough.
In the end, we opted for three days in the park. We spent two days on rides and spent one day playing in the water park. I think the amount of time was perfect. We left wanting more, but feeling extremely satisfied!
Are there deals on Legoland Vacations?
Yes! Of course, there are ways to save money on your trip to Legoland. Here are some savings ideas to explore.
Featured Offers: Legoland often has Featured Offers listed right on their website. Often, these Featured Offers are packages that combine days at the park with lodging. Sometimes there are even "All-Inclusive" packages that include food, too.
Legoland Coupons: Kids Go Free passes to Legoland are pretty common. You can earn these passes (or promo codes) from Lego Shop at Home or find these coupons as flyers in Lego Life Magazine (a FREE quarterly magazine by LEGO) or even find passes on the back of select LEGO polybag kits. Check expiration dates, but many times the coupons are good for a year or more!
Annual Passes: If you live in Florida, there are often Florida resident discount passes. For others, an annual pass may still make sense to purchase. We knew that we were visiting the Orlando, Florida area two summer's in a row, so we timed purchasing an Annual Pass so that the 365 Days of Awesome annual pass spanned two of our upcoming trips to Florida, allowing us to visit Legoland two years in a row with the same pass!
Email Subscriber Deals: Make sure to sign-up for emails and you'll gain insider knowledge about when deals are happening (like Black Friday Deals) and also be eligible for email subscriber-only discounts.
How we saved money at Legoland Florida with the purchase of an Annual Pass
When we started planning our Orlando and Winterhaven, Florida trip, we signed up for Legoland emails so we would receive special offers, the latest news, and updates. Subscribing to the Legoland email marketing list paid off. We received an email promo that allowed us to purchase Annual Passes at a discounted rate.
In 2018, the annual pass option we purchased was the AWESOMER PASS, and we received a 50% off promotional code, making the pass $150 a person and good for a full calendar year from the date of purchase. This wound up being a great deal because each day at the park costs only $50/person plus we received additional discounts on lodging, dining, and retail purchases.
AWESOMER PASS Perks:
10% discount on most dining and retail purchases. This was a true "feel good" perk. For each in-park purchase, my mind was calculating savings. 😉
Legoland In-Park Must Eat: Granny's Apple Fries
Prior to our visit, we read great things about Granny Apple Fries. After enjoying this sweet, cinnamon treat for myself, I agree that Legoland's Apple Fries do not disappoint. I definitely recommend trying this signature treat invented at Legoland! They're apple slices deep-fried like french fries with cinnamon, sugar, and whipped cream for dipping — or topped with caramel and ice cream. Delicious!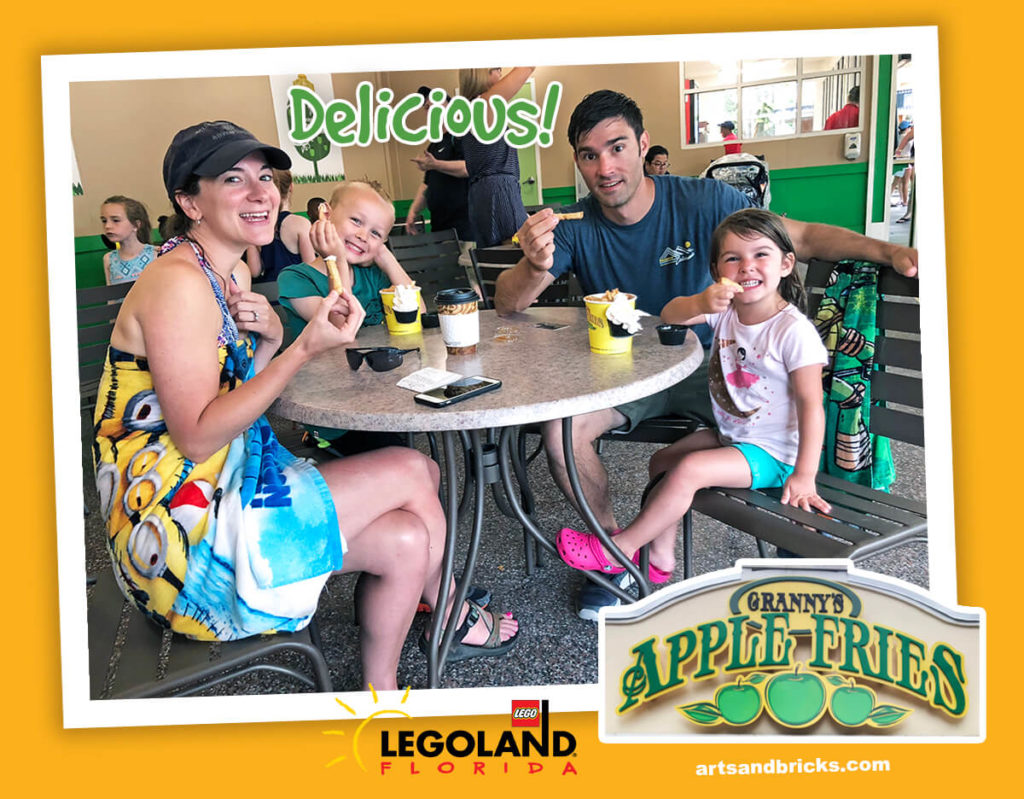 Icecream at Legoland Florida
Unexpectedly, our kids who DO LOVE french fries and DO LOVE apples were not that impressed with Granny's Apple Fries; however, to be honest, they're most satisfied with simple ice cream at their age.
Legoland's Firehouse Ice Cream shop is a great mid-afternoon stop for ice cream, floats, and COFFEE (for adults)! There are also many stands that sell ice cream along the way.
If you wind up loving Legoland's Apple Fries, it looks like there are many "Copycat Apple Fries" recipes you can try at home. There's even a recipe available directly from Legoland's blog!
The ride we rode the most: Beetle Bounce in Land of Adventure
The Beetle Bounce ride was a family favorite. We rode it over a dozen times in a single day!
Why is Legoland's Beetle Bounce so great? The ride is short (lasting just a few minutes) and typically has a line under 5 minutes. It seats seven people on each side, so families of 4 or larger can ride together! It's also open-air, so parents who choose not to be bounced and jostled around can stand directly in front of their kids and smile and wave at their children as they ride. This is especially useful for younger kids, as it helps provide children a bit more security to ride on their own!
The Beetle Bounce ride is great for kids new to amusement park rides. They can start by holding on and slowly build confidence to riding with both arms in the air!
Our least favorite ride: Ford Driving School
We were NOT impressed with the Ford Driving School ride because it wound up being a very long wait (over an hour) for quite a short ride. The cars are slow-moving and our kids wound up stuck for the majority of their ride time.
The driving school age range is six to thirteen, so only two of our kid crew could ride. This caused our family to split up, which we also didn't love.
Fortunately, Legoland has planned for just this scenario, so there is the Ford Jr. Driving School nearby for children ages three to five. We enjoyed this younger version of the attraction much more than the older-kid driving school because the line was shorter and the staff was very attentive. Attentiveness was crucial because the young kid drivers ram each other and get turned around and stuck LOTS!
Conquering the Dragon Rollercoaster
The Dragon rollercoaster is in LEGO Kingdoms and is for children at least 40″ tall. This was our daughter's first rollercoaster. She is hooked! She ABSOLUTELY loved it. She was exhilarated and riding a roller coaster made her feel like a BIG girl. She was finally like her big cousins bravely riding a thrilling rollercoaster! Honestly, riding with her on this rollercoaster was my favorite part of the trip!
Pirate/Water Ski show at Imagination Pavilion
I grew up with my parents scheduling our amusement park days around watching shows, so I naturally now check out showtimes and try to plan rides and lines around certain shows. The Pirate Water Skiing show is worth rearranging your schedule to watch!
Brickbeard's Water Sport Stunt Show is a clever production that will have your family laughing, oohing, and ahhing! The show includes wakeboarding, barefoot-skiing, jump acts, and an iconic ski pyramid.
Be Aware of Ride Height and Age Requirements
Legoland is designed specifically for children ages 3 to 12. There are many rides where there are age requirements, not just height requirements.
At age 3, our daughter was the youngest and shortest of 4 cousins on our trip. Consequently, she missed out on riding some rides with her cousins. For instance, you must be age 4 to ride the Royal Joust and age 6 for the Ford Riding School. Both rides require kids to ride a horse or drive a car solo.
Other rides have minimum height requirements of 34″, 36″, 38″, 40″ 42″, and 48." All height requirements are listed on the Legoland Florida map.
Parent Swap – Legoland Perk
If you have young kiddos with you, then you'll definitely want to take advantage of Legoland's Parent swap option. This park-sponsored program allows parents to swap riding with older children. Take advantage of this convenient offer by waiting in line together. When you get to the front of the line, alert the attendant that you'd like to do a parent swap. One parent will ride with your child while the other parent waits with the younger child. Then, swap roles. This is really cool for your older child because they get to ride the ride twice — once with each parent!
Our Least Favorite Part of the Park
I wasn't that thrilled to walk around and look at Miniland USA or many of the other LEGO-built sculptures. To be honest, the hot Florida sun has faded many of them, and most sculptures could use a good power wash.
However, one thing that was really cool was that they were allowing visitors to help build Miniland USA people. We built several people that were intended to be displayed in new scenes.
Pools and Waterparks: Giant Floating LEGO Bricks
The kids had so much fun playing and building with these foam (maybe rubber coated?) floating LEGO bricks in the Legoland pools! We found that both the park and the Legoland resort pools had floating jumbo LEGO bricks to play and build with! Our kids built a Navy Battle Ship! (Check out this brick-built Navy Ship kid's room decal by Arts and Bricks)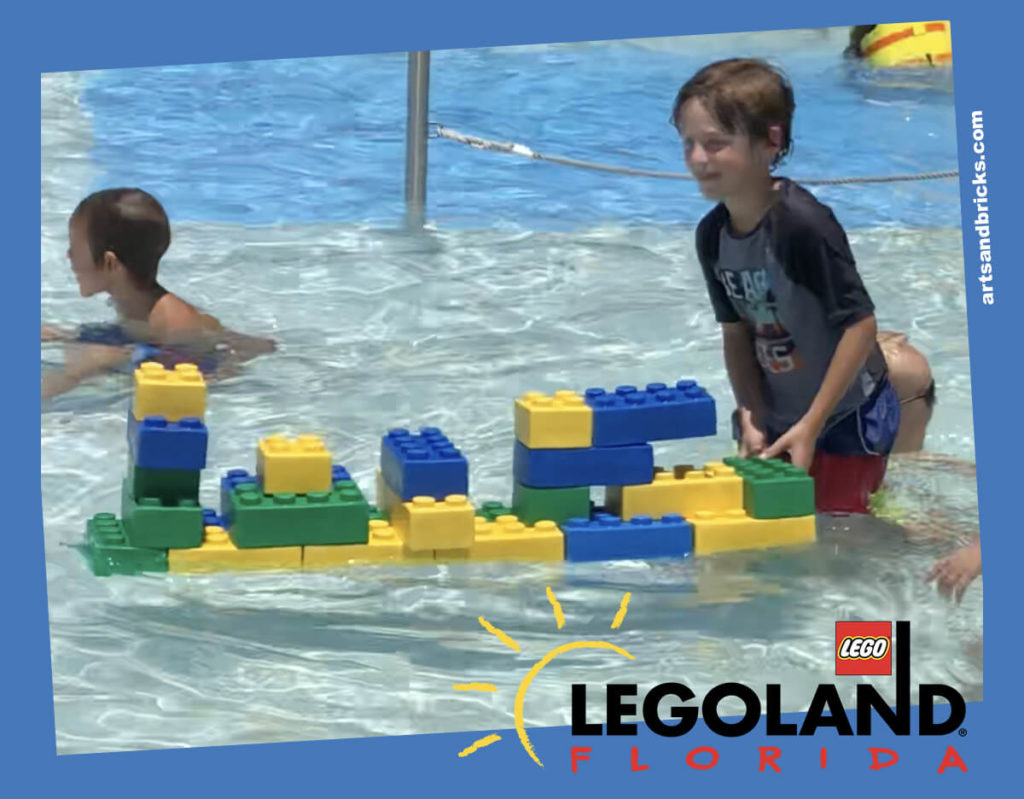 Special Holiday Events
Legoland celebrates holidays Lego-style all year long. You can check the schedule of special events on Legoland's website. Our first trip to Legoland Florida was over the 4th of July. In 2018, there were several awesome 4th of July events, including Bricktastic Fireworks. A day at the park was a festive way to celebrate our nation!
4th of July Festivities: Red, White, and Boom Fireworks
More about Red, White, and Boom Fireworks. Sitting in the pavilion overlooking Lake Louise, the skies were lit up with colorful fireworks. When you wear your special glasses (given to you to keep as you enter the pavilion), they reflect the light to look like LEGO bricks. You're literally watching LEGO bricks explode across the sky. It's an amazing way to end a wonderful day in Legoland, Florida, and to celebrate AMERICA!
Help build an American Flag
We enjoyed building components of a giant community-built American flag to celebrate the 4th of July at Legoland.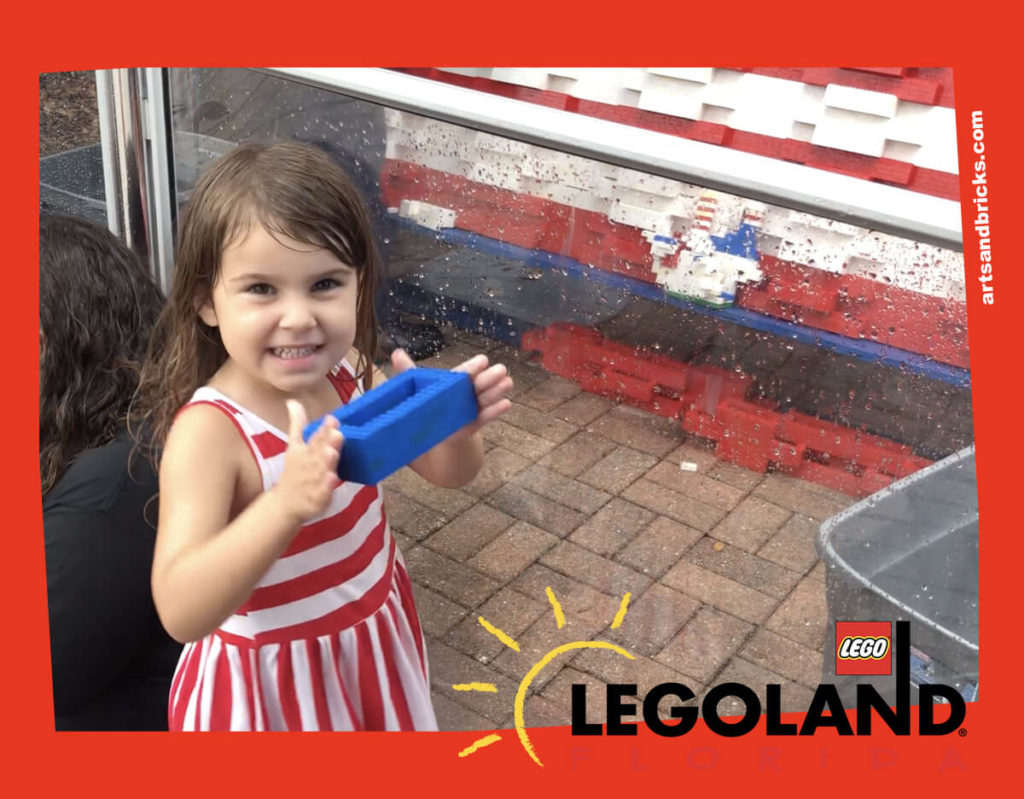 During our trip, we were able to help build this flag and construct the people to be displayed in MiniLand USA, an area of the park featuring LEGO-built mini models of U.S. cities from San Francisco to Washington D.C.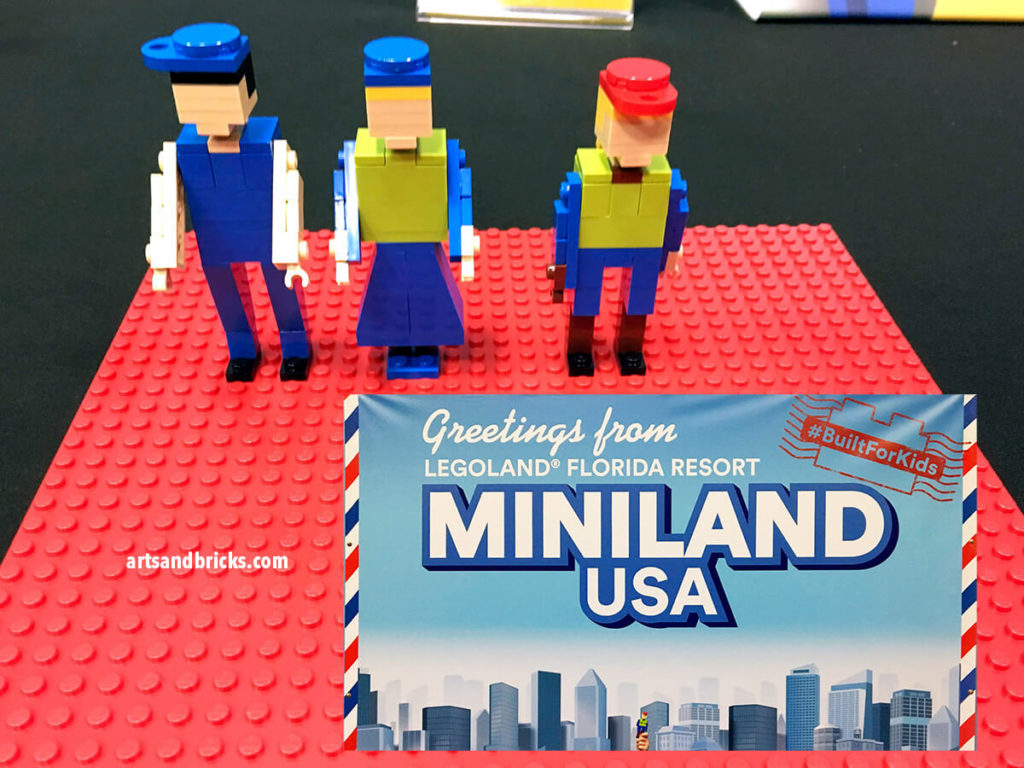 ---
Leave a comment
We hope this write-up helps you plan for your family's AWESOME day(s) at Legoland, Florida. If you have other tips, please share them in the comments!
---
PS. This post is not sponsored. We're a LEGO brick-loving family who posts about our favorite builds. Some of the links in this post are affiliate links and if you go through them to make a purchase we will earn a commission. Keep in mind that we link to these companies and their products because of their quality and not because of the commission we receive from your purchases. The decision is yours, and whether or not you decide to buy something is completely up to you.