Arts and Bricks and Crafty Hangouts are teaming up to share several watercolor techniques that encourage your little one's creativity at home or school. Here are 5 easy watercolor techniques for children.
1. Painting with Salt
This technique requires three simple ingredients: white school glue, watercolor paint, and salt. First, make your design with glue. Squeezing the glue directly out of the glue bottle or painting the glue onto your paper with a brush works best. Next, sprinkle salt onto the glue lines.
Now you're ready for the magic. Dip your brush into the watercolor paint and then touch your brush to your salted glue. The paint color will almost magically absorb and spread across your glue lines. Get creative by adding and mixing multiple colors to your lines. The effect will be almost tye-dye.

To finish this project, let it dry overnight. Try using a thick piece of paper or cardstock because glue and watercolor can be runny and quickly make a thin piece of paper soggy.
Advertisement - Keep Scrolling
Painting with salt is fascinating to children for several reasons:
Children enjoy watching the watercolor paint running along the lines of salt
The final result is 3D and raised to the touch
2. More Ways to Paint with Salt
This kids' painting idea borrows from professional watercolor painting techniques. Professional painters sprinkle salt on a watercolor painting to draw the paint's color to a specific area on the image. When the salt dissolves, it leaves a speckled pattern behind.
For children, playing with salt is a fun little experiment. Start with a watercolor painting on a thick sheet of paper. Make sure the image is relatively wet. You don't want puddles of water on your artwork, but you do want the paint to be moist enough that the salt can do its job.
Provide a small bowl of table salt and instruct that your child should sprinkle it anywhere it looks extra wet on the page. The sprinkled salt will absorb the water and form interesting patterns. Once the painting is dry, you can remove any remaining stuck salt by rubbing the surface with your finger or a clean piece of fabric.
3. Watercolor Spray Painting
Mess alert! This technique is messy and can cause stains. Perhaps, set up your watercolor spray station outside or in the garage and wear old clothes or paint smocks. With the proper precautions, this technique guarantees fun!
For this process art technique, add watercolor paint to small sprayers. You can create this mix with tube watercolor paint or by mixing watercolor tablets in water. You can even break off a piece of your watercolor paint in a palette. Next, have fun and start spraying paint. Your child will delight in the messy abstract creation their sprays and drips make. Use extra-large pieces of paper or even a canvas for this project.
4. Painting With a Straw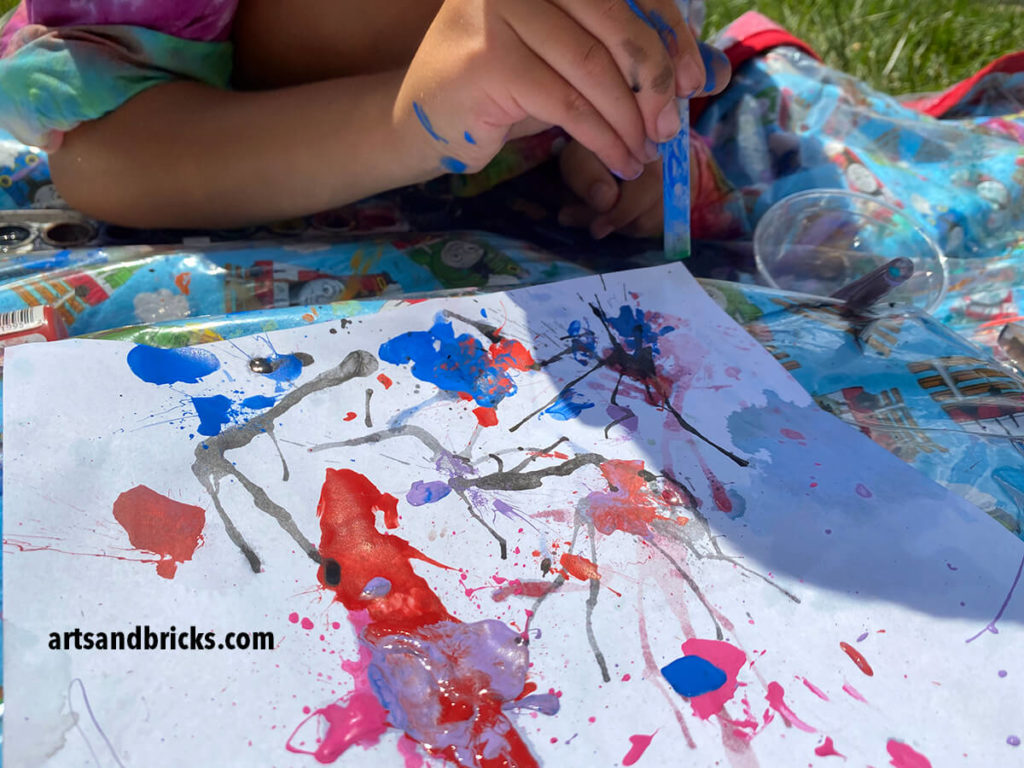 Blowing watercolor paint with a straw is yet another watercolor art idea that is easy, fun, and a creative way to make process art with children.
Kids can paint with watercolors and then blow the paint with a straw. You can dip your straw into a wet watercolor palette and then blow through the straw to "spray" or "blow" paint. You can also paint or drip watercolor paint from a brush onto paper and then blow the paint on the paper to move the color with your straw.
Children will be amazed at how the paint's color will "dance" across the sheet of paper.
5. Paint Salt Dough Using Watercolor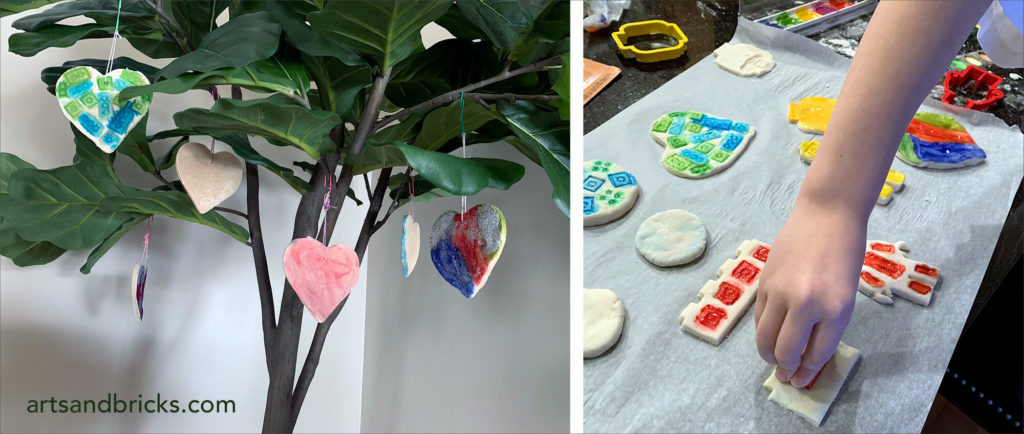 Watercolor is an excellent paint to decorate crafts made from salt dough. You can also use acrylic paint. The possibilities made with salt dough are endless. With a single batch of salt dough, you can make handprints, thumbprints, and footprint keepsakes for the entire family! Save your salt dough treasures and display them as home decor. We hang our heart salt dough ornaments each Valentine's Day on our living room's Faux Fig Tree.
In addition to ornaments, kids can also design sculptures and bowls. Create a watermelon bowl by pinching together and forming a small bowl shape, then paint it with watercolors to look like a juicy, seedy slice of watermelon. Because of its porous state, your salt dough will absorb color, and the paint will dry fast.
Shopping for Watercolor paint
Watercolor paint comes in tubes, tablets, or palettes and pans. There are watercolor paint options for children, beginners, and professionals. If you're wondering what type of watercolor to choose, here is a nice list of watercolor paint bundles provided by Crafty Hangouts.
Why I love watercolor painting with kids
There are many interesting watercolor techniques that you can try with your little ones. Often, all you need to do is show children the painting concept and then get out of the way.
Remember, you're helping build your child's confidence when you give them the creative freedom to get to work and play! Praise their creativity and exploration. Display their final creations proudly. Your support means the world to them.
Pin watercolor ideas for Later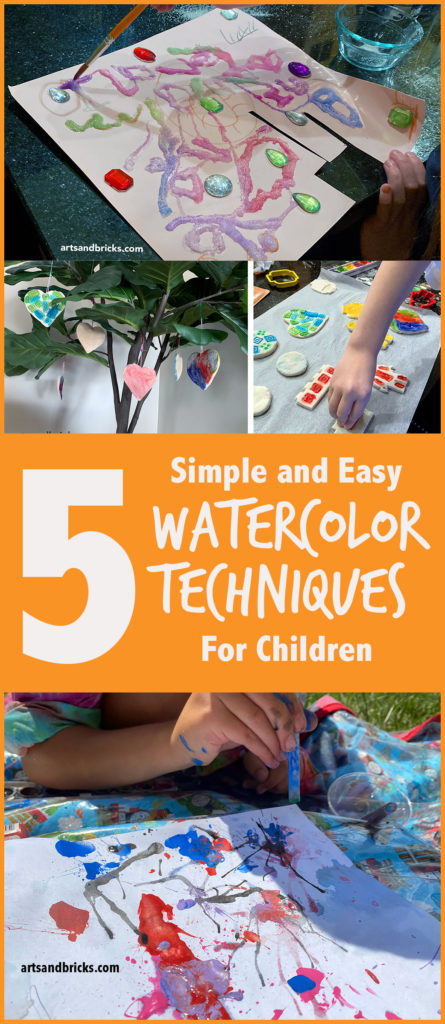 Have fun and have a messy ART-ful day!