Learn to make your own Roll-A-Haring dice game or print and play our Sports and Christmas-themed games.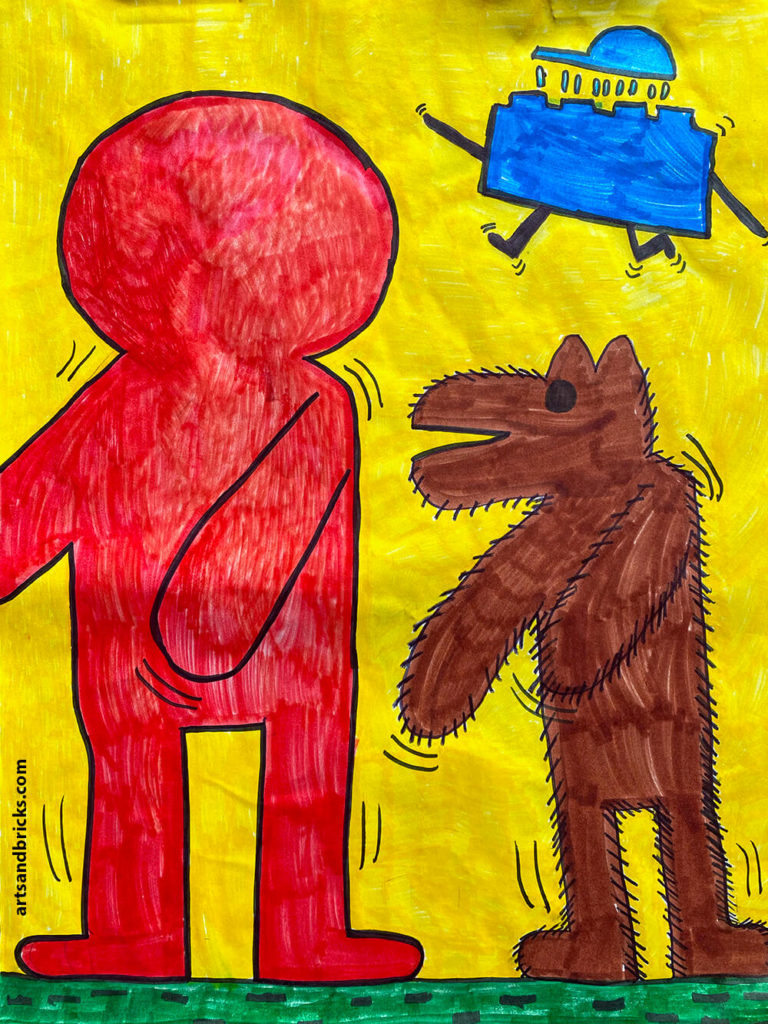 Our backstory – pop art fun for kids
In second grade, my son's art teacher introduced his class to Keith Haring's pop art style. My son was immediately drawn to Haring's style of cartoonish and bubbly figures and loved the simplicity of the drawings, icons, and color choices. At home, he started doodling like Keith Haring.
I wanted to foster my son's passion for discovering new art styles, so we learned more about Keith Haring and explored his artistic style further.
One sunny afternoon, we made a large-scale Keith Haring-inspired poster with flossing characters and a dancing blue LEGO brick. It turned out great and became the visual we used to make a personalized mask my son frequently wore throughout the COVID pandemic.
During our online Keith Haring search, we found a Roll-A-Haring game sheet, and my son exclaimed that he played that game in school. We talked a bit about the game, and then he had the grand idea to make his own Roll-A-Haring game.
The dice art game idea
Advertisement - Keep Scrolling
The concept is straightforward. Teach students about Keith Haring's unique artistic style, then have your class or child create their own Roll-A-Haring art game based on Haring's iconic pop art look. Let your child choose the theme. The possibilities are endless!
To play the game, take turns rolling the die for each board's column. Match the number shown on the die with the column your drawing. Go clockwise, one-by-one, column-by-column, and draw the shape and details shown for the head, arms, legs, symbols, lines, and special items.
Gameplay
The first die roll selects the shape of your head.
The second die roll selects the placement of your arms.
The third die roll selects your legs.
The fourth die roll adds a symbol to the clothes of your athlete.
The fifth die roll adds motion lines to your person.
The sixth die roll adds a ball to your athlete.
My son made two themes: sports and Christmas. We're providing them as inspiration; you can also download, print, and play them! Have fun!
Roll-A-Haring Sports-Themed: An Art Game for Kids
My son started with a Sports Themed edition. He hand drew the grid and selected the features of each column. He chose to include aspects of a basketball, football, soccer, tennis, baseball, and ping pong player.
In case you'd like to play our Sports Theme Roll-A-Haring too, we included the printable.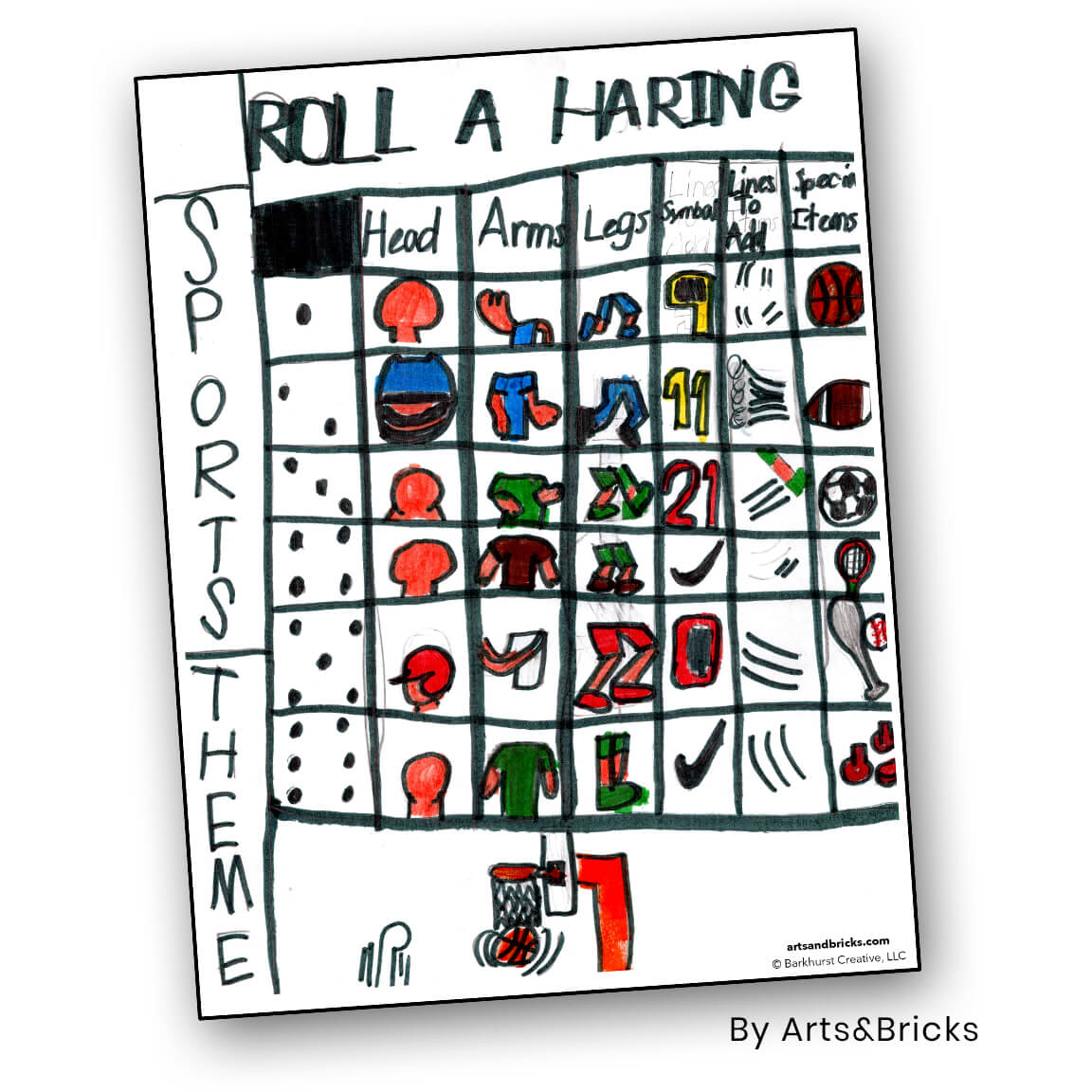 Examples of athletes in Keith Haring style renderings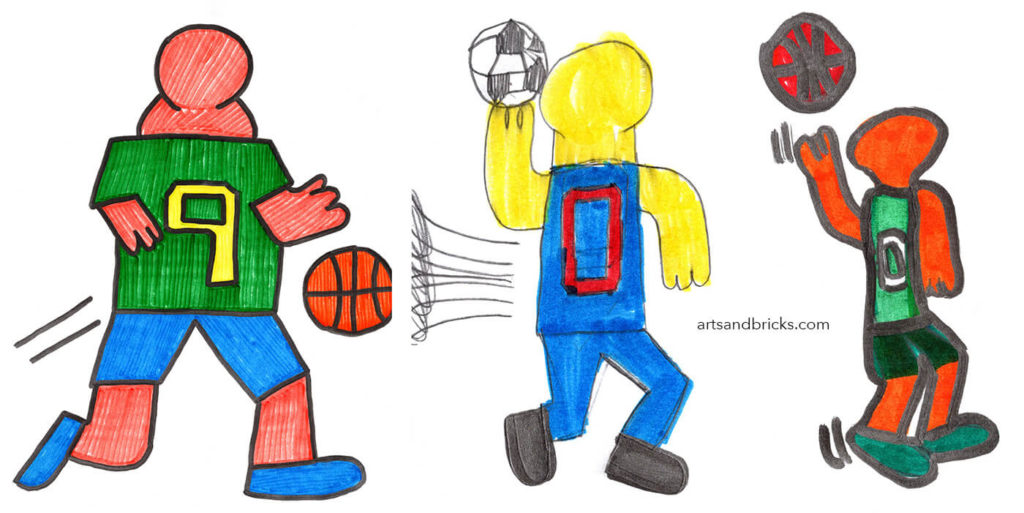 Tips for Sports Themed gameplay:
Draw with a pencil first; then, when you've drawn all six elements of your person, add color.
If you want to match the colors shown on the board, jot down the number you rolled for each component. I'll write a little #2, for instance, next to my arms so I know I should color it blue rather than green or brown, as shown in other numbered shirts.
You can put the symbol on the athlete's shirt, shorts, or shoes. We recommend numbers go on shirts.
For your motion lines, you can add them in multiple places.
For Special items, dice roll #6, you can add one or two ping pong paddles. Don't forget to add motion lines to the ping pong ball!
Roll-A-Haring Christmas-Themed Art Game for Kids
At Christmas, my son decided it would be fun to create a holiday-themed Haring art game. This time, I scanned and printed the game grid for him. He still chose and drew the details of the game.
This round, our family drew some festive Haring-inspired Christmas trees and angels! The game board features Jesus, a Christmas tree, a nativity barn, a lamb, an angel, Santa, and a present.

Want to play our Christmas-themed dice game? You can print it and play it, or make your own!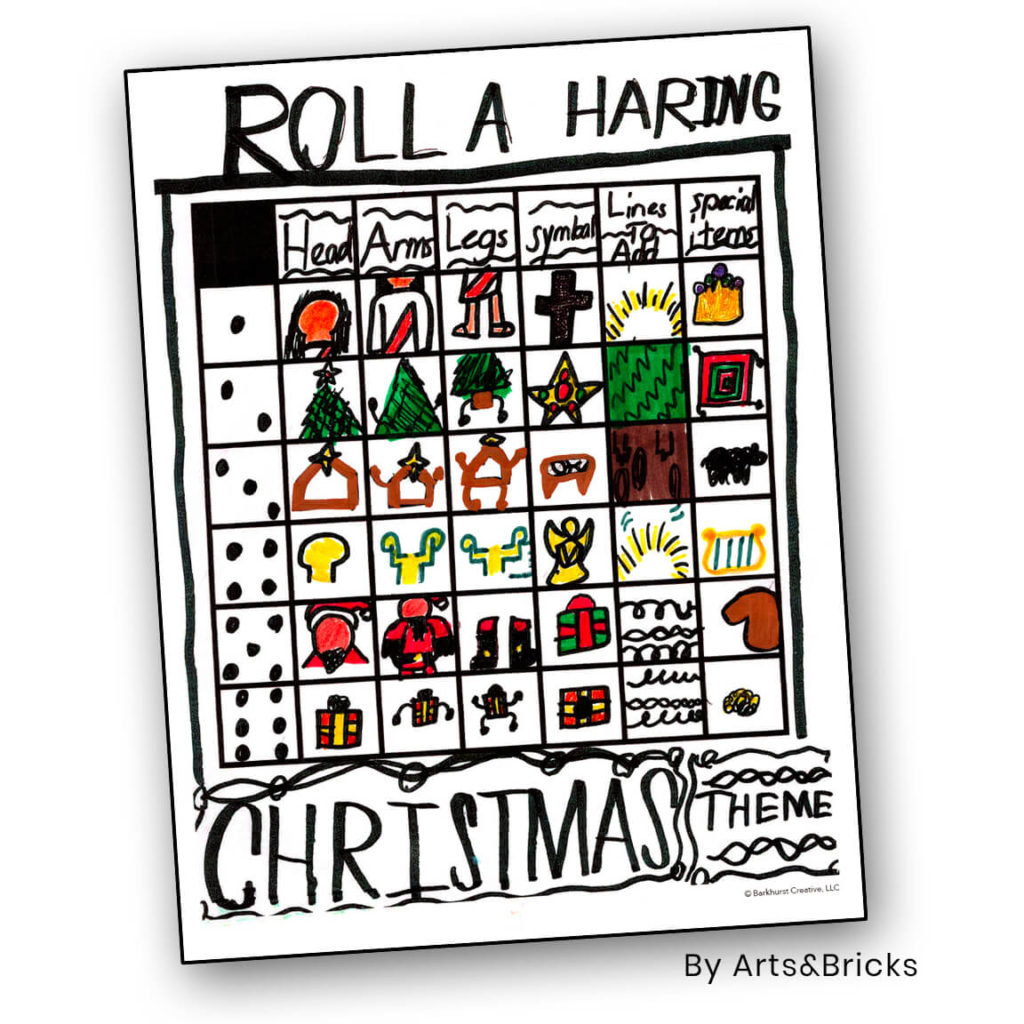 Roll-A-Haring
My son first learned about the Roll-A-Haring dice game concept at school. We play the original printable often. Below are examples of the Haring-themed figures we've created!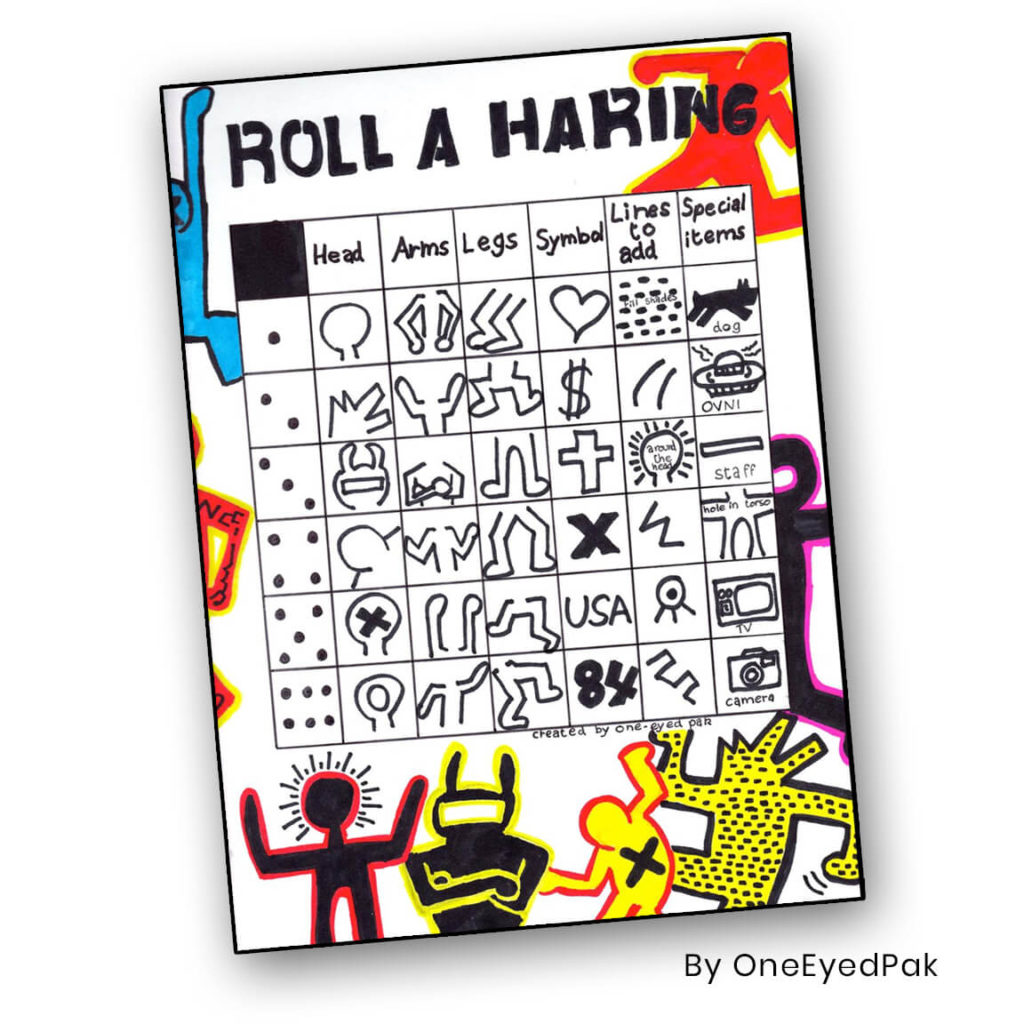 Save on Pinterest