Introduced in 2019, this quick-build LEGO set is only 68 pieces, but it packs a big punch. By far, the best part of this set is the inclusion of FOUR NEW Astronaut Minifigures for your LEGO collection.
Introducing LEGO Spaceman Minifigures
Kenny: Classic Yellow Spaceman Minifigure
Benny: Classic Blue Spaceman Minifigure (crack in helmet)
Lenny: Classic Pink Spaceman Minifigure
Jenny: Classic White Spacewoman Minifigure (appears in The LEGO Movie and The LEGO Movie 2: The Second Part)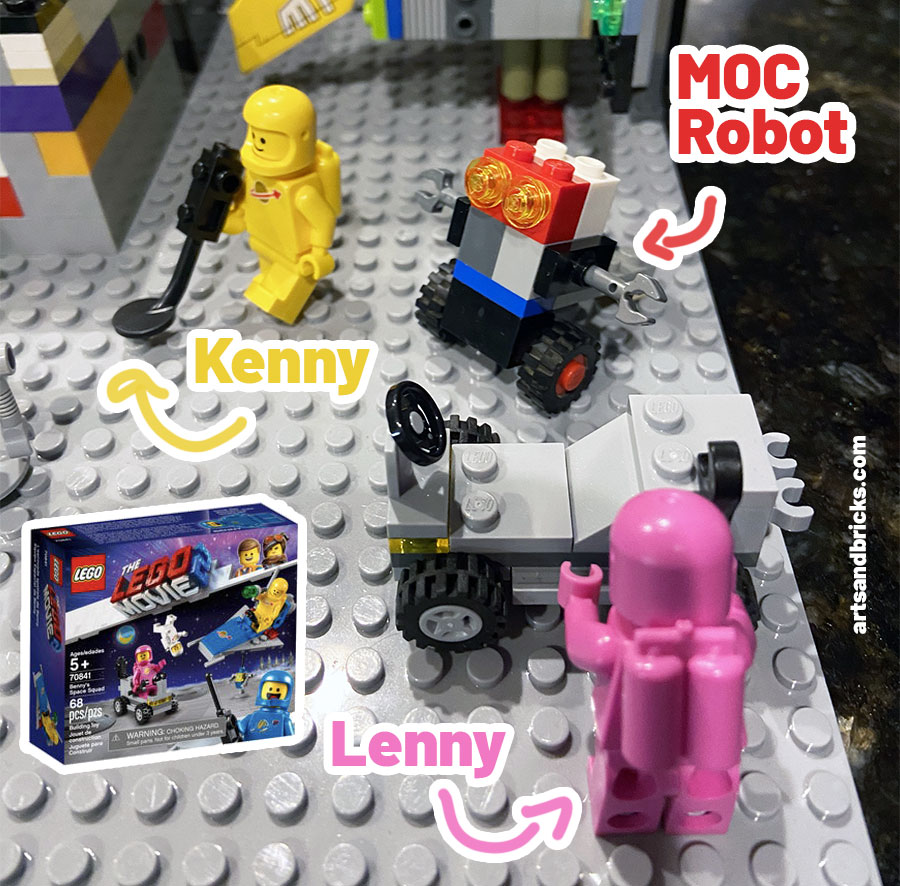 The non-Minifigure builds in this set include a lunar buggy (golf cart), robot, and spaceship, which for us, were quickly built and then, just as quickly, disassembled for use in other builds.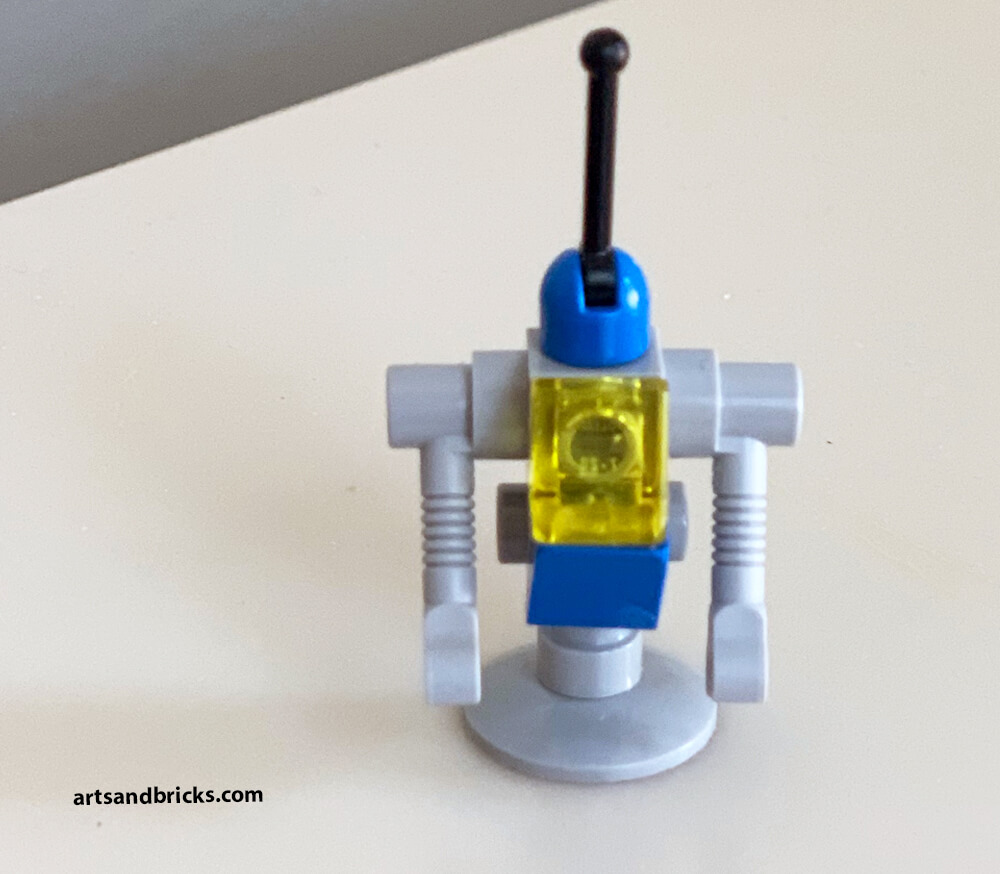 Pink Lenny (Classic Spaceman) is hands down our favorite.
In LEGO The Movie 2, Lenny is the star in many of our MOCs (custom builds). Below, Lenny is shown with a red visor (the visor is not included in this set).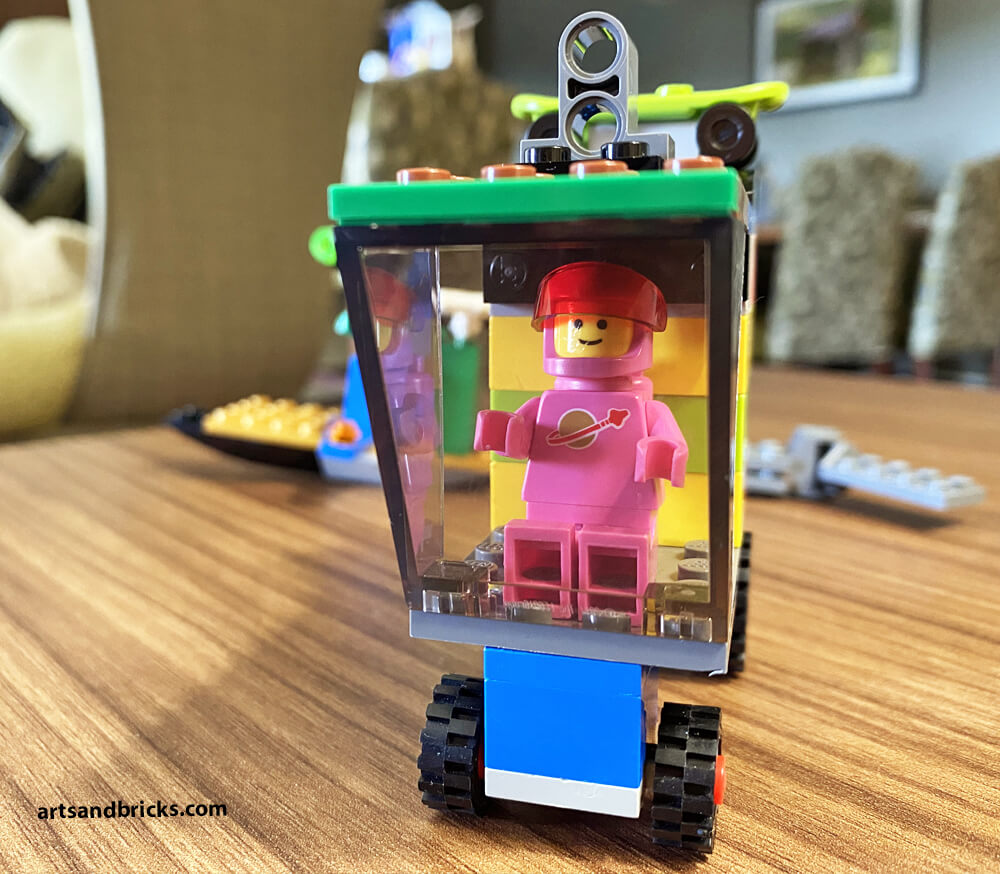 One of the best sets of 2019
Advertisement - Keep Scrolling
Benny's Space Squad is often touted as one of the best sets of 2019. This recognition is most definitely because of the inclusion of four astronaut Minifigures. Young and more mature builders alike love LEGO's Classic Space theme. (Hey, I'm a child of the '80s and remember my Classic Space sets fondly).
In June 2019, this set retailed for $9.99. Inevitably, after LEGO sets are no longer available in stores, their prices start to climb substantially. Gifting this set during Christmas 2020 costs almost $30.
Advice: purchase LEGO sets that you think your kiddos will like or will want to gift to other friends and family in the future when they're still available in stores! We suggest browsing our favorite kid-reviewed sets of 2021 and purchasing what you want before a current LEGO set is discontinued. Your wallet will thank you! 👛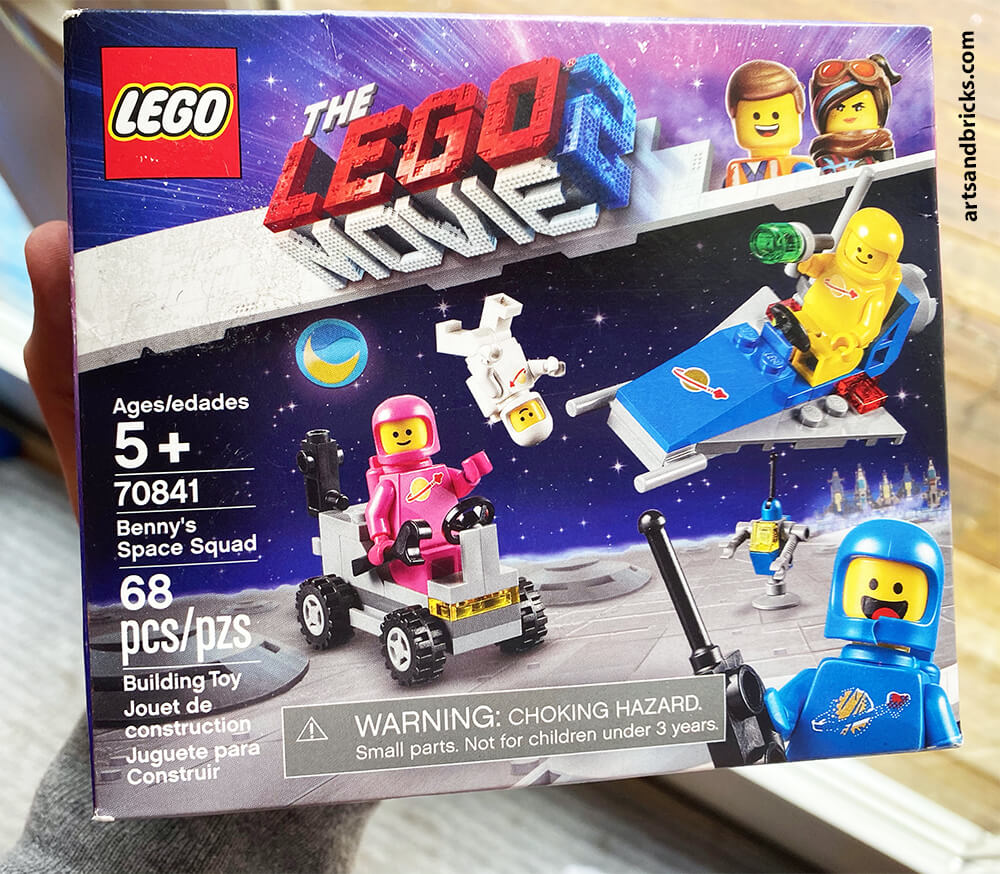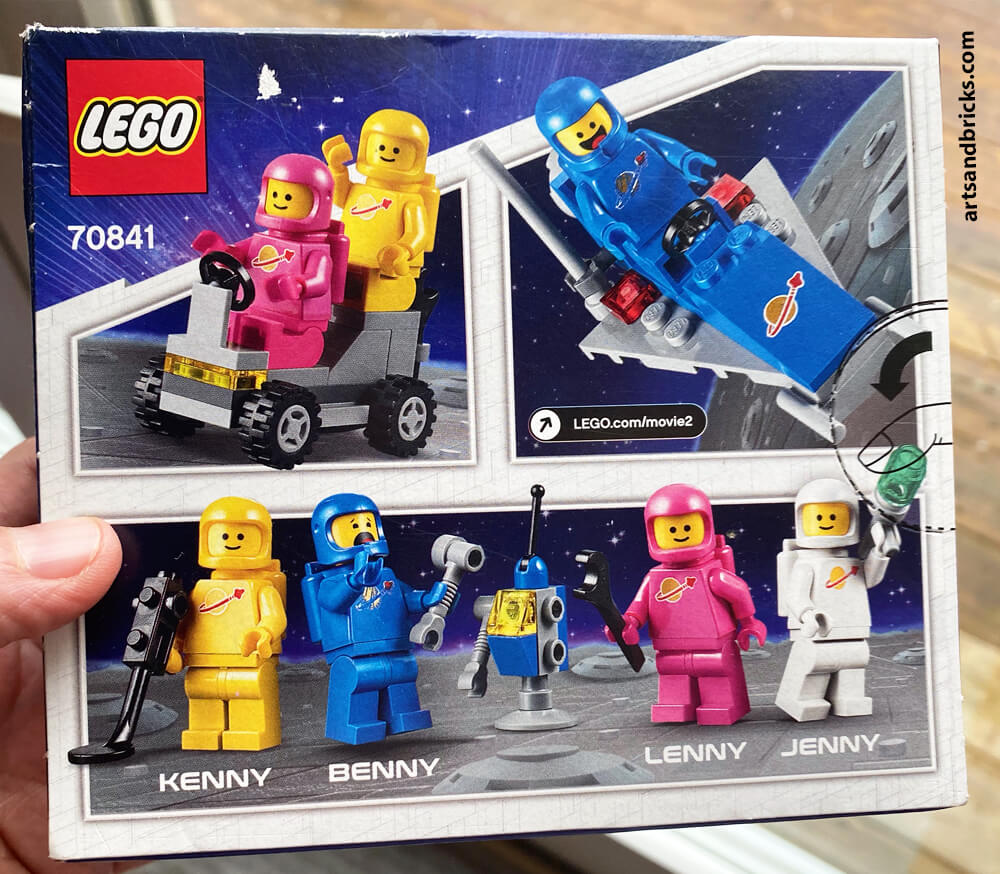 Why is Lenny's astronaut suit pink?
According to ZG Brickfilms, a possible theory is that Lenny's white classic spaceman suit was laundered with a red classic spaceman suit, and VOILA – pink! It's a theory for sure! Watch ZG Brickfilms' speed build and listen to him share his theory in this video.
LEGO Classic Spaceship Video
More Benny's Space Squad Videos
Creative Play with Benny's Space Squad, Classic Space LEGO Bricks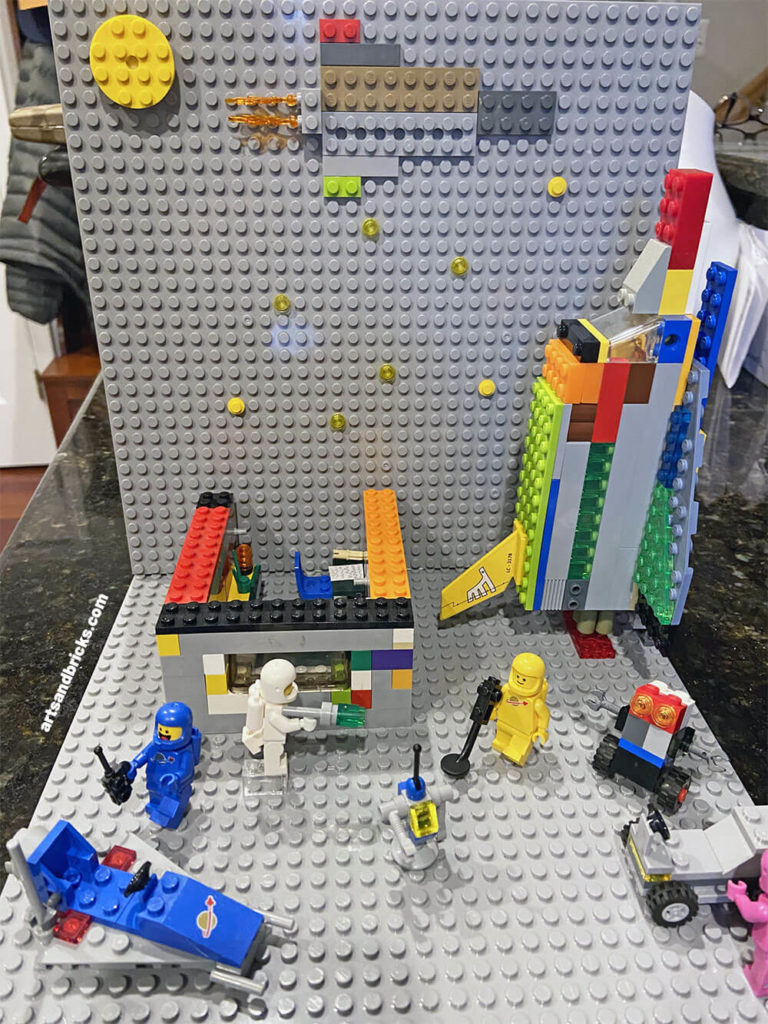 Wonderful for creative play, Benny's Space Squad provides a starting point for space themes. I love this detailed space scene that includes a MOC spaceship and control room. I especially love the use of the clear brick under Jenny's feet to resemble floating/running in space! Also, how cool are the sun, stars, and spaceship created as the background?!?!
LEGO Set Rating
Arts and Brick's gives the LEGO Benny's Space Squad, Set 70841, a 5-Star "Excellent" Kid-Review.
---
LEGO Baseplates are Awesome!
We're realizing more and more that large LEGO baseplates are excellent brick pieces to include in your child's LEGO collection. Baseplates encourage kids to build out scenes and play with their Minifigures and vehicles within the boundaries of storylines. Shown above, the LEGO Classic Gray Baseplate 10701.
Interested in unique LEGO gifts?
Check out our round-up of the Best LEGO Gift Ideas for kids.
---
We built a hybrid DIY Benny costume for Halloween
Please take a look at how we did it; we're super proud!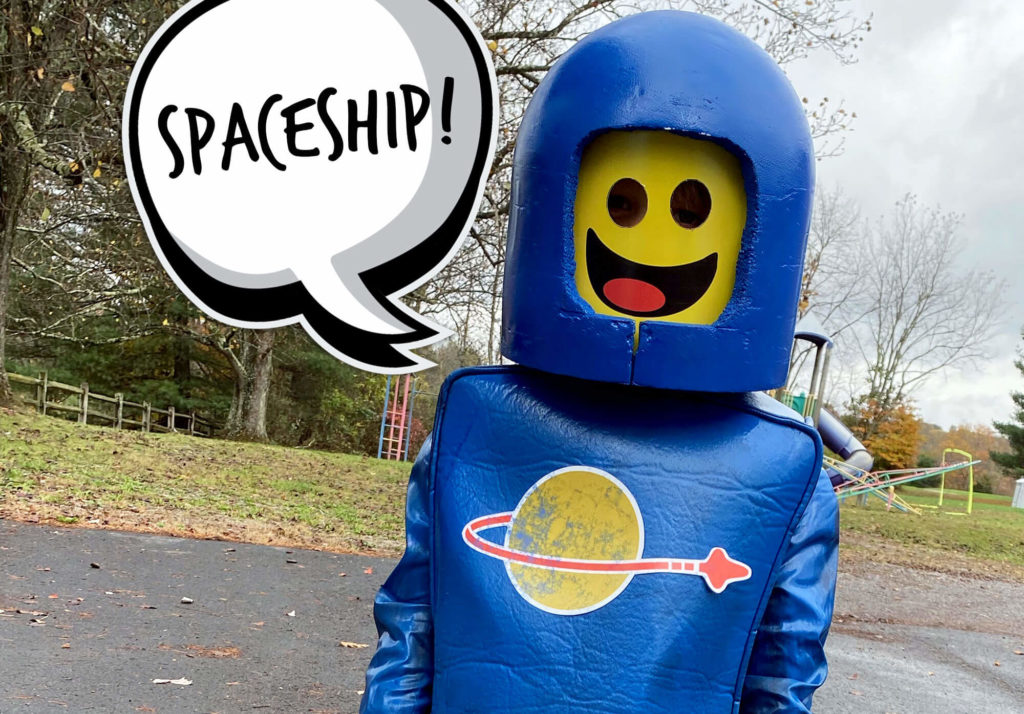 ---
PS. This post is not sponsored. We're a LEGO brick-loving family who posts about our favorite builds. Some of the links in this post are affiliate links and if you go through them to make a purchase we will earn a commission. Keep in mind that we link to these companies and their products because of their quality and not because of the commission we receive from your purchases. The decision is yours, and whether or not you decide to buy something is completely up to you.