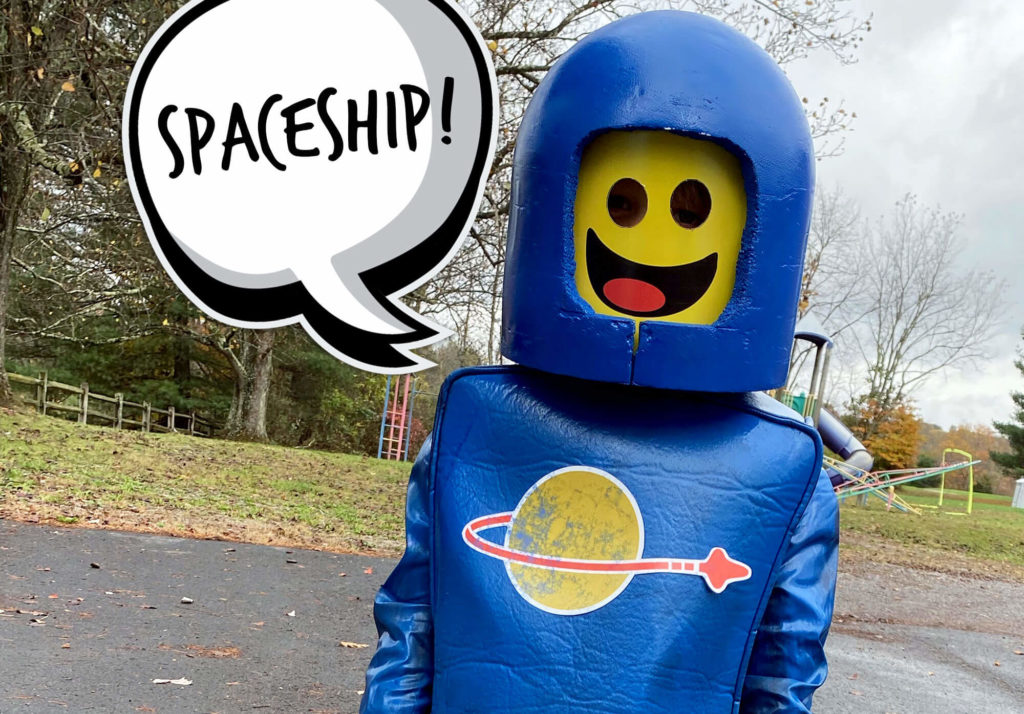 This year is the first year my son has shown interest in choosing and even making a Halloween costume, so we decided we'd put a little money and time into his request.
In true LEGO-LOVIN' fashion, he chose Benny the Astronaut as his Halloween Costume.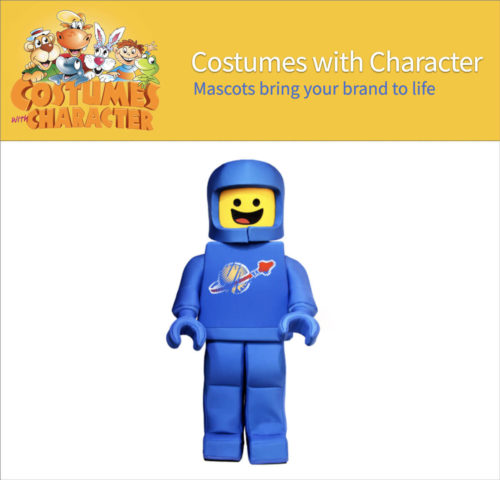 We couldn't find a ready-to-buy Benny costume
First, we looked to buy an already made Benny costume. To our initial disappointment, as of Halloween 2021, there is no off-the-shelf costume option for LEGO Benny, the beloved blue astronaut.
We were able to find a bespoke character costume and mascot company with a Benny design, but Benny is a custom order without online pricing. Although "Awesome," this option is not a fit for an elementary-aged child's Halloween costume, but perhaps of interest to someone reading this post.
We Searched for Easy DIY Benny Costume Instructions
Secondly, we looked for easy DIY Benny Costume instructions. My son found a series of DIY Benny instructions recorded and documented by Matt Taylor. We watched almost 90-minutes of how-to-vides and discussed the logistics of the provided 57 step process.
LEGO Spaceman Costume Videos by Matt Taylor
Ultimately, we decided on a hybrid model. We agreed that we couldn't fully commit to making Matt's Benny the Spaceman costume design because we were concerned that we didn't have enough time and would ultimately cost more than we were willing to spend. However, we did commit to hand-making Benny's space helmet.
Our hybrid model for Benny costume – partly purchased and partly DIY
Advertisement - Keep Scrolling
After striking out finding an off-the-shelf Benny costume and learning that a complete DIY effort was probably more than we were up for, we decided on a hybrid costume model.
We bought a LEGO Minifigure polyester costume as a starting point. There are two models easily purchasable. Our favorite model has a formed body and also formed legs. A second available model has a formed body, but the legs do not have padding. Instead, they are just regular slick pants.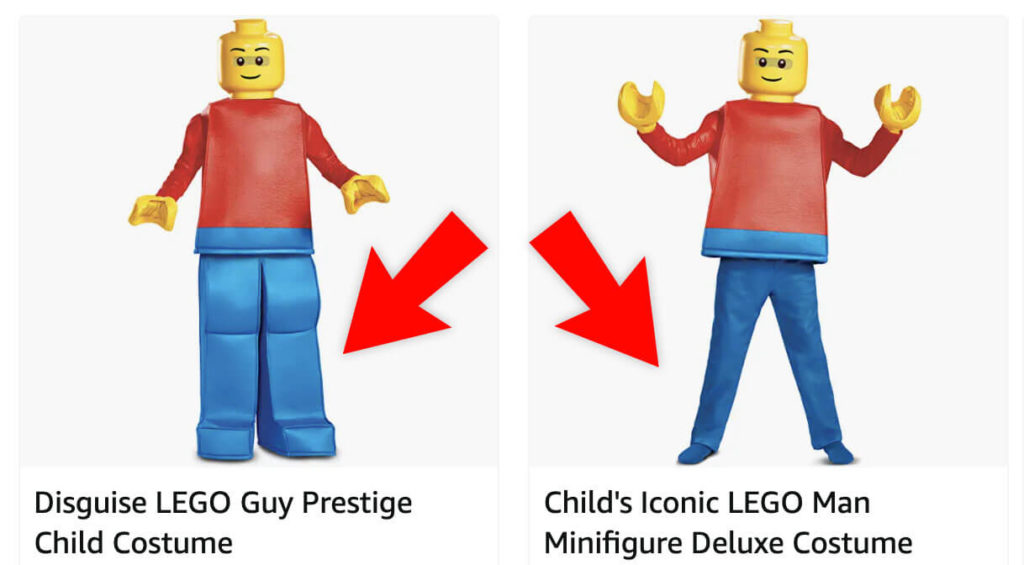 We opted for the foam overlay on both the body and legs!
The LEGO Guy costume we purchased was LEGO Guy Prestige Child Costume and was $37.00 on eBay. We initially ordered a second-hand Ninjago Lego Costume on Poshmark for $26.50. Eventually, Poshmark canceled this purchase because, after two weeks, the seller had not shipped our costume. Thank goodness for starting this process early!
By the way, The Lego Man costume is adorable! I recommend it for any Lego-lovin' child!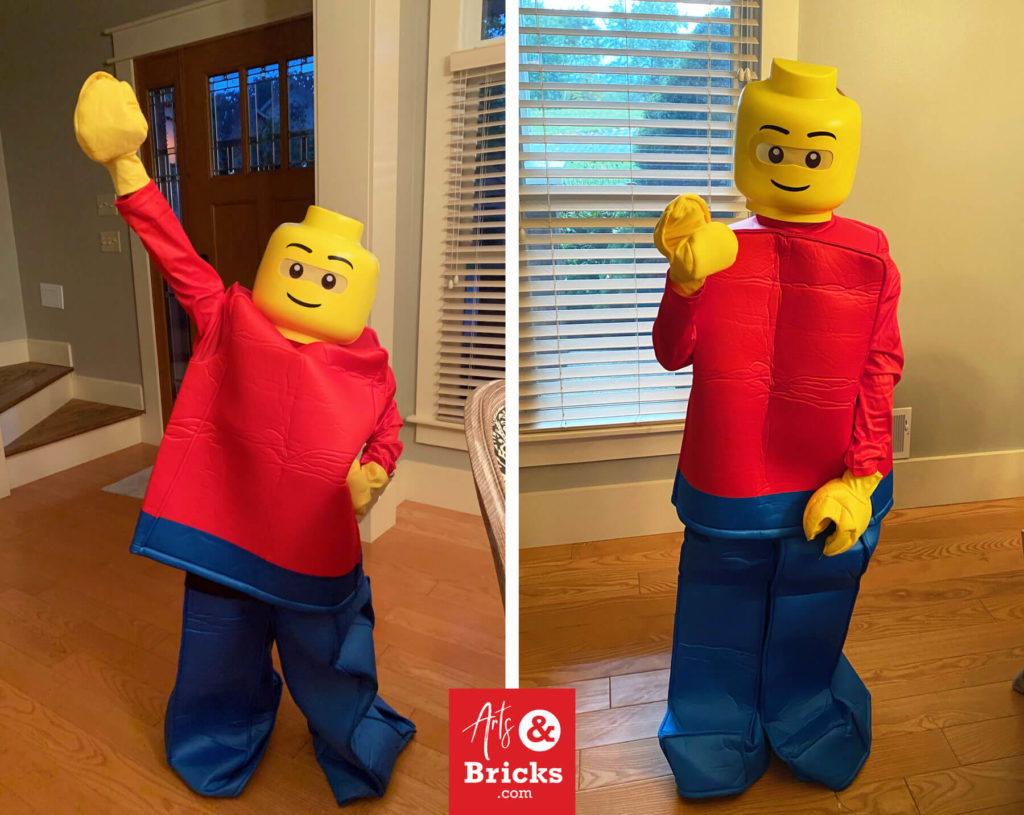 Lego Movie Benny – Make your own helmet
The helmet turned out fantastic!
For the most part, we followed Matt Taylor's instructions for constructing the Benny helmet. We recommend watching his instructions and reading about the tweaks we made and our lessons while making the Benny Spaceman helmet.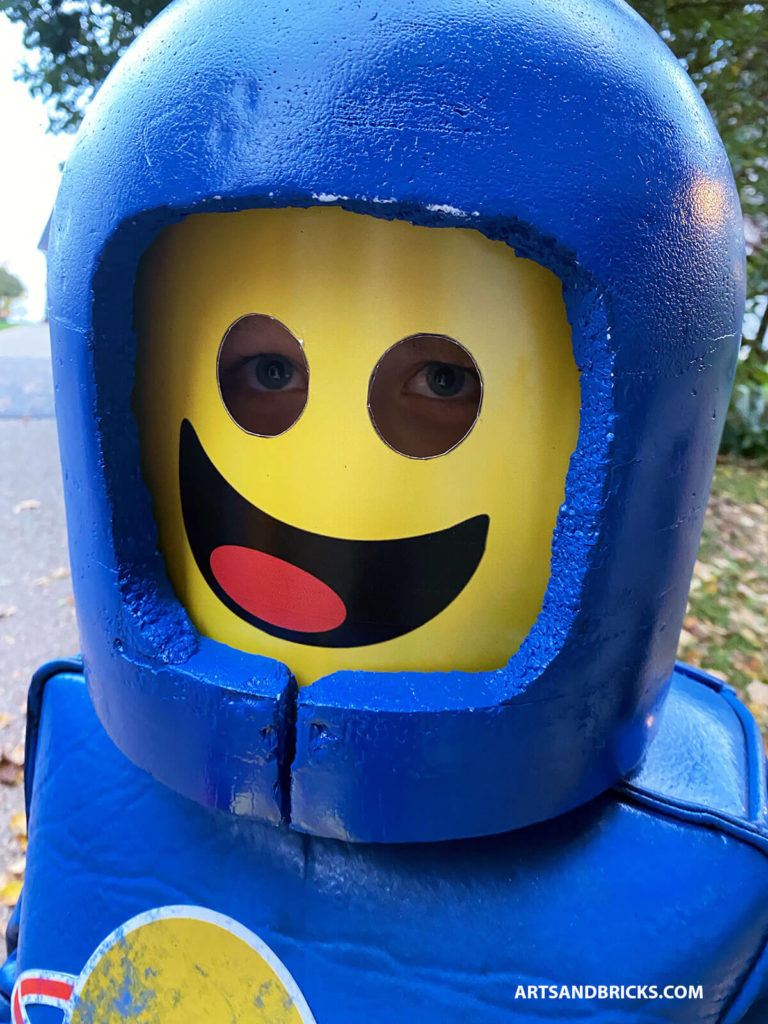 Construction: keep it simple, use pre-made foam discs
We used round foam discs that we purchased from Amazon. Amazon was cheaper than our local Michael's store. We bought and used all six discs in a pack called: 6 Craft Foam Circle Disks 10″ x 1″ (pricing is about $11).
Using precut round foam discs saved us time and gave us a very smooth and consistent exterior. We did still have to cut the inside circles manually. As a result, the inside of our helmet is not very smooth or uniform. As this isn't seen and is hardly felt, my recommendation is to ignore the imperfections on the inside of the helmet.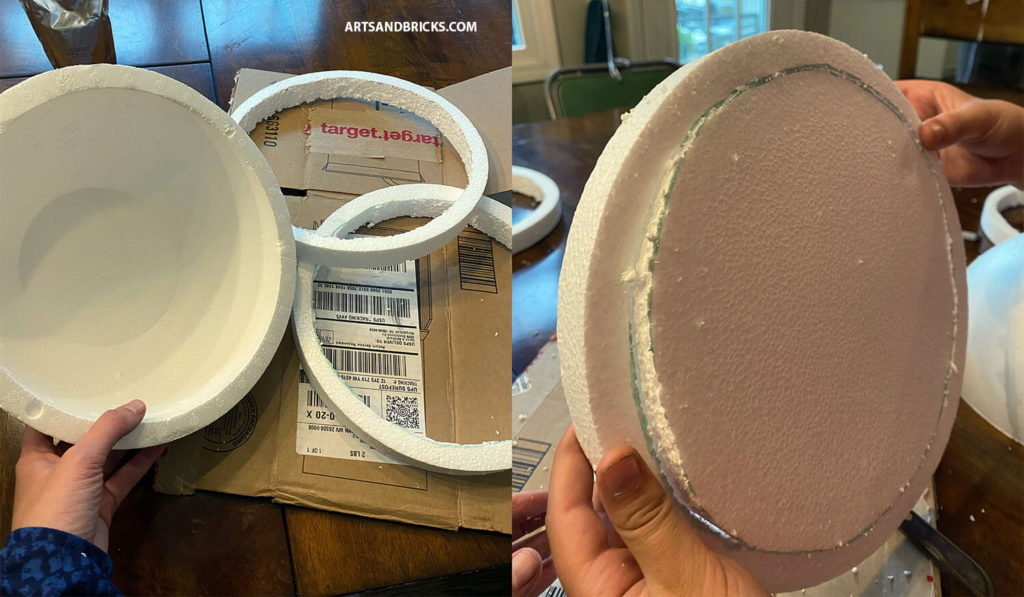 Our cutting utensil of choice was a serrated kitchen knife (not too sharp). We also used finished discs to trace a line on the uncut discs. Sharpie markers worked well. We tried freehanding the circle for the first disc, but ultimately we drew our circle using a handmade compass consisting of a pencil, Sharpie, and string.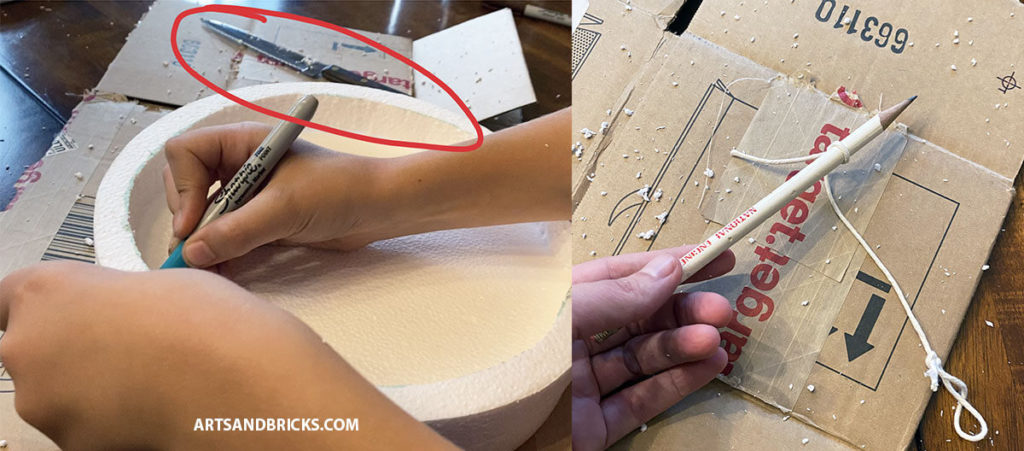 We glued our layers of discs together with white glue, Elmers Glue worked fine. We drew the opening on our helmet with a Sharpie and just eye-balled the shape. It would end up being about 7 x 7 inches.
Also, as recommended by Matt, we bought the 9.8″ foam hollow half ball, which was a good fit for a 4th grader. We purchased this foam piece from our local Michael's store because this piece was cheaper at Michaels than on Amazon (about $12). This 9.8″ top part aligned perfectly with 10″ discs, too.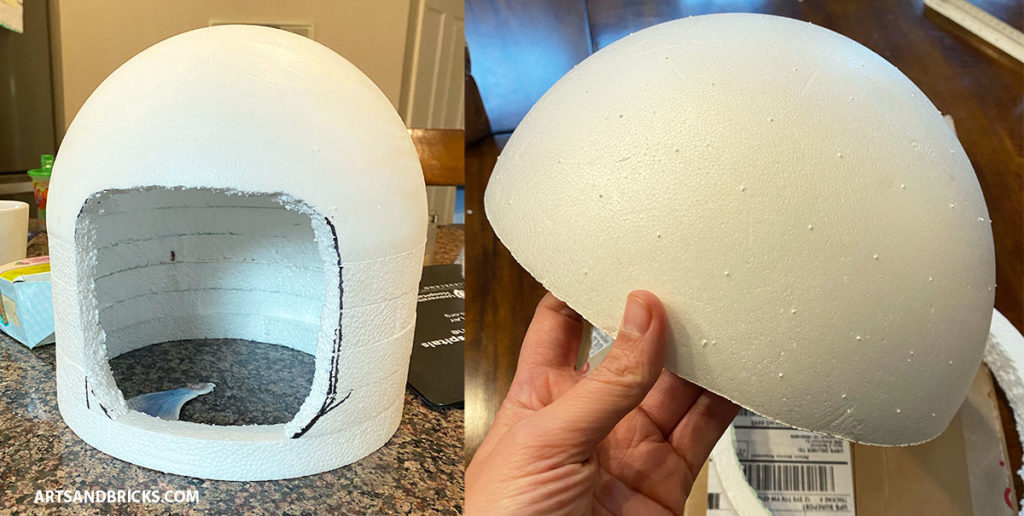 Do sand but skip the joint compound
We sanded both the inside and the outside of the helmet with fine grain sandpaper (check to price on Amazon). This was an important step.
We decided to use a joint compound to smooth out both the exterior and interior of the helmet. Although this was successful, it was extra work and made the helmet VERY heavy. If we were to do it again, we would not use the joint compound as we think the lighter weight makes the costume more comfortable for kids.
Spraypaint Saves the Day
Next, we moved to spray paint. We spray painted both the inside and outside of the helmet. We also spray painted just the red shirt of the Lego Man costume we purchased pre-made. The fabric costume is 100% polyester, so we looked for spray paint to work on polyester fabric.
After some research, we found that Krylon's ColorMaxx Primer and Paint is supposed to work on fabric. This was an important costume project; we reached out to Krylon's responsive online support and Facebook team to confirm our paint choice would work. We received mixed responses but decided to go for it, and it worked! (To be honest, we did look and read reviews for many other paints, but we couldn't find any affordable fabric paint in the right color.)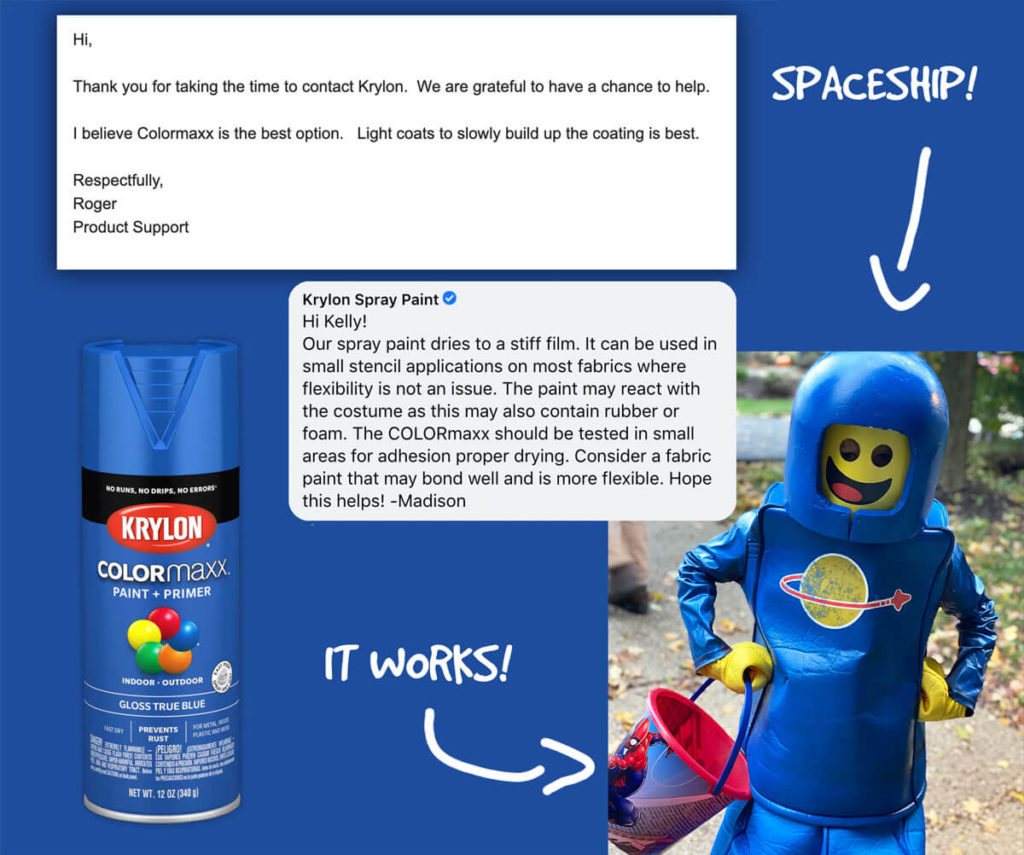 Our spraypaint concerns
We were concerned that the blue spray paint might turn the red shirt black or purple, and our fears were confirmed. After using the entirety of two blue spray cans, our shirt was still very purplish. The body took five cans of spray paint to become fully Royal Blue. Amazingly, the Krylon Gloss True Blue ColorMaxx Primer + Paint spray paint matches the Lego Man pants almost precisely! The white foam took the spray paint color very well and looked great with just a few coats. We purchased the Krylon spray paint from Lowes for about $5 each. Our total paint cost was about $25.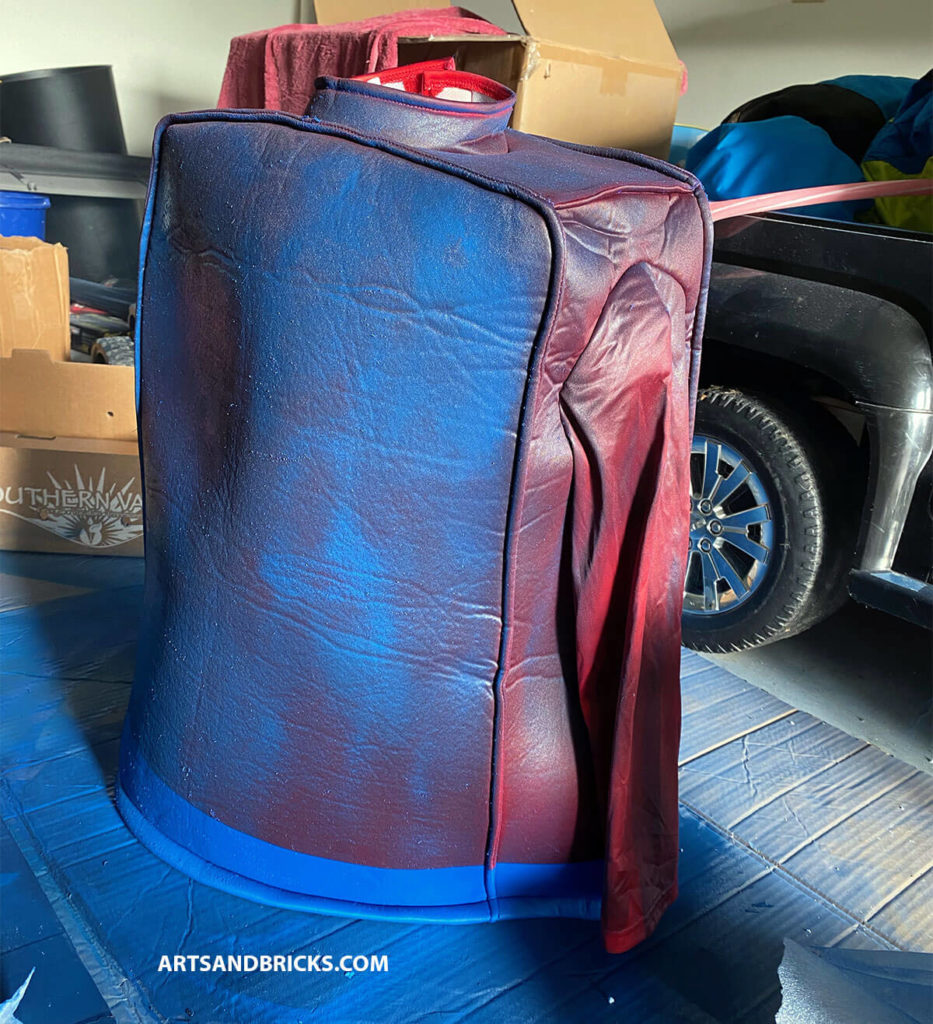 Lego Movie Benny Costume Printables
Next, we tackled Benny's face and chest emblem. We printed Benny the Spaceman's face and shirt logo on photo paper from our inkjet printer. We used these jpg images, which we adjusted to fit our needs in PhotoShop.
Face for Benny Costume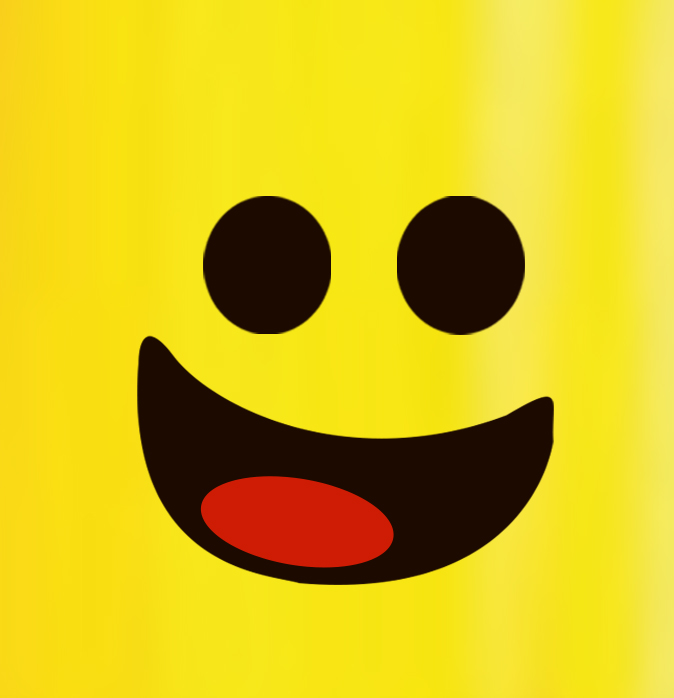 Chest Logo for LEGO Benny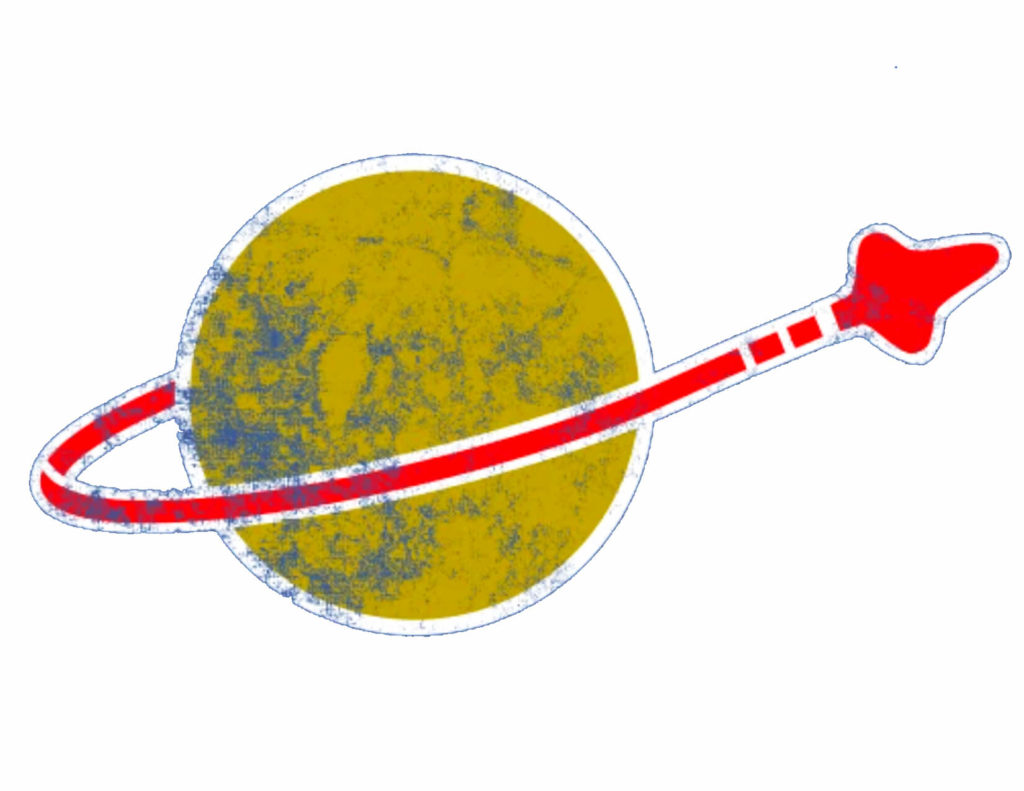 Make-Your-Own Homemade LEGO costume
Benny's Face – Tips
For the face, we simplified from what we watched in Matt's videos. For our face, we printed Benny's face on photo printer paper. At first, we cut out the eyes and used Sharpie on Plastic Film. We got our plastic film from the see-through envelope part of a school picture day envelope. The black eyes look great but are they are challenging to see through.
Ultimately, we removed the black film and just left the eyes cut out. It looked excellent. There was enough shadow that you could hardly see my son's eyes even in broad daylight.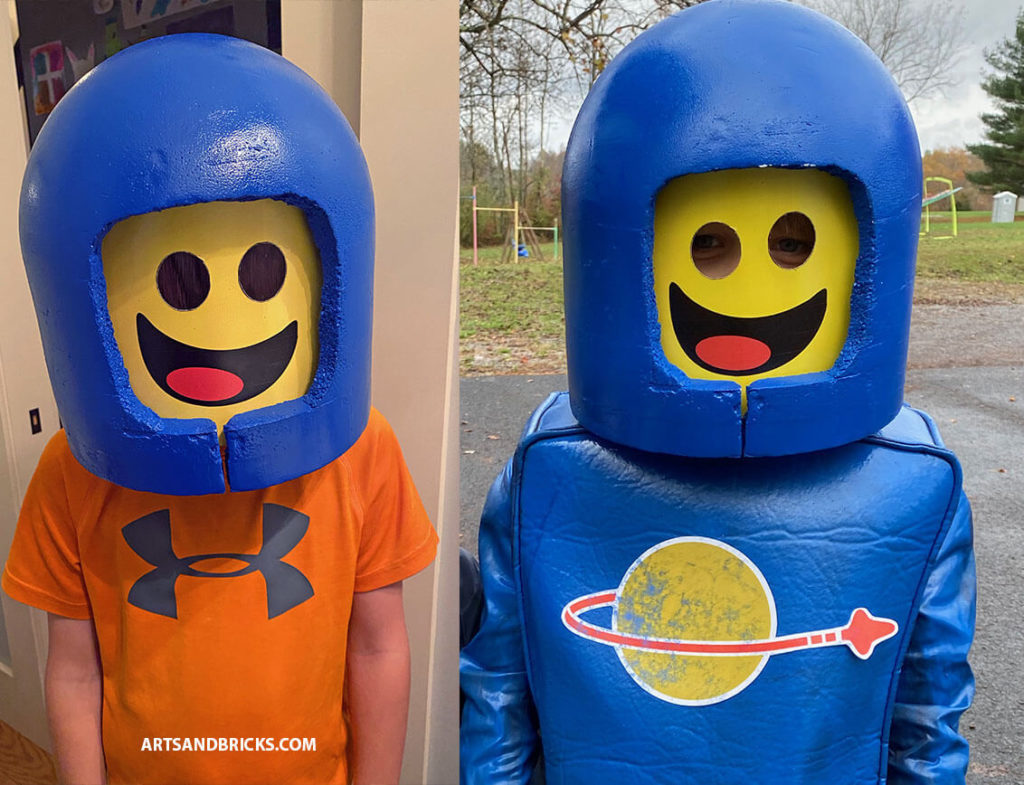 Unlike Matt's design, we did not make multiple movable faces. We used one face and simply taped the face to the inside of the helmet. We used scotch tape. It did come off during trick-or-treating, so we recommend gluing or using duct tape.
To still solve for the helmet:
The helmet spun when my son was walking. He found that he had to hold it to keep it from moving. To fix this, we think we'd add something to the inside to better fit his head or attach a clip from the helmet to the back of the costume to keep the helmet in place. Our workaround was taking the helmet on and off many times during trick-or-treating.
The finished product
We used the purchased costume's polyester Lego hands and pants as-is to truly make this LEGO Movie Benny the Spacemon a hybrid DIY Halloween costume!
My son was a very proud trick-or-treater. A little girl in the neighborhood was thrilled by his costume. She giggled with delight and squealed, "Lego. You're silly!"
All-in-all, this project was a great success!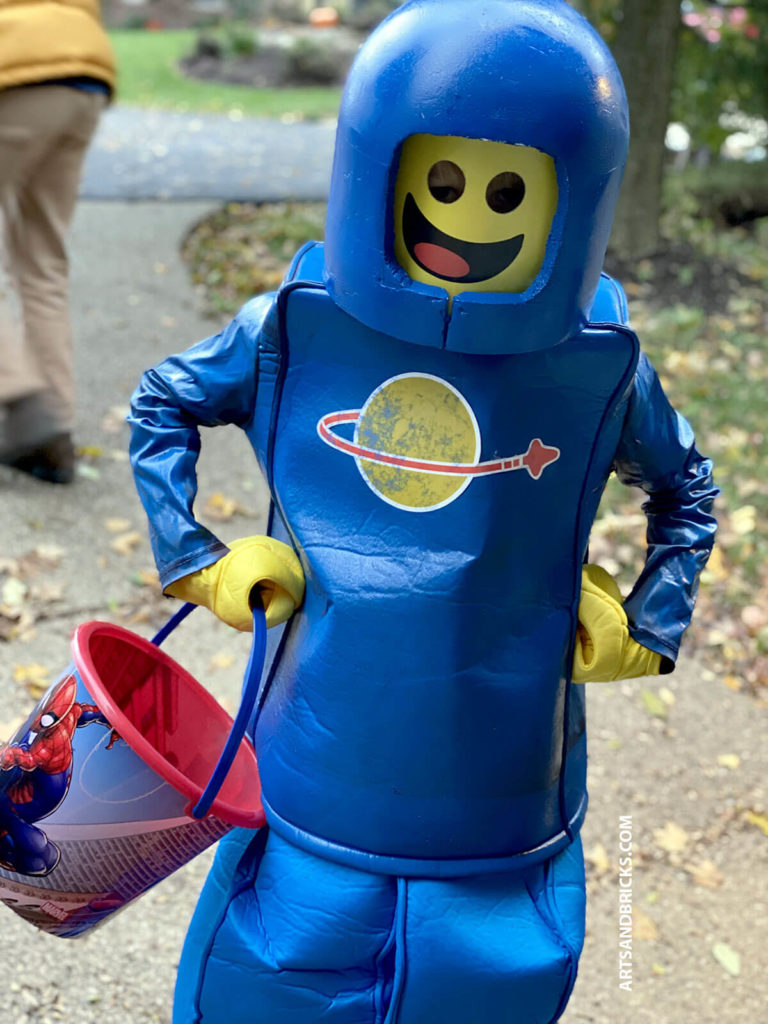 If your kiddo loves Benny (or you), do you have the Benny Space Squad Lego Set?
This is a favorite set of ours! Read our kid-review here or look for this set on Amazon.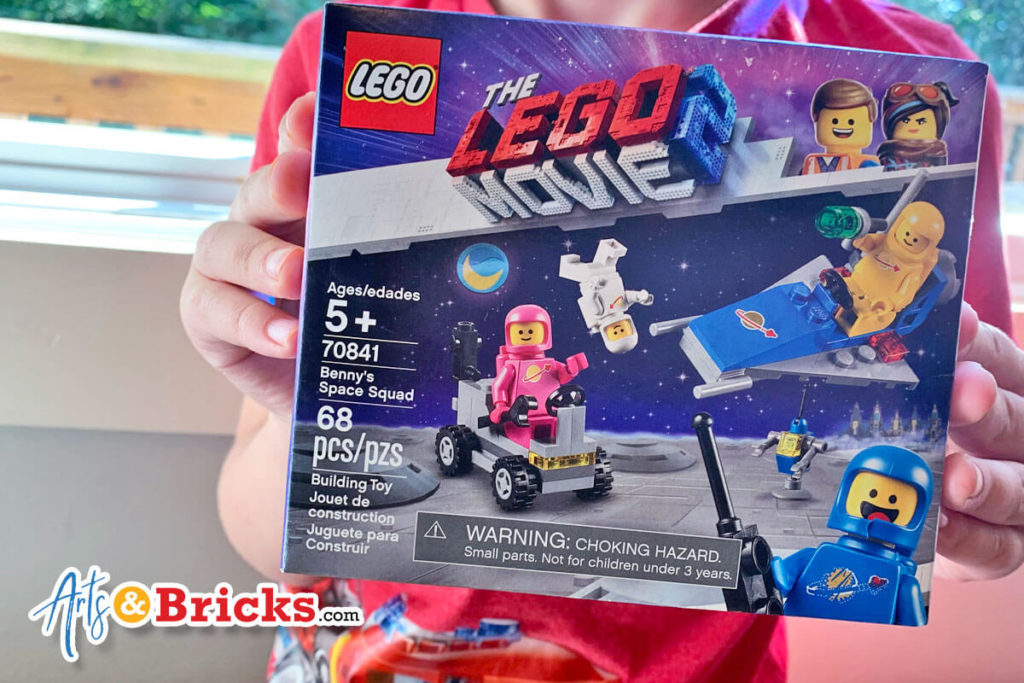 Pin for Later
If you give this costume a shot, we'd love to see what you create! Would you please leave comments on this blog post or share your pictures on social? Our handle is @artsandbricks

For Fun – or because you just don't have the time to make this costume!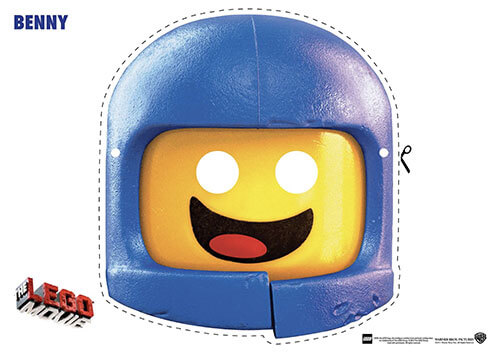 ---
PS. This post is not sponsored. We're a LEGO brick-loving family who posts about our favorite builds. Some of the links in this post are affiliate links and if you go through them to make a purchase we will earn a commission. Keep in mind that we link to these companies and their products because of their quality and not because of the commission we receive from your purchases. The decision is yours, and whether or not you decide to buy something is completely up to you.