Rooaar! Stomp! This easy craft is sure to become a family favorite! 🦖
The other evening, my elementary-aged son was looking for something to do. Of course, it was dinner time and he was seeking my attention. I needed to focus on food prep, but I had this idea that he had could make a craft in the kitchen while I preparing dinner. It worked beautifully! He spent about 45-minutes coloring, cutting, and chatting with me while I cooked. Here's what we did.
You're just THREE Supplies and Just a FEW Steps away from Prehistoric Fun!
1. Find Cardboard
We explored our recycling pile and found a frozen pizza box that we repurposed for this art project. This pizza box was thin enough that kid's scissors could cut it easily and the inside was white which allowed our markers to show up beautifully.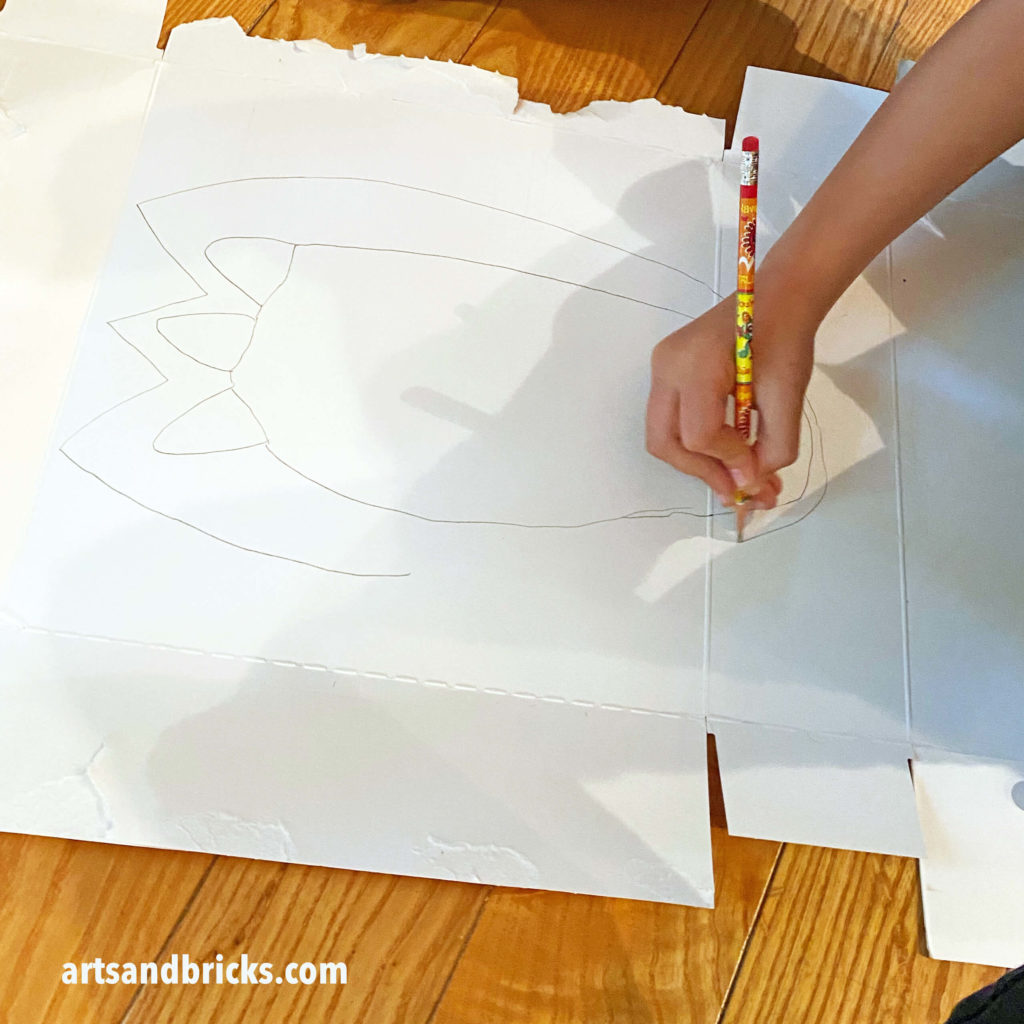 2. Draw your Dinosaur Feet
My son used a pencil to draw his dinosaur footprint. To get his design just right, he erased and tweaked his outline a few times. To make sure the dinosaur foot was EXTRA LARGE, we measured about 3 inches extra above my son's foot and left about 1.5 to 2 inches of space behind his heel. Need inspiration? This dinosaur footprint google image search has many dinosaur footprints and dinosaur track shapes to inspire you!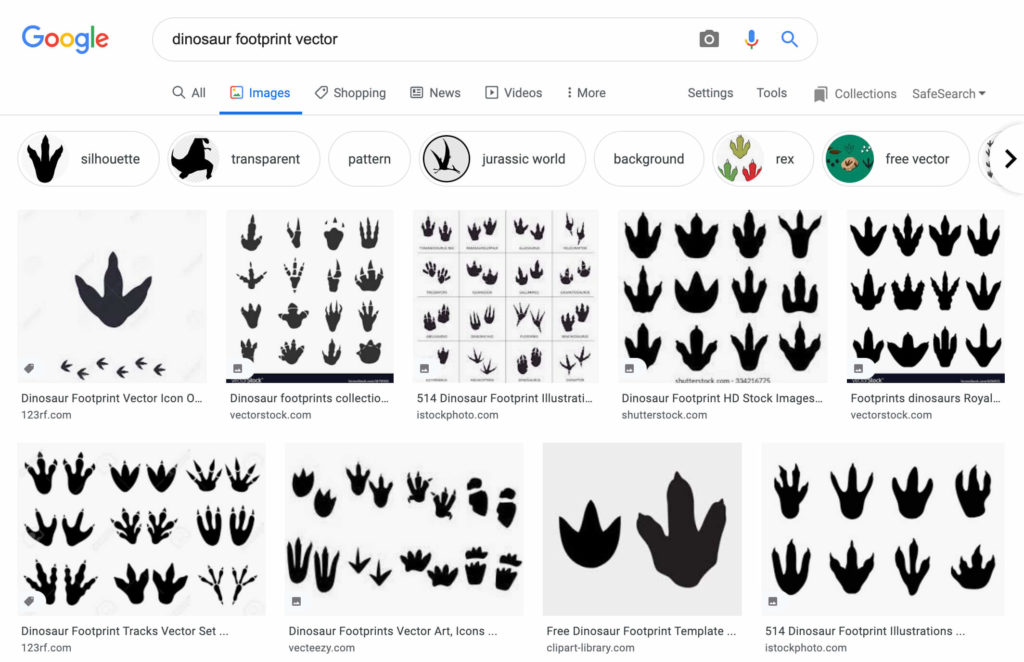 3. Decorate and Color
The sky is the limit here! My son opted for designing colorful patterns with markers. I was all good with this decision because it was virtually mess-free and gave us a chance to talk while we were both working in the kitchen.
4. Cut out Your Dinosaur Feet
Advertisement - Keep Scrolling
Next, cut out the outline you've drawn. Hint: you can cut before or after your child decorates the dinosaur foot. Up to you!
Once the outline is cut out, you'll want to add the hole where your child can slip his/her foot into each dinosaur foot. We started with a crescent moon cut-out shape; dependent on the size of your child's foot; you may need more of a half oval or big toothy smile shape. Then, we cut vertical slits from this hole to allow the cardboard to bend upwards, almost like the tongue in a tennis shoe.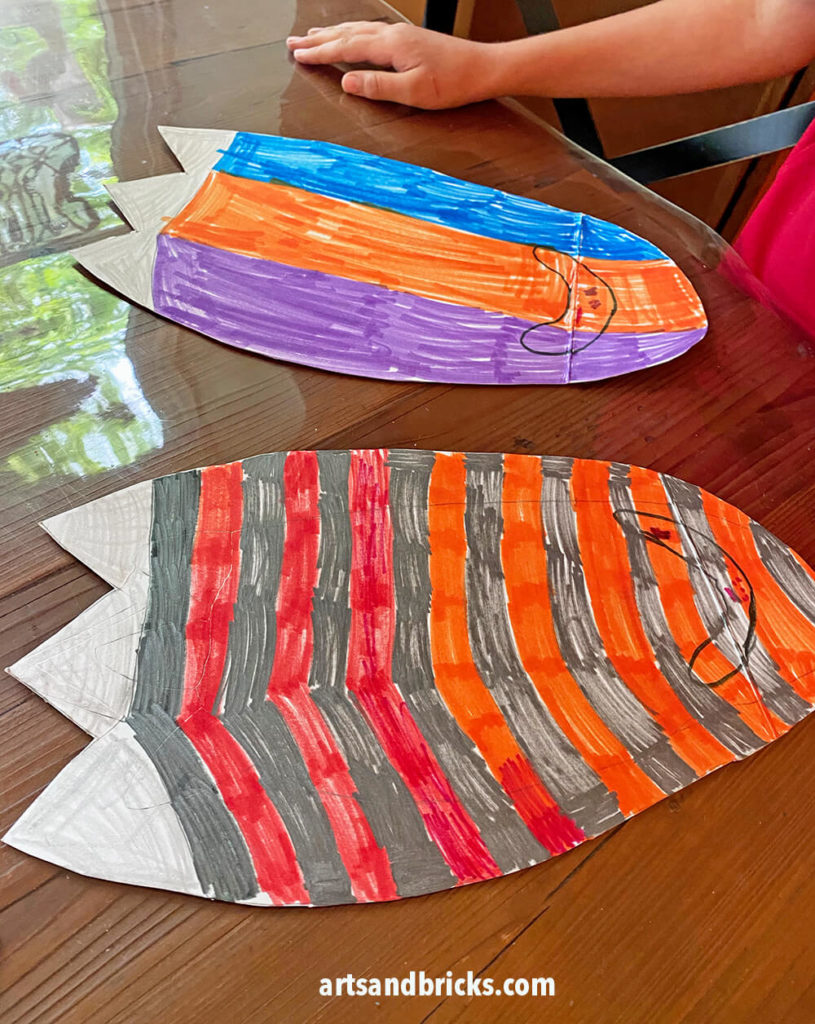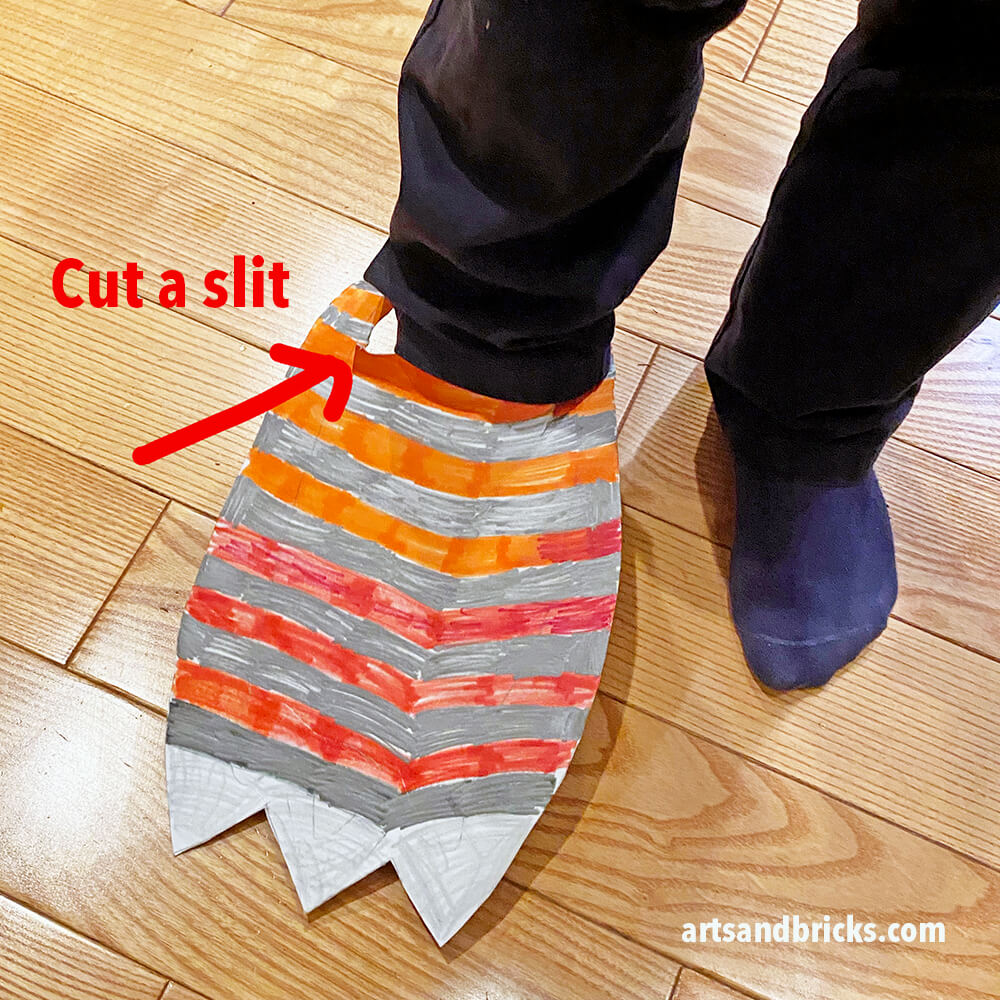 5. Have Fun – Act Like A Dinosaur
That's really all there is to this simple Dinosaur Kids Craft. Now, it's time to get playful and ROAR like a dinosaur. Stomp Around. Dance. Record your little dino in slow motion. You know the routine! If you find that your dinosaur feet are a bit too floppy, take a look at the sixth final optional step below.
6. Optional – Attach/Secure the Dinosaur Feet to your Feet
To better dance and play, we added one more step to this craft. We found that the dinosaur feet twisted when we played, so we used a pipe cleaner to secure them to our feet. Make two tiny holes (we poked a pencil through the thin cardboard) and thread the pipe cleaner through the holes. Fold or twist together like a shoelace.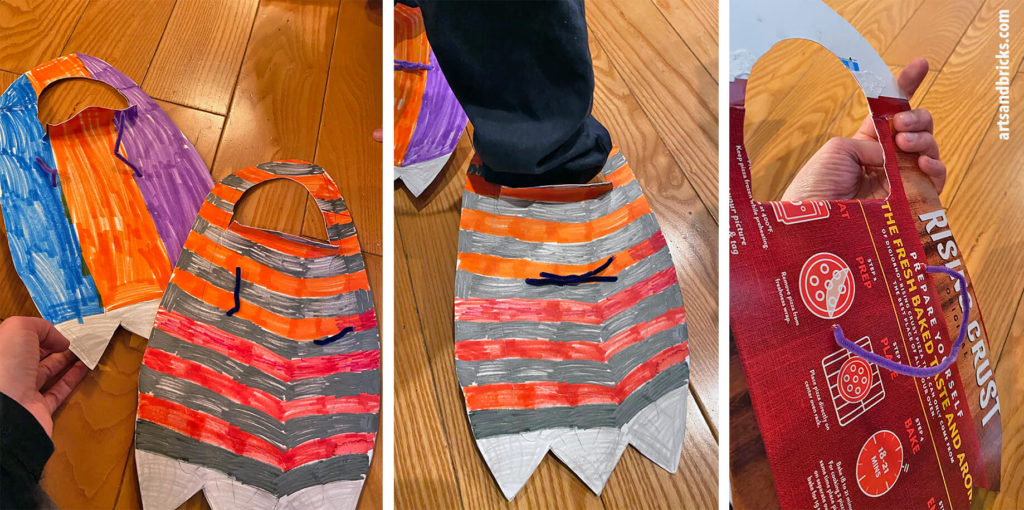 More dinosaur-themed activities, reviews and products
Save this Kids Craft for Later on Pinterest
Perfect for rainy days, dinosaur-themed birthday parties, dinosaur homeschool lessons and more, save this Dinosaur Craft for later!