In stores now, the 3-in-1 LEGO Creator Fire Dragon set provides several hours of building fun for your little one — perhaps a most needed respite for parents around the world during this enforced time of social-distancing!
KID-APPROVED FAVORITES
Our 7-year old boy started with the Dragon. We LOVE LEGO Dragons at this home. (Read another Kid-Review of a LEGO Dragon, Set 31073) As in all 3-in-1's, you have to destroy your current build to create one of the other designs. The taking apart is particularly hard for my kids!
After the dragon was complete, the same evening, he disassembled it and built the scorpion. Unable to go through the "torture" of destroying another creation, he left the scorpion intact for a few days. The last build was the tiger.
Fire Dragon – Favorite Features
Construction of the dragon's eyes
The roundness of the bottom jaw
Construction of the nostrils
Treasure chest (more LEGO treasure chest fun!)
FIRE BREATH!!!! 🔥
A fire-breathing dragon needs something to protect. How about a treasure chest? Yep, that will do!
We love the treasure chest hiding spot in the LEGO Pirate Ship Pirate's Inn Set 31109. It's one of our favorite LEGO builds; check it out in our kid's review!
Scorpion
By far, our favorite feature of this LEGO scorpion is the construction of the claws.
LEGO Saber-Tooth Tiger
Our Favorite Features:
The construction of the powerful back legs
The tiger's face, especially the pieces used to build the jaw
Advertisement - Keep Scrolling
This LEGO Creator Fire Dragon set is was released to stores in 2020 and is still available in 2021. You can grab it on Amazon (and other Creator sets you'll love), too.
LEGO Set Rating
Arts and Brick's kid reviewer's rate LEGO Set 31102 as "Excellent" and 5-Stars!
Interested in other 3-in-1 Lego Reviews? Head on over to our collection of LEGO Creator kid-reviews. 👀
VIDEOS
Check-out our curated video collection for Lego Set 31102; the roundup includes speed builds, reviews, and ALTERNATE designs/builds.
What are alternate LEGO builds?
Alternate builds are designs that other LEGO fans create using just the pieces from a particular LEGO set. For instance, I found designs for a MOC Fire Cobra, MOC Bug Warrior, and MOC Sea Monster.
In the LEGO world, MOC means "my own creation." My son is planning to spend $2 of his chore money to purchase the plans for the MOC Fire Cobra; he says it is a rare build because someone made it up and it wasn't directly provided by LEGO. Smart boy! Enjoy!
PIN IT for later (and follow us for future builds and reviews)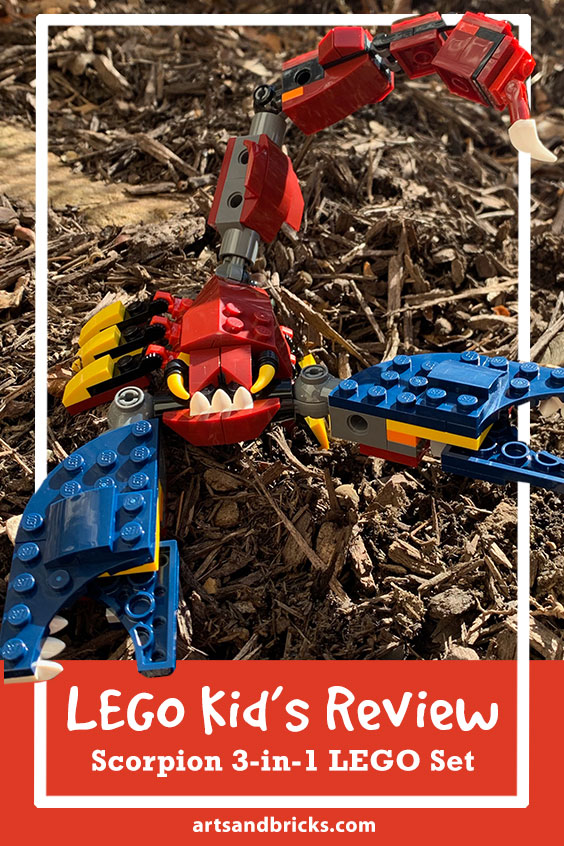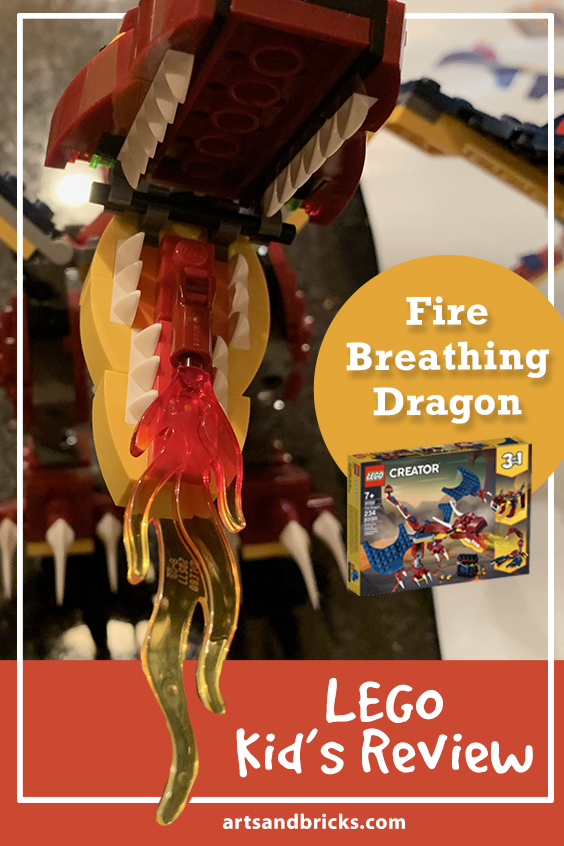 Did you build something one-of-a-kind?
Artsandbricks.com turns your child's MOCs (or your MOCs, talking to you AFOLs) into wall decorations. Perfect for your LEGO-themed bedroom or playroom. Check-out our shop of brick-built design decor and don't forget to Enter to Win $100 to our Shop.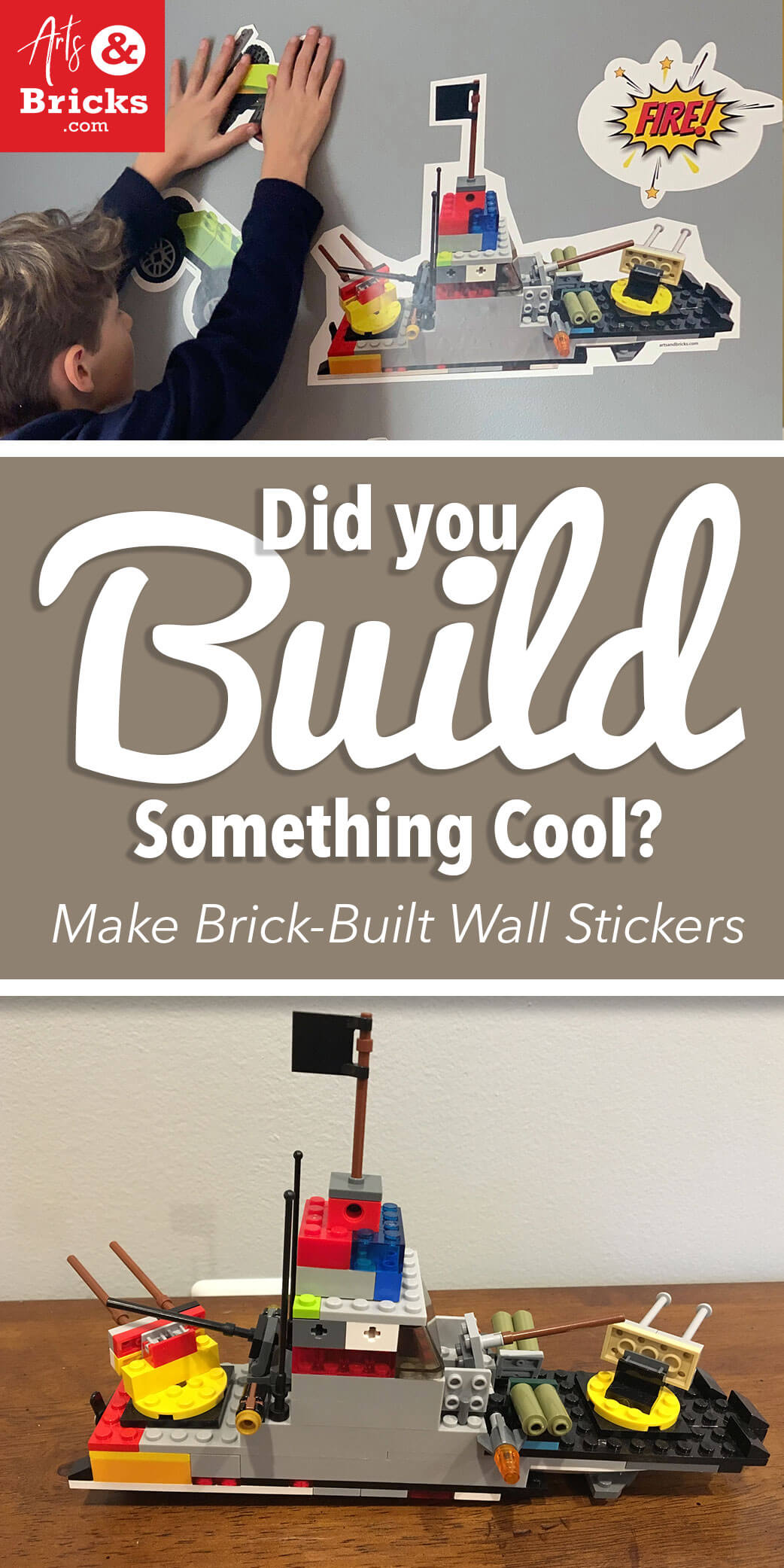 ---
PS. This post is not sponsored. We're a LEGO brick-loving family who posts about our favorite builds. Some of the links in this post are affiliate links and if you go through them to make a purchase we will earn a commission. Keep in mind that we link to these companies and their products because of their quality and not because of the commission we receive from your purchases. The decision is yours, and whether or not you decide to buy something is completely up to you.