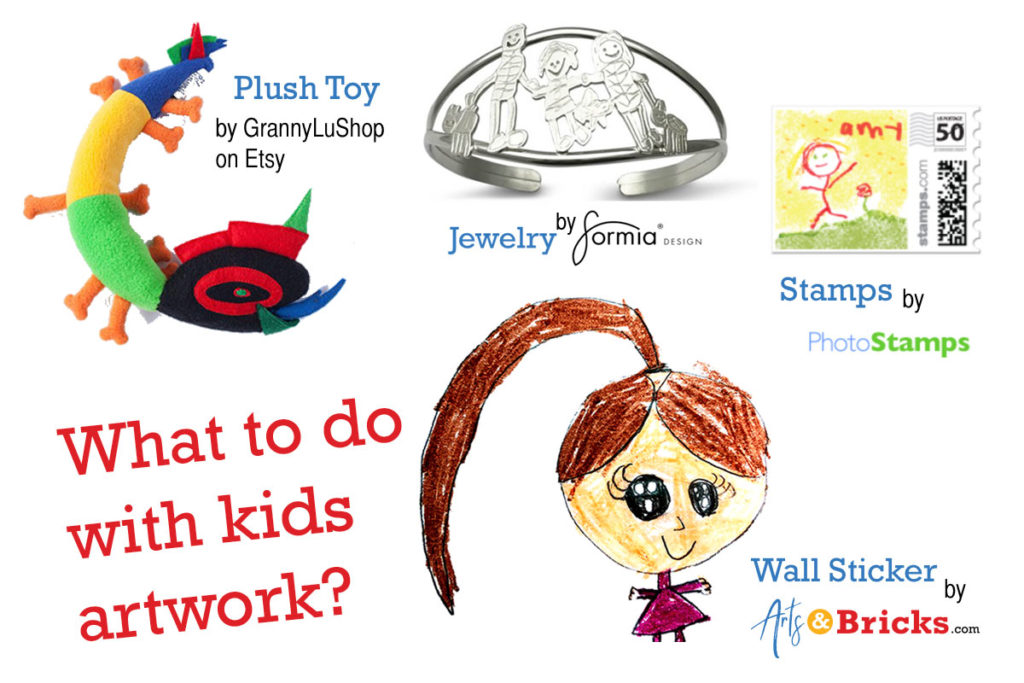 Children are so creative; if your kids are like mine, they produce A LOT of artwork.
I especially love the colors, textures, and details that my children's artwork exhibits. Their progression in artistic skills also fascinates me!
As a designer, I've been trying to figure out what to do with everything they create…and I've had lots of ideas.
I'm still pretty early into "decorating with kids' artwork," so for now, I have a large box of my favorite pieces stored in a closet (UGH!), but at least my favorites are safe and ready to be repurposed!
Here's the list of what we're currently doing and inspirational ideas for additional kids' art uses!
Here's how I currently display kids' artwork: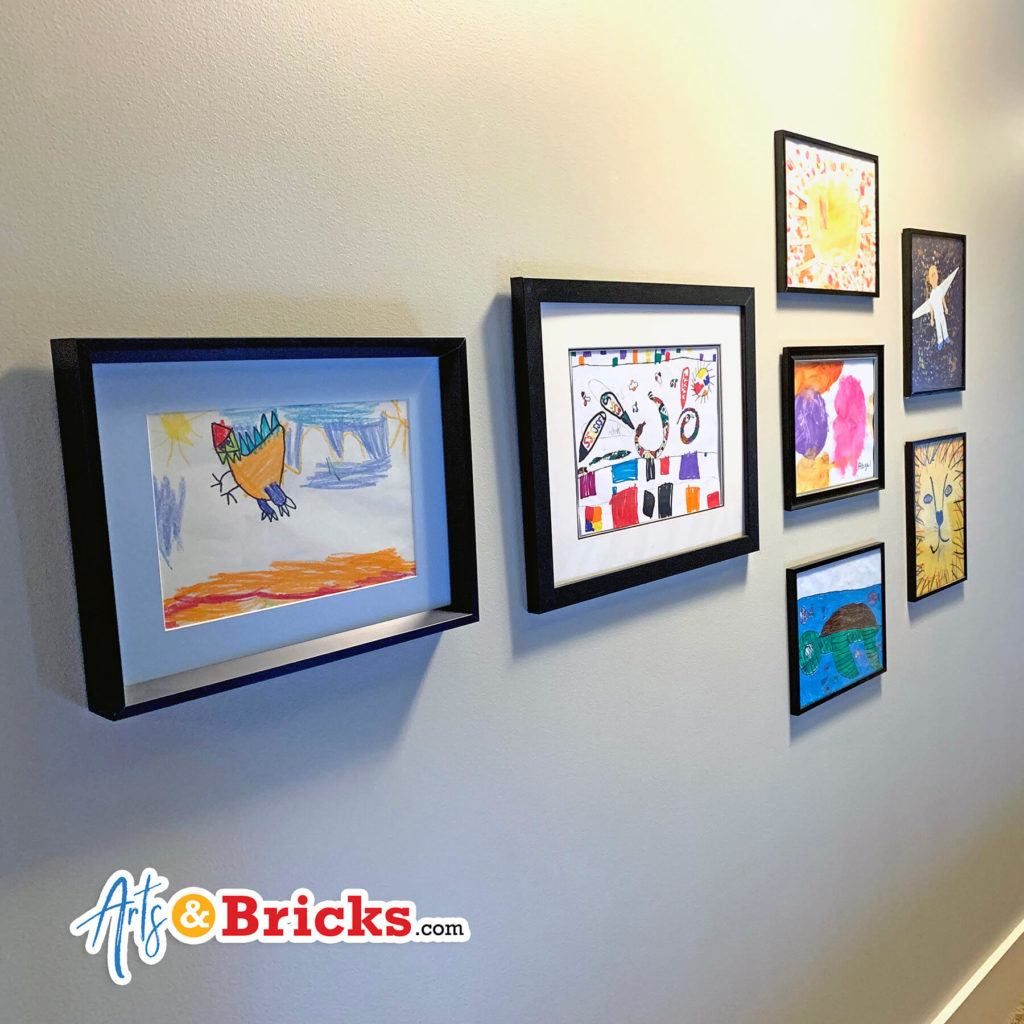 Hallway Kids Artwork Gallery Wall
I'm maintaining a framed gallery wall in the hallway
I've decided to use only black frames for consistency, but I've decided that each frame can be a different size and black material (wood, plastic, or metal), and some frames have mats, and some do not. Michaels is typically my go-to for new frames. This year we had multiple new additions to our gallery wall because of an amazing local summer art camp for kids.
Kitchen Wall Art Gallery
We keep multiple art gallery walls using sticky putty to display kid artwork at home
Advertisement - Keep Scrolling
I display my children's masterpieces using sticky putty on the bedroom walls, doors, and around our kitchen.
I especially love that in the kitchen entryway, we have a combination of "sculptural" artwork and drawings/paintings hung with putty, AND one of my favorite Mondrian bird drawings turned into a wall decal. The variation in textures, materials, colors, and sizes brightens the entire room and makes our kids feel really special. They get excited to choose what to add to the collection. Cool!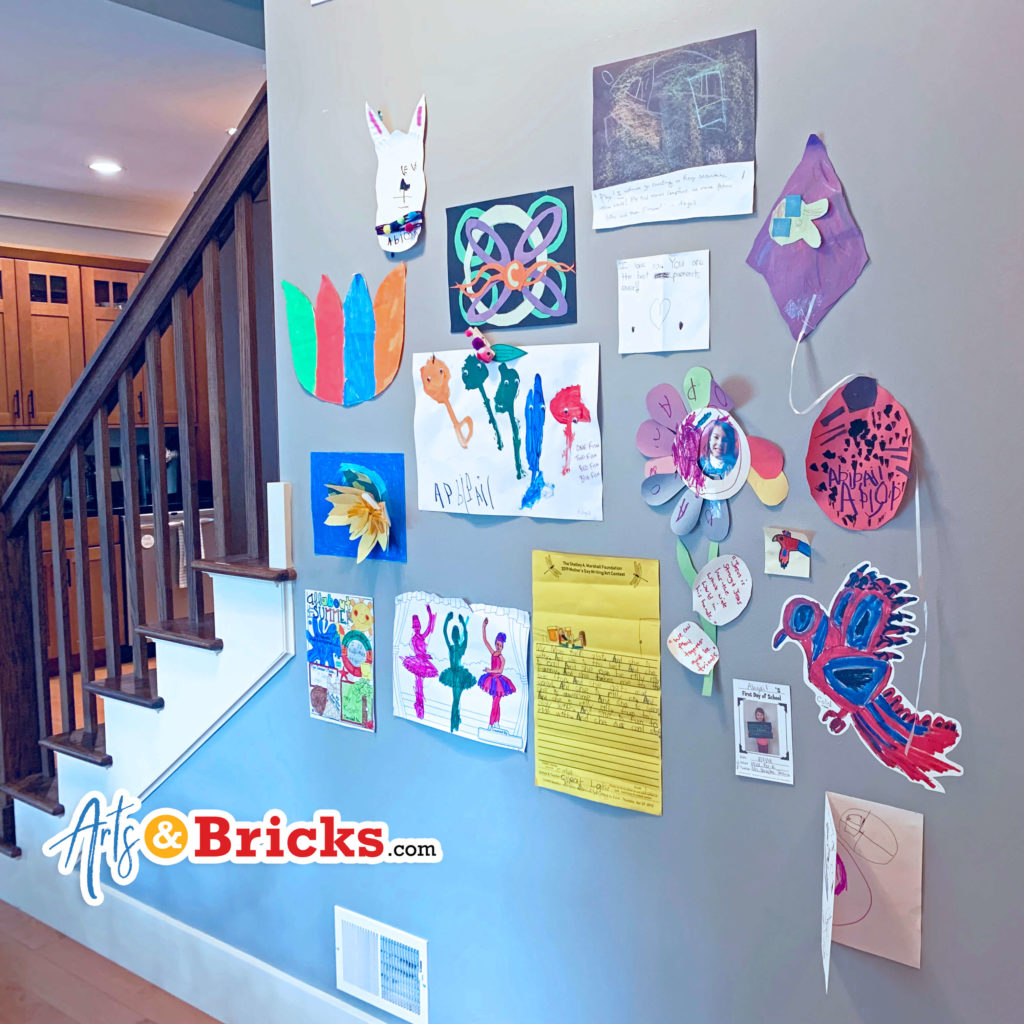 I Share Kid's Artwork Digitally
I've photographed and used my children's artwork as the graphics in Christmas cards and emailed photos of their artwork as digital thank-you cards. I also share photos of our favorite creations in our family's digital photostream.
"Adding little hints of myself, my family, and places that are important to me makes my space feel homier."

Interior Designer, Orlando Soria, in BH&G's September 2021 magazine
We love Orlando Soria's sentiment about creating a "homey" space by adding hints of family. For families with kids, I can't think of a better way of doing this than by displaying children's artwork proudly!
Additional ideas
I've been on the search for additional ideas. These are a few of the common ideas I've found online.
1. Photo books for Kids' artwork
Bound photo books are a great idea; however, they are a lot of work to create yourself and often are pretty expensive to do for you, but I do TRULY love the idea.

You can make your own Kids' Artwork Photobook with any online printing company that offers photobooks (think Shutterfly, Snapfish, etc)

Did you know there are even a few companies that specialize in creating and printing your kid's artwork as keepsake books?

Plum Print > https://www.plumprint.com
ArtKive (an app) > https://www.artkiveapp.com
Artimus Art > http://www.artimusart.com

2. Gallery Walls + Framing Techniques + Canvas Prints for Displaying Kids' Artwork
There are soooo many ideas and photos showing you how to make gallery walls and canvas prints for displaying kids' artwork.
Of course, I display my kids' artwork in galleries and art walls, too, but today I was looking for additional inspiration, and here's what I found. Enjoy!
Inspiration & Unique Ideas to display Kids' Art
1. MY FAVORITE NEW IDEA: Wear your child's artwork by turning it into jewelry and keychains
I'm so excited about Formia Design by Mia, an artist and mother with a Virginia-based studio. She uses solid precious metals and genuine gemstones in her pieces to hand-make totally custom, high-quality pieces replicating your children's artwork. WOW! I'm very impressed!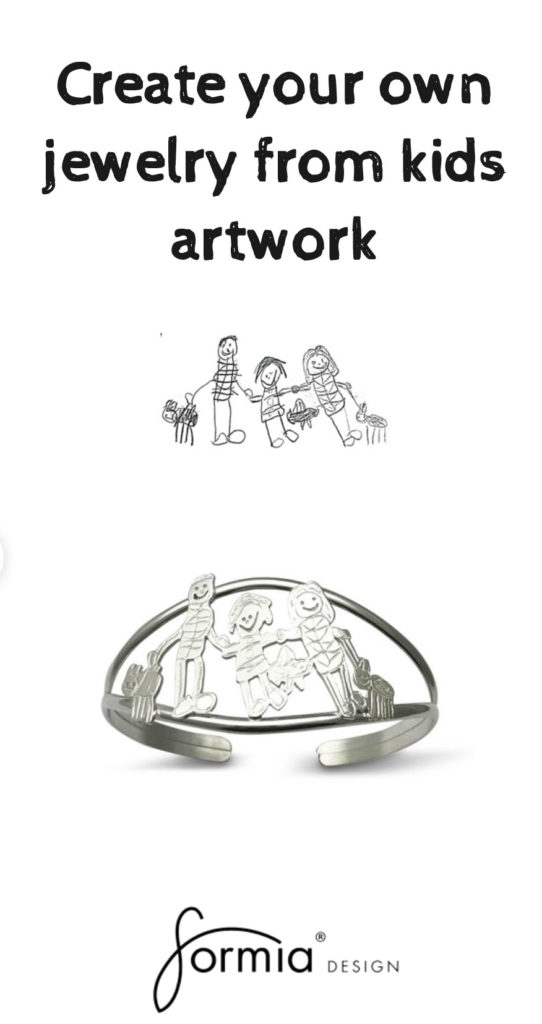 2. COOL: CREATE WALL STICKERS FROM YOUR KID'S ARTWORK
There's no need to worry about your child's artwork fading, wrinkling, or getting destroyed with this option because it turns your favorite children-created artwork into movable wall decals or clings. Use these adorable keepsakes to decorate kids' rooms and playrooms or intersperse them with your other displayed artwork on gallery walls.
Personalized kids artwork wall decals are available from Arts and Bricks, and there's even a 6-month subscription option — perfect for slowly building a wall collage of "keepers!"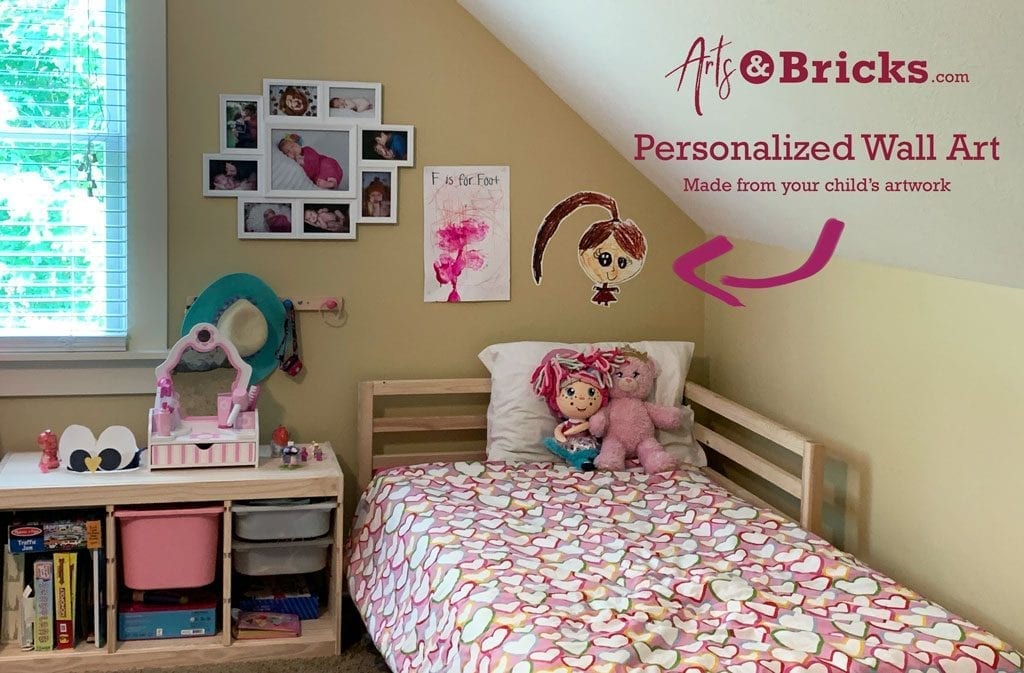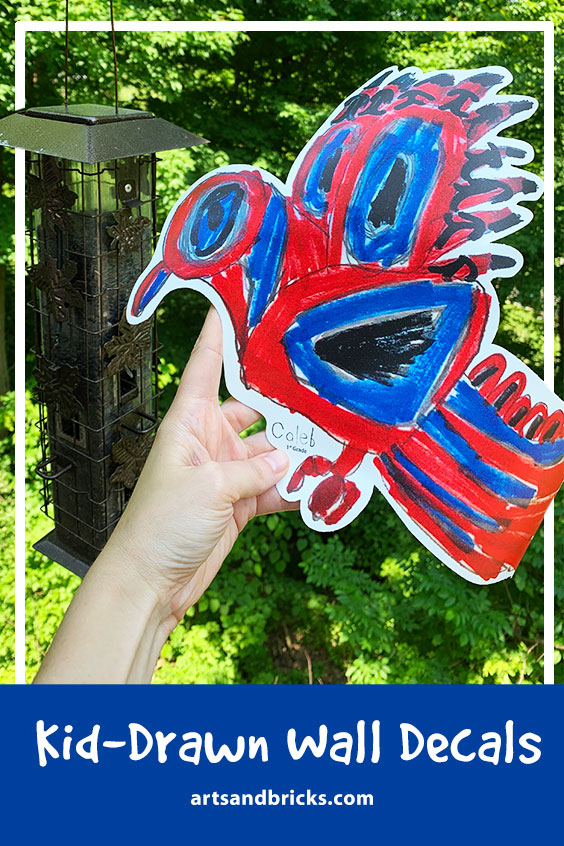 3. INTERESTING: CREATE A PLUSH TOY (STUFFED ANIMAL)
I'd never really thought of this idea before, but there are many, many vendors who will take your kids' artwork and sew a custom plush toy inspired by your child's artwork. Very neat! Here's a list of shops that provide this on ETSY. I really liked this talented artist's Etsy store GrannyLuShop.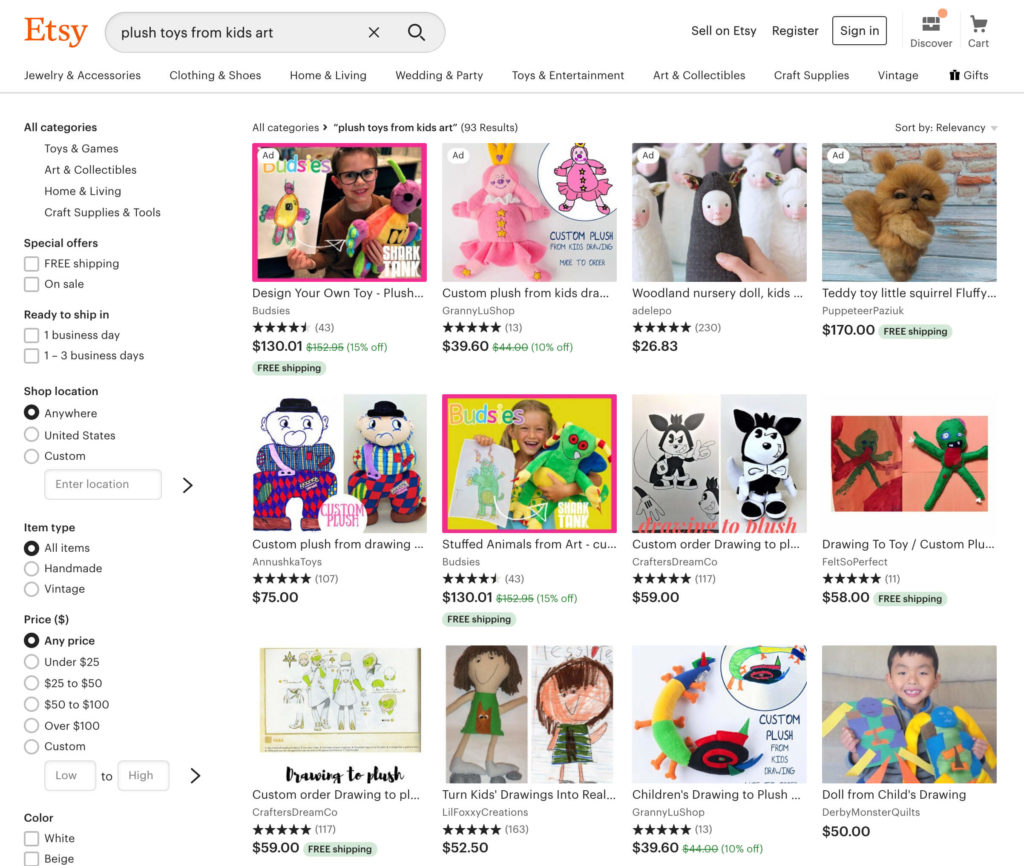 4. CUTE, ESPECIALLY FOR HOLIDAYS: MAKE A POSTAGE STAMP OUT OF KIDS' ART
PhotoStamps allows you to upload photos – which could be your child's artwork – to their stamp-making system. This could be a cute addition to sending holiday cards in the mail.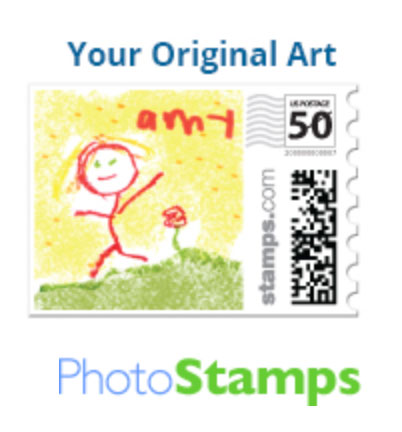 Inspiration & Ideas to display Kids' Art from other Bloggers
This blog details how to create your very own framed kids' art collage with a frame, matboard, mat cutter, color printouts of your child's artwork, scissors, and tape.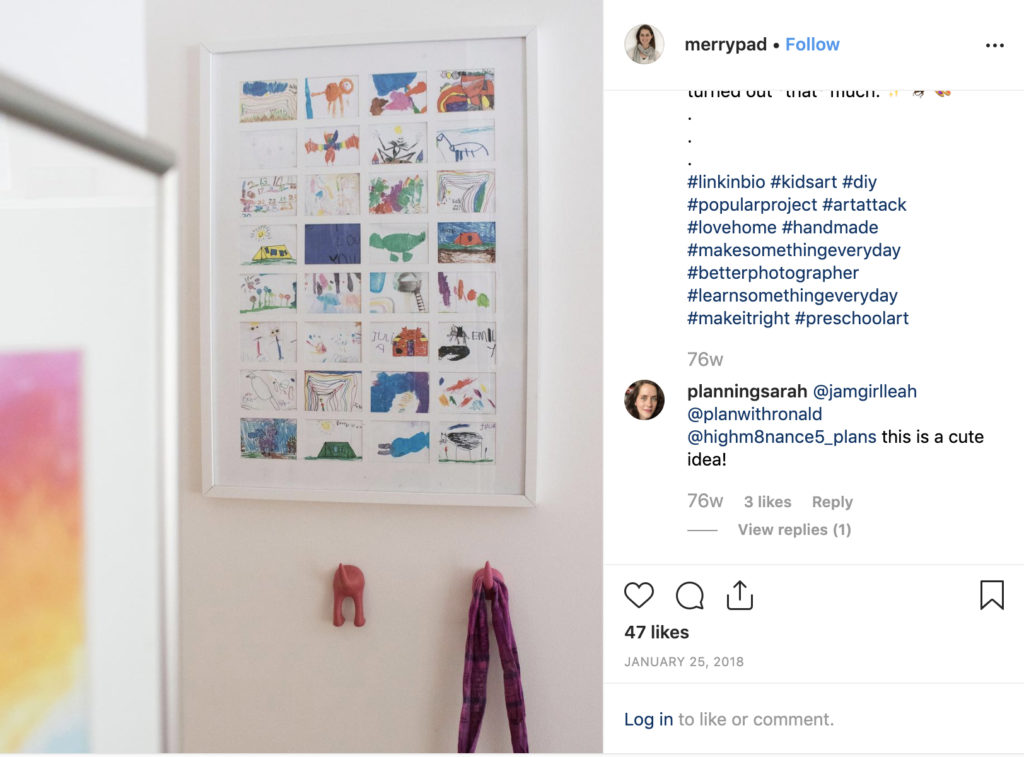 This shop is for the non-DIY'ers. Simply take pictures of your favorite artwork and their team does the rest. You're sent a professionally made framed kids' art collage. Bonus! The store sells cute abstract fingerprint art prints and abstract name art, too.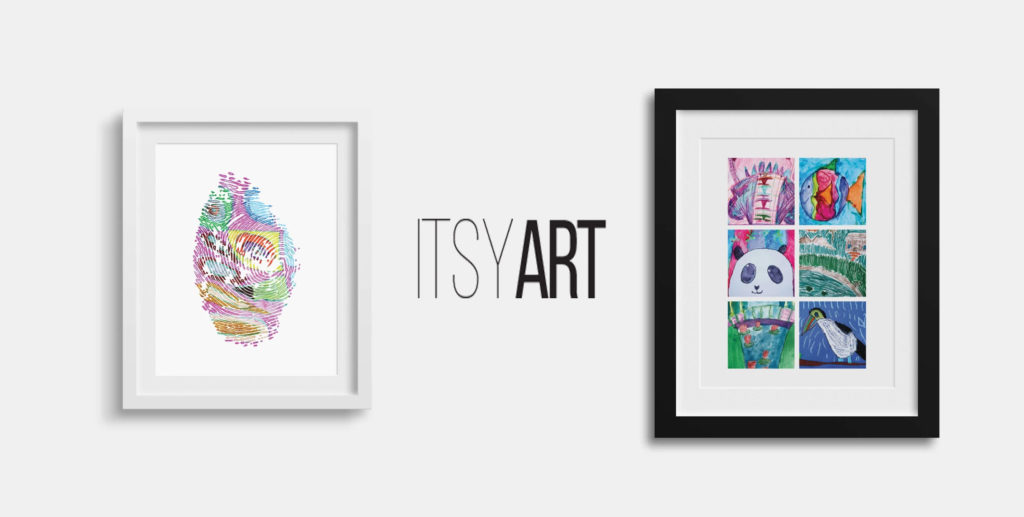 This blog by The Artful Parent is a wonderful round-up of ideas for how to display your child's artwork. The most unexpected suggestion was having a kids' art show at your local coffee shop, bakery or gallery. My kids would be over the moon if their work was on display in a public place like this!
Other interesting suggestions were around what to hold or to use to hang the artwork, for instance hanging art with painted hangers, floating wall shelves, wall wires and magnet frames for the refrigerator.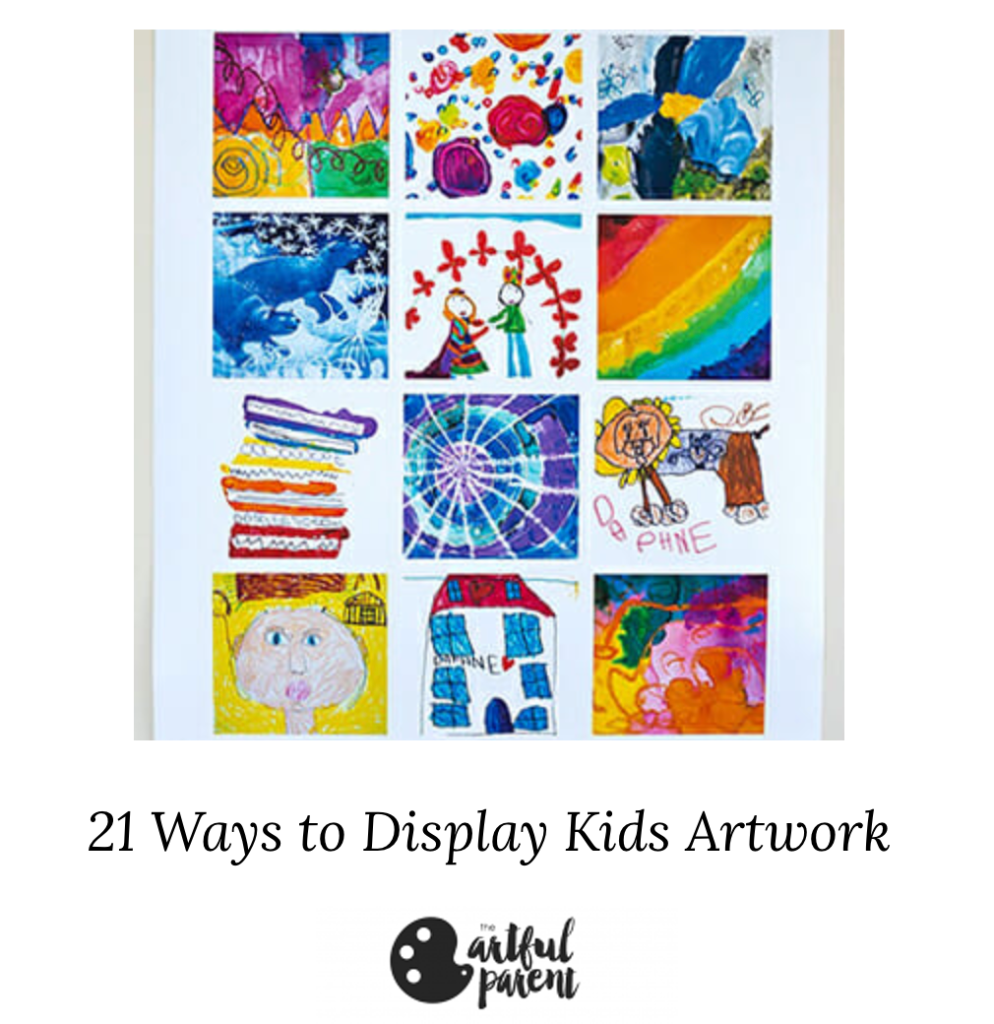 This gallery shows 6 beautiful ways to display kids' artwork…nothing mind-blowing but the choice of images and how they are displayed create really drool-worthy interior design photographs and spaces.
The highlighted interior design looks include: using a metal grid hung on the wall, wood slat display boards, framed gallery wall, printed framed collage (again!), clipboards, and a picture ledge.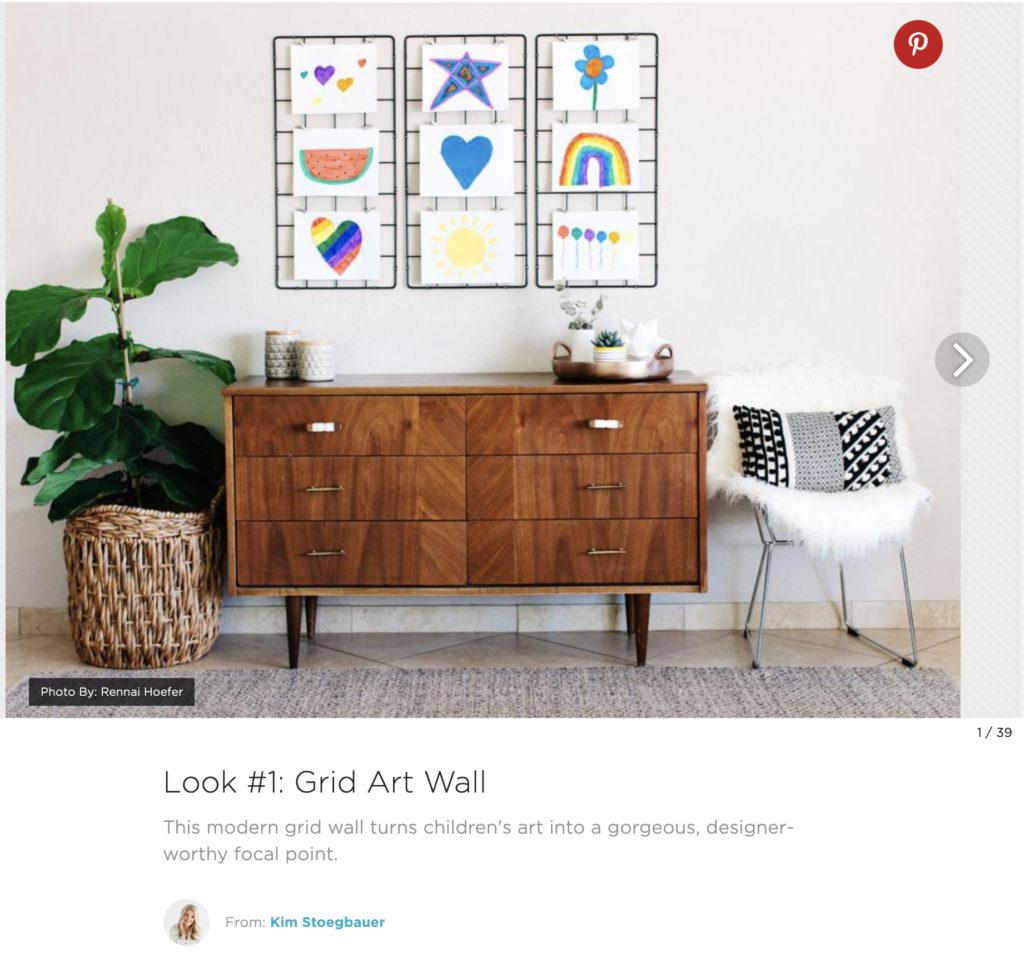 BLOG: HOW TO MAKE PAPER PINWHEELS and COLLAGES
This Paper Pinwheel post by Childhood 101 is great if you have abstract pretty art that you'd like to repurpose. Especially if you have lots of finger paintings or full pages of thickly spread colorful paint, you could easily use that artwork to make paper pinwheels or as a basis for a collage.
The blog article, Collage Ideas for Kids, often combines paint and cut paper ideas to create beautiful mixed-media artwork.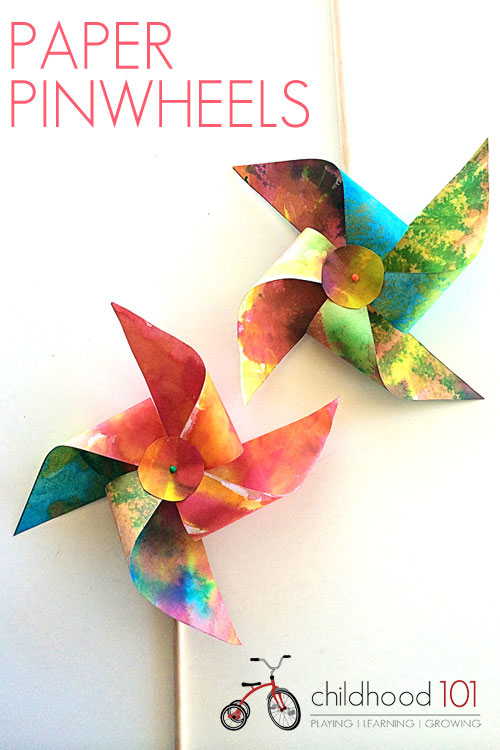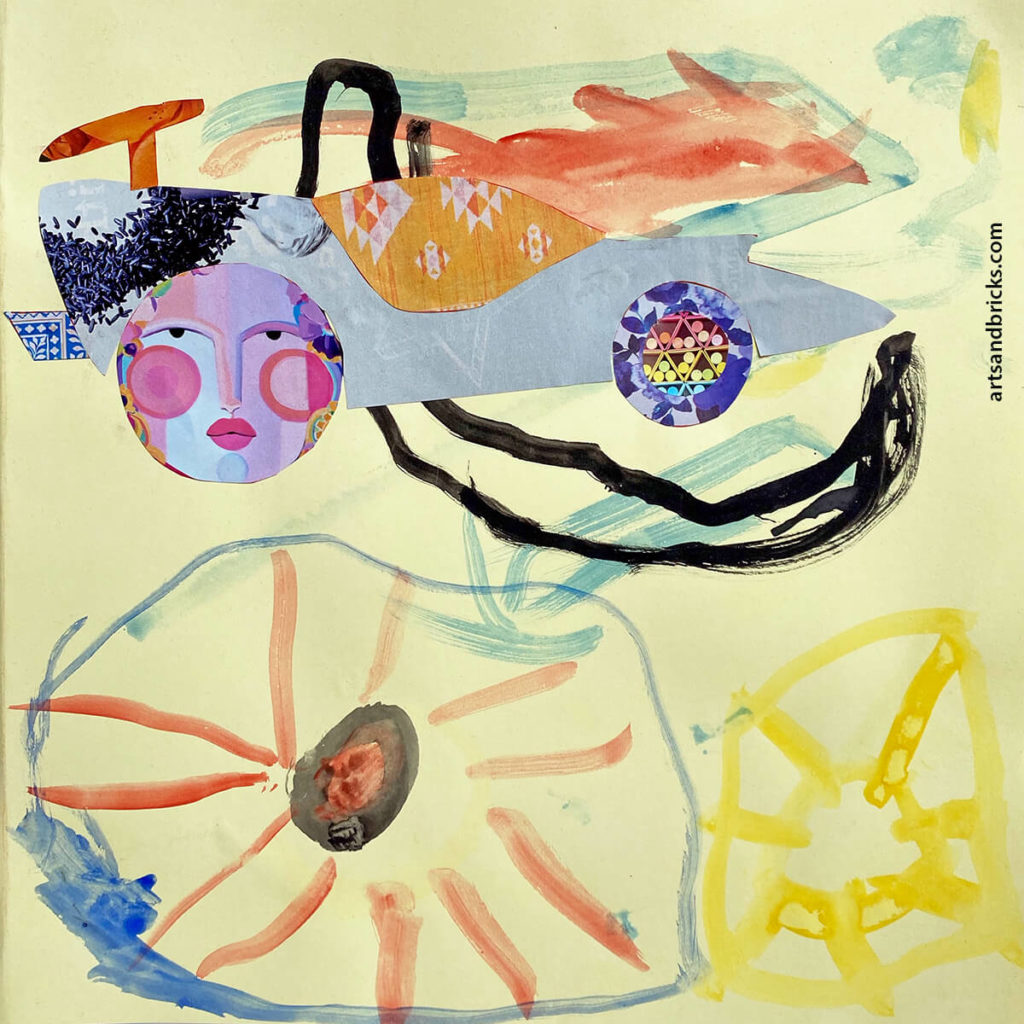 BLOG: Trace Kids' Artwork with Sharpie on a Tea Towel
Displaying your child's artwork in the kitchen is an honored space that will delight any creative child. Heather's simple DIY idea for Turning Your Child's Artwork into a Tea Towel is simple and delightful! Take a look.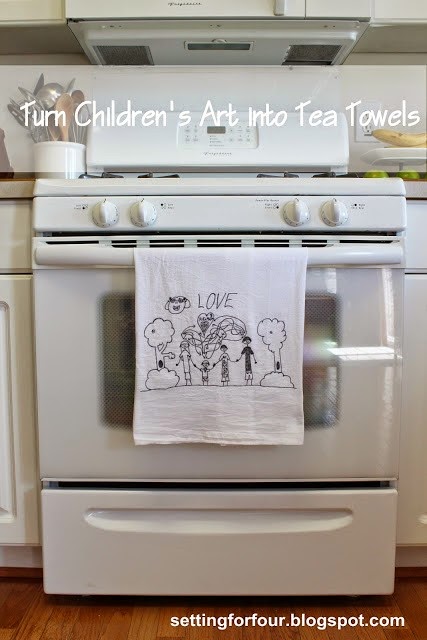 Do you have other ideas?
Please share in the comments!