Collage projects with my kids are my favorite art project because they're quick and take little preparation yet create beautiful finished pieces and teach excellent compositional skills! So, instead of throwing away old magazines, save their brightly printed pages for use in magazine collage artwork you can make with your kids!
Explore images and techniques we use in making collages with kids in this post
Your First Magazine Collage Art Project with Kids
When I introduced magazine collages to my kids, they instinctively cut out images they liked.
They mostly cut out animals, people, or shapes. Their interpretation of collage was very literal; to them, a collage meant cutting out what you like and, without overlapping, attaching the selected images beside one another.
My experience was that my children were reluctant to overlap, cover, or change the found photographs. An example of this type of collage is below.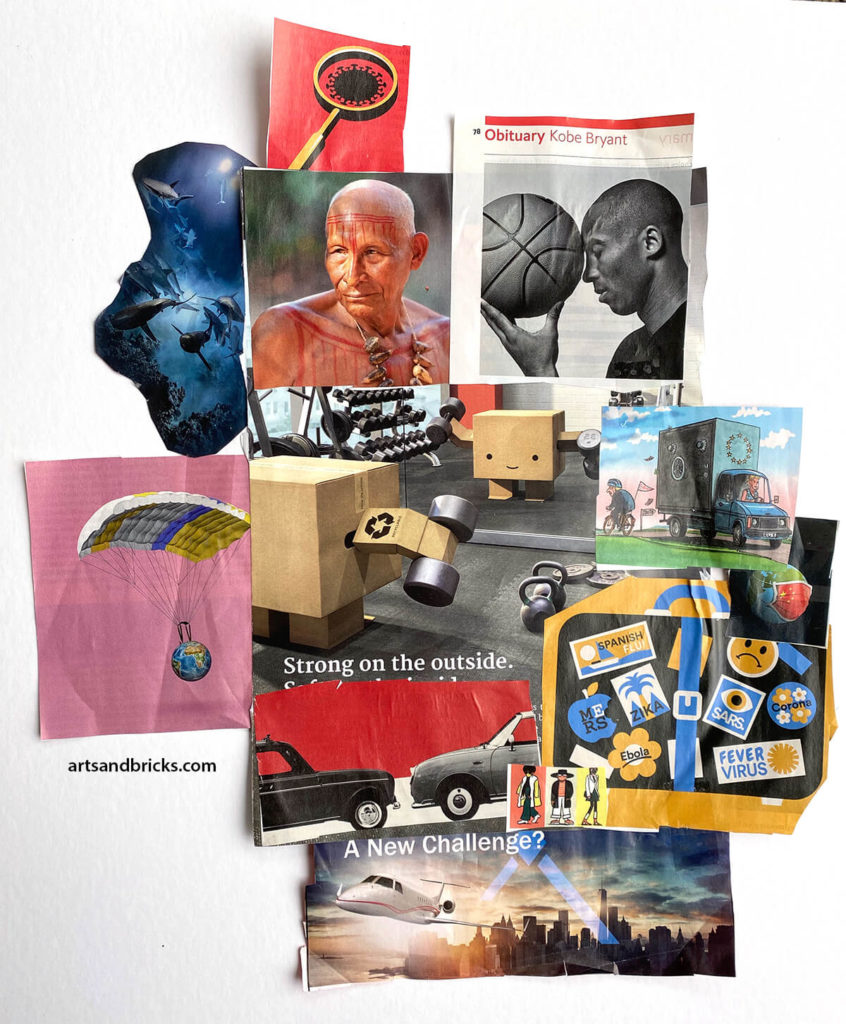 As your children experiment and create more and more collages…
Over time, our collage artwork has become more creative and has started to incorporate additional materials and techniques.
Advertisement - Keep Scrolling
We're adding watercolor and paint and experimenting with various types of paper (pages from magazines, painted paper, and colored paper). Please explore our work and find inspiration for your next magazine collage art project.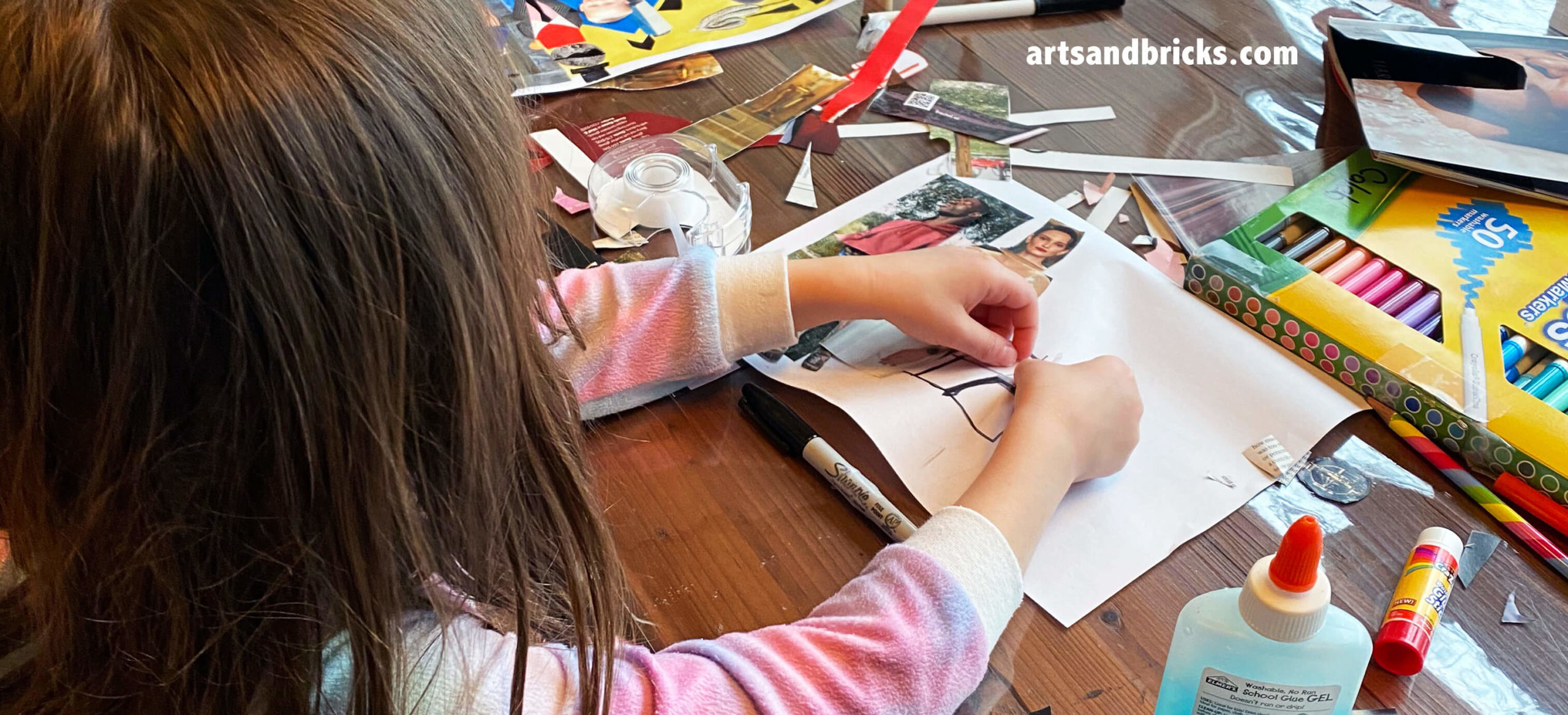 DADA INSPIRED: First Magazine Collage
I think this project was most successful because I was making my own collages simultaneously with my children and modeled more unexpected ways to overlap or combine elements than they would have thought of on their own. With a few suggestions and encouragement, my son's imagination was bursting in his first collage at age 7. I especially love that he added sunglasses to the moon and blue face! He used magazine cutouts, our family's faces (printed out from my desktop printer), and a Sharpie to add hand-drawn elements. A few of his favorite things even made the cut: a snake and an apple!
EGGS IN A BIRD'S NEST: Magazine Cut-Out Collages with Watercolor
In this mixed-media collage, the bird's eggs are cut from magazines, and the nest's twigs and branches are cut from brown construction paper. The background is created with a watercolor dry brushing technique.
Get Creative! Think about the vantage point that you are viewing your bird's nest, and then overlap the sticks and twigs in a way that represents that view. For instance, perhaps the sticks overlap the eggs and perhaps they do not. We did both!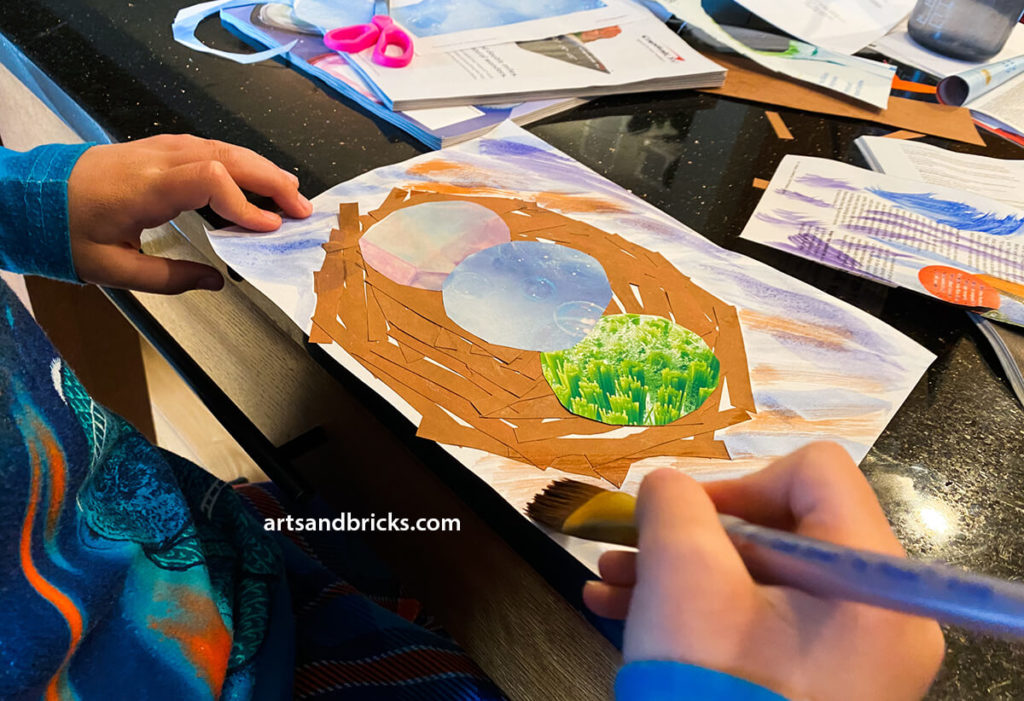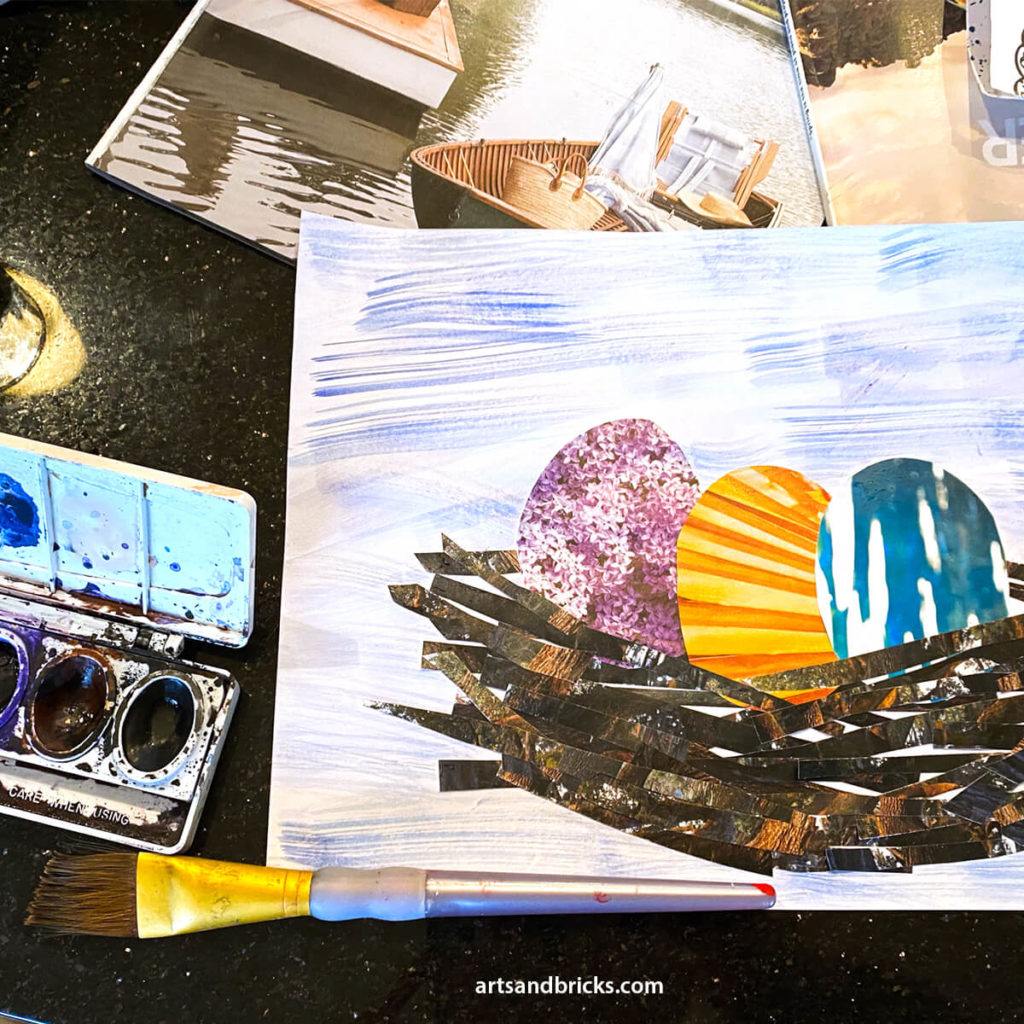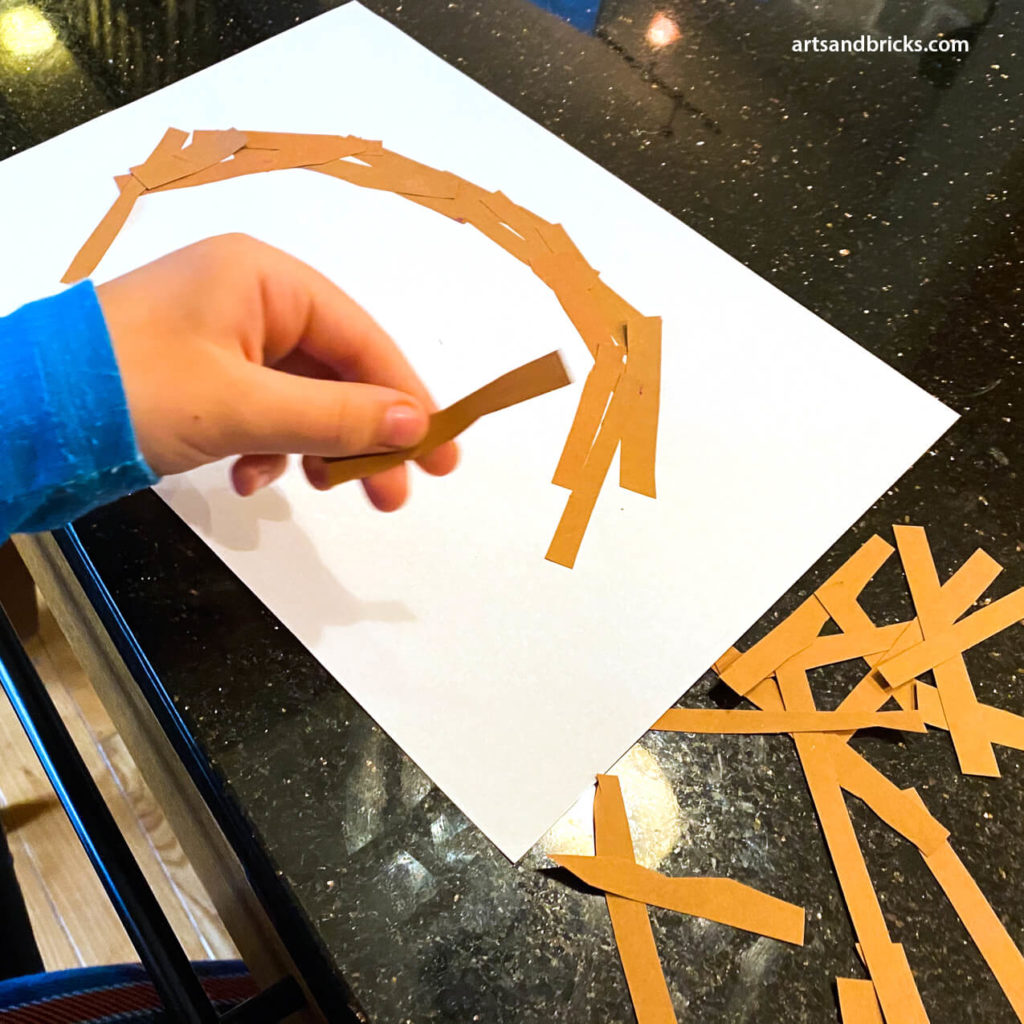 BIRDS: Magazine Cut-Out Collages
Design your favorite birds with simple shapes cut from colorful magazine pages and pages full of printed text. The contrast between big, bold patterns and tiny black words is striking!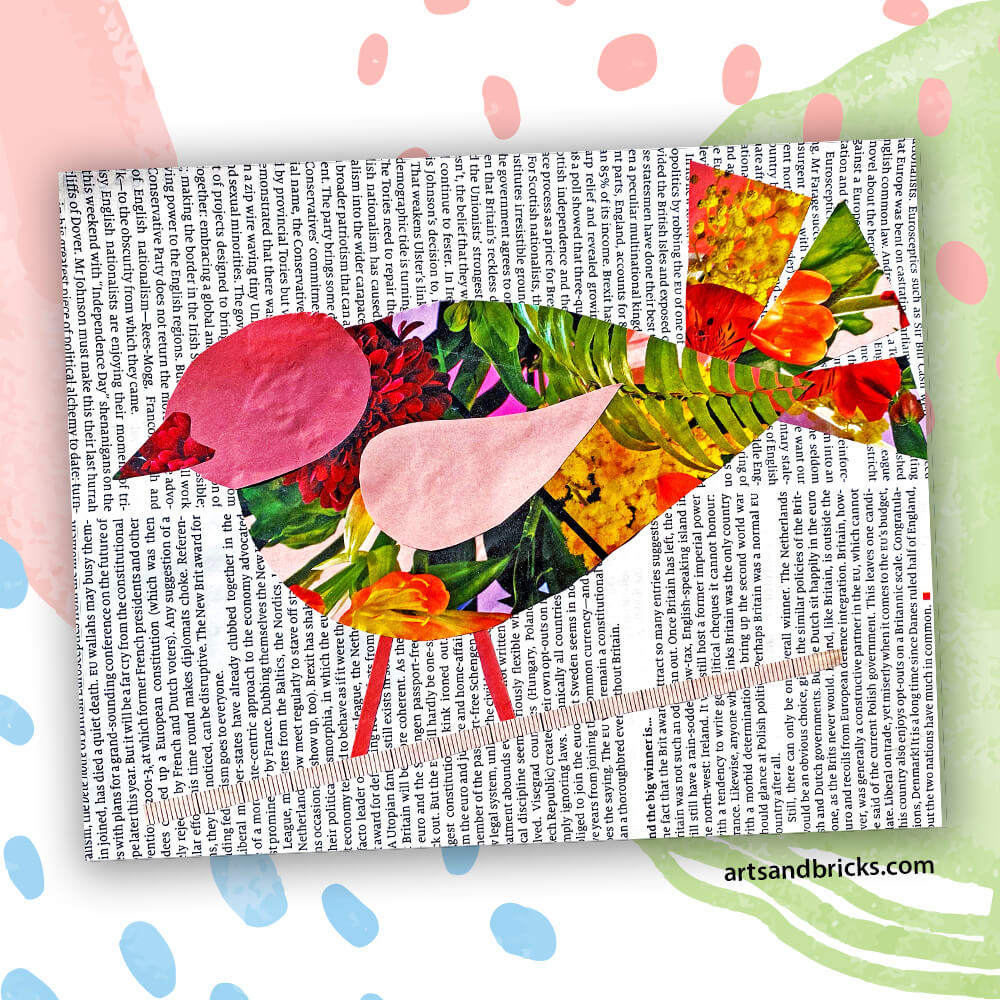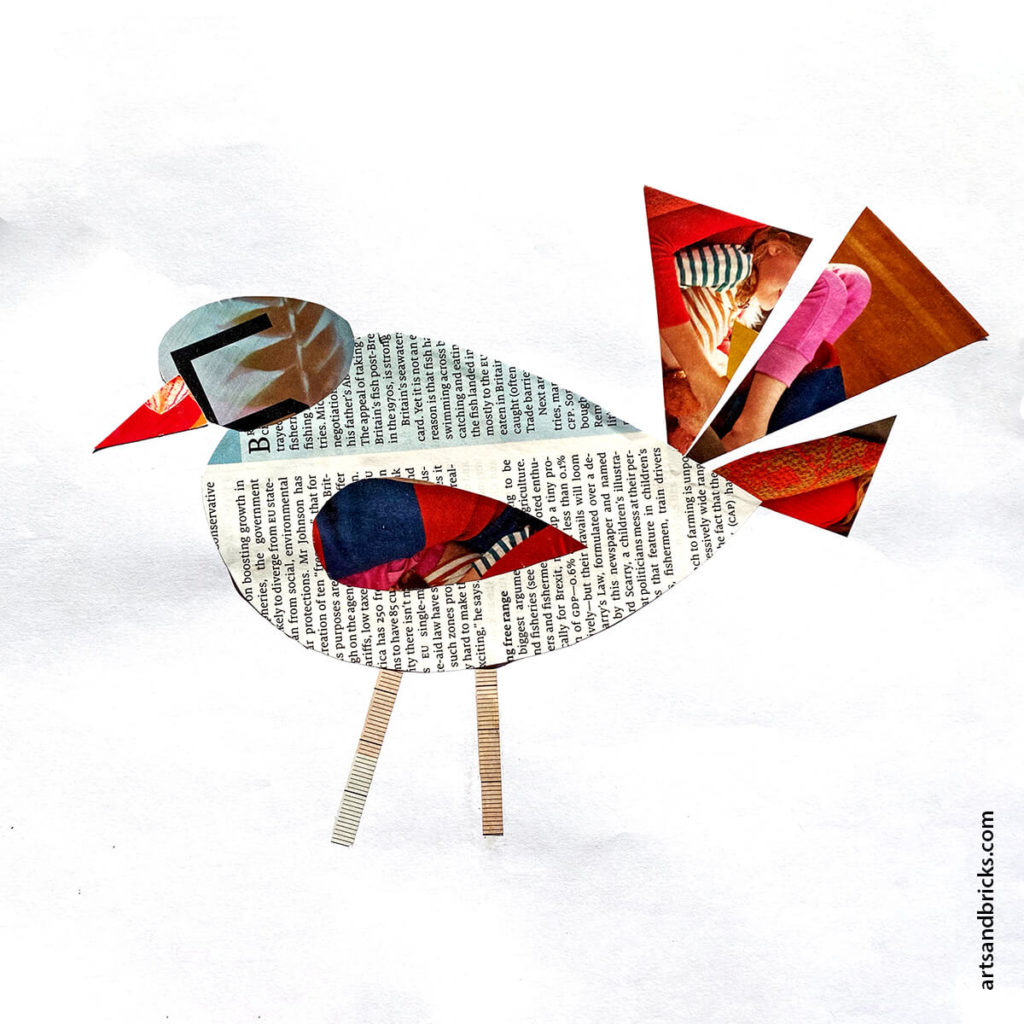 CARDINAL IN THE SNOW: Torn Magazine Paper Collage
My son loves Cardinals, especially the contrast of bright red cardinal feathers against the crisp whiteness of falling snow. For this kid's collage project, we found an image that inspired him online. We call this looking for "visual inspiration." We then printed the image and used it as the background for his collage.
Next, we searched through magazines and tore out pages that included shades of red, black, and orange. My son decided to use the text of the magazine with the white paper background as the snow, which turned out great! Finally, he started tearing shapes from the shades of red and gluing them down to form the bird's feathers.
As a final step, we tore little dots of white to add some dimensionality to the falling snow in the background.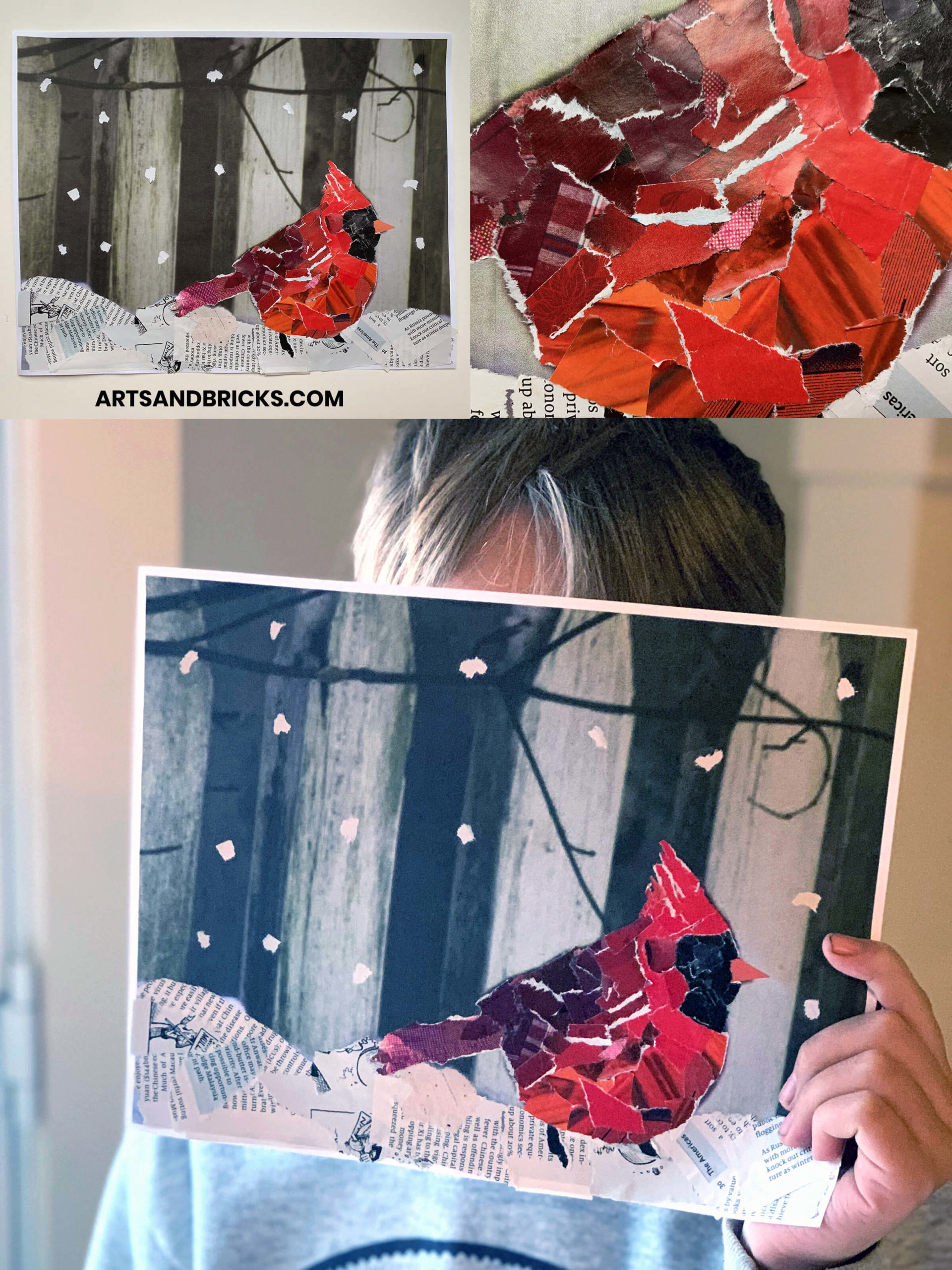 RACE CAR: Kid's Magazine Collage Art Project Idea
In this collage series, we cut geometric shapes to form a simple race car, then we traced those shapes onto textures and images that we liked in magazines. The result is a collaged race car created from magazine cutouts. (Do you love Race Cars, we sell LEGO-built race car decals!)
For this collage's background, we used a colorful full-page magazine advertisement and also a design we had painted as process art on another day.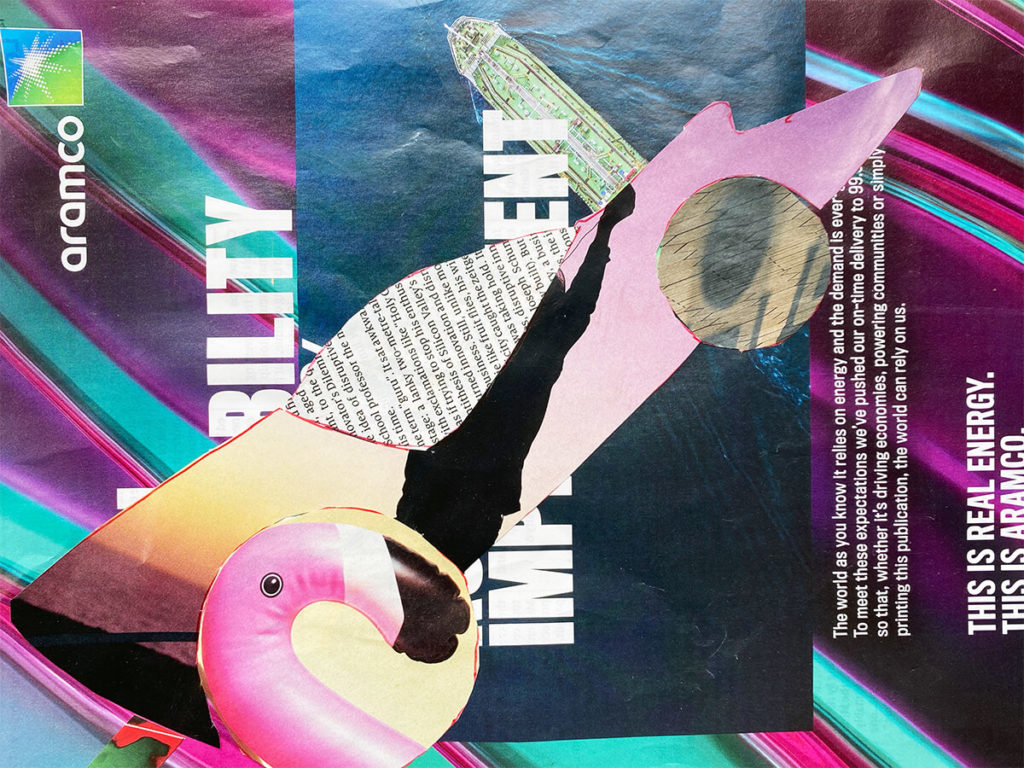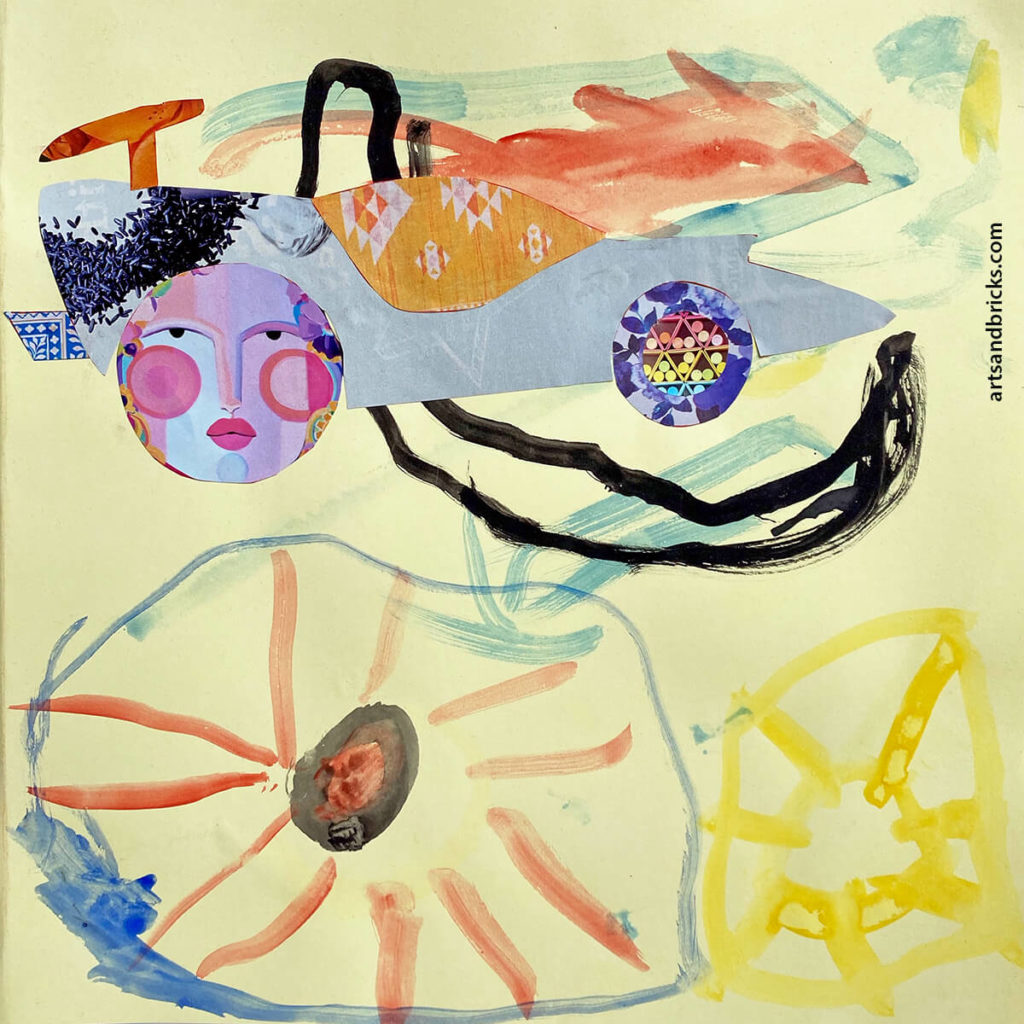 THANKSGIVING TURKEY: Cut magazine collage
Time off from school gives us more time at home to be creative and make art. At Thanksgiving, we sat down and created cut-paper collaged turkeys. For this design, we added one of our favorite craft materials: googly eyes (we have lots of ideas for making art with wiggly eyes)!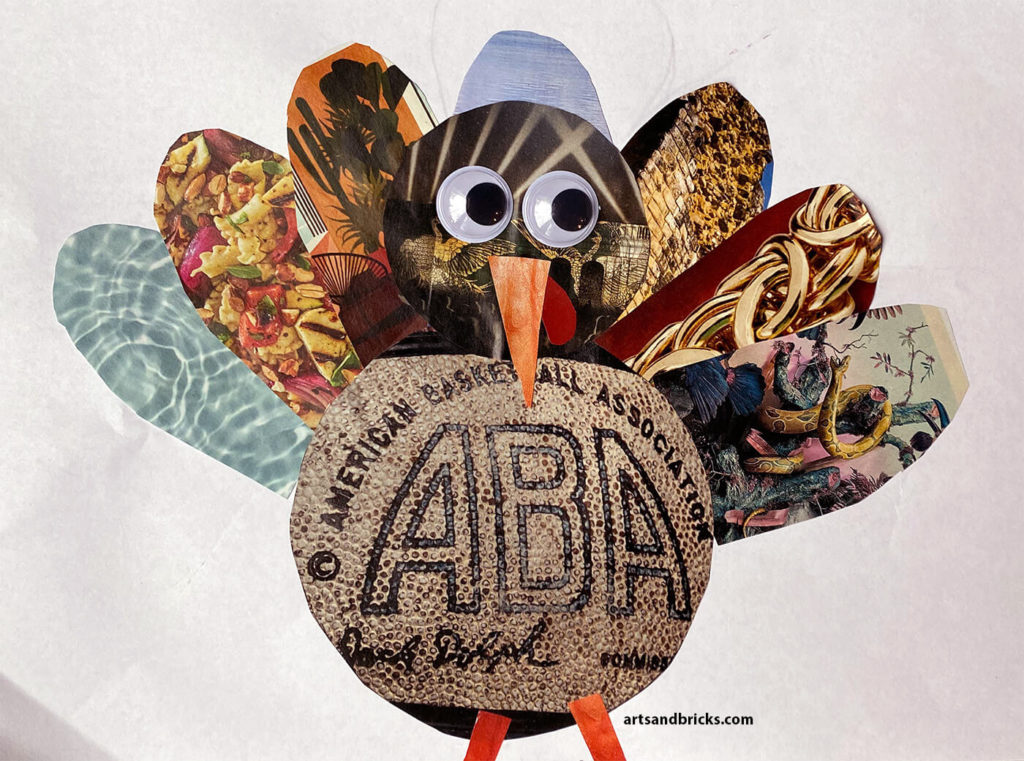 COLLAGE FACES: Using textures and patterns
Patterns and designs cut from magazines are excellent materials for making faces. In this face collage, a wicker pattern is used for the eyebrows and mouth, and a circular pattern is cut out to replace the eyes. Cool!

Save this Collage Idea for Kids on Pinterest