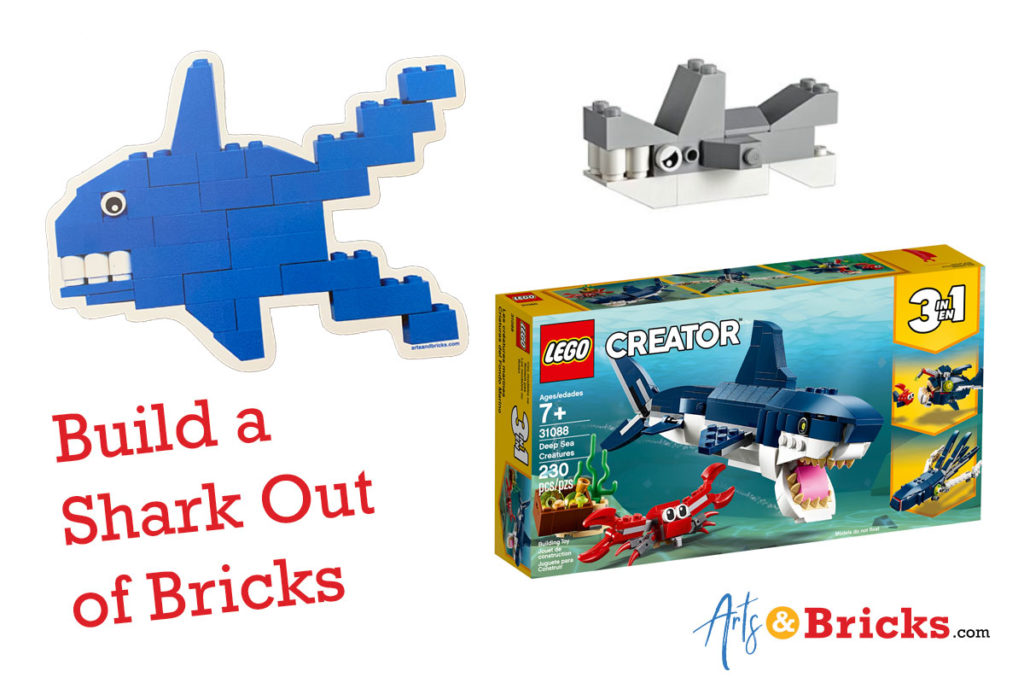 Sharks! What kid doesn't love them? But, how do you build a shark out of bricks?
I've tried a few times only to hear my son say, "Mom, that doesn't look so good." Ugh. Fail. He is truly so much better at building than I am.
We've put together the following inspirations and guides, so maybe you can experience real parenting "building wins" and truly impress your littles with your new-found shark building skills.
LEGO® Classic Shark
Using the Classic building set and the Creative Supplement box you can make this friendly shark, with just a mild bite!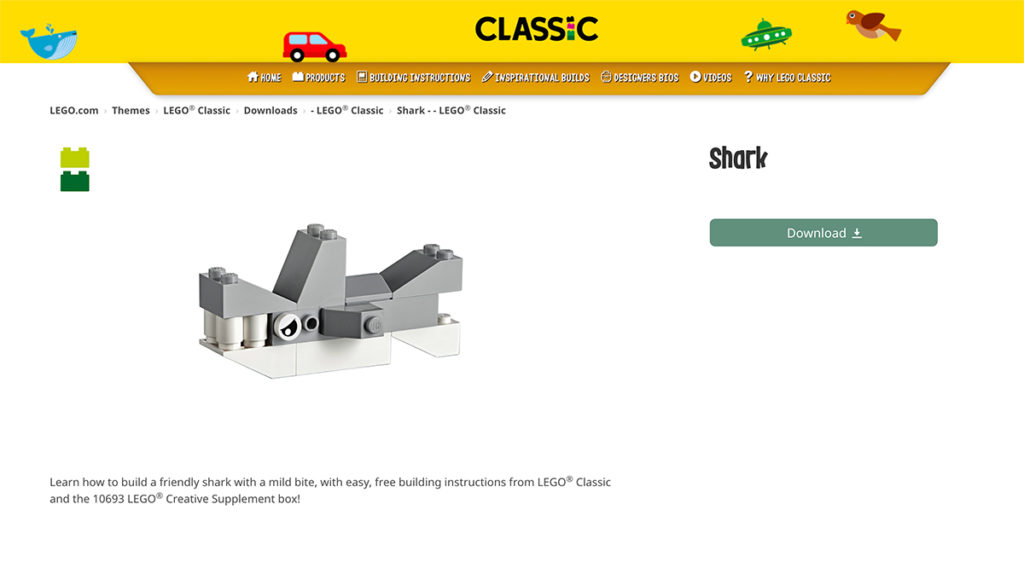 Sailed June 2020
One of our favorite LEGO sets to date, LEGO 31109 Pirate Ship, includes the pieces and instructions (pages 8 to 13) for this Pirate-chomping shark. We've written a review for each of the builds included in this LEGO Creator 3-in-1 Set.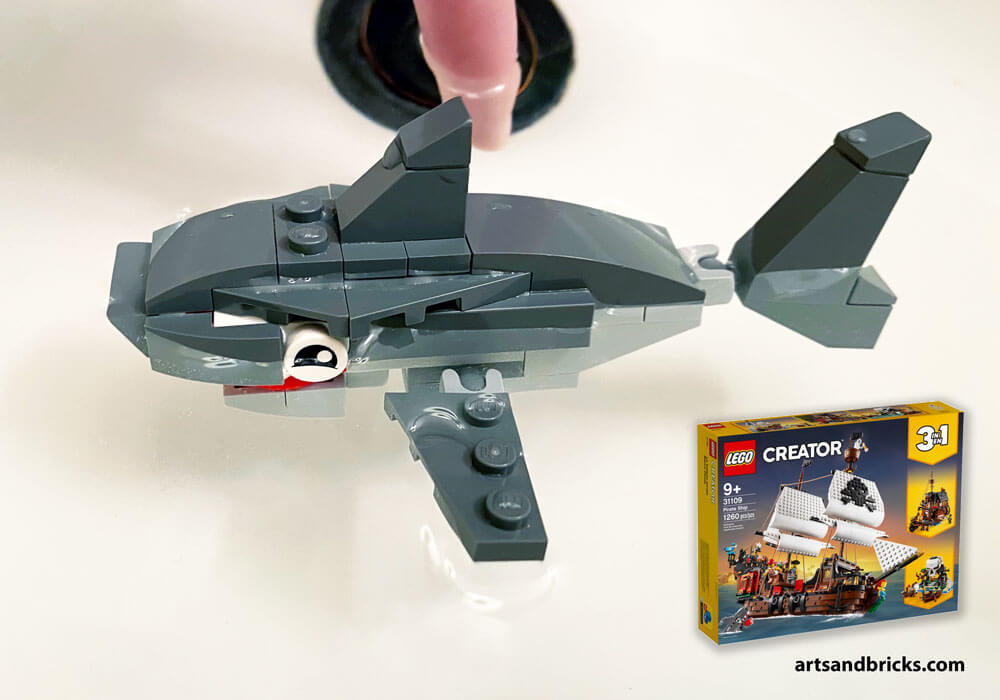 Kid-Review of LEGO Creator Pirate Ship, Set 31109
Take a read and check out our pictures, or walk the plank and meet your fate!
Shark from LEGO® CREATORS Deep Sea Creatures 31088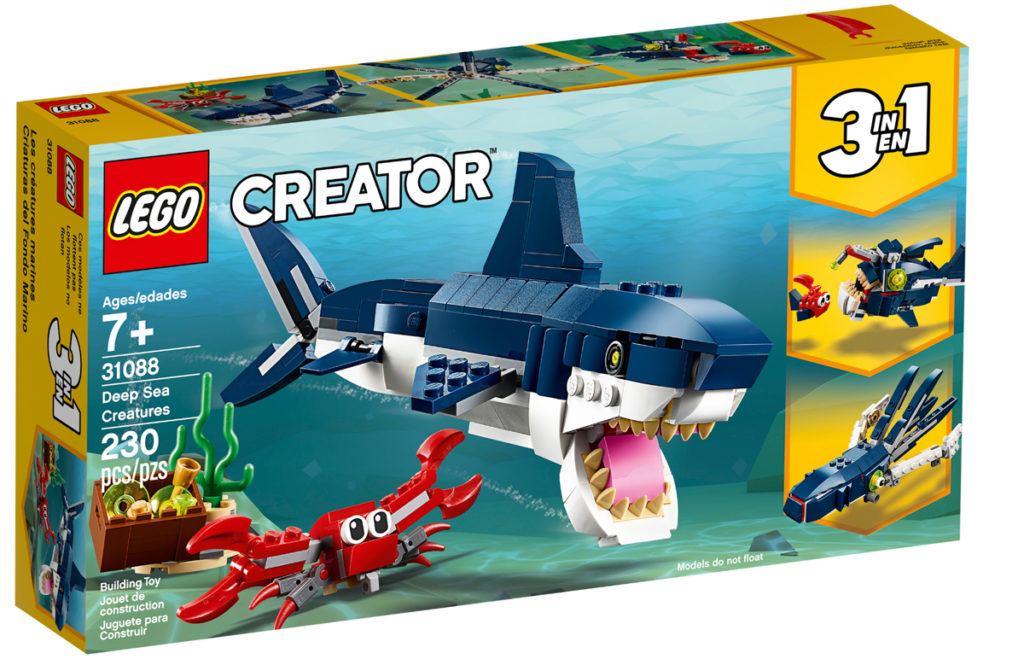 Advertisement - Keep Scrolling
We have not built this set, but the reviews on Lego.com are great. Deep Sea Creatures comes with instructions for three builds, and there is a fourth design available for a whale, too. The kit includes a crab, squid, and angler fish. Reviewers of this kit even mention that the anglerfish will fluoresce under actinic/UV light. Cool!
Another LEGO set featuring a glow-in-the-dark anglerfish is the LEGO City Ocean Exploration Submarine, Set 60264.
Great White Shark – Google 3D Animal
On a side note, have you tried Google's 3D animals on your phone or tablet? There is a 3D great white shark and dozens of other animal/insect options, too. Read more about how to display and "project" 3D animals on your device. For convenience, we've even created a clickable 3D Animal list.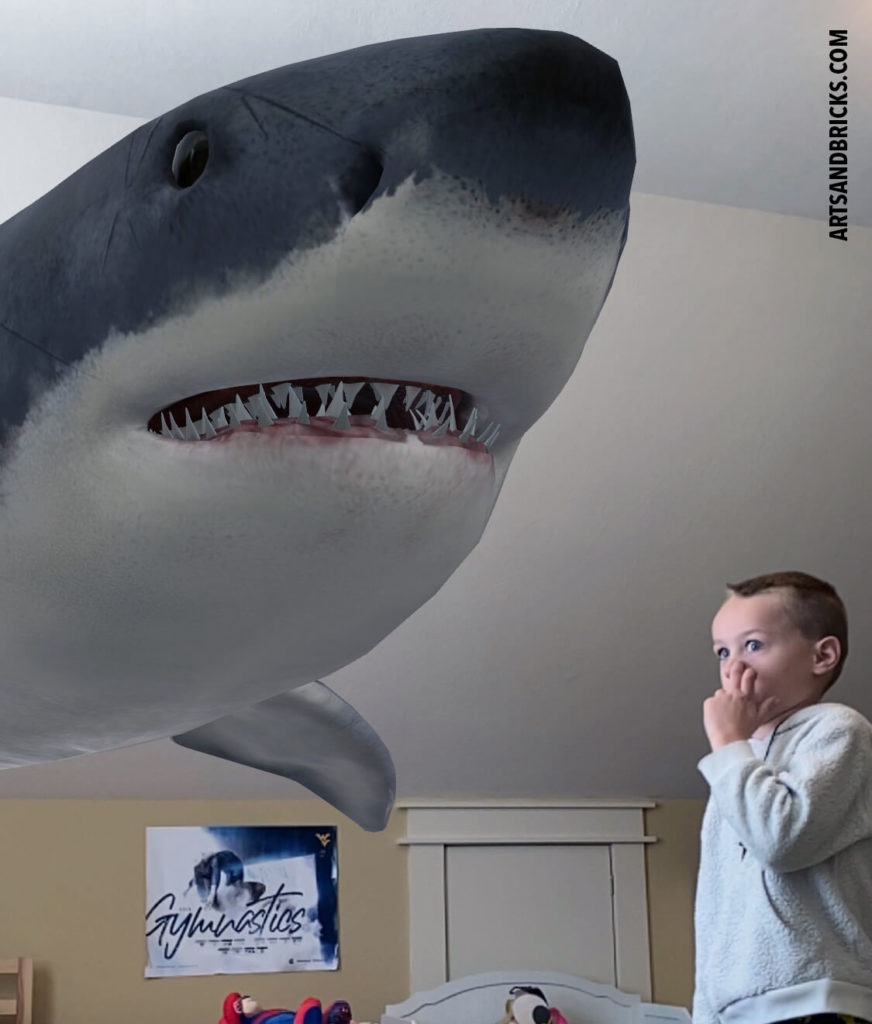 Ideas from Bloggers: A round-up
This great post by Little Bins for Little Hands is full of great Shark Week Activities AND includes a how-to for making creative sharks out of very basic bricks (2×2s, 2×4s, a few slopes, round 1×1 pieces for teeth, and eyes). Take a look.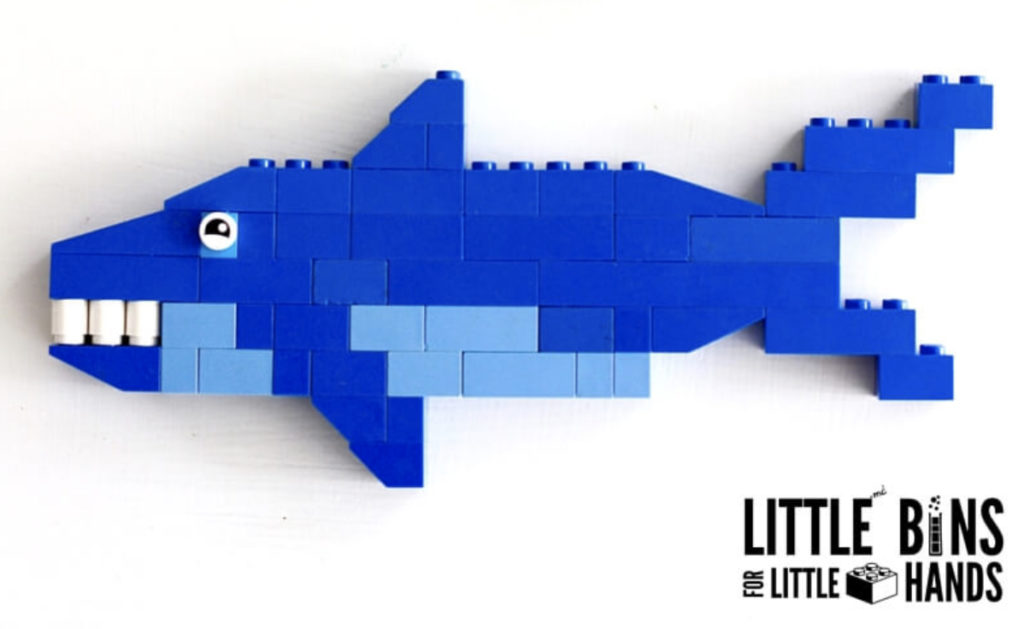 This detailed post by Frugal Fun for Boys and Girls shows step-by-step building instructions for a shark with fins that move and a mouth that opens and shuts. Creative! Love it!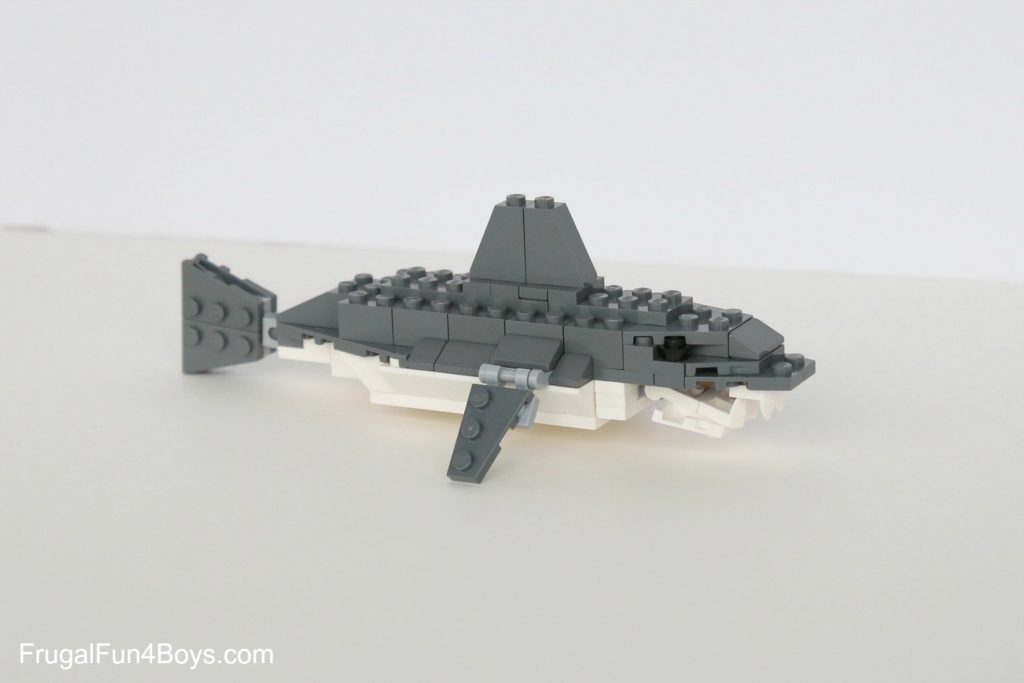 This post by BrisBricks gives you what you need to build your own "Baby Shark" as featured in Pink Fong's catchy song!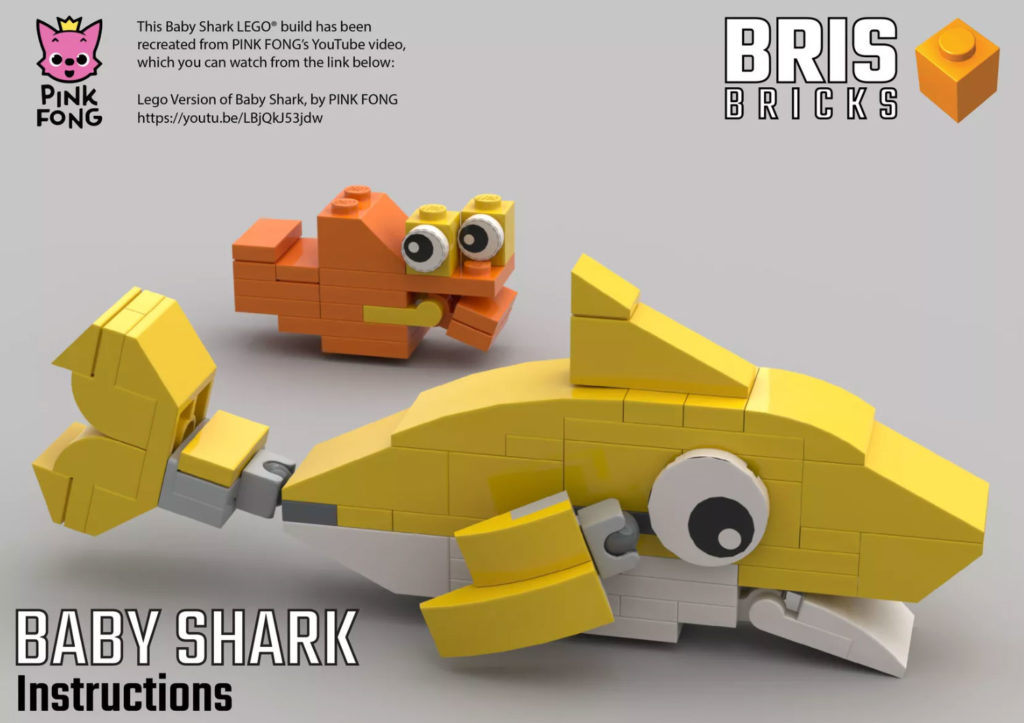 Shark Brick Videos
From speed builds and reviews to hammerhead shark instructions and stop-action storylines, these videos are worth a watch.
Unique Gifts for Brick Lovers
Want to keep your LEGO-built sharks on display longer than the next time you need to use that one blue-angled piece?
Solution: Snap a photo and order an Arts and Bricks Design Your Own wall decal. Perfect for a favorite shark build or an entire shark family! Get creative: personalize your kid's space with custom-made, repositionable wall decals.
Just want a shark decal?
Order our cute shark wall decal shown below from our store or Etsy Shop.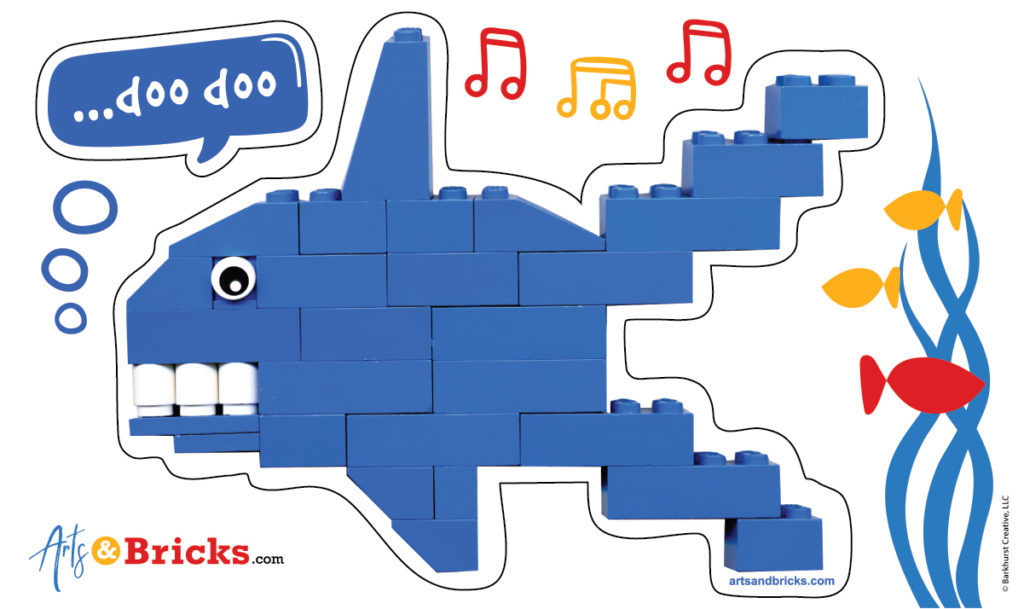 ---
PS. This post is not sponsored. We're a LEGO brick-loving family who posts about our favorite builds. Some of the links in this post are affiliate links and if you go through them to make a purchase we will earn a commission. Keep in mind that we link to these companies and their products because of their quality and not because of the commission we receive from your purchases. The decision is yours, and whether or not you decide to buy something is completely up to you.