Here's a round-up of our favorite LEGO DIY Valentine Cards. We hope they inspire you and help to make this Valentine's Day AWESOME! Enjoy!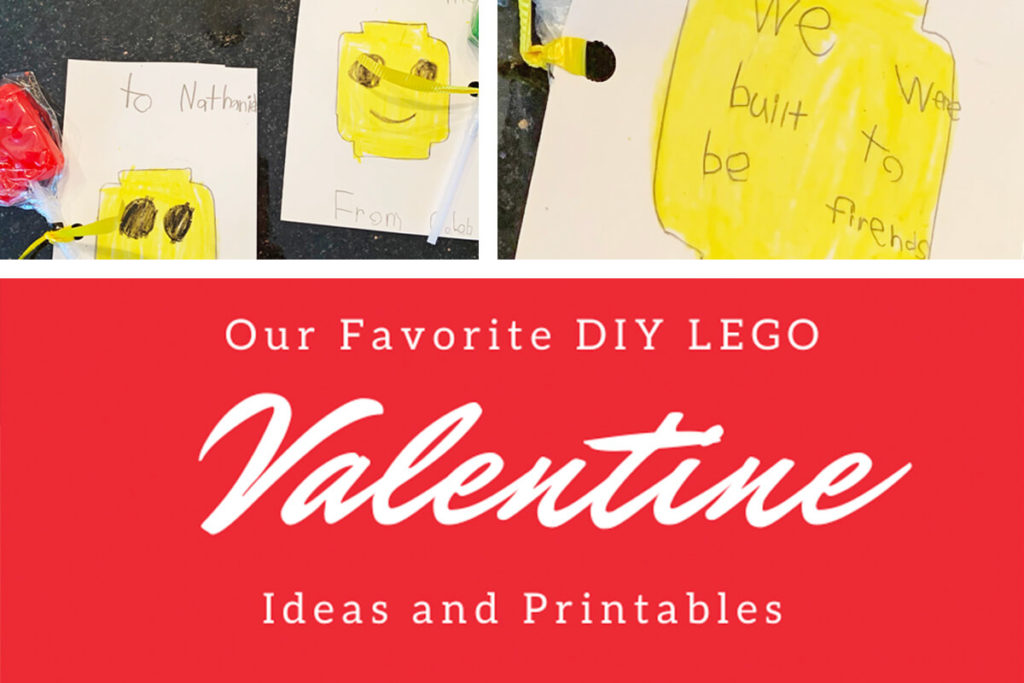 You Are Awesome! – Printable Valentine
Carrie Elle's blog provides the printable and instructions for this cute Valentine gift. You'll need printer and ink, plastic baggies, tape, and LEGO bricks.
Brick-Built Heart Window Decorations
A thoughtful Valentine's Day gift, this set of 8 heart window/mirror decals says, "You're Bricktastic" all year long!
Brick-Stamped Salt Dough Valentines
The creative-maker fun level on this project is high! Check out the blog post for directions on how to whip up the simple salt dough. For a touch of color, use your favorite watercolor paint. Make impressions by pressing individual bricks, Minifigures, or small brick-builds like hearts into rolled-out and cut dough. Make it easy, form dough shapes using heart-shaped cookie cutters, or press down rims of cups to make circles. Toss your salt dough when finished, or you can bake for 1 to 2 hours in the oven to turn these into giftable and hangable keepsakes.
Hand-Drawn Minifigure Heads + LEGO Lollipops
For this simple design, cut cardstock and have your child illustrate a Minifigure head on each Valentine card. Choose from one of these witty LEGO Valentine messages and add a LEGO brick lollipop! This project is DIY made easy. Our favorite LEGO Valentine sayings for this project: "We were BUILT to be friends," "HEAD over heels for you, Valentine!" or "I FIGURE you're an AWESOME friend!"
Colorful Mason Jars full of LEGO Bricks – Perfect for Valentine's Day
Gift colorful LEGO bricks in mason jars topped with spray-painted lids. Attach a favorite toy figurine, and you've got a thoughtful, display-worthy Valentine gift. The only caveat: make sure this gift-giving is age-appropriate as mason jars are often glass!
Candy Brix Valentine Candy Bag Topper – Free Printable
Go to Little Monkey Designs' blog post to open and print a FREE printable candy topper design. This printable features graphical, colorful building bricks and four playful Valentine messages. You can purchase Candy Brix from Amazon.
DIY Lego Heart Valentine and Printable
This cute Valentine Printable is perfect for the master-builder in your life. Create hearts out of building bricks and attach them to these Valentine cards. Simple heart designs start with just 11 bricks.
Purchase new bricks, like this Red LEGO Creativity Box or this larger LEGO Classic Creative Bright Colors set, or you could even buy used bulk LEGO bricks from eBay or Facebook. Curious about how to calculate the number of bricks in bulk LEGO purchases? We've done the math for you.
Bag of LEGO Bricks, Gift Bag Topper – Valentine Printable
The simplicity of this non-candy valentine gift is genius. Your Valentine is a simple, clear bag of new or used LEGO bricks sealed with a cute Valentine printable. This Valentine card is a brilliant idea for the little LEGO enthusiast in your life!
Edible LEGO Minifigures and Valentines
Make your own Minifigure candy to give out this Valentine's Day! Sheknows.com provides the recipe, instructions and even includes the free Valentine printables, too. This DIY project is estimated at about 2h30m and includes some prep work. I especially love the time-saving tip of just making the bricks and Minifigures one color rather than three.
You'll need to have ingredients on-hand and of course, own a Minifigure and brick ice cube tray. Good thing you can get it all on Amazon! Check it out: yellow candy melting wafers, blue candy melting wafers, red candy melting wafers, sprinkle hearts, and the Minifigure icecube tray in 2-days with Prime.
Ninjago Valentine and Candy Bar Wrapper Printables
As simple as print, cut, wrap, and tape! This tasty Valentine features the Ninjago characters as tasty candy bars. Printables and links to LEGO-inspired fonts included.
Valentine's Gift – Heart Wall Decor
This Valentines Day, show your LOVE with this pair of pink brick-built heart wall decals — surprise the little Valentine in your life! This unique set of wall decor is printed in the USA and made of high-quality movable wall vinyl. The hearts were even designed and built by a seven-year-old boy!
Printable for a Minifigure Gift
Giving a LEGO Minifigure to each kid in the class might get a bit pricy, but with this cute printable by Halfscratched.com, your Valentine will surely be a hit!
Another idea, adjust your message or make your own to read, "I figure you're an AWESOME son" or "I Figure you're an AWESOME daughter!" and give them to your own kids as Valentine gifts.
You're ah-Maze-ing, Valentine (Build a LEGO brick marble maze)
This building-brick marble maze and printable is a fun, entertaining idea for a Valentine for your kids, or for their special friends! Take a look!
LEGO Movie Printable Valentine Cards
This printable Valentine set by Somewhat Simple is really cute; the stylized LEGO Movie characters create a fun, colorful — did we mention easy? — way to send in classroom kids Valentines that are a hit with everyone, especially your LEGO-loving' kiddo! Check out Emmet, WyldStyle, Batman, and Benny below!
LEGO Brick Painted Heart Print – Valentine Card
This idea is definitely one of my favorites because it pairs PAINT and getting messy (FUN!) with LEGO bricks to create a heart print on your Valentine's Day cards. The artist in me especially loves using found objects to make prints.
Modern Minifigure Word Art Valentine
As a graphic designer, I truly appreciate the typographic treatment in this printable Valentine's design by Simply Real Moms. The only catch, there's quite a bit of intricate cutting required. If this card is for a younger child's class, momma, you're going to be completing most of the work on this Valentine!
Pinterest: Save for Later
Follow us on Pinterest and don't forget to save these great ideas for next Valentine's Day, too!