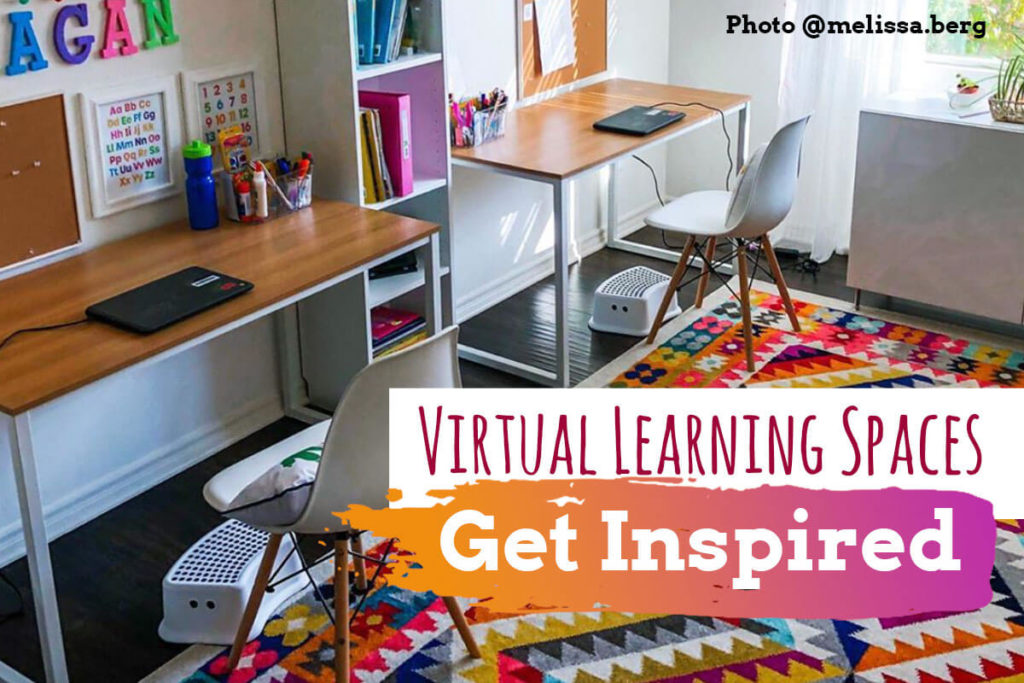 Inspirational images for your child's virtual learning space and/or homeschool learning area
Whether you're looking for REAL LIFE examples of home learning or Pinterest-Worthy virtual school ideas, here's a round-up of inspirational examples.
For furniture details and more, make sure you click over to these mama's Instagram pages. Show some 💕 and follow your favorites!!!
And, don't forget to keep in mind:
"It's okay if your kid's virtual learning spot doesn't look like a Pinterest school classroom" – Jessica Goodpaster
Advertisement - Keep Scrolling
We're all in it together! We've got this!
E-learning Desk Spaces
Homework stations for one, for two, for three, and more!
Personalize your child's space.
Add a little something that makes your child feel like this is his/her work area…truly his/her space to learn and thrive! This personalization can be really simple, like an area to hang new artwork, a space to set a favorite stuffed animal, name wall decorations, or just a pop of his/her favorite color!
Reusable name stickers (like this movable LEGO brick-built one by Arts and Bricks) make your virtual school personalization portable! moving around your home easy!
Keep it Simple
Don't stress! Use the space and desks or tables that you already own. Small movable tables make set-up and clean-up a snap and allow for greater flexibility.
Looking for tips for setting up home school? Mom Unleashed writes about "How to set up an at home school station and tips for boosting productivity in kids."
Dedicated Virtual School Study Areas
DIY Desks for Online Learning
With a little time and oomph, make your own desks!
Hope this Homework Station – Virtual School roundup has been inspirational! We can't wait to see your at-home learning setups. On Instagram, tag @artsandbricks – we'd love to feature your space, too!