Framed family handprint keepsake crafts
Framing your family's handprints is a unique way to decorate your walls.
You can make this family keepsake yourself by tracing handprints or creating painted handprints. Alternatively, you can purchase your framed gift from an Etsy vendor that uses inkless print kits.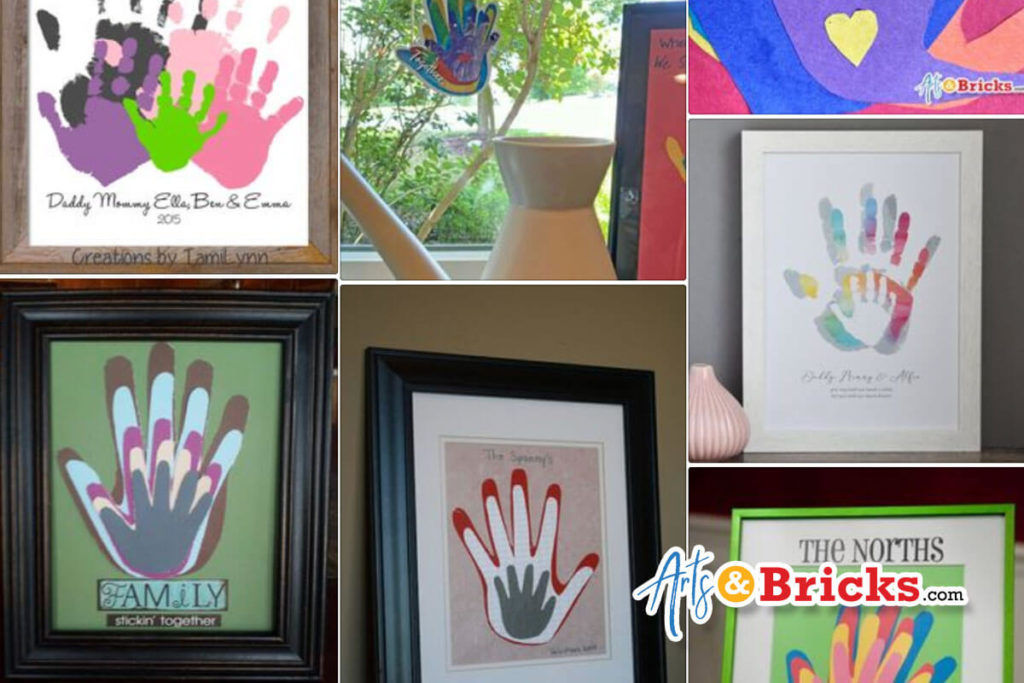 Ideas for words and phrases to put on your family keepsake handprint craft
This is Us
Established 2006, Family Name
Our Family
Family Name
Holding Hands Forever
The members of each family member
Family Name, 2020
All Because Two People Fell In Love
We love you
Thankful for Family
Side by Side. Heart to Heart. Hand in Hand.
No Greater Love
Sometimes just holding hands is holding on to everything.
You may hold our hands a while, but you hold our hearts forever
Even 10 little fingers can't count the ways I love you.
Moments to love and cherish forever
Happy Mother's Day
Happy Birthday
Together is our favorite place to be
Together we make a family
Other things may change us, but we start and end with family
First, we had each other, then we had you, now we have everything
Family Stickin' Together
Blessed
Happy Father's Day
Family Man
Anyone can be a father, but it takes some special to be a Daddy
Daddy, Mommy and Me
Daddy, I'm your number 1 fan
Just like my Daddy
Another creative family handprint idea
Turn your family handprint into a window decoration!
Framed Family Handprints – Inspiration
---
PS. This post is not sponsored. We're a LEGO brick-loving family who posts about our favorite builds. Some of the links in this post are affiliate links and if you go through them to make a purchase we will earn a commission. Keep in mind that we link to these companies and their products because of their quality and not because of the commission we receive from your purchases. The decision is yours, and whether or not you decide to buy something is completely up to you.