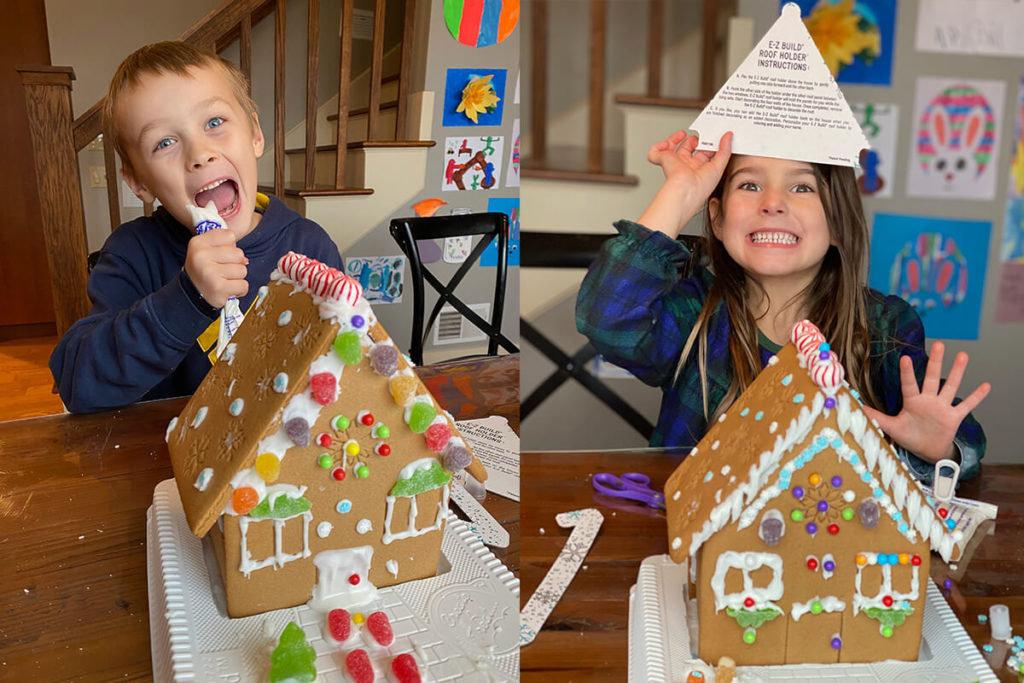 A Sweet Holiday Tradition
When our youngest was five, we started our family tradition of making gingerbread houses together. I'm always pleasantly surprised by how well the store-bought kits are made. For under $10 each, I opt for pre-made kits rather than dealing with falling apart graham cracker houses or making dough. There has been such an improvement from the gingerbread houses of my youth in the 80s and 90s.
No recipe needed; Easy Gingerbread houses for busy families
Gingerbread House Kits have come a long way. The most impressive update to gingerbread kits is that they now typically come with trays that include canals to inset your houses' sides into the tray. This makes the house sturdy; gone are the days of collapsing candy-heavy structures.
Tips for Building Ginger Bread House Kits with Kids
Gingerbread house kits go on sale around Black Friday. We typically find our gingerbread houses half-price at stores like Michaels during this pre-season and Black Friday sales. You may look out and find a kit for $5 at 5-Below, too.
The kits never include enough icing. We've learned to purchase a tub of white icing to supplement our kits. We use the store-bought icing tubs to ice the house together and to secure the house into the kit's tray canals/indents. We save the provided kit icing for detailed decorating.
Make an afternoon of it. Put on Christmas music, make hot chocolate and be ready to make a sticky mess together! My children always get tummy aches because they overeat candy and icing.
Display your Christmas works of art. We like to put our Gingerbread houses on display on the dining room hutch. They smell great and bring a cozy feel to the entire room.
Fun Features to Look For in your Gingerbread Kit
Some kits come with Roof Holders. Especially for larger Gingerbread houses, these can be super useful as my kids never have the patience to let the roof icing dry before starting to decorate.
My kids like the kits that include hard candy in the shapes of Christmas lights. They use the light-shaped candy to string the lights on the roof and along the edges of the house.
Gum drops are by far my favorite candy for gingerbread house decorating. They add such a welcome pop of color to the houses.
Reasons we Love Making Gingerbread Houses Together
Creative Expression: Anytime my kids get to create, design, explore and become little makers is a worthwhile win!
Improving Craftsmanship: I love watching kids gain eye and hand coordination. As your children age, their designs will become more ornate and skillfully crafted. My oldest son spends twice as long as his youngest sister.
Family Tradition: Spending time together and displaying your child's creation builds memories and a family tradition that your children will look forward to year after year.
2022 Gingerbread Houses
This year we purchased our Gingerbread House kit from Michaels. It's called Michael's Exclusive Build and Decorate Gingerbread House Kit (Shop Michaels).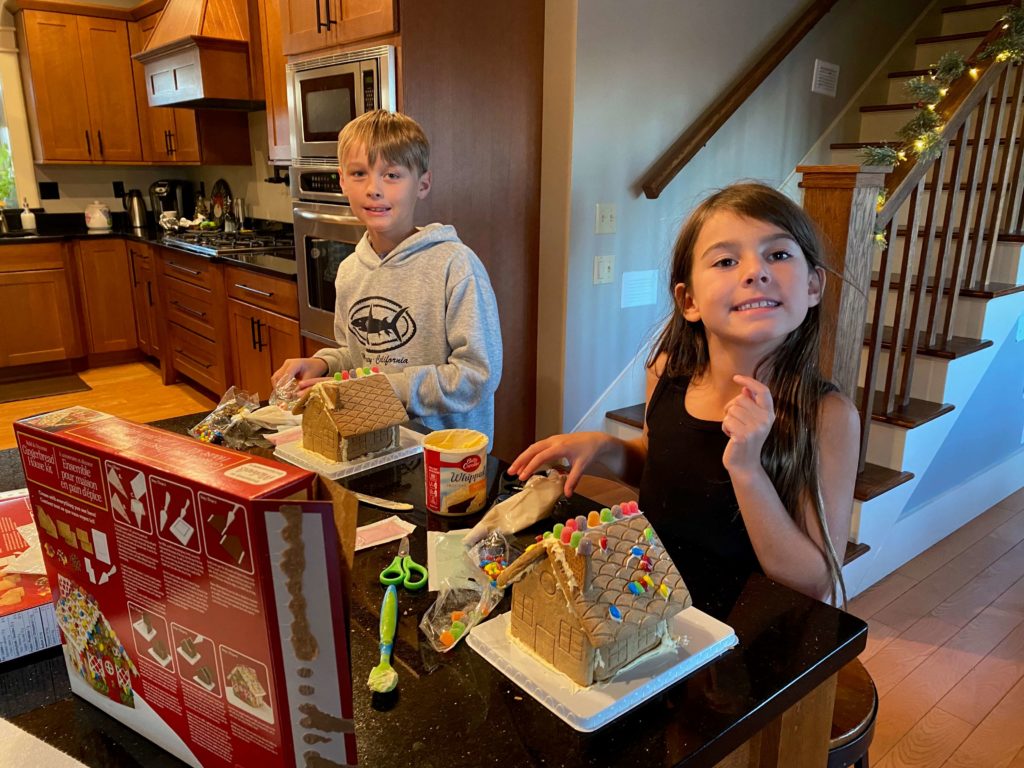 2020 Gingerbread Houses
This year we used the Gingerbread House with E-Z-Build Roof Holder (View on Amazon). It's a large house with a designated skill level of 2 of 4. With a little parental help, our elementary-aged children could make beautiful houses! Bonus: Each house included two gingerbread people too!