If you're a car lover (child or adult), you'll truly enjoy the 2020 LEGO Ferrari F8 Tributo – LEGO Set #76895.
For Display and Play
Built to scale, this model is part of LEGO's Speed Champion Sets and is perfect for display or PLAY!
The pieces are attached in a sturdy manner so that when my son plays with this car; it stays together. This is a big plus for kids who actually use their cars like toys and are inadvertently very rough with them!
Recommended LEGO Set for Kids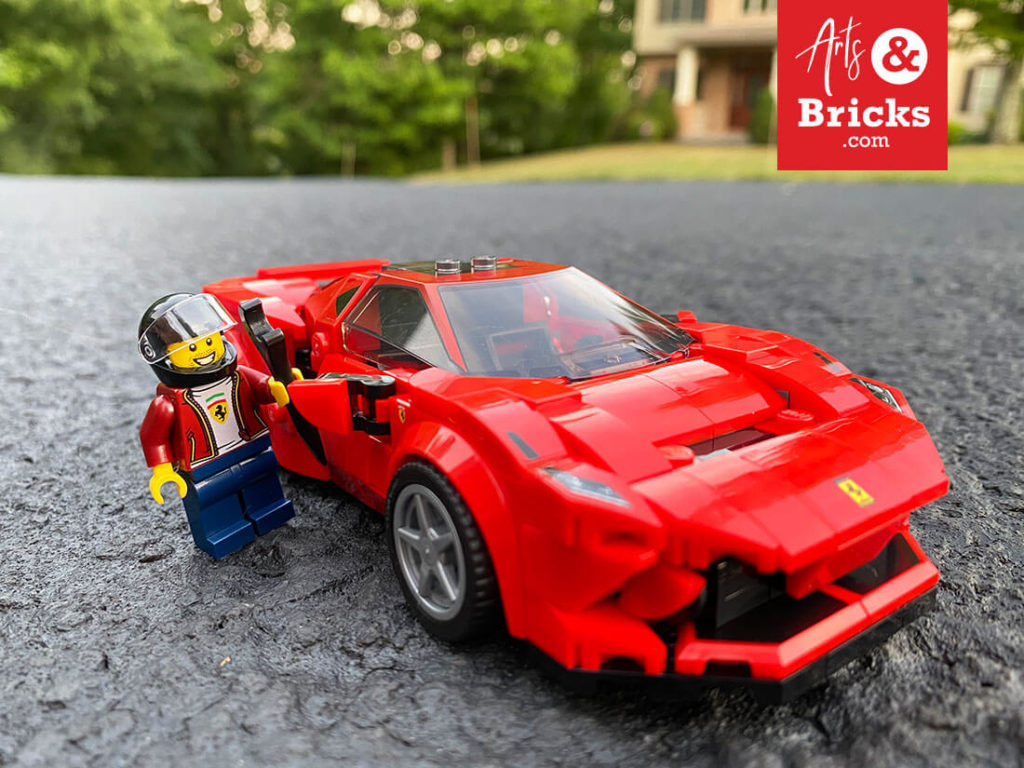 We recommend this LEGO car set for kids of all ages who enjoy Ferraris, model cars, race cars, racers, and racing toys. (More specifically, my son says 5 and up because the small pieces could be a choking hazard to toddlers and babies!)
At around $20, this LEGO car set is an affordable birthday gift, Christmas or holiday gift, or just anytime buy from the store for your kids and grandkids (Purchase on Amazon). This 2020 LEGO set includes 275 pieces and, dependent on age and experience, the set will take a child an hour or two to build.
Our Favorite Features
Advertisement - Keep Scrolling
The finished LEGO 76895 model car set is 1" high x 5" long x 3" wide and includes a collectible Ferrari racing driver Minifigure.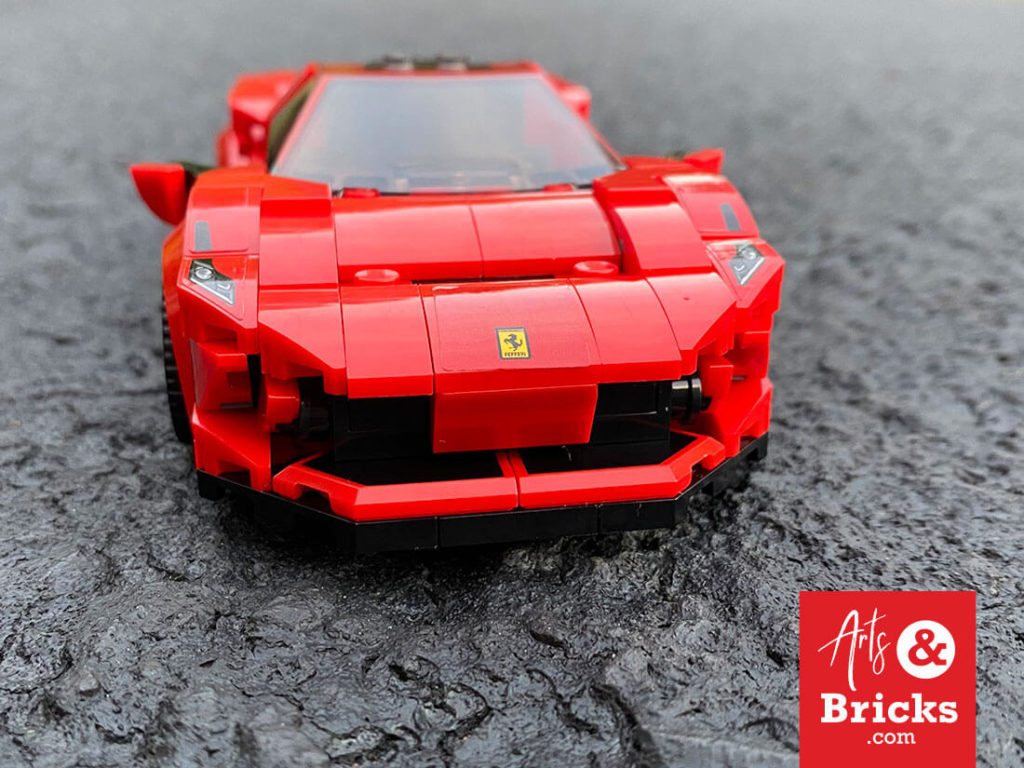 From a kid's perspective, here are some of the favorite features:
Sticker Power: According to our 8-year-old LEGO-lovin' boy, this set includes "Just the right amount of stickers!"
Cool Hair: This Minifigure has a full head of dark curly hair and wears a very trendy Ferarri t-shirt.
Doesn't Break When Playing: This sturdy build can withstand bumps and crashes.
Your Choice of Hubcaps: This set includes 2 sets of hubcaps so you can choose a single set or mismatch. You'll see that we chose different sets for the front wheels and back wheels.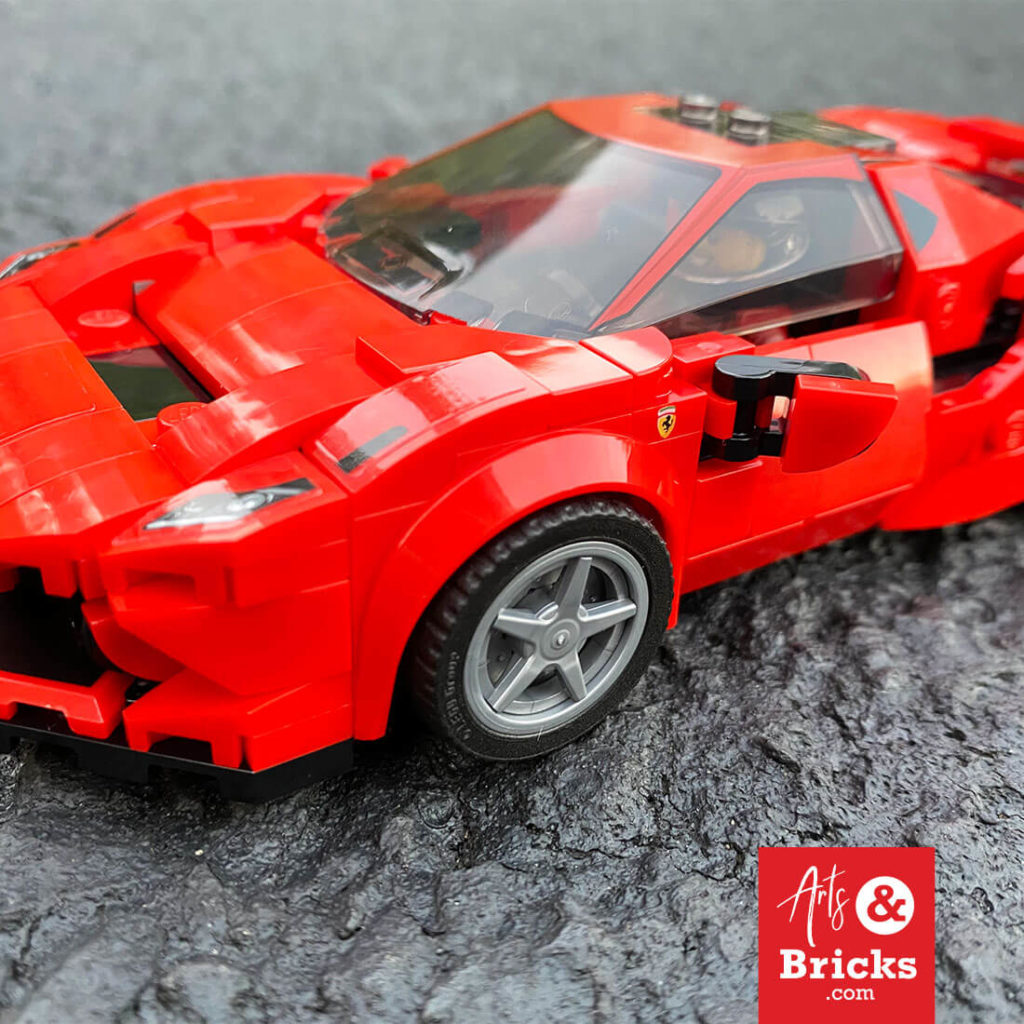 Color Scheme: Our son really likes that the car is BRIGHT red (rather than lime green or some other color.) Also, the red has great contrast with the black interior!
Super Aerodynamic: "Dude, look at this thing. It looks so fast!" The smooth, rounded pieces make this car appear very aerodynamic. In fact, there are only 10 fully visible pegs on the exterior of the car.
Looks Cool: The front and side views are our favorites, but we do really like how the back of the car was built, especially the stacked transparent pieces.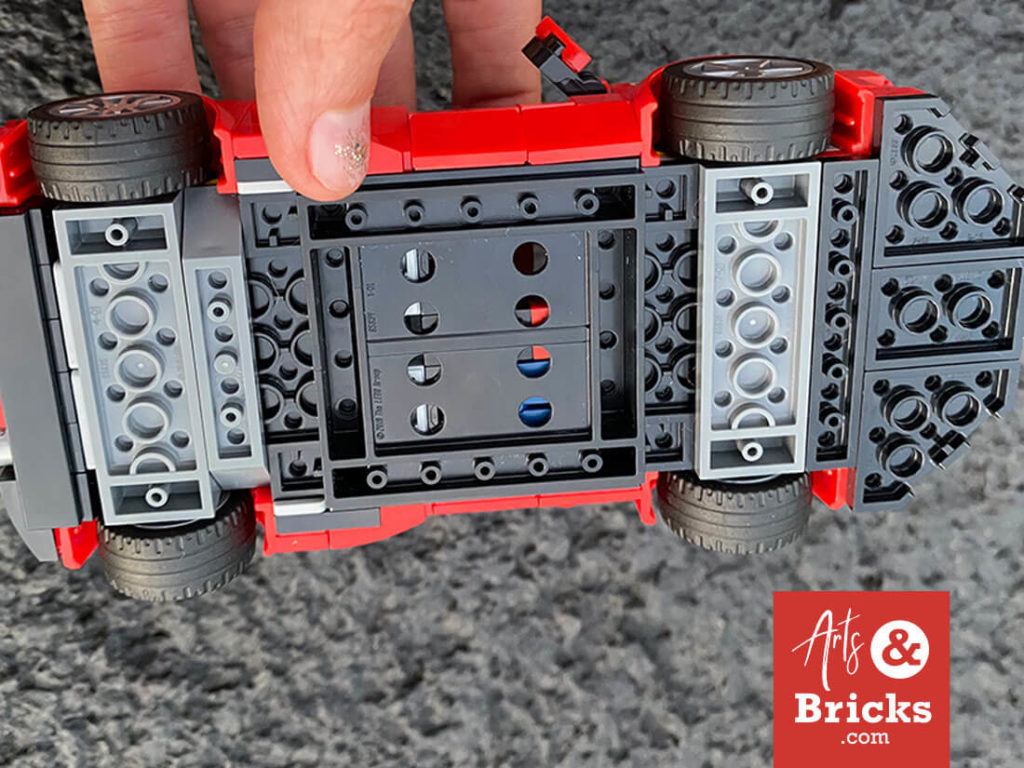 The Build
The LEGO Ferarri Set #76895 has 82 steps to build the 275-piece scale model. It's suggested for 7+-year-olds and we think that's a good age. At 7 and 8, your child will be able to build this red car on his/her own and the timeframe is short enough they won't get bored.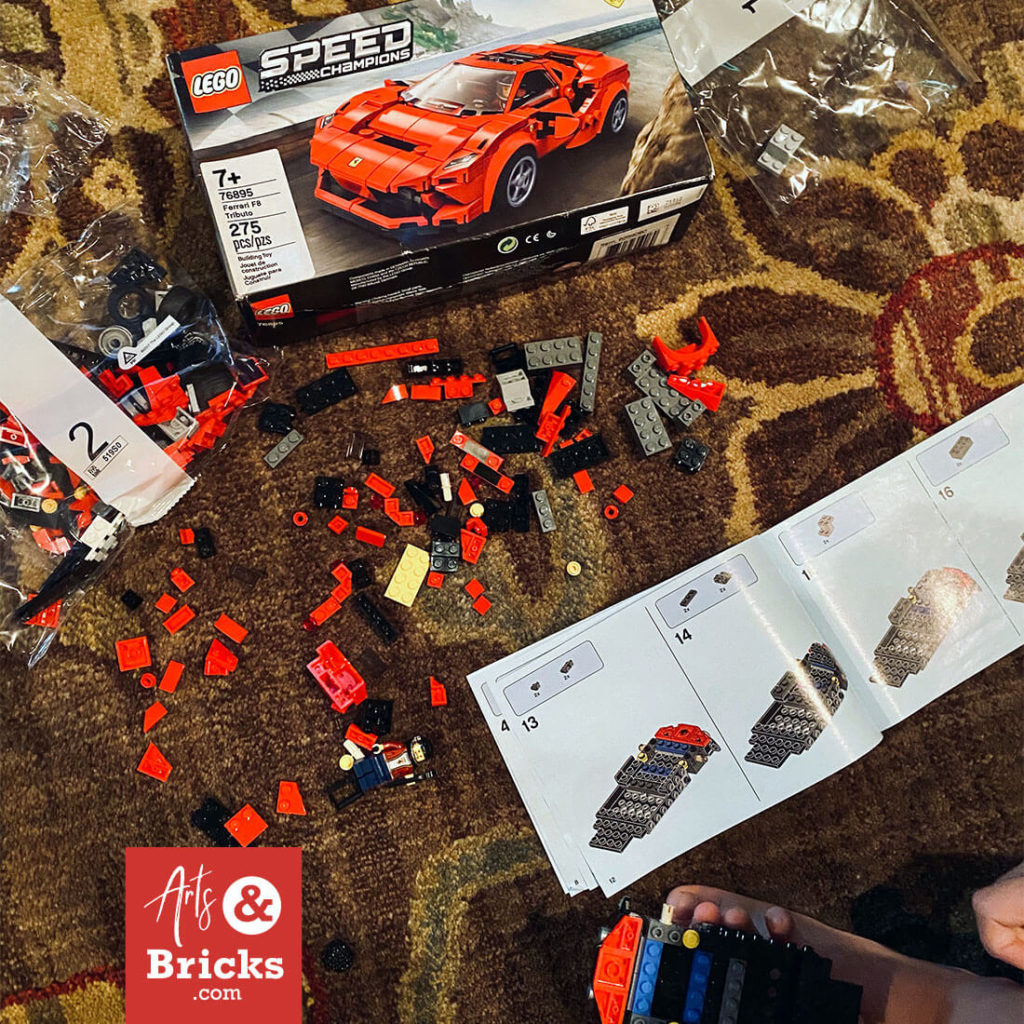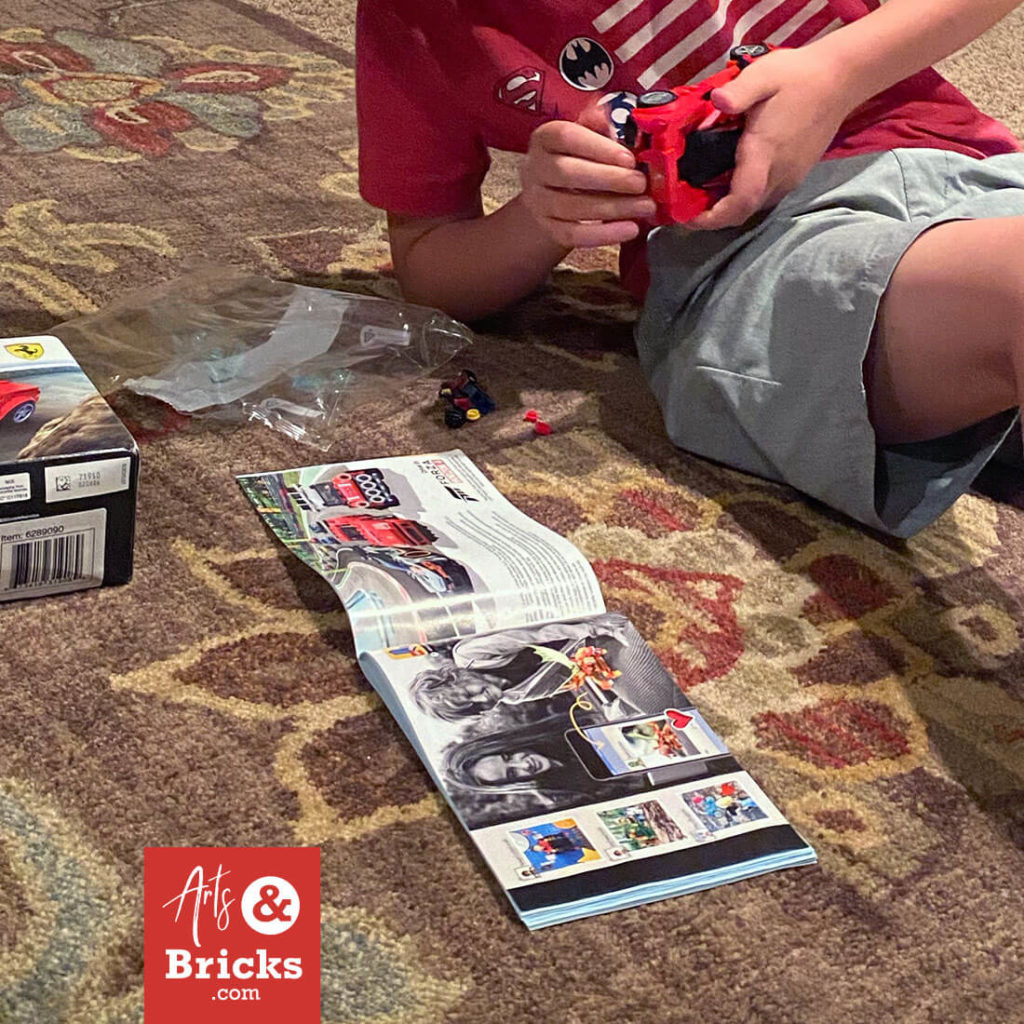 Other Reviewers' Complaints
Online we read the main complaint about this set is that the driver could not drive while wearing his helmet. We did not run into this issue.
My son intuitively fit the included Minifigure into the driver's seat by leaving the door slightly ajar. It was such an obvious thing to do that he didn't even mention it as an inconvenience. In fact, he had no complaints about the size ratio within the interior of the car for his Minifigures and he didn't seem to even notice that the door wasn't fully closed.
My gut feeling: this ratio concern is an adult complaint and not really on the radar for most children.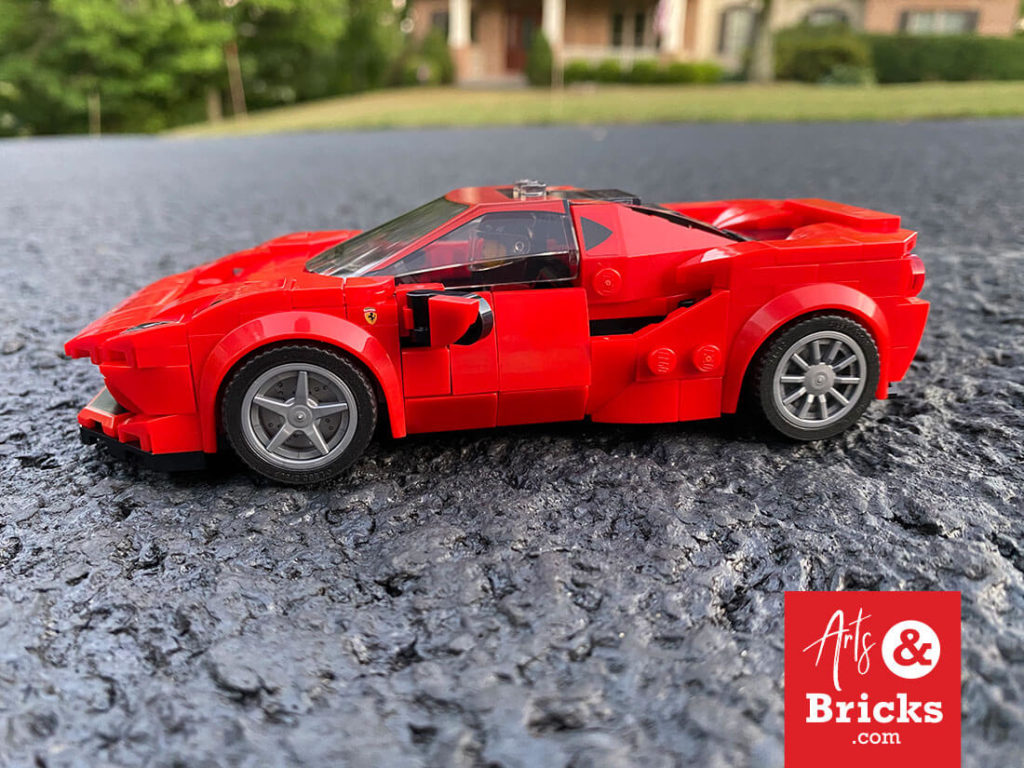 Lego Set Kid-Review
Arts and Brick's gives the LEGO Ferrari Tributo Set #76895 a 5-Star "Excellent" Kid-Review.
Pin the LEGO Ferrari Tributo Set #76895 to remember this LEGO set for the next birthday or holiday.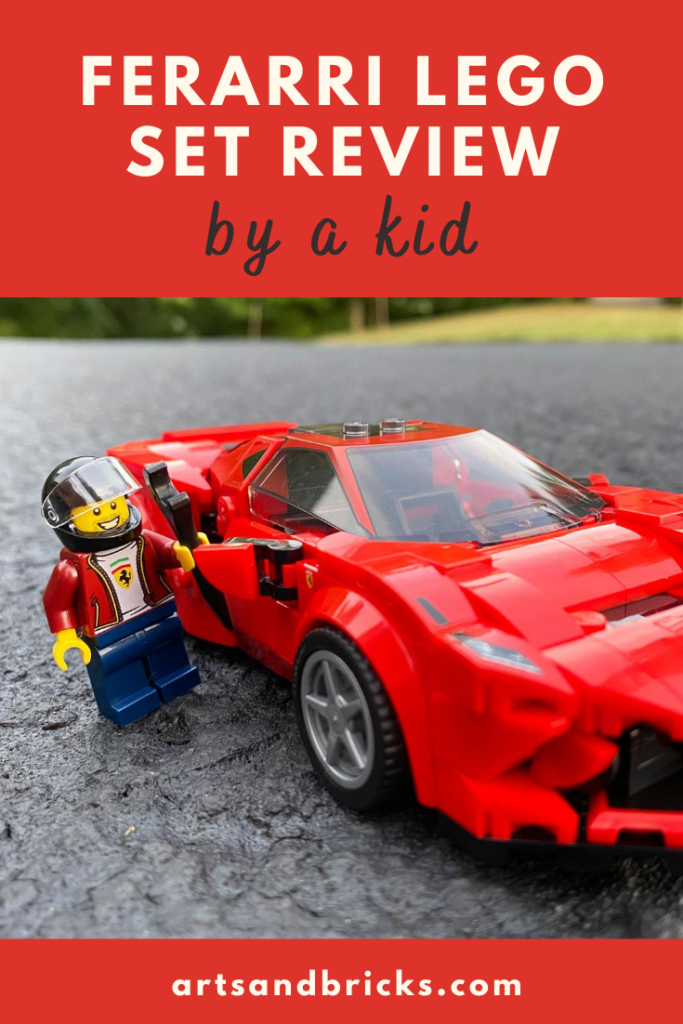 Have a LEGO and racecar-lovin' kid in your life?
We think they'll love these race car wall stickers built with LEGO bricks. Pick them up on Amazon or learn more about them in our SHOP.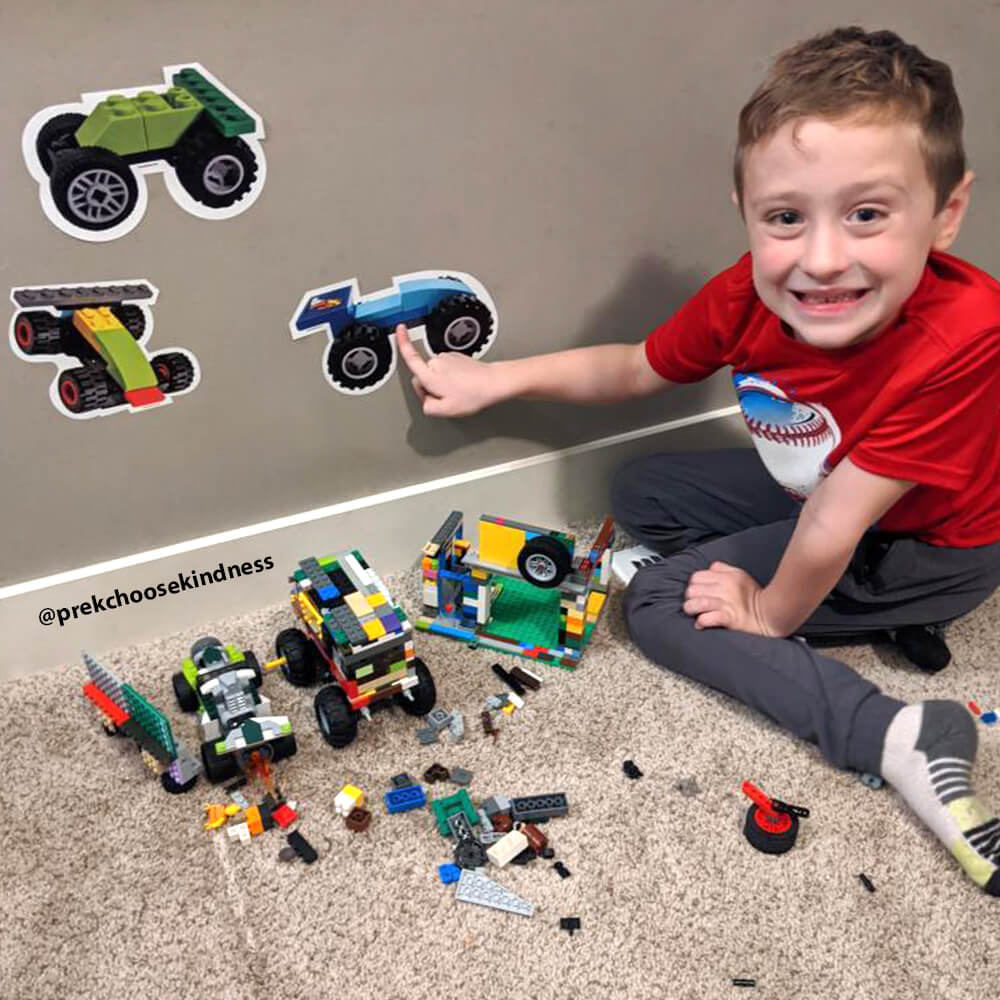 ---
PS. This post is not sponsored. We're a LEGO brick-loving family who posts about our favorite builds. Some of the links in this post are affiliate links and if you go through them to make a purchase we will earn a commission. Keep in mind that we link to these companies and their products because of their quality and not because of the commission we receive from your purchases. The decision is yours, and whether or not you decide to buy something is completely up to you.