Gratitude is a concept, and also a daily practice.
Collectively, let's strengthen our habit of Counting our Blessings. Our hope is that by choosing to think positively and by modeling appreciation to our kiddos all year long, we'll be well on our way to forming a healthy family habit that will continue for months and years to come!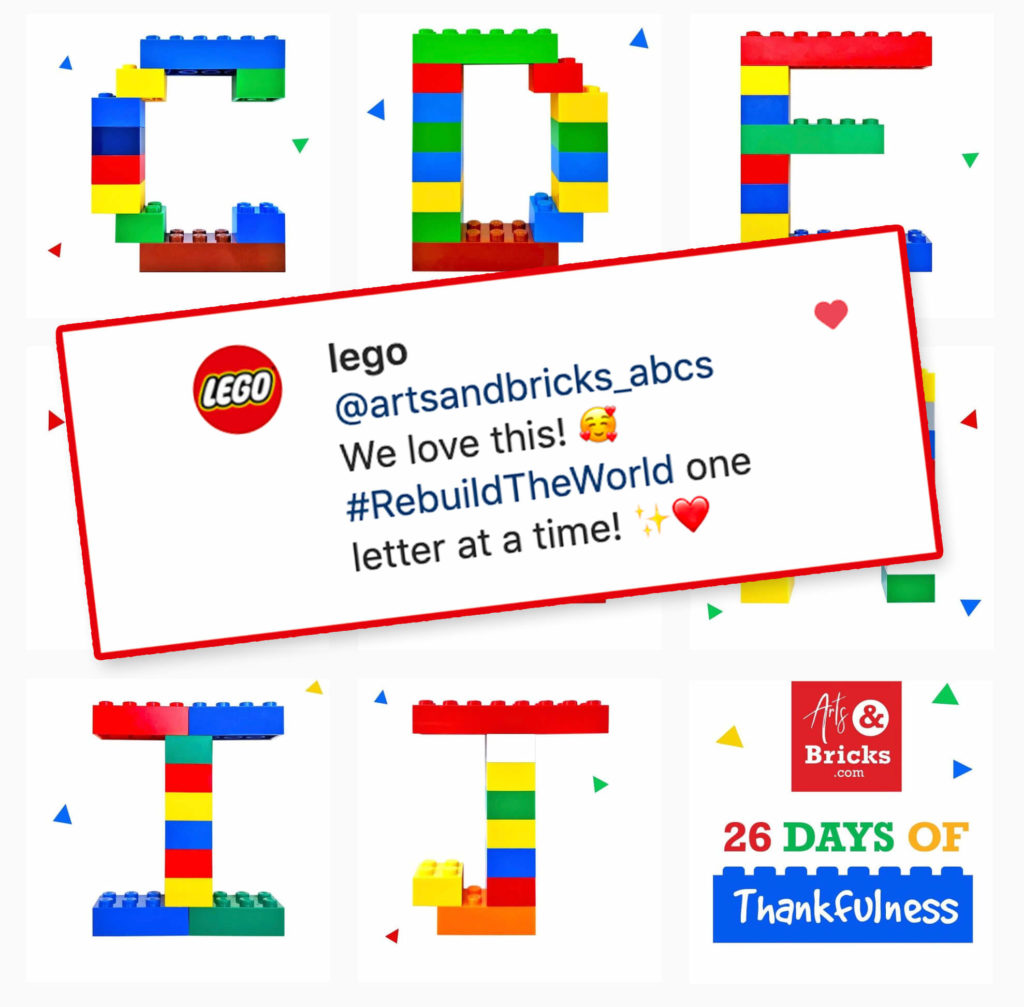 A Heart of Thanksgiving – LEGO Gratitude Project
As a mindfulness activity, track and share your gratitudes and joys. Use our Alphabet of Gratitude printable to prompt your own thankfulness and your kids' gratitude!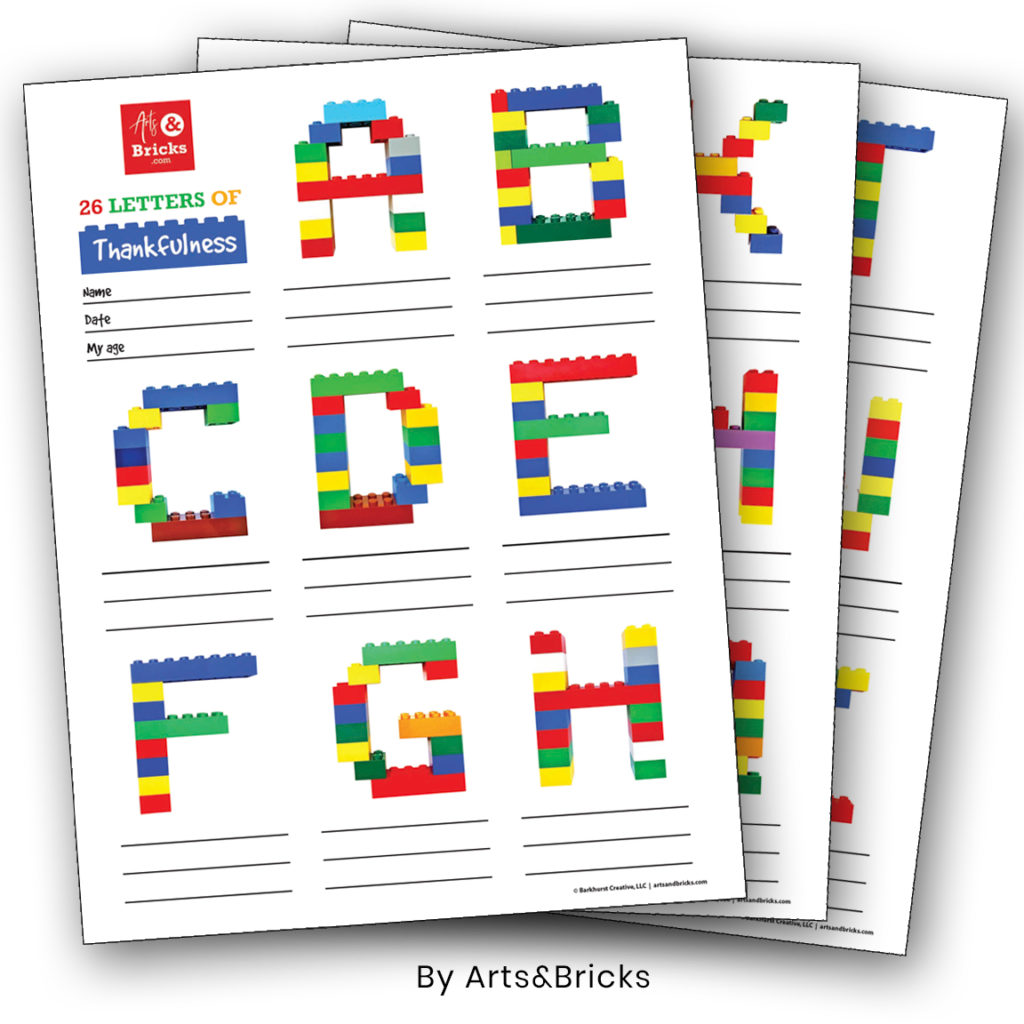 The 26 Letters of Gratitude project started with a month of gratitude and letter-building
---
November Gratitude Activity
In November 2020, amid a global pandemic, we decided to encourage our Arts and Bricks community to focus on Gratitude. We started "26 Days of Thankfulness," where we spent the month of November with an intentional attitude of gratitude!
In 2020, there were twenty-six days before Thanksgiving which perfectly aligned with the twenty-six letters of the alphabet.
Each day, we wrote and shared on Instagram our gratitude, prompted by a LEGO brick-built letter of the day. Starting at Z, we made our way to A, day-by-day!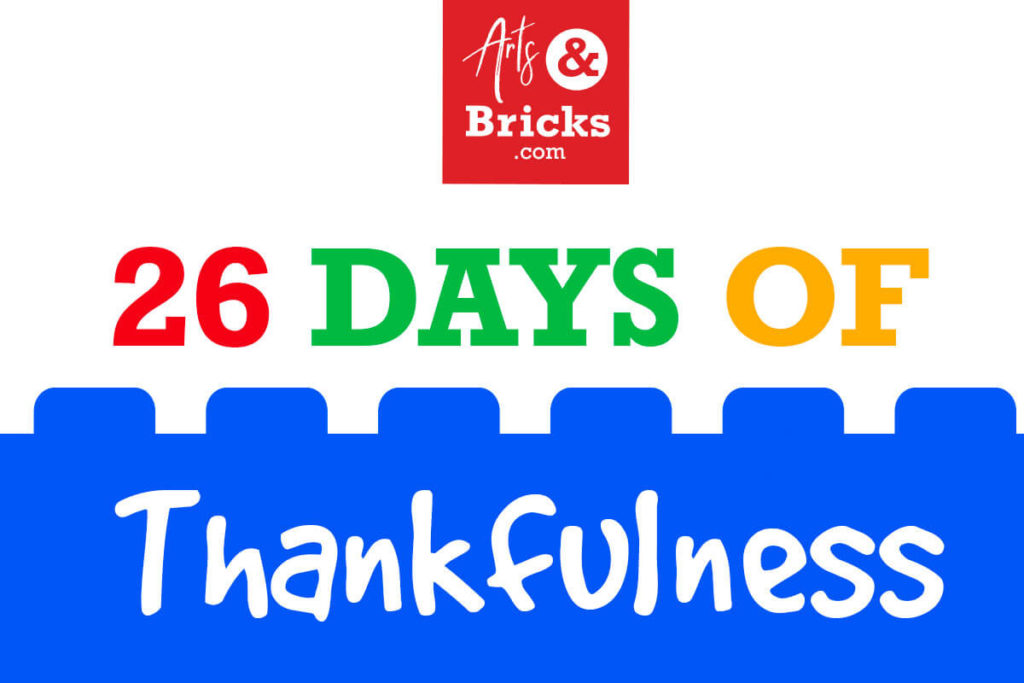 ---
How does the ABC Gratitude Prompt Work?
For each letter, simply ask yourself, what am I thankful for that starts with this letter? Write gratitudes and joys.

Advertisement - Keep Scrolling
Find inspiration in the responses that our community shared on our artsandbricks_abc Instagram account during our first 26 Days of Thankfulness. Here are a few of our favorite gratitude and joyful shares.
Letter A
Art.
Autumn.
Apologies.
Apples.
America.
Alphabet.
Letter B
Babies!
Boats.
Blessings.
Bees because they give us delicious honey!
Black Bear Burritos. (local amazing restaurant #eatlocal)
Letter C
Children!
Cake.
Christmas.
Letter D
Letter E
Energy. (I need all of it running a round with a toddler, going to university and running a business 😂)
Excellence. I'm so grateful for the time, dedication, thought, energy, effort, skills, and patience required for Excellence.
EVERYTHING. Grateful for everything.
Encouragement.
Excitement for the holidays.
Electricity! (@lifeslittleloves I like all the things that come with it and cannot imagine living in a world without hot water and lights.)
Letter F
Letter G
Goodness.
God.
Grace.
Gratefulness.
Green and Gray.
Letter H
Health.
Heaven.
Happiness.
Horses.
Home.
Letter I
Internet.
Influence.
Infinite.
Instagram.
Independence.
Ice cream.
Inner healing. Inner peace.
Inspiration.
Letter J
Letter K
Kisses.
Kindred Spirits.
Kindness.
Knowledge.
Last Name starts with a K!
K-Love (Positive and Encouraging)
Letter L
Love.
Laughter.
Life.
Lego and Legoland Florida.
Listening. (@lisswade Listening to my kids giggle and play! 😭💕)
Loves.
Letter M
Ma Mère. (I'm grateful for my mother. She passed much too early in my life, but I know how deeply she loved me AND she is the one who taught me to find joy each day. To record my joys each day. And to focus on these things daily. I'm grateful for my mom.)
Memories.
Mondays.
Motivation.
Letter N
Nurses were overwhelmingly the winner!
Nursery (staying open and keeping our son safe and aiding his development)
Nana. (aka my grandmother. She is the sweetest)
Nonny (who loves unconditionally)
Namaste!
Nice people.
Nap.
Neighbors.
Nespresso coffee!
Letter O
Letter P
Parents. Parenthood. (Our own and being parents.)
Potatoes. All kinds. Fried, Smooshed, twice baked, hash browned. Now I'm hungry!
Patience. (Patience my husband has for me!) (
People (Gratefulness for the People in my life. Without those closest to me, I'd be lost!) (Grateful for my people. They are my happy place!)
Puppy!
Positivity. Thinking positively.
Perseverance.
Pizza!
Preschool (and that kids are still able to go during Covid)
Parties.
Privacy.
Prosecco.
Pillows!
Peace.
Pregnancy.
Placid (love my meditation time)
Playtime with my kids! I love watching their little minds work!
Presents.
Letter Q
Letter R
Rhebs Chocolates.
Rolo Caramels.
Roller coasters.
Letter S
Letter T
Technology. (@kinseymobergrealtor: It's a double-edged sword, but it's nice to be able to stay in touch with friends.)
Time.
Letter U
Undivided Attention.
Unity.
Unicorns. 🦄
Uniqueness.
Letter V
Veterans.
Vacations.
Visits.
Vacuum. (@zuzu_to_you: well, because I have a toddler 🤣 )
Valencia oranges: so sweet!
Letter W
Water. Water is life.
Waterslides.
Warm, fuzzy blankets.
West Virginia. WVU.
Letter X
Xmas.
Xanthan gum. A better thickener than flour.
eXcellent friends.
Letter Y
Yogurt.
Youth. The concept and the people!
Years.
Letter Z
Zoos.
Zebras.
Zephyrs. (Literary definition – soft gentle breezes)
Zoom. (@brickwyrm writes: one of my face-to-face bonds for the past 9 months)
Have you tried our gratitude-focused mindfulness activity?
Share your experiences in the comments! (Download and print our 26 Letters of Thankfulness printable)
LEGO brick-built ABCs for Gratitude

---
PS. This post is not sponsored. We're a LEGO brick-loving family who posts about our favorite builds. Some of the links in this post are affiliate links and if you go through them to make a purchase we will earn a commission. Keep in mind that we link to these companies and their products because of their quality and not because of the commission we receive from your purchases. The decision is yours, and whether or not you decide to buy something is completely up to you.