Personalized Cards by Kids
My kid's willingness to make home-drawn cards for holidays and special events has always made me happy. They make a card if invited to a friend's birthday party, to say thank you for a gift, to say, "I'm sorry" and "I love you!"
I ADORE their thoughtful cards, and so do their recipients. Many friends and family members have told me my children's cards are still lovingly displayed on their fridges and walls years later!
Need some inspiration to inspire your family to make homemade and hand-drawn cards? Here are a few of my favorites!
Thank You Card by Kids
Say Thank You for the Basketball Tickets
For this awesome fold-out basketball surprise thank you card, my fifth-grade son followed Art for Kids Hub's How To Draw A Basketball Folding Surprise. We updated the exploding basketball to hold a Thank You message for tickets to our favorite college team! Look how great it turned out! Plus, it was great mommy/son time drawing and coloring together!
Advertisement - Keep Scrolling
Do you have a kiddo who loves basketball? We've got some other basketball posts you might enjoy.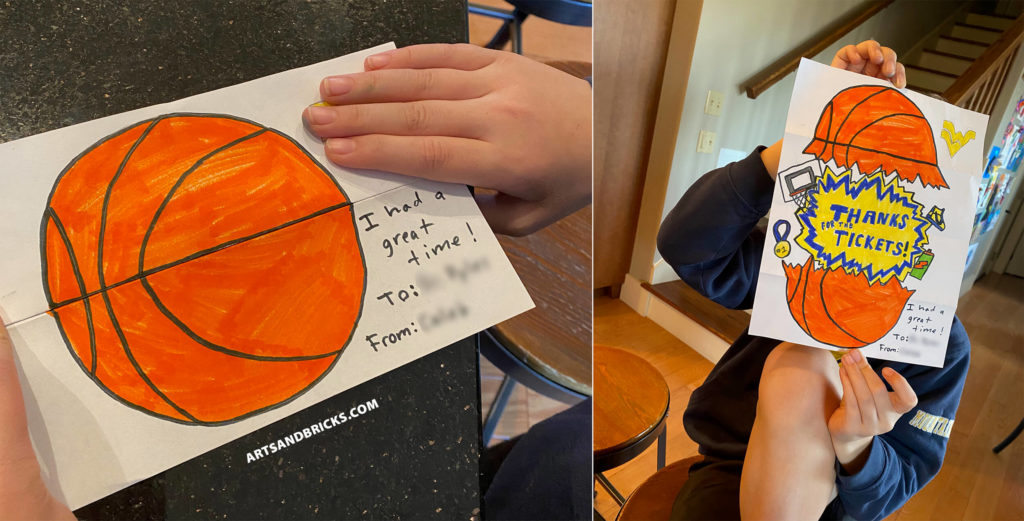 Save to Pinterest